Why Create Your Own Brushes?
Brandon Rike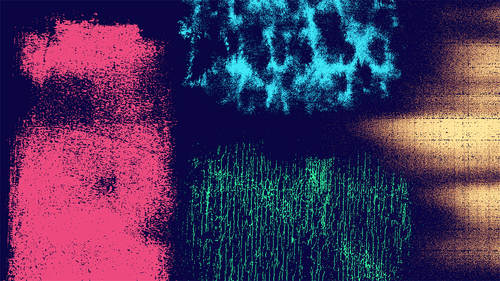 Why Create Your Own Brushes?
Brandon Rike
Lesson Info
1. Why Create Your Own Brushes?
Lesson Info
Why Create Your Own Brushes?
Thank you so much for tuning in here on CREATIVELIVE. Today. We're going to be creating custom. Photoshopped brushes with Brandon Reich if you are not already familiar with who he is, Brennan has been making a living in pretty much graphic tees, lettering, pieces, logo, artwork, some really cool stuff since he was 19 years old. He is now 32 and we're welcoming on stage today to really just learn about how he has created his business on his own. Brandon, come on up. How are you feeling? I'm feeling great. We are super pumped to have you here that I know. We have a lot to cover in such a short amount of time, so I'm just gonna let you take it away. All right? So today is about creating custom Photoshopped brushes. Um, what I've learned over my career is that most Photoshopped brushes suck, and they don't suck because they don't do the job. They suck because they're from somebody else. They're not from you. So you know, I see all these Photoshopped brushes, and I used to just salivate ove...
r all these different things, and I realized that those were cool, but I could make the same exact thing myself, and it would come from me so they weren't made by you and they don't say anything about you. But I want want you to create something that's one of a kind that has your personality in it, and you're going to start accumulating your own toolbox. So after this course, you'll start figuring out that the tools that I use, I want them to be my own. So when you go through a project and it's time to distress something or put a little texture onto it, you know that you're going to use your own unique tools to do that and not someone else says. And you're gonna have work that someone else is going to spot me like, Oh, use that brush for that. Could I have that same brush? You don't want to do that and for whatever reason, sort of midway through my career so realizing I do not want to distress things the same way other people distress things, so that means I need to make my own tools. So I've found that making your own brushes is actually super easy and fun, and there's a lot of different ways we can draw this, you know, draw brushes from you know, hopefully, after this course, you're going to start being aware of all the different things around you that could be good photo shop brushes. So without this, you're just stuck with someone else's stuff and you're gonna send off your work in. It's sort of like instead of you putting your signature on it, you've put it somebody else's signature who just designs brushes all day. Um, so we're going to just start looking around and being in observed different things and see what all these different textures and see that there's a little things on the table or little things that these paintbrushes could do or little things on the back of your sketchbook or the carpet. I don't know the bottom of your shoe. Whatever it is, there's different places that we can draw textures from, and you get to send this work off knowing that Oh, that's the bottom of my shoe, you know? So I've created thousands of pieces in my career, you know, I've created stuff for Paul McCartney. I've created stuff for Boeing 22. I've created stuff for Katy Perry whoever, and it's so cool to be able to walk into a retail store or C on tour and see that work done. I mean, like, that's that's my little brush that came from my little roller or my little you know, like That's my floor. I took a picture of my floor and I used it as a brush. And now that's on Katy Perry's T shirt. So that sort of thing just pumps me up. I love doing that. Um, obviously in graphic design, don't really get the signs stuff. But when I see my stuff like that, I'm like, I know that's mine And I've been able to stand in retail stores with a big wall of graphic tees and say that person, that person in that person stuff all has the same brush in and it's my brush, and I made it, So I want you guys to be able to Well, you can't sign all your work. I want you to be able to go off and have your own little personality and quirks involved in each thing that you make. So I want you to have a connection with the work that you send out and whether anyone else notices that you still, you know, see it go out into the real world out into the wild and know that that's mine. And it's got my stamp of my personality on it. So creating custom Photoshopped brushes, I want you to start noticing natural textures. Um, the background of this is one of my favorite brushes that use. Um I made it with one of these things and I put some kind of paper. I rolled this out and it I wrote it out probably four or five times, and one of those just looked right. And now I use it as now use it as a brush used as brush for that. Is that as a brush for hundreds of things I could go through my portfolio, be like same brush, same brush, same brush, same brush. So what's really fun is that we start building this toolbox and you have this go to method of, um, making this stuff. It's just you have this go to way that it's no longer you have to search around Well, what type of texture We're gonna play this. We've got this arsenal. You've got this tool box of stuff. So more than anything, I want you to build your toolbox. So I want you to notice and natural textures. I want you to look at the wood grain, and I want you to find little spots of that wood grain that maybe if you can just take out one little area. We're kind of looking for a square area or a circular area that could be used that you could keep repeating and add a lot of texture to because most of time when I make a brush, it's inside of a square. And, um, that thing used to be put on a bunch of different stuff and also taken away from difference a bunch of different stuff. So I want you to be able to look at wood grain and say that little not right there. That could be a brush. I want to be able to look at this desk and say, this little paint thing. Well, I guess that could be a brush. Let me take out my smartphone and take a picture of that and send it to myself. And then maybe I could make a brush out of that so really, there's no limit on the stuff that you could make. I would say the only limit is how huge the thing is, but that just, you know, if you have, if you can step back and take a picture of it, or if it's small enough that you can scan in. These are all good candidates to make brush with So snap photos and scan textures. That's the way you make brushes. So it's Azizi. Is that so? I guarantee you. When we leave today, you're gonna go sidewalk and find a spot. Take a picture of it because even if it's the most basic concrete sidewalk, there's something there, and you'd be amazed what you can do with that. There's a little bit of ah texture to the fabric on this back wall. Take a picture of that, even the wall without texture on it. They're still texture in it somewhere that we can draw out inside photo shop so a photo shop allows you to do is to start pulling out all these little textures. Once you start messing with levels inside photo shop, you can really pull out Texas. You don't even realize were there scanning piece of blank paper or even the top of your your flatbed scanner, and you can get a whole lot of stuff out of that and be able to start using it for everything. So there's texture everywhere. Obviously, I could make you know 100 brushes with what's here because it seems to me that this hasn't protection than the next board, then the next more than export. And I could really just take out a whole little area of here and use that as a Photoshopped brush and be able to actually recreate that whole image if I wanted to do it that way. But most of the time, when I'm talking about brushes, shuriken build a background texture. But more than anything, I want to be able Teoh, take something like lettering or take something like a graphic that is gonna go on a T shirt and be able to pull out, you know, using a layer mask, pull everything out of that and put some of it back. So I just wanna I find that I used photo shop brushes on every single thing, and they're made by me. So it's like it takes the I don't know, I think there was something taboo about using Photoshopped brushes at some point. And, um and then I realized, Well, not if they're made by me, because it couldn't be more original if you're making it yourself. So I really, really, really get pumped up when I see crackled Paint you paint that was painted, you know, 50 years ago that's faded or paint that was just painted really poorly, you know, five years ago and cracked. So the crack that happens in a paint and, you know, in a painted wall that lends itself really, really, really well too. Graphic tees. And, you know, if we're doing something that wants to look, you know, vintage and distressed, which I will teach a whole other course on then these court, these Ah, you know, the images like that are perfect for that. And of course, the wood grain. This looks like it was would that was burnt so the black and white ends up pulling out a lot more of that texture. You see the texture a lot, a lot stronger. That's a really good photoshopped brush to use. Look around to see what old books you have and see what's happened to the back of the books. Look around at your notebooks. Like the old popular notebooks that were completely flooded with color on the front. Those have worn over time and all the little edges that happens. Things like, uh, you know, like an album sleeve. Well, you're going to see a ring that's gonna build around that album sleeve. That's gold. You know what I'm saying? So all those little things I start looking at, you know, this table? I look at the way that this table has aged in all the texture on it, and it's like, Yes, because you can't you know, you'll try to, like, recreate that type of, You know, like if you would make your own furniture or something, you're gonna try to re court recreate that type of old vintage texture and just not gonna be able to do it the way it actually naturally does it, you know? So this desk had to be around for a while for toe. Have this look. Either that or someone just did it Really, really well, is probably made, like a year ago. And, of course, spray paint. Um, you do a lot with spray paint. You do a lot with ink spider. You can take Inc and put it on your paper. Scan that in and start using it. It's Photoshopped brushes, so there's just so many different methods. Um, you're gonna find that there's endless amounts of ways that you can find these textures You guys ever get the idea that I just want pull him out from everything. Like, I'm looking at this box with tape on it, and I really wanna scan that in, Um, I'm looking at all these different things. I just wanted to open up that there's no secret recipe to making Photoshopped brushes, and you'll see how rad these Photoshopped brushes end up looking when we apply them to our work.
Class Materials
Brandon Rike - Creating Custom Photoshop Brushes Working Files.zip
Brandon Rike - Custom Photoshop Brushes.zip
Ratings and Reviews
Great class. Easy to follow and eye opening! I made about 30 brushes during this workshop! I followed along with the texture making and easily uploaded them and converted them into usable Photoshop brushes.
Student Work