Creating Different Photoshop Filter Looks
Creating Complex Effects from Scratch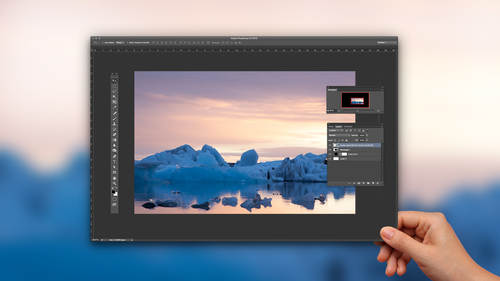 Creating Different Photoshop Filter Looks
Creating Complex Effects from Scratch
Lesson Info
Creating Complex Effects from Scratch
Now let's try some just straight up effects we create from scratch because not everything needs to be applied to a photograph. Sometimes you have text you want to put on top of your image in just plain old text can not always be that exciting. So let's create a brand new document and let's create something from scratch. I'll come in here and first, let's create a backdrop in here. I'll use a solid color layer, and I'm gonna pick a nice backup backdrop for some texts. And then we're gonna put some text on top of it. Have way too many fonts to pick between, good enough and then we'll get it to be large. Although I don't really like Thea distressed. Look in that text, but it will still be all right. So if we just have plain old text here, we want to make something a little more interesting. We could do things like creating a brand new empty layer, and there are certain filters you'll find that don't work in brand new empty layers. If I come in here and try to add some noise. That was one ...
of the filters that was on that list that said it can create something out of nothing. Well, it doesn't seem like and create something out of nothing here. What? We need that layer to be full of something. It could be red, yellow, blue, orange, anything. It doesn't really matter what we put in. But what I'm gonna do is put in 50% gray. And the reason why I'm going to use 50% gray is because there are certain blending modes that make 50% gray go away. Do you remember the one that started with overlay? Soft, light, hard light. All of those things have the quality, and I'm just gonna fill that layer. In fact, I didn't even have to change my foreground color because I think right here there's a choice 50%. Gray said this to normal. So now that it's 50% gray, I can come in here and go to noise and choose add noise. And I would usually turn on this check box called monochromatic because if I didn't have it on and be colorful and you can experiment with amount, I just want a lot. Then I'll go to the filter menu and to make that more interesting. I'm gonna come here and do a motion blur if I choose Motion blur, usually when it's down in the low, citing doesn't look so good. But once you get it up quite high, this is starting to resemble a little bit of a brush metal. If I want that to only show up where the text is. No, there's a trick as long as the text is sitting directly below the texture you just made and you're working on the layer that contains the texture. You can go to the layer menu, and there's a choice in there that's called create clipping mask. What a clipping mask is, is it clips the layer you're working on to the layer that's directly below it in such a way where the layer you're working on will only show up where there's stuff in the layer below it, so that lawyer below it contains text. If I clip it to that, watch what happens. It only shows up inside the text, so now we have a little bit more of a brushed looking there. You can get fancy without and all all sorts of effects, but I want to show you just add one other thing to it? I'm gonna create what I hope to look like a little drill hole. I'm gonna create a brand new empty layer to put it on, and I'm gonna make a round selection of where I'd like a drill hole and let's see how we can use the same idea. I'll fill that just like before with 50% gray. I'll just like before come over here and start with noise. Use the same setting, and I'm going to just like before blur that I'd like it to be a motion blur, but I don't want it in a straight line. I wanted to be around. To do that. We need to choose something called a radio blur with the radio blur. There's a choice called Spinning and one called Zooming. We want spinning, and we're starting to get a look of something that's a little bit spun. It doesn't look exactly like a drill hole, though, so let's see what you do need to add to it. Well, we can add all sorts of features and Photoshopped to this. We just need to start with a beginning point. I'm gonna go to the bottom of my layers panel, and I'm gonna add something that is called an inner shadow, because if it's a drill hole, it would be indented in the surface. When you choose in her shadow, you can drag here to control what correctional lights coming from. But if that was a drill hole, this would have kind of a shiny look. If we were drilling into metal, let's say so. Let's what we could do there. I'm going to create a Grady INT. I'll use the Grady int tool, put it on a layer above. So it doesn't throw away what we have in this layer, and we can create many different kinds of Grady INTs. If you look here, we have different styles up here. One of them, though, goes around like a radar. It just goes around like a circle. Come over here. That, and tell it what shades I'd like to use. I'm going to use just shades of gray. But instead of going from black to white, I need my Grady into both start and end with the same color Watch what happens if I apply it right now? Do you see how it starts with black and it goes around like a radar and ends with white. And there's a big seemed on the middle. I need there to be no seem to get no seem. It needs to start and end with black. Choose undo. If I click here in the middle of the preview for the Grady INTs, you can create your own Grady in right down here, it shows you what it's made out of. It goes from black, the white. I'm just gonna move the white to the middle and you can copy colors. If you hold option when you drag, I'll put black on the end. If we do that, though, it's going to go from black to white to black, and I think it's going to possibly I just I want to areas that are white. So I'm gonna go over here and just make a few duplicates there. So what is it gonna dio? It's going to go black, white, black, white, black. Let's see what that looks like because it starts and ends with the same color. There is no seen. It goes around like a radar. And so as long as it starts and ends of the same. It's seamless. We can now make that only show up where there's information on the layer below, just like we did with the text. I go to the layer menu and there's a choice called Create clipping mask. I can't see the texture that's in there anymore, though. Well, how did we end up applying textures before? Didn't we end up changing the blending mode to one of these that's in the area, grouped in with overlay? And if I do here, we're going to start seeing some of that texture come through. The texture happens to be in the layer. That's underneath, though, and I can experiment with different choices here to see which one I happen alike. But I think that one called overlay wasn't bad. Is that starting to look a little bit like you're drilling into a metal surface and Yemen drilled all the way through. But you see how you start with something simple, and then you just try to think about what are the other features you know of in Photoshopped that you can add to that to build up in effect because a lot of the times an individual filter isn't enough. And that's why when you saw at the very beginning, when we started out applying textures to things, we ended up having, what about three or four or five textures applied on top of each other to create a more complex effect, Or even when we found a filter that seemed to have what we really liked, like oil paint, where it seemed to follow the shape of things and everything. Most of the time, we had to apply it more than once and use different settings in order to really get we want. Then it's the same thing when it comes to creating what might be a simple concept of a drill, a hole in the metal. See, start with something very simple, and then I got on to it until you get what you like. So these are some graphic effects. I mainly want to show to you, so you know it's not. Everything doesn't have to look like a photograph. If I wanted things to look better when it comes to this deal that's up here, that's because all I have in there is one boring little effect. It's a little metal with some motion blur on. If I wanted that to look a little bit more riel, I can click on the layer that contains the text and go back to the same place I worked with with that little drill hole. In this case, they might want to try something like a bevel in and boss or something like that in her shadow that I used and I could get a little bit of dimension out of this image. Think it be pushed down. Ah, I could then go in here and add other things. There's something in here called a Grady Int overlay. A Grady into overlay will put ingredients on top of your text, and I could come in here and see about getting it to be something different. I could get the angle slightly different. And remember the blending modes. Will you find villainy, modes all over the place. Anywhere where you see this menu, try overlay and a lower my opacity. Suddenly it looks like it's more shaded. It's darker in one area lighter in another, but you need to just spend more time with it to get it to look better. If you want to see one where I have spent a little bit more time. Do you see this one? It's the exact same technique. You see the drill hole on the right. You see the brushed metal in there. All that is his bevel in boss on the edge to add the little dimension to it. I was just more careful with the settings, and you see the bright spot in the middle. That's a Grady int overlay. It just happens to be one that's round instead of, ah, straight line. So when it comes to filter to facts, doesn't always have to start with photo. Sometimes they're useful when it comes to text and other things and that texture filter add on. I showed you remember the one you could download and install those work great with text. If you have tax and you find the Texas rather boring put a texture in it on git looks much more interesting than just a solid color
Class Description
Make the most of Photoshop's diverse color filter menu! In this session, you'll learn to combine filters with blending modes, smart objects, and blending sliders to produce unique results. Create a workflow for your complex effects, and apply them to your images without having to repeat the many steps needed to duplicate them.  

Software Used: Adobe Photoshop CC 2015

Reviews
Wow! Very impressed with Ben's course. I've played with filters for a long time, but I still learned a lot. I'm very glad I stopped in for this refresher, and I plan to buy it so I can be inspired by his creative uses of filters.
Amazing presentation; organized; clear explanation of issues; easily understood; helpful!!