Creating Different Photoshop Filter Looks
Party Tricks in Photoshop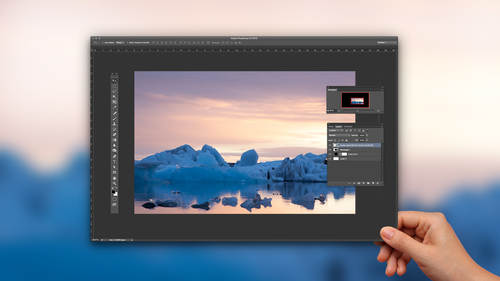 Creating Different Photoshop Filter Looks
Party Tricks in Photoshop
Lesson Info
Party Tricks in Photoshop
Now, let's get into what I'm gonna call just party tricks, which is stuff that you might not know photo shop is capable of. That, um, you probably enjoy experimenting with. I'm gonna create a brand new empty document and I'm going to put a new layer in there to contain what I'm about to do, because otherwise it would affect the layer that was active, which is a layer full of white. And I want to create fire. Fire could be used for all sorts of things. You have, Ah, picture of a car speeding away and you want to look like there's burned up the road. You have somebody you want to look like. Their hair is on fire. You want anything? Wherever you want fire, you have a more realistic thing. You have a fireplace in an architectural shot. There's no fire in there. We need to put it in. In my case, since it is, uh, is it still February? February? Let's say you forgot Valentine's Day and you want to do something to make up for it all. You got us Photoshopped. So what I'm gonna do is create a pa...
th now, most of time to create a path you need to use the pen tool, which is right here. The pencils not funded use unless use it on a regular basis. So we're gonna cheat, and we're going to use the shape, tool, the shape to allow you to create any of these shapes. And if you choose the bottom choice, you will have a whole smorgasbord of choices right up here for shapes to make. And if there's not enough shapes in here in this little list which you can expand by grabbing the corner and pulling on it, you can go to the upper right corner where there's a gear, and down here, these are all presets. So if you need animal shapes, you need arrows. You need whatever you can load them in from here. But we're good to go here because one of the shapes that you find within this list is you can find a heart in there. It's right here. What I'm gonna do that is, usually when you drawn with this, you get a filled in shape. You'll get whatever using your foreground color, you'll get that shape that you draw. What I'm gonna do is in the upper left of my screen. You can choose. Do you want a shape? Which means an actual shape that's filled in with a color? Do you want pixels? Which would be the same thing, but something that wouldn't easily be scalable because it would be made of pixels. Or do you want a path, which is just a shape that isn't actually filled with anything? So if I drag like this, I can get a heart. And I need that because if we're gonna create flames, it needs to know where to put them. And it wants to know where to put them in a way that doesn't already fill your screen. It's just showing up. And so, uh, path is what it needs to accomplish it. I'm gonna go to the filter menu. I'm gonna come down here to render, and that's where I'm gonna find flame. It'll warned me if I have a large document that I only can preview so much, and that means it won't might not make it all the way around my heart, but it looks like it's fine here. And here's a preview of my end result now at the top. There is a different flame type you can get. I can get one flame that goes around. That looks kind of weird in this particular case. But if you needed literally one flame, not a bunch of flames together, you could use that. But in the shape of a heart, it a little odd. A similar choice would be candlelight, where it's trying to make it look like a single flame. But I want multiple flames. I can have that go along the path, meaning that the direction of the flame is if you're moving like a You know what Apoyo is like. Fire spinners use eso. It's following that shape. Or I could come in here and say I want it all in one direction, like all going up, that type of thing. And when you turn that on, you have an angle setting here so I can make it go in sideways or downhill or or whatever you'd like with this. Ah, you can do multiple flames where they're all going kind of different directions. You can make it all all sorts of stuff to experiment with in here, but for now, let's make them go in one direction will make them go sideways as if it looks like some winds going by. And then you have choice. Here you have a length setting which you can see just experimenting with them. Control exactly how long they are, How wide? Bring it way down and get really skinny. So meaning how far away from the path should it extend The angle only be there if you're told it to go in one direction. Otherwise, that would be great Out. I'm gonna set mine for 90 because 90 degrees should be nice and straight intervals How much space there is between them? So are they so packed together that they are overlapping and so on? When you're done and you find this setting you like, you can click OK, and it will deposit it on whatever layers currently active probably won't look good when you're on white. Because when you ever see flames on a totally white room instead I'll do a solid color layer behind this in said it too. Black hopes I didn't mean to still have that path active, um, delete to get rid of the path and then I'll do solid color if you think flames air. Interesting as a little party trick. You can do other things as well. If you draw a path again and you go to the filter menu again, consider also playing not just with flames but also with trees. But I'm on a layer that's not creditable. Gotta be upon a layer that you can actually paint on. I was on a layer called a solid color layer, but if I come down here in render tree, this will be a single tree in the shape of a circle. If you wanted a straight tree, make a straight line before you come in here. In with this, you have similar settings. You can choose how many branches, how many leaves. You could even come up here into what kind of tree? Eso That's kind of a party trick you needs. Ah, single tree drawstrings, single straight line. You need text with trees growing out of it, creates and text. First, there's a way to convert text into a path, and then you could come into that particular filter. So as you can see, Photoshopped filter effects conduce do all sorts of things, from simple textures to more graphic effects. Two things that could be applied to portrait's too little party tricks. It's up to you, the its endless. I mean, you can even add additional filters by purchasing them and adding them to photo shop.
Class Description
Make the most of Photoshop's diverse color filter menu! In this session, you'll learn to combine filters with blending modes, smart objects, and blending sliders to produce unique results. Create a workflow for your complex effects, and apply them to your images without having to repeat the many steps needed to duplicate them.  

Software Used: Adobe Photoshop CC 2015

Reviews
Wow! Very impressed with Ben's course. I've played with filters for a long time, but I still learned a lot. I'm very glad I stopped in for this refresher, and I plan to buy it so I can be inspired by his creative uses of filters.
Amazing presentation; organized; clear explanation of issues; easily understood; helpful!!