Creating Different Photoshop Filter Looks
Surface Blur in Photoshop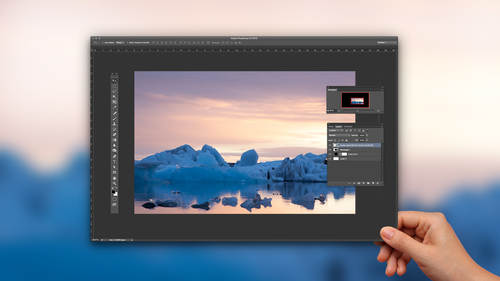 Creating Different Photoshop Filter Looks
Surface Blur in Photoshop
Lesson Info
Surface Blur in Photoshop
now. The problem, though, with this mask here is if I apply another filter to this layer, that mask will apply to it as well. And so right now I'd like to do something to smooth the rest of my skin. And if I do that, that mask is going to apply to it. In whatever smoothing technique I apply, there's only gonna apply to my eyes in my mustache. And I go to you know, that kind of stuff so often times I will need a duplicate a layer so all tight command j here and I'll throw away the smart filters. I'll just click right on the word smart filters and drag it to the trash. Now we don't have it applied to the duplicate. That was an accessory attached to the layer, and you just drag it to the trash in the bottom of your layers palette to get rid of it. Now let's try something that's going to smooth my skin. I'll come up to the filter menu. Let's choose Blur in most of these blurs would be so obvious that you blurred things, that it would just not be good. Uh, there is one, though. that can hel...
p out. It's called surface blur with surface blur. We have two choices. We have radius and we have threshold. I'm going to take threshold and turn all the way up to begin with, which will, in effect, make it as if there is no setting cold threshold. It will make this just like the normal ghazi. Um, blur filter where you have a radius setting in, the higher you bring it, the blurrier picture gets in, the lower you bring it, the more normal it looks. What I want to do is bring it up just enough to smooth out my skin somewhere in there. Then we have threshold, and I'm gonna bring threshold all the way down. And now what's happening is it's on Lee applying the blur two areas that are what's within the threshold I've specified. The threshold is how maney brightness levels different. Two areas are now in a normal photo shop file. You can have about 256 brightness levels. Have you ever heard that number before? In photo shop, a lot of settings go from 0 to 55. If you include zero is the number that's 256 numbers. Well, this means how maney brightness levels does one thing have to be to another before the Scharping's gonna kick in. And right now it says only two eso on Lee. Of the things that are right touching each other are two shades of gray within two shades of gray, of each other in brightness. It'll get a little softening. If I bring this up a little higher, it's gonna work on a wider range. But what's gonna happen is if I get it in there, it's going to start smoothing Onley my skin. And if you notice the whiskers in my beard are not being blurred as much. So I'm going to bring it down. Maybe in a this general range, single digits. I can still see a lot of detail here in my whiskers. I can still see it in my eyes, but my skin is starting to look somewhat smooth. Ah, click OK, and then I can lower the opacity of this layer, so it's not a full strength. Eso the top of my layers panel click on the word opacity. I'll drag the left to get to zero, and I'll slowly bring it up and just kind of ask myself, How much can I get away with before you would notice that I've done it? And maybe it's somewhere in there around 50% and I probably don't want that to apply to many areas in this photograph. So what I might do is again at a mask full of black. Remember to get a black mask instead of a white one. You have to hold option Alton windows at the time you add it. Then you paint with white, and I would paint wherever I want to smooth skin. If I painted over my, I didn't mean to. But But then if I actually compress the the backslash key, the one that leans towards the left and if you dio you're gonna read overlay and you can tell I was using a hard edge brush, which I shouldn't have been doing. Hard edge brush means you'll be able to easily sell exactly where I I was painting. That's why it's nice to hit the backslash key with the backslash key does is it overlays onto your image where you've painted to remove the effect wherever you see this red overlay is where the effect is not being applied and I can come in here and make sure that my eyes are not getting the blur in my goatee and other areas. I'm not gonna be that precise with it. I just want to let you know you can press the backslash key any time you have a layer that has a mask attached and it means overlay the mask temporarily so you can see it. So now we have two layers here. I could turn off the smart filter. And if you see my eyes and my, uh, beard and such popping out and up here at the top, you can see my skin being smooth somewhat. So sometimes we need to do things like that for a portrait. But the high pass sharpening doing it toe eyes can really make them pop. Now let's try a few other techniques that could be useful on Portrait's. I want to create a soft feeling in this image and create that soft Phil feeling. I'm gonna duplicate the layer I'm working on. You know you can do that with command. Jay Wright should get used to command Jay. By the time I'm done then I'm gonna blur that layer because to create a soft feeling, I want a blurry version. Now I could do this is a smart object. That's perfectly fine. I'm just not being fancy at the moment. I'd rather make it. So you understand the steps than adding more steps just to make it fancy. And I'm gonna blur this until I can't see the fine detail that's in the image. And then it just starts getting a nice soft feeling. But where I can still recognize what's in the picture. What? They're start losing it. So right around for this image, I'll click, OK, And then to get this soft feeling added to the image where it doesn't completely, uh, look like it's been blurred, I'm gonna change the blending mode. The blending mode I'm gonna use is overlay. Although I could use many of the ones in the same category Now, the problem that I have is when setting it to overlay mode. Do you see how colorful the image became? I want to make sure it doesn't become too colorful in the way. I'll do that as well. Take the layer that we started with the original picture, and I'll duplicated again by typing command. J. I'm gonna move that duplicate. It's not the blurry one. It's the copy of the original. I'll move it to the top by dragon up my layers panel, and I'm gonna tell photo shop to use the colors from this layer. But to use the brightness of what's underneath that soft version that's underneath, And I do that by putting a copy of the original on top, and I changed this blending mode menu to tell it to use only the color from this layer. I said it to color. Color means use the color that time this layer but used the brightness of the layer sits underneath. So when I do that now, I have the soft feeling. But I don't have the overly vivid appearance, so the middle layer is the one that's creating the soft look. If I turn it off, you'll see the original image. I turn it back on and you'll see our result getting soft. Oftentimes, when you do that, that will be a little too strong, so any time in effect, is too strong. If it's on its own layer, you can always lower the A passage e toe lesson it. The other thing with this particular technique is that you're gonna find the dark area of the picture. It gets even darker. So if you watch the area where the hair is or you look at the shadows going down the side of the nose in that type of thing. If I hide this middle layer, do you see how there's areas are getting quite dark? There's a way to prevent that from happening. We'll show you what it is in order. Show you. I'm just gonna create a simple layer on top of this. This is not part of the actual technique. This is just a demonstrative feature and photo shop. So you know what it does. I'm gonna put a Grady int on that layer. Not a great that looks like that, though. I want to put it up on top. My great aunt Tool has some weird setting senate. There we go. Next, Radiant. Now let me just demonstrate a feature and Photoshopped them will apply it to that layer. That was adding contrast. If you double click on a layer not on its name but out here where it's empty. You're gonna find this screen full of choices. We're gonna use an area that's right here. It's the blend. If control and we're going to use this layer, watch what happens when I pull in the right slider. Just see if you can figure out what it does to this layer, the layer that contains the Grady in. Doesn't it seem to hide everything that is to the right of this slider? Everything that is in this brightness range in the picture. That's exactly what it does. Let's see what happens. If I pull in this side, you might be able to guess what it does. What it's doing is it's hiding everything that's in the brightness range that's found to the left of this slider. That's all it does. But then, if you look at the slaughter, you'll find it's got a line down the middle of it, and that's because it's actually two sliders that could be pulled apart. The trick, though, is if you just pulling them, they don't come apart to pull them apart. You have to hold on the option key all time windows, then the pull apart. So what the heck does that to? Well, just watch the image and see if you can figure out what it does. Oh, cool. What it does is now. If you look at it, what's on this side of the sliders is hidden. That's what the slider usually does is it hides the stuff on that site. What's on the opposite side over here is normal, but what's in between the two halves is fading out. It's showing up more and more is it gets towards this color of this brightness level showing up less and less as it gets towards that one. Does that make any sense? So you could do that on both sides. So if I bring in the other side like this and I wanted to fade out, I hold option and I split the slider, Huh? All right, So what the heck does that have to do with this effect we were talking about? Well, we have a layer here in the middle, and if we turn off the eyeball in that layer, it's making the dark part of the image get to dark. I'm gonna double click not on the name, but out here in the empty area and What I'm gonna do is make the dark parts of that layer disappear, because that's the parts that are affecting the image in the way I don't want it to. So I'll pull this over and you'll start seeing the dark areas disappear. But there's a transition. That's hard transition, like you're using a pair of scissors to cut it out. We need a gradual one. So wouldn't it make sense that you have to hold option and separate the slider in half? So then, if you experiment with the position of those two halves, we can get that dark area to make it so it's not affecting the image so much. So if I choose undo, let's see the difference before you see how dark it is in her hair and near her nose and all that, whereas afterwards conceived Lighten it up in there and all we're doing is we're hiding parts of that middle layer that were causing things to happen in areas we didn't want to. I just noticed they were happening in the dark part of the image, so I knew I could go to those things. They're called the blending sliders, and you can tell if they've been used because you'll find little icon over here on the right. That means that you have used some feature in this whole screen, but they're called blending sliders. So now if you want to see before and after on this particular effect, all I need to do is hide. The middle layer exits the Onley layer that actually is causing a change to happen in the image. So here's before just normal shot. Here's after. It's kind of a soft contrast e look, which can be nice on some portrait images. You can also welcome to Adam asked to that and say, I don't want to apply to her eyes. Just be careful with that because if you do it too much, then it looks like, well, you cut her eyes out with an Exacto knife and you made them completely different than the rest of the image. We've all seen those images. You just have to be, ah, a little careful with how much you do it. So in general, what we have have you looking are layers Panel is the original image on the bottom, a copy of the original image at the very top, but it's a little menu set the color, and that's just to prevent the color changes that would usually happen. If I turn off the top layer, you'll see it be much more vivid. And then it's the middle layer. Doing all the work Middle layer has been blurred isn't in overlay mode, and that's really what is creating the in result. All right now, let's move on from stuff that I might just do to Portrait's to more graphic things. But does there any questions about anything that I did here then? This question has came in a little bit ago, but several people have voted on it, and that is what is the difference between high pass and unsure AARP and smart sharpen filters. They're always of adding contrast to the edge of things, but they all accomplish it in slightly different ways. If I were to create a take me a second here to find settings, if I were to create a, um Grady int here and I were to apply eighth adjustment called Posterized. If you want to see what those filters do a little bit more, you might want to create just a simple picture like this and then apply it to that, and you can try to figure out what they're doing. If you go into sharpen in Tryon sharp mask, you'll find it. Finds the edges of things in ads, halos on them after zoom up to get you to see it. But see if you can see this. If I get it down low and I zoom up close, can you see this little halo on the edge? It's brightening one side and darkening the other. So when you're sharpening, the setting called Radius determines how much space those little brightening and darkening things take up. So if I bring radius down, they take up less space, bring radius up. They take a lot of space In amount is how big of a change you're making. Smart Sharpened, does the exact same thing, but has a few other features attached to it, where you can tell it to only work in the bright areas only work in the dark areas in other things. Now, if I try the high pass technique with this, you're gonna find that it does something very similar. The main difference is that when I'm doing high pass only of one slider, and the end result is everything looks 50% gray, except for where the little change happens. So I would have to duplicate this layer, or I'd have to apply it in overlay mode. And if I did, I'm doing here with a duplicate, and I said it to overlay mode. We're gonna have a result that is pretty darn similar to sharpening in that it finds where two things touch each other two distinctly different brightness levels, and it tries to exaggerate the difference by brightening one side and darkening the other. There's simply more than one way of accomplishing the same thing, and that's always the case. When you're in photo shop, here's always about six ways you could do anything, and I find that high pass can be nice if you have very fine textures in your image and you want them to really come out. Uh, end can also work nice on eyes, but you could also substitute sharpening. You just have to have more settings in there and be able to figure out the right ones to get what you'd like
Class Description
Make the most of Photoshop's diverse color filter menu! In this session, you'll learn to combine filters with blending modes, smart objects, and blending sliders to produce unique results. Create a workflow for your complex effects, and apply them to your images without having to repeat the many steps needed to duplicate them.  

Software Used: Adobe Photoshop CC 2015

Reviews
Wow! Very impressed with Ben's course. I've played with filters for a long time, but I still learned a lot. I'm very glad I stopped in for this refresher, and I plan to buy it so I can be inspired by his creative uses of filters.
Amazing presentation; organized; clear explanation of issues; easily understood; helpful!!