Creating Different Photoshop Filter Looks
Texture Effects in Photoshop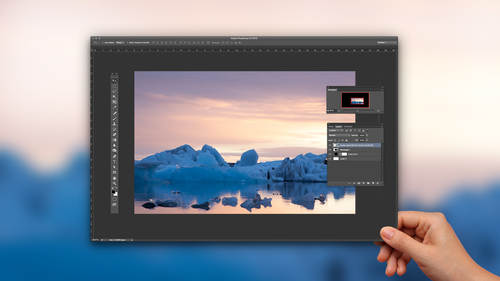 Creating Different Photoshop Filter Looks
Texture Effects in Photoshop
Lesson Info
Texture Effects in Photoshop
I'm going to start off just by opening an image that I would like to apply some texture to. And when I do so, this happens to be a raw file. I'll just click the open image button to get it open. But I want to start off by creating a texture from scratch just to get Photoshopped do it for me, and then we'll get it to be applied to this. And to accomplish that, the first thing I'm gonna do is create a brand new layer on top of the image so that whatever texture I create is separate from the image itself. So go to the bottom of my layers panel and I'll click on the new layer icon, get my new empty layer and then I'm gonna go to the filter menu. And when I do, there is a certain group of filters that can create something out of nothing, which means they can work on either an empty layer or layer that's full of a solid color. Some of them won't work on an empty layer, so you have to put something in there, but it doesn't have to have any detail, so I think If I remember correctly, I have a ...
list of those particular filters. So if you look at this list, you can start with either an empty layer or a layer full of a solid color and go up to the filter venue in photo shop and choose any one of these. And if you dio, it will be able to create something out of nothing. If you try any other filter other than what's on this list, then most likely it will not do anything because it needs some detail in the layer to start with. So in here, the most common ones that I start with kind of generically are clouds, and also, even if it's in here, add noise. And so we'll start off with one of those two. So I have my empty layer to work on. And then I'm gonna go to Filter Come down here to render, and that's where I'm gonna find a choice called clouds. Now these clouds don't look anything like clouds. They just happen to have called it that it might have looked a little bit like clouds back in the seventies or something when the computers weren't very powerful and what we thought of c g I as being you know, some really crude looking thing, but to me, it doesn't matter. It's just that it's texture to start with, and there's a whole bunch of different things we can do with this now. But the main thing is, I'm gonna come up here and simply distorted now so that it doesn't look like straight up clouds. And I can do that by coming in here and maybe choosing style, eyes, any one of these choices. Or I could come up here and maybe distort this. In this case, I'm gonna come in and maybe try Teoh pinch it a little bit, which is just gonna pull in the middle. I'm not really trying to create anything specific. I'm just trying to get it to look a little bit different than the straight up clouds. You can simply experiment with these choices that are in here and create all sorts of end results. I'm gonna come in here and maybe choose stylized, and we could do either find edges. That's gonna try to find the edges of the detail that's there. And if you look at it, it looks like there's hardly anything left over. But any time you can see just the little lists hint of something you can come in here in, choose auto contrast and it's usually going toe. Bring out what you have. It's gonna add contrast to it. Now I look at that and it looks nothing like clouds, but it also just looks weird. Uh, any time I get something, though, that looks just a little bit too weird. I almost always finish it off with a choice in here. Called him boss. M boss kind of mellows things out, and that is, if you don't have the amount turned all the way up. Okay, so here now I have something that looks like some sort of a texture. There is all sorts of things that could have done to create different textures here in that I could have started with noise instead and then distorted it in the end in Boston. But the main thing we need to know now is how can I get this to apply to the picture that we have? Well, the pictures underneath and the way I control how the layer I'm working on interacts with what's underneath it is. I change this menu at the top of the Layers panel. It's called the blending mode menu, and when I get to it, there's a whole category of blending modes. It starts here with overlay in. In this area is where you have all the blending modes that work great with textures. So let's just start off with overlay. And once we choose that, we should start seeing our texture on our image. And then I can experiment with difference choices here like soft light, which should make it mellower, hard light, which make it more extreme and so on. And if I find something that's anywhere close to what I'd like, if it's just a little too strong, I can lower the opacity of the layer toe lesson it. Or if I want to make it more extreme, Aiken duplicate the layer, which I don't think I want to do in this case, because this texture is a little extreme in the first place. But that's just one way of working is starting out with any of those filters that can create something out of nothing, then often times you distort. Yet by applying subsequent filters and in the end in order to get it so it's friendly to be applied to an image, Um, boss it. And if you follow that, you can come up with all sorts of different textures, So that's the first method we could use. But then, sometimes I don't want to spend the time to kind of randomly work through and make textures. I usually do that when I'm watching television. If I'm watching TV and the showing watching just isn't exciting enough to keep my full attention. I got my laptop there and I'll just be messing with the filters making textures. And as I make one that I like, I save it so I can use it later. And if you go through two or three movies on TV, that air just you know they're entertaining but not so entertaining that you're completely into it. You can create your own library. So now let's look at another method we can use to apply texture. And that would be to come up here to the filter menu in Choose Filter Gallery. Filter Gallery is really collection of multiple filters, and by using it, I could come up here and tell it what type of results I would like in one of the choices. If you look here, there's this whole folders full of different effects. You can apply in the bottom. One here is called texture, and that's where I can find one called the texture riser. In with the texture riser, I can get some kind of standard textures here. The ones that I use the most would be burlap in canvas. In this case, we can use canvas. And depending on how large the picture you have, you might need to adjust this scaling because if you have a high resolution image, you might need Teoh scale it up or skill it down. And then relief is kind of how much of a three d feeling that has. And if you zoom up on the image to full size, that's when you really start to see that you have a bit of a textured look. I'm not gonna mess with the settings all that much. For now. I'm just gonna click OK, and the problem with what we've just done is it's permanently applied to that layer, and I might decide that when I come into this image that I really wanted that on Lee, we apply to certain areas. Maybe I want the sky and the surrounding ground to look normal and have only this Airstream trailer here have the texture. Well, it's difficult to do that if I applied it directly to that layer. So I'm gonna choose. Undo in most of the time. If I'm going to use any filters on an image, I'll go up to the filter menu and I'll find a choice called Convert for Smart Filters. What that's going to do is protect the contents of this layer by putting it into a protective rapper that's known as a smart object. Then anything that I do to it will not permanently affect that layer. It'll instead just remember what I applied in. Attach it as kind of like a setting attached to the layer. You'll see in a moment when I go back up here and choose the filter gallery, and I apply texturizing once more. Now when I apply and if you look in the layers panel, it looks different. Before, when I had applied it, I just saw the layer itself in nothing special attached. But now I see down here, it says Smart filters, and it lists the name of the filter I applied. There's an eyeball icon next to it. If I turn that off, then if you see the image of on the left edge, you'll see the texture is no longer applied. Turn it back on and you see the texture applied again. The reason why there are two names one smart filters in one filter gallery is I could go back up to the filter menu and apply more than one filter, and I'd end up having a list of them. Let's say, went up there five or six times to apply various effects down here where it says Filter gallery. I would suddenly get mawr filters, listed everyone that I'd applied. Then this choice up here, called smart filters, would control all of those filters that then applied, meaning that if I turned off its eyeball, it would turn off all of the filters being applied. And so this is kind of the altogether area with that area called Smart Filters. I can click on this white box, and that is a mask. When that white boxes active, you'll see it's corners, air highlighted. Then I can go in here and grab my paintbrush tool. And if I dio I can paint with black in wherever I paint with black, I'm gonna remove that filter effect. So now if you look in this doorway, you'll see that the filter to fact is not applying to that area. It's only applying to the surroundings, and if you look at the layer, you'll say the black paint actually went right in there. In any part of this mask that has black paint on it prevents the filters from showing up, so that's one way of working.
Class Description
Make the most of Photoshop's diverse color filter menu! In this session, you'll learn to combine filters with blending modes, smart objects, and blending sliders to produce unique results. Create a workflow for your complex effects, and apply them to your images without having to repeat the many steps needed to duplicate them.  

Software Used: Adobe Photoshop CC 2015

Reviews
Wow! Very impressed with Ben's course. I've played with filters for a long time, but I still learned a lot. I'm very glad I stopped in for this refresher, and I plan to buy it so I can be inspired by his creative uses of filters.
Amazing presentation; organized; clear explanation of issues; easily understood; helpful!!