What is Mixed Media Art and What Can You Use to Make It?
Khara Plicanic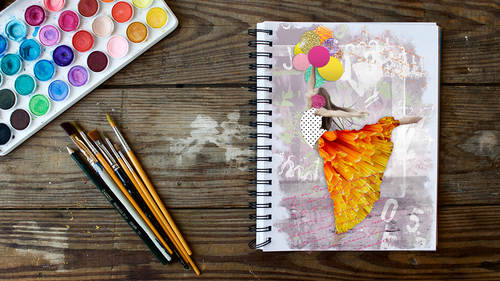 What is Mixed Media Art and What Can You Use to Make It?
Khara Plicanic
Lesson Info
1. What is Mixed Media Art and What Can You Use to Make It?
Lesson Info
What is Mixed Media Art and What Can You Use to Make It?
everybody. Well, welcome, Teoh. Mixed media in photo shop. So that's what we're going to be talking about today. And I thought we would start by may be taking a look at what mixed media means because maybe people don't know, so we'll explore that. So in this case, we're gonna be using mixed media to combined photos. Right? That's one form of media with some paint will be doing some brushwork and then a bunch of other things. So mixed media just means combining different types of art. So that might be photography and, um, illustration or lettering or stamping or anything. And the nice thing is, because of them, photo shop is not messy. So in the end, we're going to create something like this is an example of a mixed media piece combined from all of these things. So they came together to make this so one of the things I like to talk about is where do you get the media that you mix for mixed media? Well, it can come from anywhere. You can, of course, make it yourself. If you happen to hav...
e some paints handy and you're handy with the paintbrush, you can make your own pieces. Um, I tend to do stuff like this. I'm more of a disaster when it comes Teoh actual paint and particularly with scissors and glue and like mod podge and all that. I always have really good intentions, and I always make a huge mess. So what? The tools that I like to use our scanners and, of course, my camera. So being in Photoshopped, I'm suing. Everyone has access to a camera and possibly scanner. So some things that you might want to try scanning, um, paintings that you make or doodles. The neat thing is, you don't have to be an amazing, fine artist. You can really just throw paint down on paper and scan it and turn it into something cool. So paintings your doodles. Maybe you can scan some old books or magazines, newspapers to get you get really cool textures from that, um, found objects, dried plants or flowers. Anything that you can put on your flatbed can be good to scan things that you can take photos off all of those other things, of course, but when you're out and about, you can make your own texture files like anything could be a good texture for mixed media stuff. You can take a picture of the cement that you're standing on or the wall that you're leaning on, or the sky or the grass, or I mean anything can be a good texture. Fabric paper, um, patterns things from nature. Reflections can be interesting, and you can use them for distortions if if you want ah, pretty much anything because you can always blur it or filter it. But you can turn anything into something useful in Photoshopped, so it's kind of amazing. The sky's the limit. And, of course, photo shop also comes with brushes so you can just create, like all of these nice little scribbles I just made in photo shop, not with fancy brushes that I customized or that I bought there just in photo shop, inherently default brushes. So this one here on the left, is the round watercolor brush. Love that brush. The salty watercolor brush has a little bit of grit to it, and then you can. There's also brushes that have, like bristle strokes in it, and when you combine Photoshopped brushes with some of the built in textures that Aaron photo shop, you can see that you can actually create assets out of nothing. I mean, you could make a mixed media piece that's really all just digitally created from scratch if you wanted to. So you don't even have tohave outside source material. So I added some parchment. Ah, burlap texter. I use that one a lot. The burlap and awash watercolor paper to these just to show you as an example, and you confined tune the texture. You can adjust the size and intensity, the scale of it blighting. Even so, I kind of exaggerated it here just to make it easy to see. But you can tone it down or crank it up as much as you want. Of course, you can also purchase assets the other people have made, or you confined ones that people make available for free. Those tend to come in the form of different texture files, illustrations, digital papers, brushes or patterns. And here's some examples of different ones that I've somehow acquired over time. Different little illustrations. Um, so digital papers are just really photos that you can use as a background. Um, so they might be objects they might be like a floor or a traditional background, or they could just be like patterned pieces. Um, the Eiffel Tower illustration, I think was a E. P s illustrator, um, file. And there's some patterns and the the ink blots. Sometimes those come in the form of paper. Sometimes they come a shape. Sometimes they come as brushes. It just depends how whoever made them made them. And you can, of course, make your own very easily. So when you're combining all over this stuff in photo shop, it's really a matter of layering all kinds of things and then adjusting blend modes. That's a big part of it is blend modes and opacity. So here we have a image and I took the same little blob colors smear that I drew, and I just piled it on top of the photo. And I just picked a couple of different blend modes to just show you the way that they interact differently. So it's a lot of experimentation, and it's funny because when I was prepping this class and making the examples of things that we're gonna dio, I was I was like playing around and doing stuff, and then I'd be like OK, really like that. I tried to write down exactly what I did. And then, of course, like later when I would come back to, like, clean up my notes and make sure you know what I'm doing. I would get something different because it's just it's always slightly different. I think it would be really hard to create the exact same piece all the time, so that's kind of a fun aspect. So I'm embracing that. So we'll see where we end up with today. Um, and then it's just a matter of, you know, putting things together. And I love to then put Radiance on top of everything. And again, it's about the blend mode. So here's a mixed piece that I made, and then I took this radiant. And then here are six different ways that I just change the blend mode on the Grady. It and you get really different, uh, results. So it could be it could be pretty cool, And I always changed my mind about what I like and what I don't. And so it's nice in the digital world cause you can change it. You can come back later to what you thought was a brilliant and then you're like, what was I thinking? And you can go ahead and rearrange things unlike in the real world. You know, the paint is dry on here campus, and the glue is is dried up somewhere in and all over your hands. I don't know, asleep when I work, it's very messy. So here's what we're gonna do today. We're gonna take these files and we're going to combine them into something that looked like this when I wouldn't initially put it together. So we'll see how it ends up turning out today. Uh, who knows, but that's what we are going to be working towards.
Class Materials
Mixed Media Resource Guide and Assets (zip)
Ratings and Reviews
Really inspiring! I've learned new techniques and fun stuff, and I'm really excited to try it. BUT - this course is for advanced photoshop users. If you just started, come back again in the future.
Excellent tips and inspiration. I've used Photoshop for many years and still I learned many shortcuts and techniques that I didn't know existed :)
Enjoyed this class. Thank you CL and KP!
Student Work