$500 Challenge - Land Cruiser
Forrest Mankins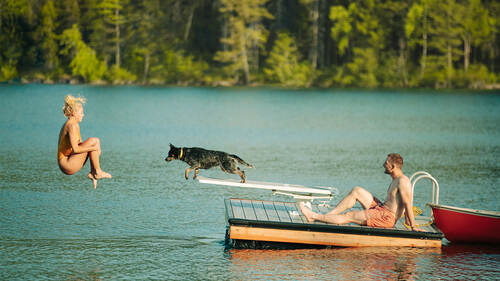 $500 Challenge - Land Cruiser
Forrest Mankins
Lesson Info
18. $500 Challenge - Land Cruiser
When a new camera is released, it doesn't make yours obsolete. In the first $500 challenge, Forrest shows how style, technique, and process are more important than gear.
Lesson Info
$500 Challenge - Land Cruiser
It is another $500 challenge. And so we have a couple of props, one being a stump which we found. The other's a Land Cruiser, and then we have Mina. And basically my goal is to try to balance this ambient light. I'm gonna turn the headlights on and just kind of look through the live view and see if it's quite dark enough for the headlights to shine. If it's not quite there yet, we're just gonna wait or 15 minutes, but let's check it out. (gravel crunching underfoot) (car door opening) (gravel crunching underfoot) We're talking about props. You might not have a Land Cruiser, but I think really anything, (metal jingling) Hey Penny, Penny come here. (person whistling) Probably you or someone you know has an older nineties car that has golden headlights. And that's basically the only thing that I'm looking for. It's just like a really pleasant kind of candlelight thing. So I've actually shot like Honda Civics from the early nineties and it looks totally great. So Mina, you're totally fine...
there. I am just kind of moving stuff around on my end. So the shadows are pretty dark right now. Let's just see how bright we can get it. Another thing I think that I mentioned with the 5D Mark II is that the screen is a little bit older so it's a little bit more difficult to kind of actually see what's in the shadows and highlights. So for that reason, I am using live view and I've got the histogram, the histogram turned on and I'm just like wanting to make sure that I am not blowing out my highlights. So see, I'm a little bit overexposed here. I need to tone it down a little bit. Take a couple of photos. (camera clicking) We're pretty close to there now that we kind of have the shutter speed everything dialed in, went ahead and took a shot and one of the things that I noticed again, it doesn't matter what camera you're using but it's gonna be good or bad depending on what you do. And you can see that I've kind of made the Land Cruiser and this stump overlap, which to me feels a little bit crowded. It's not like quite as clean as I want this to feel. So I'm just gonna move around this way. (camera clicking) Mina, can you maybe look that way again? That was kind of cool. Again, I saw 100 just trying to keep that base level of noise as low as possible. Anytime I'm shooting any camera but especially an older one I am at F 4. so kind of medium depth of field and two 50th of a second which is gonna be more than fast enough to kind of get a really sharp photo. Kind of in-between shots is I'm only using the center auto focus point. There are I think, nine on this guy but the middle one is cross type. And so cross type means it uses horizontal and vertical lines to kind of achieve focus. So it's more accurate. So I'm taking, I'm focusing on her with the middle auto focus point, holding the shutter button halfway down recomposing, and then finishing my frame. And I'm kind of doing that over and over again just to give myself, you know, I don't wanna focus once and then take a lot of shots and then realize later maybe that I missed focus, something like that. So I'm just kind of focusing over and over again just to give myself the best odds. (gravel crunching underfoot) (camera clicking) Now we're done. Awesome. Do you want some help getting down? So this entire setup, the camera body and the lens you can pretty much find an eBay for about 500 bucks. So that's why we called it the $500 challenge. This is the Canon 5D Mark II, came out 11 years ago or so. Again, the plastic, they call it the plastic magic. I mean, it's this tiny little plastic lens. It, it just seems, it kind of seems like a toy but we're doing this to illustrate like how good camera gear is. And so I think when you see the photos from this it will illustrate how much more important the things like light are, the concept, our execution. And so in all of these photos that we've done we're paying way more attention to kind of like where we're positioning our subject to where the sun is. We're paying way more attention to what time of day we shoot it to their expression because really once you kind of get into it those are the things that matter. And if you have shot a lot of different camera gear including the pro level stuff as well you will know that past a certain point. You don't really see that many returns. So for me, this camera, I would shoot any job with it. This camera is like as good image quality as you can get. And, you know, we're kind of just hoping to show you that you can work with what you have to totally achieve professional results.
Ratings and Reviews
A lot of philosophical insights but not much of practical tips to use! I love Forrest Mankins photos and youtube channel. I signed up for his workshop to get a bit more of an insider perception, which he delivered in his own style and which is great. However, at the end of the workshop, I have a hard time to really feel like it worth it. Maybe I was expecting too much of technical, really hands on tips. The whole thing is good overall, don't get me wrong but not as much useful as expected.
Creating a Moment Overall, this workshop had a ton of great insight into Forrest's process before and after creating an image. I learned a lot and really enjoyed the points he touched on with working with models and teams. I never had a workshop go into these sort of important details that forgotten at times. I wish the workshop had more "in the field" video content as it tended to get a bit cumbersome watching Forrest talk at the camera over and over again but regardless I definitely learned a lot and would purchase this workshop again in heartbeat.
Student Work