Editing - Referencing Film
Forrest Mankins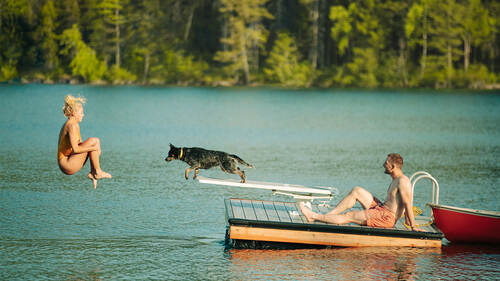 Editing - Referencing Film
Forrest Mankins
Lesson Info
13. Editing - Referencing Film
Keeping film and digital work cohesive takes practice, but it's totally doable. Find out why Forrest chooses different film for different reasons.
Lesson Info
Editing - Referencing Film
So we're gonna go ahead and start working on some of these photos that we've been creating out in the field. And the first one that I wanna look at today is the photo of Amy jumping off the dock with Penny chasing. So the concept we'll be exploring in this photo is referencing film. And we're gonna be looking at our digital frame next to a film shot from the same scene, and we're gonna identify what attributes we'd like about the film shot, and bring those over into our digital edit. Let's get into it. Okay, so here is our digital frame taken on the 1DX. And as you saw out in the field we shot quite a few frames and this is kind of the one everyone's where they should be. And next to it, this is a film shot that I... Let's see. This is a film shot that I took on Portra 800. And so some of the things that I do like about it are those really bright oranges. It's almost kind of surreal. And so I like those, I'm not fully on board with them so I'm gonna take a little bit of that and introd...
uce it back into the digital edit, and I kind of like the greens. A thing to remember with Portra or just whatever film stock you're using, is a lot of times you can take a portion of what you like about the film. So for me, the oranges and the greens in this are great. I just want them dialed back, and that's why we have digital work to work with. So already I want this photo to be a lot warmer. I think my white balance was around 5,500, so a good way to start is just to go all the way to the right and the left, and just see what feels good. So I'm gonna start about there, and just gonna bump up my exposure a little bit just to open up the shadows. 'Cause remember, this is kind of a summertime feeling of photo and we we're okay with having it feel a little bit surreal, a little bit nostalgic. So I'm gonna go ahead and just kind of go down and get some of our basic exposure panel things dialed in. And so you'll see 'em dropping the contrast quite a bit, but I'm gonna bring that back in other ways as we go down. So just start it around there. And I usually start at the top and go down, and then I'll kind of bounce around from there, because if I move my Highlight slider down with the contrast down, there's one look if my contrast was up, and then I did the Highlight slider, it's totally different. So to me, it's all about the relationship between all of our different sliders. So I might bump up the shadows just a little bit. And kind of right now, I'm not trying to make super precise adjustments. I'm just kind of doing big changes, getting an idea for things, and just working my way down. None of this has to be perfect, it's just a little bit here and a little bit there. And obviously Lightroom is non-destructive, so at any time we could hit Reset, and go back to our original images. So this is a super flat image that we have here. I mean, if you look at it before, we have these deep shadows up here, look how Penny's fur is just super dark and where we're at now, everything's more opened out. And this is not the final look that I want, but to get more of that film emulation look with these really bold shadows and colors, I want to open the photo up to this spot and just bring it back in with the Tone Curve. And so this is, I would say, the Tone Curve and our Split Toning, for me, are probably the two most powerful tools or the ways to kind of create the most unique looks. So we know that with our RGB Tone Curve we can adjust different things. And a lot of people do kind of a fade or things like that. But something that's really powerful is that you can go into the red, the green, and the blue channels independently. So we can take our picker. And if we hover over any partner image we can see that that point correlated into the Tone Curve. So I might say this part of the board right here I don't like the red, I wanna reduce a little bit, so I could click on there and drag it down. We get kind of these global changes that are impacted most at the point that we're dragging the Tone Curve at. So something I like to do a lot is I'll go into the red curve and I'll lower the shadows. I'll kind of keep the midtones about the same, and I'll just get kind of this gradual s-curve. And right now that obviously it does not look great, but as you keep watching we're gonna do that again with our green channel. And you can find a lot of different videos, things like that. To me, what's been really important is just that every now and then sit down with a photo and just try to edit in a totally different way. And sometimes just by doing that, you come across a way that you would never usually work in, but you can find a technique that kind of gives you a different result when you bring that into your own workflow. So now we've got our blue channel and it's starting to look a little bit closer to how I want it. So I'm gonna go ahead and tweak this just a little bit. Here we go. And so now that we've done something like this even though it's just a Tone Curve, it's not an entire edit, what we can do is go into Develop, click on New Preset, and you can check only the Tone Curve or only the exposure. So you can kind of build these modular presets to help you have a quick recall for things which I've done with this curves. You'll see that I just saved the curves, and I have the red, the green, and the blue all saved, and it's just a quick way to get back to this sort of look. And now that my curves are right, I'm gonna adjust the exposure up a little bit. And as I'm editing anytime, you can hit the back slash key, and that is gonna go to your before and after. And I try to do this over and over. Even in the instance of this where I'm trying to take the look pretty far from reality, I still wanna reference what was there to begin with, and that's pretty good. So the next thing that we're gonna do is just kind of change some general colors in our HSL, our hue, saturation, luminance. And typically over time, you're just gonna kind of find your own preferences. And a good way to do it if you don't know what color is what, you can click on this color picker, and for instance, I'll put it up here, and then click and drag, and you can see what's changing. So that's a great way to kind of figure out what's happening because a lot of times our yellows and greens overlap. So we're trying to adjust one and not really getting the most out of that, we should have been adjusting the other, and it works in saturation and luminance as well. So I'm gonna go through and just kind of make kind of some quick cursory adjustments that I do to a lot of photos. And there's no really rhyme or reason, it's just really about what feels right. Another thing to remember in an edit like this is that even though we are shifting the colors creating this mood, that we still wanna be cognizant of our skin tones. So I see a lot of edits that maybe if it was just a landscape or just a car or whatever, it would look totally great but then you see something where you know what color that is, and for me, it kind of ruins the mood of the entire photo. You see something that you know should actually be green or a skin tone and it's shifted too far. And I think that can really detract from what we're trying to communicate with our photography. So something I do a lot especially on a photo like this is, I'll reduce the saturation of the greens somewhere in there. I usually bump up the yellows just a little bit, and I'll often just add a little bit of blue into it. Purple, not so much. I don't really want to have too many colors competing. And then luminance, I'm usually bringing down the blue just a little bit. Orange usually goes up because that's typically a skin tone in this sort of scene. You have sunlight hitting skin. And so if you watch luminance, it can really make some drastic changes quickly. So I usually just have that bumped up just a little bit, It makes the skin look a little smoother. And now split toning. And this is kind of the biggest thing. So you'll see where we started, and this is how it works. You can enter values over here or I think what's way more valuable is just to pick something, so we're affecting our highlights. And so as you move right and left, you're picking the tone that you want, the color, and as you go up and down, you're picking the saturation of that color. So I'm just gonna kind of move it around, kind of see it fits. And so I kinda like this like aqua type color, it's pretty nice. And let's try a different shadow color. Let's see. It just takes a little kind of looking around. Again, this is mostly based off of feel, which to me, is kind of our method for this entire edit. And so in any of these boxes we can check it before and after. And so this is a lot closer to where I wanna be, but here's the before. And you'll see, I like these yellow skin tones. After though, I've kind of taken a little bit of that out, but the water to me is much more attractive. So now we have a tool called Balance. And as you can see, we can pick, if it's in the middle it's kind of everything over here is highlights. Everything to the right is highlights, everything to the left is shadows, and we can kind of pick the midpoint on where our highlights and shadows are gonna fall. So that feels pretty good. Next step, we can do a little bit of sharpening. Try not to go overboard. I'm usually between 25 and 40 something. The biggest thing to me is to zoom in one to one on our subject and on a Mac you can press and hold the option key, and then start moving your masking slider around. And you're gonna see everything in white is gonna have sharpening applied to it. So as we bump off the masking, we're gonna have less and less that's being sharpened, which we want because everything in the background is basically a distraction. So we want only our subjects to be sharpened. And you can kind of see a representation. Again, here's everything being sharpened. Here's only that. So that feels pretty good. Calibration is one that I do quite a bit. It's pretty drastic. I mean, you can see just with these little changes, I'm almost ruining a photo pretty quickly. So for the most part, I'm only usually moving these around by one or two. And I'm usually skewing to these same kind of looks again and again. Even if the edit is different, sometimes to me it's just a little bit more pleasant to have your calibration set in a way that you're used to. Whether that's everything at zero or everything kind of like how I have it, it's just awful a little bit. But it gives you a good starting point. So there's our before, there's our after, and now that I've kind of gone through. Let's just do a couple of kind of global changes. So I like these shadows that we have. I wanna just make sure that they're dark enough to really show that it's that late afternoon light without being too too black where we're losing all of the detail. So for me, again, like you can see I'm moving the Shadow slider just in these pretty big swipes just kind of seeing what feels right. Might move the contrast down a little bit. And so that to me is just about done. There is one big thing missing, and if I'm looking at the top of the frame, all of that is such a distraction. And this is a thing that can kind of prevent your photo from being as good as it could be. There's nothing technically wrong about what's happening in the background, but let me go into Photoshop and I'm just gonna quickly kind of clean some of these distractions up and show you a before and after, because it's a big deal. So again, I'm just going into Photoshop. I am making a new layer off of the background layer, it's command J. And a tool that I use all the time is the Patch tool, you can hit J for it. And kind of what that does is one, it makes a selection. You can make a selection of whatever you want. And if you want to you can click and drag into the new source area, and it will kind of guess what you want. As you can see right here, this is kind of an ugly thing. So I'm gonna try a different way which is Content Aware Fill. It's a little better. So I'm just gonna around really quick on all of these kind of white spots, and just make sure that we're not really attracting any eyeballs back here and just putting everything on the action in our frame. Okay, so I just went through and kind of removed some of those distracting shapes. So here's before, after, before, after, and to me, we created this entire scene. It wasn't some sort of documentation, we're trying to create art. So for me, I am totally okay with moving these background elements. And so we've kind of removed the shapes and the values that are distracting, but another thing that can be distracting is color. So what I wanna do is kind of focus on this area up top and just kind of tone the greens and the yellows down just a little bit without affecting our foreground subjects. And I kind of wanna make the color palette up top a little bit narrower. So I'm gonna go here and just open a selective color layer. I am going to go ahead and invert the mask so that nothing from this layer can be seen. Then I'm gonna take a brush, medium hardness, 100% opacity, and just really loosely, I'm going to brush over the spot that we want to change the colors on. And we can see down here, that's what we've done. And now, so let's open Selective Color and I'll usually do two of these. So I'm gonna duplicate layer. So let's start on the first one. On these two different selective color layers, let's just start with our greens. See what is green? What is not? So by taking some of that cyan out, adding some magenta, it warms things up and already to me, it's not quite as distracting. It feels more like sunlight's falling on it versus these ultra green kind of springtime trees. So I'm gonna add yellow. Now I'm gonna run over to the yellows and just kind of check out the same thing. And so it's a little bit more dull, but to me, that's kind of what we want. It's not very eye catching, it just blends in. It's more of a gradient and a swath of color. So at this point, I'm good with this image, I'm just gonna save it, and it's gonna show back up in Lightroom. And I just wanna show you our edit versus the original, and we're gonna touch back on that film really fast. So here's what we started out with. We had the action, everything we wanted, the light we wanted, and we had this inspiration from a film. So kind of these darker shadows, these kind of bright greens and oranges, they just looked totally surreal to me. And so I wanted to take those things and capture them to a degree in the final photo. So again, we started with this. We drew inspiration from this which is a Portra 800 shot, and kind of edited that into our final image which we have here. So we've got all the action we wanted. We kind of have that summertime yellow nostalgic mood. We removed our distraction so that people are only gonna focus on the action, and we're done. So we just finished editing that photo and I saved it as a preset. And I wanna go into one of the other shots we did with Isaac and Amy running away from the camera. It's one similar time of year, similar location, similar light, and just apply that to that photo and see how few adjustments we really have to make to get a good image. So now, again, here's where we started out. Here's our edit. And by the way, usually wanna get back into Lightroom, I will have one or two kind of skin adjustments to make, but this is our preset. Here we are with some of the photos that we shot when Amy and Isaac were running into the water. These are just some different frames that we got along the way. And when I saw this frame, this is the frame of the shoot. This was the image that we were after. So let's go ahead and take that preset that we made, warm vintage, from the first photo we did and just apply it. And so already, I like this a lot. It feels really airy and bright, and I like how her hair looks, but also the water still kind of has that blue to it. So we have these complimenting colors. I do wanna drop the shadows down just a little bit, and something that's great to do is when you're not sure how dark your shadows are, is that you can hit the J key in Lightroom. And you can see here, see that red. Anything that's blown out is gonna show up as red. If it's too bright and if it's too dark, it's gonna show up as blue like this. So you can always hit the J key and just kind of see where you're at, and also checking the histogram is good. So we lower the shadows down, and exposure's good. I am just gonna do one thing to this in Lightroom and we're done. So you could call this photo finished, but we're trying to be really, again, picky with what we accept and what we don't. So I'm gonna go make a new layer, go into Liquify and just fix this little bit of hair. And it doesn't have to be perfect, it just is kind of noticeable. So we're just gonna make things a little bit smaller. Again, this is not journalism. It's really easy with Liquify to kind of get out of control pretty fast. So no matter what we're doing, we're always just referencing what we started at. I'm trying to keep that in mind as we're headed towards our final edit. So I'm just gonna minimize that little bit, maybe Kind of fix that shape just a little bit, that's totally fine. Not a big change, but the little things all add up, and then I'll go ahead and save that. Comes back in Lightroom, so here is the first image, and here is our final edit. So that's it. So you just saw me take the attributes I liked from Portra 800 into our digital edit. But I want you to remember that we can emulate film without taking any elements that we don't necessarily enjoy.
Ratings and Reviews
A lot of philosophical insights but not much of practical tips to use! I love Forrest Mankins photos and youtube channel. I signed up for his workshop to get a bit more of an insider perception, which he delivered in his own style and which is great. However, at the end of the workshop, I have a hard time to really feel like it worth it. Maybe I was expecting too much of technical, really hands on tips. The whole thing is good overall, don't get me wrong but not as much useful as expected.
Creating a Moment Overall, this workshop had a ton of great insight into Forrest's process before and after creating an image. I learned a lot and really enjoyed the points he touched on with working with models and teams. I never had a workshop go into these sort of important details that forgotten at times. I wish the workshop had more "in the field" video content as it tended to get a bit cumbersome watching Forrest talk at the camera over and over again but regardless I definitely learned a lot and would purchase this workshop again in heartbeat.
Student Work