Workshop Intro with Alex
Forrest Mankins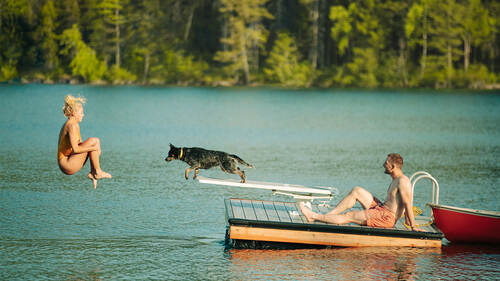 Workshop Intro with Alex
Forrest Mankins
Lesson Info
2. Workshop Intro with Alex
Alex Strohl introduces one of his favorite creators, Forrest Mankins, and gives some backstory to their relationship and the workshop.
Lesson Info
Workshop Intro with Alex
We're alive from Montana for a very special workshop about a very special person, Forrest Mankins. Him and I have been shooting the state of Montana for the past five years I think now, we're getting old, and I've been wanting to make this workshop for two years now. Finally convinced him, finally had some time to pin him down late some dates and we have a pretty exciting schedule. Here's what we have planned out. This workshop is a deep dive into Forrest Mankins universe. The way he uses color, the way he uses props, how he builds intimacy with models, how he uses films such as digital, how he approaches all different mediums of photography. We've come up with this challenge, it's called the $500 challenge, and Forrest will show you how he gets pretty amazing results with a $500 setup. So 5D Mark II and a 50 millimeter 1. made out of the finest plastic. You will see how he achieves commercial great results with a cheap set of that, I mean, most of us can afford. You learn how he build...
s teams of friends, like almost parrots to create these concepts. Like you don't need a fancy crew, he'll show you how he lands up his friends and uses them to make his concepts come to life. Creating the moment is not something we talk about enough. It's good to go out sometimes and wing it, but if you're in an environment we have to be producing photos for a shoot or for your own portfolio, you don't wanna leave everything to chance. So what Forrest talks about a lot is how to recreate these moments, come up with this concept and make this photo that is so intimate. So I'm very excited to introduce Forrest to our little community, the StrohlWorks community, we've been building. Hosted by my good friend Forrest Mankins welcome to Creating the Moment. (suspense cheerful music) We're gonna learn how to go from getting good images to creating photos that people are actually going to remember. (suspense cheerful music)
Ratings and Reviews
A lot of philosophical insights but not much of practical tips to use! I love Forrest Mankins photos and youtube channel. I signed up for his workshop to get a bit more of an insider perception, which he delivered in his own style and which is great. However, at the end of the workshop, I have a hard time to really feel like it worth it. Maybe I was expecting too much of technical, really hands on tips. The whole thing is good overall, don't get me wrong but not as much useful as expected.
Creating a Moment Overall, this workshop had a ton of great insight into Forrest's process before and after creating an image. I learned a lot and really enjoyed the points he touched on with working with models and teams. I never had a workshop go into these sort of important details that forgotten at times. I wish the workshop had more "in the field" video content as it tended to get a bit cumbersome watching Forrest talk at the camera over and over again but regardless I definitely learned a lot and would purchase this workshop again in heartbeat.
Student Work