Goal Setting for Digital Artists
Renée Robyn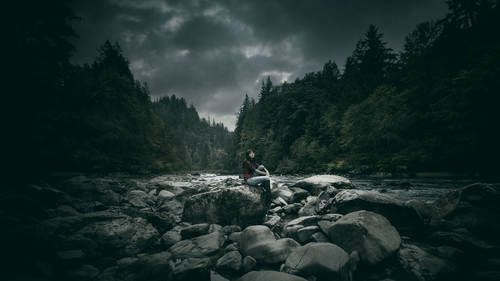 Goal Setting for Digital Artists
Renée Robyn
Lesson Info
28. Goal Setting for Digital Artists
Lesson Info
Goal Setting for Digital Artists
We make pixels, we're not saving lives (laughs). Pixels can save lives, right? I mean I've met so many people who have been in you know horrible accidents or have had you know, lots of health problems and the thing that saved their life was making images cause it was the only thing they could do whether it was drawing, or writing, or you know photography, or whatever else. I mean photography was the thing after my motorcycle crash that was the way that I could feed myself, and it was the only skill that I had and I was terrible (laughs). But it was enough right? And so you know, we sit here and we take sometimes these things a little bit too seriously, and my hope for everybody here and for everyone who's watching is that you're able to breathe, take a step back, and get back to enjoying making artwork because that's the point of doing all of this. If you're not enjoying this, then take a break, do something else. If this is the way that you're paying your bills and you're suffering, a...
nd you're having a hard time, take a break, go and get a job, do something else for a little bit even if it's just like six months, like give yourself a window. Like okay six months I'm taking a break or for hey six months you're gonna do this full-time. My first time when I went back to work cause I had in one month I had my car blow up, my laptop died, my lights died, I had to move and something else went wrong, oh yeah my camera died - did I say my camera died already? Anyways, so I was basically homeless and unemployed, and I was like oh my god what am I gonna do? So I went back to work, I took a job, and so I told myself I was like okay I set a goal, and I was like $10,000.00, I'm gonna save up 10 grand cause the first time I went full-time, I had no savings or anything like that and it was the worst way to get into it; I don't recommend it. So I was like okay I'm gonna save up $10,000. and when I save up $10,000.00 I'm gonna quit. And so every single time whenever you set a goal for your life, something's gonna try and derail you. This happens, life happens to every one of us, none of us are exempt, and if life hasn't happened to you yet, it's just coming (chuckles). It's just gonna happen eventually. So what happened in this case is I got so close so many times. The closest I got was $9,500.00 saved in the bank but every single time I got close something derailed and took everything away from me. And so I sat there and I was like oh my god, what am I gonna do? I was shooting full-time and I still had a day job so I was burning myself out. And so I told myself okay, we're gonna do this thing and for the long and involved story but I usually cry when I talk about it, so I don't wanna cry on CreativeLive tody (laughs). Anyways, but long and involved story was I told myself I gave myself six months. I said okay, it's six months, we're gonna shoot photography full-time. No matter how far in debt you go, six months we're shooting it, we're gonna give it a go. And so at the end of that if you have money in the bank, another six months. So I was signing six month contracts with myself, I was leasing myself out to life for six month increments. And so I sat there and I was like okay cool, and then six months went by and I was just actually in the green, and I was like not by much. I mean I'm not a millionaire, I don't drive a Lotus. I have a second-hand Acura. But another case that's what I did, I said okay six months we're gonna make this agreement with myself and with the universe, and whatever else FM roll crap is out there. I'm gonna say okay this is what we're doing. So six months went by and I was in the green, not by much but I was in the green and I was like okay cool. Dear self, will you sign another six month contract? Six months went by, still in the green. (laughs) And so now I still do, to this day, I do six month contracts. If at the end of six months I'm extremely miserable, I am extremely broke, or I am extremely anything that is making me really, really, really unhappy and I'm hating life, I'm making a change because life is way too short to be that miserable, and I've been that miserable before. I've been at jobs that I hated and I've been at points in my career now that I just hated my life but I wasn't at my six month end contract yet, so I had to stick it out. And sure enough by the six month came by again and I was like okay, you know, we're doing not too bad. So find out what it is, what agreements you can make with yourself, what promises you can make with yourself, write yourself a little contract and stick to it, and if you find at whatever period of time that you are really unhappy and you're really hating life, it's time to make some changes, right? We have one round in this little fleshy suit whether you believe in reincarnation or not, you got this thing right now with the skills that you have, the memories that you have, the friends, everything else, right now. So if you can't make this work right now then make some changes so that you can actually get back to enjoying your life (chuckles). And that's about it, that's what I got right now.
Class Materials
Layered Beach PSD Composite
Layered Cliff PSD Composite
Ratings and Reviews
i have to say, the class was AMAZING! in every way from the tricks and technique's of mastering this art form to the personalized attention given by Renee. through the class you are able to learn information that would normally take the average person years of trial and error. Renee gives you the gift of benefitting from her her experiences and what she has learned THE HARD WAY! Renee is an outstanding instructor full of passion for what she does, and with a strong desire to not only improve the art, but more importantly, pay it forward, by sharing her knowledge with others. I was fortunate enough to be able to attend the event in person, truly a once in a lifetime experience for me, the staff at creative live were THE BEST! they are helpful in every way and really made this event something special, i can't say enough about the experience i had and would highly recommend that anyone who has the opportunity to go down for a class, it will be an experience that you will never forget. but the best part of creative live is that wether you are there in person or wether you are watching from the comfort of your own home, you are involved in the class in REAL TIME, you have the ear and attention of the skilled artist giving the instruction, being there myself i can tell you that Renee was regularly given questions and comments from the viewers via the creative live staff and she would respond to them as they came, in that way you are very much apart of the class you are never left without getting that personalized attention of an amazing artist or that specific question you have answered, and even better you have the option to purchase the class and have it as a constant resource in your tool kit that you can refer back to at any point that you need a refresher or want to recall that special technique that was demonstrated. thank you thank you to renee and all the staff at creative live you have a life long member in me. and i would recomend that everyone take advantage of this valuable resource dino maez
I have completed many creative courses. This is by far the best so far. Quite the most amazing and inspiring presenter with a true passion for their craft. The core information is excellent, but the thing i liked most were her subtle tangents, dropping incredible information completely on the fly. A complete real world honest view of business and practical side of the industry. Especially her advice on how she started to her business. Saving up enough in her day job so she could pay the rent, and do photography for 3-6 months.
Awesome class. I've been following Renee for a very long time. I love her work and to finally see her work and get an image done from start to finish was quite something.. I love the way she sees things and the way she treats her work and all fellow creative. I would recommend this to everyone interested in getting into composting. Looking forward to creating and making my own art work. But it now :) Have fun creating. :)
Student Work