Creating Your Reality with Composite Photography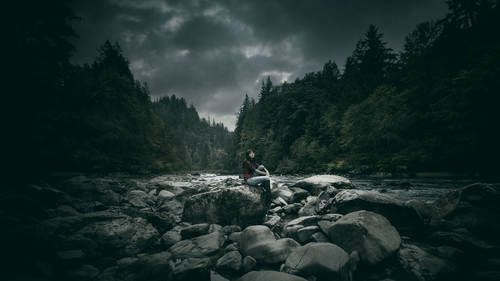 Creating Your Reality with Composite Photography
Lesson Info
On-Location Safety Tips
So what we did before all of this stuff here in the studio, we went out onto location, and we did a pre-shoot. So we actually photographed a model on location, and then we actually photographed the background pieces that we're gonna use for the studio stuff tomorrow. So we're basically gonna go through tiny little segments of film that we pre-shot, and we'll do questions and explanations all the way through it, and then we'll go through the series of culling the images. So the first one here that we're gonna go through is just safety, so it's brief. They cut out the part where I was cursing at the sun when the sun came out, I was kind of sad about that, but, yeah, I guess I'll just hit play, and we'll go from there. Okay, so we made it to our location. We hiked everything out here, and we want to make sure when we get here that there's major concerns to look after. One of them of course being safety, making sure everybody's warm, making sure the equipment stays safe and stays dry, and ...
then making sure that everything just kind of stays the way it's supposed to. So I want to make sure there's no equipment failures, no equipment breaks, and more importantly, no people get injured. So one of the things that I like to look for, is in this case we actually have a cliff behind us here, but iw ant to make sure that our model's far enough away so that she's not gonna get hurt. So there's no risk of her stepping back and falling away. It would take a lot of effort for her to fall off this cliff, especially if we even have a lot of wind, which it's kind of windy today. Next we have computers, we have computers propped up on stuff, so there's no sand getting in anything, there's a platform to put the camera, so there's no dirt getting into the camera or the lens, and then we have lighting, and we have people here who can hold the light to make sure it's not gonna fly anywhere. Originally, we had planned on using a lighting modifier, but it's way too windy, so we're just gonna use a bare bulb. All righty, so that is video number one. So do we have any questions on safety? Because basically what we have there is that we're shooting on a cliff edge so that it's relatively easy to cut out, right? But I'm keeping her far enough away so that if she actually fell over backwards, it would take so much effort (laughing) that it basically would be like the perfect storm. Which the perfect storm can happen, but we want to make sure that there's enough safety steps in place that we can keep everybody and the equipment safe. So there's no equipment gonna fall on her, we didn't have anything overhead that the wind could catch and fall on her, or on anybody else for that matter, because life is necessary. And yeah, I wanted to make sure that the equipment stayed safe, because of course this is a laptop, sand getting into things is bad, and as I learned when I was in Death Valley a couple weeks ago, and I got caught in a sand storm, sand in your lenses is really bad. So my lens is off for repair right now. (laughing) But do we have any questions on safety before we go into the next video? These are all pretty short, so. Yes? Just a question from me personally. Can you talk to us a little be about what kind of insurance you have, and where you get it through. Yeah, I have, so there's lots of places to get insurance, I just have private insurance. So I just have commercial liability insurance. If you're part of, say, PPA, or PPOC, depending on what part of the world you're in, a lot of times you can get discounted insurance through those agencies, but mine is just through private insurance, that I have everything covered, so. That's, insurance is a really great thing to have, especially if somebody was to fall off and get hurt, that perfect storm happened, she jumped, and then gale-force winds took her and threw her off the cliff, it's really nice to have a healthy insurance policy sot that your people are looked after.
Class Description
With the right Photoshop know-how and studio shoot experience, you can merge fact and fiction into a reality that lives up to your imagination. Renee Robyn has made a career of turning everyday photos from her travels into eye-catching images. Robyn will teach you how to add people and other elements to your existing landscape photos using ethereal custom effects.

Join us for "Creating Your Reality with Composite Photography" and you'll learn:


How to choose or set up a shoot for your background image

How to direct posing during a shoot, and work with directional light in studio to make your subject fit into the background image

How to composite your subject into your image using Photoshop
Photo compositing allows you to breathe interesting ideas into your photos. Open your hard drive, walk into your memory, and turn past experiences into fantastic new realities.