Creative Cloud Essentials
12 Wrap-Up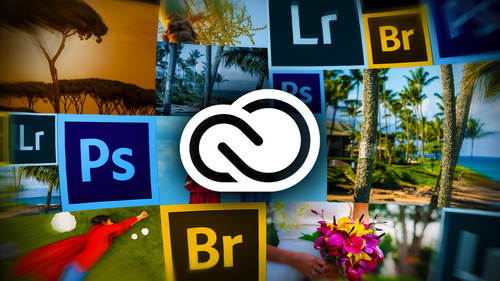 Creative Cloud Essentials
12 Wrap-Up
Lesson Info
12 Wrap-Up
jam packed day. We've covered a lot. I want to give a big thank you to everybody out there who's been watching us throughout the day. We couldn't do this without you guys. Also a huge thank you to our students here in the studio. We really appreciate all of you guys being here to enjoy this with us. Now on a big, big round of applause and a big thank you for Lisa Snyder before we wrap up. Lisa, before we do head out, I do have to ask you, we covered a lot in these last four segments. What we have in store next, What we're going to start out with in the morning is we're going to take a look at how awful it is to watermark. Famous is in photo shop using an action. Actions were great. Bar marking is is a bit tough, but we can get it done. We're going to sink. Our settings were gonna dip into bridge for just a second, and then we're going to start creating some of those beautiful direct mail pieces. We're going to create a direct mail postcard. We're going to create a magazine ad and we're...
just gonna have ah, whole lot of fun. And then we're going to spend probably the last half the day creating our website with the hands. Wow, It's like it's almost like if you were just squeezing your lemons, we now we're gonna get one of those little women squeezer get the most out. Here is our some great comments to share with you. Free air photographer says I'm so glad that Lisa goes over her lessons again. Sometimes I missed something the first time. Well, I'm taking notes. And this time I was too busy playing in light room. So I missed the first few minutes of what she, Veronica de G on Twitter, using the hashtag Lisa Live says I learned so much new info today on Creativelive Light Room is looking more and more useful and less and less complicated. And norms says this course has been very informative and excellent. But as I'm watching from England, I must wish you all a good night. Wow. Thank you, Norm for tuning in from England. That is fantastic. We love to hear stories like that and we'll be back here tomorrow. Same time, same place. We will see you there
Class Description
Adobe Creative Cloud is an essential toolkit for photographers — but navigating its many programs can be overwhelming. Join best-selling author Lesa Snider for a comprehensive course on how to harness the power of Creative Cloud to build a thriving photography business.
Lesa will show you how to grow your photography business with Creative Cloud's suite of applications. You'll learn how to build promotional materials, how to create and customize a professional-grade portfolio website with Behance, add compelling elements like slideshows, audio, and video, and display your portfolio on any mobile device — even in printed book form. You'll also learn how to use Photoshop to create a professional and engaging video portfolio to showcase on your website, iPad, Behance, or burn onto DVD.
Lesa will also cover how to use Kuler to grab a color palette from a favorite image for use on your website or promotional materials, as well as how to use familiar drag-and-drop tools in Adobe Muse. By the end of this course, you will be able to create a full-blown website worthy of your work, with light boxes and slideshows to showcase your portfolio, and contact forms to gather leads.
Software Used: Adobe Creative Cloud 2014 

Reviews
I have watched the day one and part of the day two classes -- this class is chock full of creative ways to use the cloud to expand your business -- and to help photographers help their clients get more for their money as well as save money in creating beautiful marketing tools. I had been so confused over the lightroom/photoshop thing, and Lesa makes it so easy to understand how to use each program for their strengths or super powers -- so I'm ready to power up my photography business !
Lesa makes learning easy! Thank you Lesa!