Creative Cloud Essentials
25 Pre-Show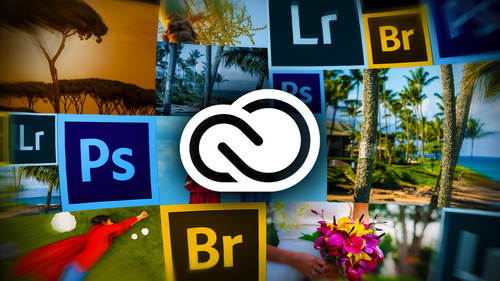 Creative Cloud Essentials
25 Pre-Show
Lesson Info
25 Pre-Show
Hello, Internet. Welcome to Creativelive. This is Day two of Creative Cloud Essentials with Lisa Snyder. This is Jamari milk again. And this is Chris Jennings. We're gonna be your host for the final two days of this workshop. Jean Marie, We had a lot of fun yesterday in day one with Lisa. At least I brought all of her energy, all of her mastery. And I'm just excited for two more days, I believe, you know. Yeah, we had a lot. We still have two more days to get there. Lots of great information. So right now, we're gonna take about 10 minutes for our pre show segment. And all that means is we're gonna make sure that our audio and video are working, making sure that all of you out there can hear, hear us and see us. So jump into the chat rooms. Let us know that everything is working because creativelive is very collaborative. We want to hear from you guys. And as I said yesterday was a lot of fun. We learned a lot of great tips. We had some students in the audience yesterday that really he...
lped make the whole experience even better. We do. They're repeat offenders here, many of them. This is our creativelive front row. If you want to learn more about how to be a student here, live in our San Francisco our Seattle studios go to creativelive dot com forward slash front row, but on to meeting our front row right now. Let us know. I starting here with Frank Benefield. Let us know your name where we can find you online, where you're joining us from. And Yeah, it was there anything yesterday that Lisa talked about that maybe sparked her interest. Maybe a new use for something and creative cloud that you hadn't thought about before. Well, my name is Frank Bella Fury. I live in Salinas, California Monterey Bay. I'm a photographer. You can find me online at Facebook at Frank Billy Fury photography. And let's see the top 30 things I learned yesterday. I'll start. Let me see Number one. I'll just give you the top three. It's public in Published a hard drive instead of export. The hard drive a big advantage to doing that. How toe pick a color out of the image that was import. I could never find out how to do that. And then, of course, had a published to blurb and do slide shows. Those are the top four things I learned, all right. And many more of a one. All right, Welcome back. Thank you. I'm Michelle Marquel. I'm from Redlands, California. So I got toe get lucky and come up and visit here in the bay and be in this class. And I'm on Twitter at New Underscore Run and on at sea at Neo Ren Bohemian. And I'm a jewelry designer and glass artists. And I'm just expanding into photography. So they think the top thing I learned yesterday was that I can use light room and, you know, I was not using it because I was being lazy by just doing everything in photo shop, but Lisa topping yesterday that I am actually able to work faster and more efficiently by bring light room into my workflow. She turned upside down in a committee. All right, Dorothy, Welcome back. Thank you. Um, my name's Dorothy Wong. I'm actually born and raised in San Francisco. Um, and you can find me at Dorothy. Gets creative dot com. Um, I used photography in some My web design projects. Um, and I do use light before, but it was kind of, um kind of cool how I learned a couple of new things and, like, verify that I don't have, um, like, the spot healing brush. Or you can click and drag. We definitely can't do that. Um, and also, it was kind of fun learning about the photo books because I usually use 1/3 party like Shutterfly, But I think it's it's way more effective using it through, like I like seeing the light bulbs go off here. And I also love having Native San Franciscans in here. Thank you. All right, welcome back. I am Holy. And I am an official creative life junkie and, uh, Lisa cider deep dive fan. And, uh, yesterday I think I was super excited to finally figure out how to get the light room onto my IPad or the things that I make in light room onto my IPad so I can show off your work because it's really hard lugging around a inch screen. Well, if you're gonna be addicted to anything, I think creativelive is probably the healthy. All right. Well, welcome back. Thanks. I'm excited to be back. I learned a great deal yesterday. I didn't know what room was so powerful. And I'm really excited to use it. I could be found online at Miss Val Lord on Twitter and looking forward to what we learned today. Right? And she brought her height Hot pink with a All right, Harvey, Welcome back. Thank you. Uh, my name's Harvey Abernathy. I have business called night and day photos. I could be found at n de photos dot com. I think for the most part, my experience yesterday was I've been a procrastinator with light room since version three. I've had every version. I've never really used it except for its export engine. And, um, I think, uh, you know, yesterday when she started with light room and I was just going to sit through this one because I didn't think I'd ever really start up with light room because I use Adobe Bridge, a camera and photo shop. So I think I'm going to convert over toe light room. The catalogue portion of it was really a censure for me. I've never really learned that much about it and recognize the benefit of the cataloguing. You hear about the late room converts here and learn. You just never know what's in a stick. Right? Right. All right. Welcome back. Hi. My name's I should McCullough and I'm from San Jose. I am a photographer, hairstylist and makeup artist, and I love a creative lives on. And this has been so much fun learning with came here for Photo shop Week, and now I'm here for this one, and I definitely use a lot of adobe products, everything from Photoshopped to illustrator to Muse. And so it's just hiding it all in. And I learned a great deal about how to make books and how to use the PdF exporting, which makes my life so much easier when I'm sending out, um, roofing sheets and making a really cool products for my customers. So awesome. Awesome, Awesome. Thank you. Welcome back. Thank you all for coming back today. We're looking forward to day to glad to have you with us today. We are on the photo and video channel, and we're just about ready to get started with Lisa Snyder's course. Lisa Snyder is an internationally known speaker and author. She's the author of several books, including the best selling Siri's Photoshopped. The Missing Manual. Now, as we mentioned, she is a founding instructor here at CREATIVELIVE. She's taught dozens of courses, and we always love having her back for more. And she is a regular columnist for Photo shop, user, photographic elements techniques and Macworld magazine. So without further ado, let's bring up Lisa Snyder. I went up, Lisa, you know, way were on a hug basis, but we're not there yet, but I'm still really excited to have you back for day two, so I'm gonna get out of your way. I'm gonna let you get right to it. I'm afraid of the Vulcan you have coming for me. So maybe I'm out of here. Yeah. You have fun. I'm heading back to the desk.
Class Description
Adobe Creative Cloud is an essential toolkit for photographers — but navigating its many programs can be overwhelming. Join best-selling author Lesa Snider for a comprehensive course on how to harness the power of Creative Cloud to build a thriving photography business.
Lesa will show you how to grow your photography business with Creative Cloud's suite of applications. You'll learn how to build promotional materials, how to create and customize a professional-grade portfolio website with Behance, add compelling elements like slideshows, audio, and video, and display your portfolio on any mobile device — even in printed book form. You'll also learn how to use Photoshop to create a professional and engaging video portfolio to showcase on your website, iPad, Behance, or burn onto DVD.
Lesa will also cover how to use Kuler to grab a color palette from a favorite image for use on your website or promotional materials, as well as how to use familiar drag-and-drop tools in Adobe Muse. By the end of this course, you will be able to create a full-blown website worthy of your work, with light boxes and slideshows to showcase your portfolio, and contact forms to gather leads.
Software Used: Adobe Creative Cloud 2014 

Reviews
I have watched the day one and part of the day two classes -- this class is chock full of creative ways to use the cloud to expand your business -- and to help photographers help their clients get more for their money as well as save money in creating beautiful marketing tools. I had been so confused over the lightroom/photoshop thing, and Lesa makes it so easy to understand how to use each program for their strengths or super powers -- so I'm ready to power up my photography business !
Lesa makes learning easy! Thank you Lesa!