Creative Cloud Essentials
Behance Review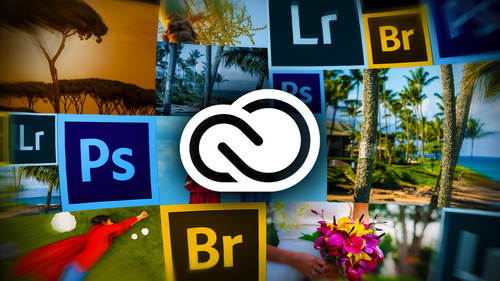 Creative Cloud Essentials
Behance Review
Lesson Info
Behance Review
When we left off, we were exploring the powers of be hands, but we ran into a little snafu, didn't way when we were uploading our project. So it turns out that the snafu is either related to Mavericks on the Mac OS, preventing some of the poppet windows from coming upon when you're uploading a project to be hands or it's the screen resolution between my laptop and the TV. So we have a solution. What we're gonna do is play a movie, and we're gonna watch it because there's no way for me to get the pop ups to show you on the screen. So there's always a way. What is that saying? There's more than one way to skin a rabbit, so that's what we're going to do. But we're gonna go Ast's faras we can with uploading our projects here. So when you are ready to upload a project and again a project and be hands, it's just a group of related images. So when you finished with that photo shoot, you know that that whatever even that it was that you shot and you've got like, 10 to 20 images or so that you ...
want to upload and really showcase not only the beauty of your work and your skill as an artist or a photographer or on an audio person, But you also want to be uploading the types of work that you want to attract. I'll be hand. So if you're gonna use be hands in part to perhaps get some more clients, then you want to be uploading the kind of work that you want to be shooting. So if you loathe shooting weddings, probably not a great idea to upload wedding shots on the hands, you know? So but you're think about what you really want to be doing and put that kind of work upon be hands, and that will just help you attract more of that kind of thing to you. So yesterday we left off with we made a preset in a light room, will come over here to the library module way. We made an export preset in the public services panel of the library module to specifically four R B hands projects, and then we dragged them over. We're gonna post the Sunset project. So anywhere from I'd say 10 to 20 images, maybe around 15 images reach project is a good number to shoot for, So these have already exported. So all we have to do now is come up to the creative cloud app. We're going to click on the hands and honestly, it bears repeating. If you ever open this app and you're be hands section is completely empty. Don't panic. Make sure you're connected to the Internet quickly, creative cloud app and relaunch it and then everything will refresh. I have noticed that we have that problem with this version of the creative cloud. But Adobe really is updating this particular application quite often. So you'll get a notice when you open the cloud at Hey, I want to be updated. So just click update and then let it let the newest version of it download. So now we can come up here and click the add work button, and here we are on the B hand side. So to start the uploading of a project, you're going to go ahead and click the green at work button. I love that. The buttons or big, you can see them. They're not microscopic, and then we're gonna click add project and then we're gonna kick the big blue upload files button, and that's gonna let us navigate to where our files live. Now, if you want to in bed, let's say a video. We looked at doing that yesterday, uploading a video to YouTube and how you can get the embed code. Then you would click right here and you get a little box that we likely will not be able to see where you can paste in that chunk of code. So now let's switch over to the movie, which will be helpful and actually seeing how this works. So here we are, uploading the project. Click Edward, click at Project, then click upload files, navigates where your files live and shift click to select them all. And they go up pretty fast because we resize them in light room. Now to reorder the way they re appear on the screen, Just click one of them. Click that little up and down arrow, and then you get this little pop up menu that has you can grab these little bars. If I zoom in, you might be able to see them. But there's these, like five little bitty bars in a row, that That's the handle for each photo. So you just click and drag it up and down in the list to reorder your photos. And again, the way you open that is, as soon as the project files upload, then you're going to click one of the images. It doesn't matter which one, because you get the same rearranging pop up, no matter which one you click. But you're gonna click on that little up and down error right there that's gonna let you reorder the project files. So you got a little scroll bar on the right hand side. So it does work out better to reorder them one at a time because this papa window isn't very big, so it may work out better for if you want an image that's at the bottom of the list to appear at the top two skewed it up a little bit at a time. You know, it's all Java script that's powering this part of the hand, so sometimes that could be a little bit persnickety. So when you get on reorder, you're gonna go ahead and click continue, and this little section right here let me posit again and back up. Just a touch. This section right here lets you upload a cover image, so that's going to be the thumbnail that appears on top of your project. And folks, we're going to see that. So that's what's gonna make them click to open the project. So it needs to be the best of the best picture in the project or the most interesting something that will draw the audience in and make them want to take that extra steps, a click your project and see the individual files that air inside of it. So you want to put your very, very, very best photo right there, and then you have to have a naming opportunity. So here we are, uploading the cover, and we can give the project and name sunsets that here's where we can adjust the crop of our cover image. And again, this is going to be what makes somebody want to click to open up your project. So you really want this crop to be nice and tied on the focal point, or if you're an artist, you know, on the part that's got a lot of fine detail. So let's pause on this part, too. As soon as you said the cover image and you give the project to title, we just called our sunsets. Then this pop up screen, which you did not get to see it all yesterday, lets you enter all kinds of other information about the project. So in the, uh, creative field, you can add, like, what kind of, ah category is this kind of a project gonna be in photography for us visual photography as well as tags. Anything that you think people might use to search for similar similar work, as well as a product description or project description. Rather so you can type anything you want in here. You might want Teoh tell a little story about how this shoot came to be or, you know, educate people a little bit more about this collection of images. Now, if you're a designer and you're uploading a project, a project would be great for when you finish, let's say, designing a Siris of promotional pieces. Maybe you did some branding for a company, and you designed a business card and direct mail postcard and things like that you might have shots of all of those different pieces in parts of this particular branding campaign. So in the Project Description Area, you might want to tell folks a little bit about your process. You know how you designed all that, or what? Your inspiration. Waas or his people always want to know how you were able to come up with the ideas that you came up with. So you know, Harvey and I in the studio audience here and I both like to shoot abstracts with our camera, and that's just keeping the shutter open for a long exposure and swirl in the camera around in interesting ways. We might want to talk about our process and that you know how we we created that look. That's what makes these things interesting and that makes that will make your portfolio sticky, you know, because you'll be helping other people getting spot. Get inspired by the things that you type in here to describe your projects. And again, these we're gonna hook right up to your pro site. So let's go ahead and play our movie again. So here's the creative field, and you get a list to choose from As soon as you click that text field at the top. There you get this poppet menu of lists, and so I'm scrolling through here really slowly so you can see all the different categories. So we really choose digital photography and photography, but you can see there's quite a lot to choose from. I mean, there's logo design, landscape design, motion graphics, music, packaging, painting any of you refine artists out there and then we can click within the project tags. We looked at this a little bit yesterday when we uploaded this single work in progress. So this is where we're entering terms that people might search on to find similar work. And it's kind of a guessing game, to be quite honest. What you mean they're here? Just think about it. If somebody was trying to find something like that, what would they type in? Almost like what they would type into Google search box to try to find specific content? And then, obviously, if you're doing this on your own, you're gonna flush out your project description far more than I did in this button. Down here is where we can click to automatically push this new project to our pro side. Yes, he automatically. I mean, it's so amazing. Even when we get into muse in the last segment of the day, it's a static website, meaning that you have to change the content there. You If you have another shoot and you want to upload those images, make another gallery. Then you have to go into muse, create another page, create the gallery and then uploaded. But the beauty of the hands is not only the collaborative aspect of it is that when you publish projects like this, you can just automatically have them go to your pro sites. So you don't have to go. Remember to go back in there and oh, I uploaded another project. So I have to go in there and publish that to the pro side. And then I have to update the parasite. You don't have to do any of that. This little check box right here, The bottom left of this dialogue lets you push it straight to it. So as soon as you get done uploading this project, you're finished. You can go on about your day, go back into the outside that we talked about. Once you do, turn on the push to pro side check box. Here, you can tell be hands. What page of your pro site You want to publish it, Teoh, when we get into creating custom pages will see that we can. We have a lot of different pages that we can publish to. So for this one, start my maybe again, I'm just gonna let it go to the gallery. The gallery is like your index page of your pro side, and you can also choose where in the gallery is gonna appear. Do you want first in the list? Last in the list so you can set that right here from this upload project section. And then when you're finished, you can click, publish, and the project goes up to your be hands Page Andrew pro site. And you also get the opportunity to share it on your social networks so you can see I've got Twitter hooked up here, So I have Twitter hooked up to my be hands account already, and I'll show you where to do that. So I get a little on button next to the twitters logo. They're so that lets me know that Oh, I've already entered my Twitter account information into my Behan's profile so that they're linked up. You do have to let you have to authorize be hands toe tunnel into your social media accounts, which is a good thing. So here I could sign in with Facebook and link my Facebook account as well as linked in. And you can skip this stuff a step if you want, But if you want to go ahead and send that out live than just click confirm. Now. At this point, uh, sometimes this dialog box will go away. This pop up will just go away after you click Confirm. But if it doesn't, you can click Skip. It's a little odd the way it works. And again, I'm not sure if the if the oddness is coming from Mavericks. If it's coming from Firefox, the browser or safari, it's, uh, it will teach you a little bit of patients. Just a modicum of patients. That's a good thing. So that's basically it. Now you can see there are Project did indeed upload to the B hand side. So now let's take a look over here in our creative cloud at, and if we come over here to be hands. I'm not seeing that sunset project. Why? Because look what I have selected down here at the bottom, right? I'm viewing my works in progress, which are again. You're single images of something maybe that year wanting feedback on. But if I click projects, then my son sets appear. Okay. Mm. Okay. Now let's come back over here, Teoh my portfolio. And there we see the sunsets project. So you can title these things anything you want. And you can see that the different categories show up down here underneath your projects, and you can have as many projects as you want. But again, it is a good idea to keep the number of images to between 10 and 20. They're so And if we give it a click, it should open. Now, if you wanna rearrange the images after you've posted this project or you want to swap images, our or you just want to delete some. Then you would click the Edit Project button right here. So the next movie I want to show you is how to add that in bed code. So let's say you've got a project that you want to upload a slideshow movie or a video portfolio movie to you. So this is how you would do that. So we're gonna come in here to one of Frank's projects. This is Frank's pro site. So we're going to click the little pencil icon at the top, right of the project itself. That takes us into the project, and we're going to click that in bed media right there. That guy right there. So that's what you want to click when you click that you're going to get a little box into which you can pace that code that you can copy from over on YouTube. So let's see. And just to remind you how you get that code we are, you can see it right there. There's the little the little box that you can paste it into, so by default, if you add this after you've uploaded a project, the embed code is gonna end up at the bottom. So scroll down past your existing pictures in your project and you'll see that text box where you can copy paste that in bed code that we got from YouTube into that. Then if you want the slide show to appear at the top of your page. Then you would click on top of it and then click that the arrow button to reorder your content in that same pop up menus going to come back up that lets you scooted around in your project. So just to refresh, sign into your YouTube account to get that code. So here we are here in Frank's account, click this little avatar and then click video manager, and that's going to show you all of your videos. So here we are, the slideshow that we exported from light room on YouTube. We uploaded it to Frank's YouTube account. There. We're going to click the share button and then click the in bed button that appears underneath it. If you want to change the size of, uh, how that video is going to be displayed on your Behan's project, then you can use the video size button underneath that in bed code. Then you just come back over here to be handsome, pasted in, and that did, and the video appears right there. It's really quite easy. And then again, if you want to reorder the content, just click that little reorder button that appears atop the image, so have a little patience when you're working with the hands. Understand that those pop ups are Java script driven, so if at first it doesn't work, try again up. If you happen to experience at home that you can't see those drive a script. Windows. Try another browser. Try re sizing your browser window, but you'll know that there's a pop up that's trying to appear. If the rest of your be hand screen and your browser goes dark, then that's your clue that oh, there's a pop up somewhere And if you can't see it, just try re size in your browser window toe to see if that'll help. It's a little bit of the bleeding edge, but it is worth it, and it will probably were just fine for you. We have a feeling that the problem we're experiencing here has to do with Mavericks and new Mac OS, so
Class Description
Adobe Creative Cloud is an essential toolkit for photographers — but navigating its many programs can be overwhelming. Join best-selling author Lesa Snider for a comprehensive course on how to harness the power of Creative Cloud to build a thriving photography business.
Lesa will show you how to grow your photography business with Creative Cloud's suite of applications. You'll learn how to build promotional materials, how to create and customize a professional-grade portfolio website with Behance, add compelling elements like slideshows, audio, and video, and display your portfolio on any mobile device — even in printed book form. You'll also learn how to use Photoshop to create a professional and engaging video portfolio to showcase on your website, iPad, Behance, or burn onto DVD.
Lesa will also cover how to use Kuler to grab a color palette from a favorite image for use on your website or promotional materials, as well as how to use familiar drag-and-drop tools in Adobe Muse. By the end of this course, you will be able to create a full-blown website worthy of your work, with light boxes and slideshows to showcase your portfolio, and contact forms to gather leads.
Software Used: Adobe Creative Cloud 2014 

Reviews
I have watched the day one and part of the day two classes -- this class is chock full of creative ways to use the cloud to expand your business -- and to help photographers help their clients get more for their money as well as save money in creating beautiful marketing tools. I had been so confused over the lightroom/photoshop thing, and Lesa makes it so easy to understand how to use each program for their strengths or super powers -- so I'm ready to power up my photography business !
Lesa makes learning easy! Thank you Lesa!