Creative Cloud Essentials
Being a Pro with ProSite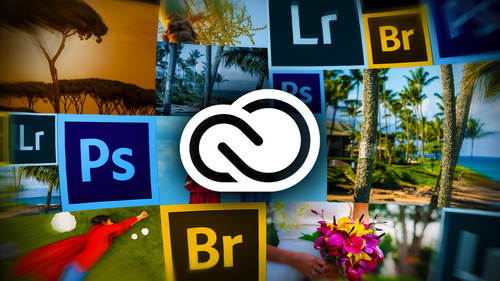 Creative Cloud Essentials
Being a Pro with ProSite
Lesson Info
Being a Pro with ProSite
So now I want to come back over here to our browser. So let's take a look at the pro side again, OK, so we're gonna close out of this. So any time you're logged into your be hands account and you want to get to your pro site, there's a nice big button right here so we can give that a click. Hands also gives you a nice button that you could bookmark. You know, saving in your in your toolbar appear for easy access. So let's come over here and edit the pro site, and I just want to show you a couple of sections that I have fully fleshed out just so you can get an idea of what you can create at home. So we talked a little bit about it yesterday. When you first start building your pro site, you're gonna choose the layout. So this layouts button is going to be active when you first go into that section, and then you can just scroll down on the left hand side. There's not a whole lot of templates, but they're customizable. And if you click one of the templates, you get an idea of what that's g...
onna look like over here on the right hand side. Behan's also gives you some customization examples. So if you want to see what other people have done with that particular template, perhaps to get some inspiration, then you can just click that button and you can go through these sites. And if you click them, they'll actually launch in a new tab, which is anything but. We've already chosen a design for mine, so I'm gonna go into the design area, and we talked a little bit about it yesterday. But as you point your mouse cursor to these different items, be hands shows you what area of the sight that that pertains to also, when we get into building Frank site here in a second, we're gonna be building this header. Well, your next question is gonna be of course, Well, what size is it supposed to be? How do I know what size to make my Photoshopped document in order to design that while the neat thing is that I'm gonna go ahead and click header right here and I'm gonna click logo when I do, I see that I have uploaded an image If you haven't yet uploaded an image. I'm gonna click remove here. The hands tells you exactly what size it needs to be. It can't be any larger, any wider than 990 pixels. So that's a helpful thing. And that number is going to vary according to which template you pick. So just go ahead. Before you start designing your masthead or your logo for that page, you would just come over here and click on logo. And because you won't have uploaded one yet, you're immediately going to see that that with there and then you just go make your Photoshopped document that wide. You don't have to make it that wide. My logos. Not that wide on there, but so that's a maximum. You're not limited by height at all. But remember, you are probably showcasing your projects and not your logo, so I wouldn't make it honking big. Okay, so I'm gonna click cancel so we don't zero out my logo here. The next thing I want to point out is some of the custom pages that you can add. So let's click pages over here. And every time you click one of these buttons you get this nice, helpful message that gives you a nice tip. It's really incredibly friendly. So over here we can click at a page if we want to click if we want to add more custom pages. I've got several custom pages here, and I can reorder how they appear over here as links by clicking and dragging that bar. So if I want gallery to be below contact, then I can rearrange that simply by clicking and dragging. It really is an incredible interface. If you want to turn any of these custom pages off, you don't want them anymore. Just click the off button or click on, and it will switch too often that that link will disappear from your page, and each one of them has a little customization name. So you're not stuck with with the name being gallery, you could call it something else. Contact page. We can edit the page content. The only drag about the contact page is that be hands doesn't automatically give you a contact form, but you can download free forms and coffee there in bed code and plugged them in to be hands. And I've got one of those for you here to share with you. I'll open up another's have and will come down to you. Here. It's called Wufu W U F o. So this this is a an online form builder that's fairly easy to use. So if you're feeling a little bit adventurous and you want to build a contact form, the reason you'd want to do a contact form instead of just putting your email address out there is so that spam robots don't capture it. So that would be the only caveat to just put in your email address on the on the contact page. But what you can do with this particular site and it is W you f o dot com is you can use its busy wig editor to build a contact form and then copy and paste the code, put it into the code in into the box and be hands, and then that form will populate itself onto your contact page. That's beyond the scope of this class, but I just want to let you all know what you can do. So if you're thinking, gosh, I want to contact for But you know I can't code and I don't have the money to pay somebody to do that. I know that there are. Resource is out there. All you have to do is is hunt for them. And actually a second that I used Wufu on forms on my site and it's actually really great. Great way to organize. When people reach out to you, you can make all sorts of forms with it. I'm so glad you're bringing it up, because it's a really cool resource. Yeah, excellent. OK. The other supercool page that you definitely want to develop if you're trying to attract work of any kind, is your resume page. Now, this will take you a little while to populate, but just take a look at what we've got here. First of all, it looks great, these dividers air coming in automatically, and I'm gonna show you how we how we do this in a second. But you can see I mean, that's a full on resume here, So I've got education. Language is very much Italian, beginning learning skill sets, awards and so on and so forth. This footer down here is automatic that appears on every page of your pro site So you've kind of got that copyright notice. Hey, don't still my work. You can't use it. So that appears automatically, which is great, which means you don't have to try toe, you know, remember toe and all that kind of stuff. So that's what the resume looks like. And the way you populate that is either through your Behan's profile set up. Or you can come over here to this custom pages link, turn on resume and click this little gear sprocket that appears to its right, and you can even not only can you edit your work experience, but you can include a Pdf toe toe linked to it. So that way, any perspective, employers could download your resume as a PdF. And they could, you know, maybe give it to human resource is or whatever toe you know for the vetting process. So it's really, really quite flexible. You can upload your own if you've designed one, let's say in in design. Then you could upload that pdf and have that available as a download link. Or you can have the hands create one right here. Just turn on use work experience. Pdf, and it takes what you've entered in this area right here and creates into the pdf and adds a link for you automatically. So let's go ahead and click this edit work experience link, and it will have a slog in again, which is fine. So I guess we'll go back and do that again. This is where that patients comes in. All right, we'll go back to editing are pro site. It will ask you for your password here and there. And sometimes it does dump you back to the very home page of the hands. So we were in the pages area. Thank you for the tip. And on the resume section, we're gonna choose resume options and click edit my work experience. There we go. So here's where you can add that crazy simple to do. You know, edit the contact information that enhances pulling, edit, your email address and your website. Just click these guys to edit that. What's your personal statement? I love that it prompts you for things that really make your resume special. You know when when back when I was an executive secretary years ago, I would have never thought to add a personal statement to the top of my resume, would you? So it's neat that it prompts you for that kind of thing. So as we come down here with work experience, super, super easy, we can edit, we can add and you just enter the information and it appears in these little sections, you can also reorder them. So if I What say I released a new book and I wanted to put that higher up in the order of my work experience, and you can just click and drag those same little bars. So I love that we're seeing the same kind of interface controls throughout the different pieces and parts of B hands. So any time you see those little lines against something, that means that you can drag it up or down. And to add experience, you just click out experience right there, and it gives you this little interface to where you can add it. It's really so incredibly easy, so we'll just keep cruising on down here in each one of these sections, works and works in the same way. Now, if you want to rearrange the sections themselves instead of just the content inside the sections, then What have we got right here? We've got those same little bars that we can use to reorder how the sections appear. So if the language is part is more important to you than education, then you could just scoop that up in the order. So it really is quite intuitive. If you have some kind of custom information that you want to add that doesn't necessarily fit into these preset categories like work, experience, education and so on and so forth. Then you can add a custom section and you can call it anything you want. Rates and availability. I'd love to make $1000 now or when you so we can click the edit button here and you get this nice little interface that allows you to enter what your rates are. If you're looking for a job with the salary requirements are are you willing to relocate Yes or no? You know, that's all helpful for potential employers. Toe figure out if you're not willing to relocate and they want you to move Teoh San Francisco. Well, didn't they're not going to contact you If you've said no, I'm not gonna move for that position. So that's any little thing to have their and then this click save. You can also determine who gets to see that resume. You know, Onley registered recruiters. So there are companies that use be hands to recruit. It's really, incredibly full featured. If you think about all the different aspects and be hands, you know, the collaborative part of it and the ability for you to put your own work out there on the Web, and then you add to that that headhunters troll around on it. That's pretty amazing. So that's the work experience part super easy to fill out, So we'll go back to the pro site section. So for these other custom pages down here, I've honestly just added some Web links. Okay, so these three items right here show up the gallery contact. Resume those air just kind of common custom pages that people want to add, so they show up here automatically. You just have to click this little button to turn them on, and that triggers them. But let's say you want to add some custom links. Let's say your work appears on other websites. Maybe you've been featured on a on a photographic website and you want to add a link to that? Well, you can do that. Just click at a page. So before we do that, what I've got here is I have, ah, a link to my bigger website. Then I've got a link to a review of Photoshopped CC that I wrote for Mackerel magazine when it came out, because, in my opinion, it's pertinent to people who might be looking through photography to read. You know what's great about the latest version of photo shop? So I included a link to that. I write quite a lot for Macworld, and I wrote Ah, Siris of articles on the art of choosing colors. So I thought, Well, that might be pertinent to this group as well. So I added a link to that. So that's what these are. These are external links, so feel free to do that, and that just makes your pro side a little bit more full featured. So let's add another external link here. So let's say I want to add an external link to all my creative live courses so we can click at a page what type of what type of page we want to add. We want to add another gallery pages. You can have multiple gallery pages you want. Do we want to add a custom page that we would then fill out? Or let's just add a link. That's what we wanted you here or do you want to add a link to your bog? So let's just say link right here, and I'm gonna call this one, Lee says. Creativelive courses. And then I've made a short You are ill for my course page because I try to send people to as often as I can. So I use the service called Bit Li bi I t dot l. Why? And I registered a short domain for my own. I paid for the domain, lisa dot I in It was the shortest one I could get. If I could have gotten lisa dot me, that would have been perfect. But alas, some other Lisa had already snatched that. So I purchased lisa dot I n and I had my Web master plug it into bit Lee. So any time I make a small u. R L using bit Lee, the first part of it is lisa dot I n and then I get to customize what comes after that. The reason I do that because that lets me track how many people visit those links. So I know it all times. How many people visit my course page if they have gotten to it through my bit Lee Link? That's a fantastic way to gauge, um, how useful it is to get your your name out there in other ways. For example, I use it as a testing ground when I write for a new magazine or a new website to see how much traffic or traction I get from that particular visibility. So I'll use a custom link that I can track. And then I can tell how many people, let's say, visited my Creative Life Course page from my latest mackerel magazine or the article I just wrote on creative pro dot com. So it let's me measure how much traction I'm getting from that other source so I can decide whether or not to contribute to that source again in the future. You know, if I got no visits at all on any of my custom links from riding for that source, I might rethink writing for that source again in the future. So when you make little you RL's like that, I know a lot of folks use tinyurl. There's a tracking ability in that, too. And that's really, really helpful in the postcard situation that we did yesterday. What would happen if we made a custom? It li u r l and we put that on our postcard. Maybe it was some kind of call to action. Maybe we sent people to the website to print a coupon to bring into our studio. Then if we did it that way, we would have tracking without having to pay some direct mail company to track the results of this campaign. So I hope you're beginning to see how useful some of those things are. And the whole bit Lee thing is completely free now. It did cost money to register a small U. R L. That was custom, and that just makes you look a little bit more professional. If you want to go that route, you want to make that Urawa's tiny as possible because the whole point of doing that is no shrinking the links. What's not so ugly? You know, http, did it all that stuff, but it's also trackable, so it lets you know how many people are getting to you from the place that you posted that link. So that's what I have for my creativelive course pages. I have a tiny link ELISA dot I n slash c l videos so I can track how many people click that now I can set the behavior of what happens when people click that link. Do I want the new page to appear in the same browser window, or do I wanted to open up another window? Good usability when you're sending people to another website from an existing side is to let it open up in a new window. Otherwise, they can sometimes get confused as to how to get back to the place where they clicked the link in the first place. So a little bit better usability. If you're going to send them off of be hands, then you wanna have that open any window. But you can also set it to open in the same window here, but I see a new window and then this click confirm and that's it. See how it showed up right here? there it is automatically as a hyperlink, with the same link colors that we've set elsewhere in the site. It's just so easy. I'm serious. My mom could do this. She really, really could. The pop of Windows would would vex her a little bit, but the rest of it she could totally dio. And if I wanted my creative live courses to be up toward the top, I can just click and drag and see they change lives. You're doing that really quite simple. So that's why I wanted to show you before we get into building Franks there. Okay, so now let's come. Appearance. Saver draft. That's another awesome thing is, while you're building this pro site, you don't have to do it in one sitting click save draft, come back and work on it several hours later, come back and work on it the next day. Next week, whenever you have time to do that, when you are ready, Click update like Life Site and that's it, and it all goes up to the Web. You can preview it, see what it's gonna look like in a real Web browser, and, you know, we're in a Web browser. But we've got a lot of other interface elements around so we can see what that would look like. Just the site by clicking preview. And then when we click update live site, Behan's asks if you're sure very, very, very, very friendly. And it tells you the last time you saved it last time you updated it and it just doesn't take very long. Your next question will be, of course, well, what you are ill do I get with that? You know what is my Uriel? Let's say I build a pro site. What Uriel do I give out to people? Well, you're Behan's pro site is going to be whatever name you set up dot pro side dot com, So that's not too bad. You can also hook it up to a specific domain. So if you have a domain and you've not done anything with it, or even if you have and you just wanna point that to your be hands pro side instead that is handled under settings and there's all kinds of fabulous things understandings you can upload a fab icon. So what the heck is a fab Akane? I believe if we go to my website. You're going to see one. Is that teeny tiny? I'm not seeing it over here, but you can see it right there. If you look really, really closely and squint, see all those little icons that air next to the label on those tabs. Those air your fab icons. It's the tiniest, tiniest piece of brain and you'll ever design in your life. It's 16 pixels by 16 pixels. So let's come back to the pro site here. There we go. So if you don't create one, then you're just going to get a little P that stands for Pro Side. No big deal. I mean, I'm not real sure how many people look at those in the first place so you can save designing a fabric on for the last thing that you dio. You can also upload a custom Web clip. A custom Web clip is just a fancy way of saying you're gonna create a slightly larger fabric con that if somebody downloaded the B hands app on their IOS device and they favorited your site and they wanted toe save your pro site on their home screen, then that's the icon that they would see on their home screen. I love all this terminology, right? Custom Web clip. It makes me think video is not a video. So what else do we have over here? Here's where you can change the domain name Appear now. This does take a little bit of doing so. What you would have to do is you would have to log in to whomever is hosting your site. Let's say you purchase the Ural from Go daddy than you would need to log into your go daddy side, and then you would need to follow the instructions here, and what you're going to do is do a redirect to you're pro side. So if you have a domain that you have yet done anything with, then this is a great way to create a site. And not too not too long time. So that's how you would do that under settings and change domain. And they've got a step by step guide, so it's very helpful. Guess ring. You can point more than one domain to the pro site if you have different domains. I think you can. But not having done it, I'm I wouldn't want to say 100% sure, but I think we'll Yeah, you can set a site password if you don't want just anybody logging into your pro site there, you know, viewing it, then you can lock it down with a password and you do that right here. Search engine optimization is very important, and this page is pretty incredible because it walks you through the steps of how to optimize your side for search engines. So what does that mean? That just means that you have put the right descriptions in the right places and the right keywords in the right places so that people can find you easier when they do a Google search. So any of those companies like Google, they have these thes the column spiders, spider robots. You can think of them as they're crawling around on the Web, constantly indexing every single site that come across. Can you imagine how many sides every day how many people are building the websites? So they're constantly crawling the web and diving into every single website that they find? Indexing it. And so that's what is returned in a Google search, you know? So you type in a word, and Google search digital photography. And depending upon the search engine rankings of those size, the ones that have the highest search engine rankings were going to come up at the top of the results list. The ones who haven't bothered to optimize their pages for search engine rankings were going to come up at the bottom of the list. So this is a great thing to do, and it really walks you through it. So what kind of title do you want to appear that is gonna appear at the top of your browser window? The title of your page? You can enter that right here, enter a page description, and they give you examples. So any kind of hot keywords that you think people might use to find your particular style of photography or design or, you know, audio. Because Behan's isn't just for graphics, it's for audio as well video as well, so musicians use it to. So then we can come down here and add our metadata keywords, and it gives you a nice description of what that is. You know what's important? Well, to me photographer, photo shop instructor, light room instructor and you can. This box goes for a while, but it's not. You have to scroll over to see it. It's not Ah, very large box. So don't let that three you can enter more than it looks like you can. You just won't see it. But if I scroll over here, I can see the rest of the stuff that I entered. So these are the terms that are important to me. These are the terms that I want to come up on the search result list when people type in these terms but a shop elements instructor graphic design in that kind of thing. So those will be different for each of you. We've got with our beautiful jewelry that that you design here in our in studio audience. You know, you would have a very different set of meta tags for this particular thing that I would sew jewelry or Morse code. Perhaps because you make those wonderful Morse code bracelets with, well, dashes and dots is really very, very clever. So you would have a very different set of meta tags, and I'll give you a little bit of a sneak on how you can do a bit of research on this kind of stuff, and it's not evil. It's not evil at all. It's just working smarter instead of harder. So what you do is if you've got any favorite sites, let's say you you decide what your keyword list. ISS and I would write it down or type it out in the list and then put those keywords into Google Search and see what sites come up at the top of the list and view the source code on those sides and look at what they're meta tags are. Why not? It's not evil. So that would wouldn't be one way to do a little bit of research on that type of thing because it is a bit of a guessing game, to be honest, The other neat thing that you can do took up to your pro site is you can have statistics. You know how many page views are you seeing? How where are the people coming from when they visit your site, where they find in the link? You know what pays? Were they on when they got to your side? How long are they staying on each page? Which pages are they visiting? Which page are they exiting your side on? You know, if somebody always exits on a certain page or a certain project and they don't get, let's say, maybe that's the first project or so. But they spend more time on another project than you might want to go into your be hands account and change the order of those projects. Or you might want to revamp a project if you find that your visitors air always bailing. You know when that if my visitors bail when they're looking at the at the sunsets, and I would probably put something different up there, so that gives you a lot of insight. Google Analytics account is free and it walks you through sitting in up. All you have to do is click this link right here, set up your account and you get a code, and once you do, it's gonna look something like that. Once you get that code, you just copy and paste it. I think it comes in an email copy and paste it right here. Google analytics is set up on your website. When I used to use Dreamweaver when I had a static side meaning that it's not a dynamic cited doesn't automatically update itself like this one does. This is a dynamic site. When I first signed it for my Google Analytics account, it gave me a chunk of code, and I had to go in there and coffee paste in the header of every Dad gum page of my entire website to make that work. You don't have to do that over here in your Behan's pro site. Really incredible. So we'll keep cruising down this list. Ah, he clicked Twitter right here. You'll see that my account is already hooked up with Twitter. This is where you can do that. I can set the landing page of the site. Let's say I don't want my gallery where all my projects were listed. Maybe I don't want that to be my home page. Maybe I wanna create a different page. Maybe I want to create a custom page, you know, at a custom page like we did over here in. Maybe I just wanted to be a nice graphic. Then I could come in here to the settings and juice that landing page, and then I can choose any one of the pages or even a project that I want to be my landing page. I could make my resume as my landing page. Now that, to me, would make more sense. If you're not a visual artist, if you're a visual artist, that's kind of, you know, putting your best foot forward. Um, but let's say you're a writer. You might want to put your resume page first social media promotion. Here's where you can link up some of your other accounts. You can also add a follow on the hands linked to your site. I've got that turned on here. That's what that looks like live. So this just lets people you can't assume that it's only the Behan's community that are ever gonna find your pro side. So by including this button on your pro site, then if somebody finds it from some other way, then they can see that and think, Oh, well, I might follow her on, be hands Or what the heck is be hands, that kind of thing. So that would be good to include custom type integration. We're not going to mess with that. It is far easier to use the creative cloud app to download additional fonts that you get with a full creative cloud subscription, which we're gonna look at here in just a little bit. So I would avoid this section cause you're probably not going to have to have to use it. We're going to get to those fonts by using the cloud app and going to fonts and going straight to type kit. And when we do that, we're gonna be able to select fonts and send them to be hands from their way, way easier than doing it over here. So just ignore that part for sale buttons. If you're ah selling your imagery again, that does require quite a bit of set up on the Hansa. So faras entering tax information and that kind of stuff, Then you can say I used to have those for sale buttons next to your work high definition images. You can choose to have those honorably that is on by default. So if you were to upload a high resolution image, we did not because we resize them using that published services export preset that we made in light room, we resize them down to 600. If you were to upload. Ah, higher resolution image that didn't go above the eight megabyte size limit. Then you could let visitors see that here. I don't do that. So I don't care if this is on or off because I'm not gonna upload a high resolution image. I mean, I think they're big enough. I mean, really, if we come over here and we click, our son says, Honestly, how much larger does that picture really need to be? Or how much more detail does that picture really need to have for it to illustrate what kind of work that we do? That's this. My own personal opinion, though. And of course, if you want to add a like button to your projects which be hands calls an appreciation button, then you can disable it, enable it on everything, and then you can customize how it looks now these air on a project basis. So when you're uploading single works like the works in progress, then you know you get a new appreciation button on those so you can click like on those so people aren't going to necessarily click like on individual pictures of your project. They'll click like on the project as a whole. And that's really about it. Yes, Harvey, we'll have actually two questions. Uh, you have the site password on there. Can you actually make, like, a project that would be password protected for a client that you just wanted them to be able to come in and look at, say, like, a wedding photographer might want their clients and just be the only one that can look at a specific project to review it. I don't think you can password a Roger your password. Your pro site. But what you could do is set the visibility on your project When you upload it toe only be certain people are only be within your feedback circle. Yeah. So that's how you would do that. Great question. All right, I have one more. Okay, go ahead. On the for sale portion. It can. You actually set up a, um, like, I have PayPal, um, for taking credit cards and stuff. So can I actually set that up within that for sale portion of it? Where I can actually take orders through that? I believe you can. I believe you can Yes. Ring right. Click download is locked. You can lock that out so they can't download the images. Yes, yeah, sort of. On the same topic of him with customers. Can you give them a link to a, um, to a site that you've made, But that's not public. Can you give that to someone? Yes, absolutely. So they could get great question. Well, I know that we talked about setting up an email address using your own domain, not promoting an a o l a Gmail or Hotmail email address. So a pewter lady and KH photography says, Do you get an email address with your pro se? Oh, I see. I see The best thing is to have, you know, by domain, and even if you don't ever set up the website and all you do is point into your pro site, that would be a far better away. I want to say that you don't get one, but not knowing for sure. I won't say that definitively, but, you know, purchased the domain. They're not too terribly much. And at least set up the email address portion and then use this section. The setting section change domain to point to the pro site. That way you've got a nice, concise email address that I would not want my email address. I don't think it would be that professional toe have pro site in it. So even if they do give you an email address and I have a feeling that they don't, it would still be better to purchase the domain set up just the email address. Point the domain to your pro site. It looks a lot more professional. I think that's the answer that they were looking for, actually, thank you.
Class Description
Adobe Creative Cloud is an essential toolkit for photographers — but navigating its many programs can be overwhelming. Join best-selling author Lesa Snider for a comprehensive course on how to harness the power of Creative Cloud to build a thriving photography business.
Lesa will show you how to grow your photography business with Creative Cloud's suite of applications. You'll learn how to build promotional materials, how to create and customize a professional-grade portfolio website with Behance, add compelling elements like slideshows, audio, and video, and display your portfolio on any mobile device — even in printed book form. You'll also learn how to use Photoshop to create a professional and engaging video portfolio to showcase on your website, iPad, Behance, or burn onto DVD.
Lesa will also cover how to use Kuler to grab a color palette from a favorite image for use on your website or promotional materials, as well as how to use familiar drag-and-drop tools in Adobe Muse. By the end of this course, you will be able to create a full-blown website worthy of your work, with light boxes and slideshows to showcase your portfolio, and contact forms to gather leads.
Software Used: Adobe Creative Cloud 2014 

Reviews
I have watched the day one and part of the day two classes -- this class is chock full of creative ways to use the cloud to expand your business -- and to help photographers help their clients get more for their money as well as save money in creating beautiful marketing tools. I had been so confused over the lightroom/photoshop thing, and Lesa makes it so easy to understand how to use each program for their strengths or super powers -- so I'm ready to power up my photography business !
Lesa makes learning easy! Thank you Lesa!