Creative Cloud Essentials
Building a Video in Photoshop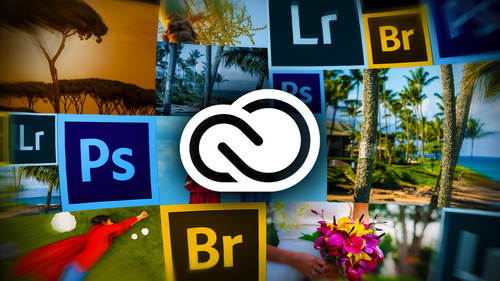 Creative Cloud Essentials
Building a Video in Photoshop
Lesson Info
Building a Video in Photoshop
they already Let's go do it. It is a lot of fun. So let's check out our file folder here. So when you purchase the the course, you're actually going to get a couple of different folders worth of files. One of them that we're gonna build together is the nature photographer. But I've also given you a all the files to build a wedding photography portfolio or a client piece. So we've got some interesting things in there. Let me show you just a clip of one of them here, the video collage of the color shift. Here we go. So this doesn't have any audio with it if it doesn't make sure it doesn't so. This is another example of the types of video that you can create a photo shop. See, we just did that with layer masking and hue, saturation adjustment layers clipped to the video layer, which is exactly what we did yesterday when we built that trip Tik. So I hope that gets you excited, and the exercise files for that are with the course purchase. So here's the original PSD is for that stuff. Seem k...
ind of reverse engineer that if you want Okay, let's go ahead and build our video file. So let's say file new and from the preset list. Let's go ahead and choose film and video. And from the size poppet menu, let's choose 7 20 So that's going to create old lady by 7 20 File. Go ahead and click OK, and Photoshopped automatically opens the timeline panel. So this time we want to use that little triangle and shoes create video timeline, and then we're going to click Create video timeline. And when we do, photo shop adds a video track for us right there. Now let's click that tiny little filmstrip icon in the video track that's going to allow us to bring in our media. So let's give it a click and let's say, Add Media, and then we navigate to where we put all those files. So that's the importance of of organizing here files beforehand. So here I've got a content file with all everything's in order, according to file name, and for this one, we can bring them all in and one feel sweet, which is nice. So let's click the 1st 1 I ended up not using our No, I did use the logo and they're so used that want you So we'll come all the way down here to let's just bring them all in. Here we go. So click the 1st 1 shift click The last one in Photoshopped grabs everything in between Click open and photo Shop is gonna populate our layers panel and populate our timeline so we can grab the play head and scrub through And we can see all of that media me knew that down this a touch can see all that media is there. How easy was that? Now these guys down here what we're gonna use our picture in a picture for so we'll deal with those guys later. So here's that zoom control I was telling you about. So as you drag it to the right, see how the clips get larger and actually see a preview of what is in that clip? As you dragged that slider to the left on your clips to come very, very, very small. So you'll use that a whole lot. So let's come back over here at the very top of the Maybe there, and I want to go ahead and get rid of that background layer because I'm not going to use that, and the first thing we want to do is I want this logo to appear atop this movie. Clip this one right here. The way to do that is to drag it out of this video group. So what happens when you bring in media in Mass like we just did is Photoshopped puts them in a layer group. See, that's all that is right there. A layer group, you get one video track per layer group. So to make a stacking effect where I've got my logo on top of that waterfall, all I need to do is drag that layer out of that layer group. So things that are at the bottom of your layers panel play first in your movie. So it's click and drag that logo and let's liberate it from that group, which gives me another timeline, another video track. Rather. So now if I position my play head now, I've got that logo on top of that video clip. So that's the thing. So your play it is so important because you're only seeing what is directly underneath it. Why am I not seeing my logo. We'll look where my play head hit. This is the logo right here. So I'm gonna drag my play head back over there. That's where my logo lives. Maybe make this a little bit smaller. Here we go. OK, so now let's go. How do we position our logo? What we grab a move tool. How do we re size or logo will be summoned free transform using the tools that you already know how to use. That's what makes photo shop for video waiting so powerful. How do you determine how long that logo stays on screen by dragging out the length of the clip? If I want the logo to be on screen for the duration of that waterfall movie, then I would make it the length of the waterfall movie. As you click the different clips, the corresponding layer activates in your layers. Panel did not need and vice versa. Click a clip or click and item in your layers panel in it highlights over here in your timeline panel. So let's say for this one, actually, that looks pretty good. I might not want my local chip here the second that waterfall comes on screen. I don't want to fade it in like that. How do we determine the length of, uh, videos? Just like we did the length of that logo? If I want this video to be shorter, then I can click and drag it to the left. If it any time I want to go back to the original duration of that video, I just click and drag it out as far as it will let me to the right. You can extend the video clip past its original link, but you can shorten it. And tomorrow or a week from now, you can go big back in and drag it all the way back out again because it's linking to the original file. The video does not live here in photo shop. It's a link. You can always get back to the original clip if you need Teoh, which is really great. So let's go ahead and determine uh, the rest of our shots here. So what I like to do is go ahead and go through and trim all the videos that I need to. This is really the only video I've got in here. I might have one more. There's one right there. There's another video. So typically, after I bring everything in, then I start adjusting the length of everything. How long do I want those pieces and parts to stay on screen? So we're pretty much we're OK with what we've got going on right here. Now, let's go ahead and set up that title screen. Okay, so right now we're gonna come into this, may be the waterfall is going to come, and I need to have my my text going on. So how do we create text? Well, we're gonna press t to grab the type tool click on your image, and then we're going to say visions of Maui. And because I formatted this before, I'm just gonna go ahead and do it real quickly. Audio Script Pro is my second favorite farm. It's already. Let's go up in size. You can appreciate the beauty of this glorious font. So here we're using our keyboard shortcut to change font size. Ah, shift command greater. They ownership control greater than on the PC. And let's make Maui married, bro. And we're gonna make it bold, and we're gonna make it 194 points and I think maybe all caps, but you don't type in the in the font size dialogue there. You Now let's change the color. Okay, let's click on the color Swatch. What color are we going to make it? Oh, I don't know. We might pick up a little color from the image itself. And let's change our leading shall because it's all squished together. Saying keyboard shortcut, we used earlier command option down arrow on a Mac or control all down arrow on a PC. Visions of Maui looks pretty good. And now let's scoot it over to this area right here, perhaps looking pretty good. Now I want to make sure that my Texas readable it's hot my picture. Can you guess what we're gonna do? Rectangular Marquis toe. I'm telling you, this trick is worth its weight in gold. So instead of drawing a bar across the whole thing, we're just going to draw selection around the text. Then we're going to create that solid color Phil Layer and this one. What's Nasha? A green looks pretty good. There we go position at beneath the text. Drop the opacity of it, and I might put my logo up here so that the camera of my Bewitched logo goes on top of that easy peasy, huh? Really? Really. You talk about liberating and empowering. So now let's press the space bar to see what we've got. Okay? The logo's coming in before the text and the color bar. Here comes the Tyson Color War. So press the space bar to stop playing that again. What we can do to make this a little bit larger is to click on the text layer, and that text layer activates in the video track that it is. And if we position our play head where we want that clip to start, we just drag it out. And if I want it to end at the same time that my logo goes off screen, actually, I must set him all to about right there cause we're gonna put a little bit of a transition on them. So you're just adjusting the amount of time the elements stay on screen by dragging the left or right portions of the clip itself. That's it. So now if I click play, so they come in almost together. So I messed up on my alignment just a little. So that's the importance of using that play head. Because if you position the play head where you want the thing to start or end, then when you're dragging the left or right hand portions of the clip, it snaps. So it makes it really easy to be precise. So now let's add some transition. Shall we make the logo and stuff fade up, fade out? So let's click the transition icon right here. Grab, fade, drag, and drop it onto the thing you want to fade. If I wanted to fade out, I'm gonna drag and drop the transition on the tail end of the clip. Now let's see what we got in that pretty It's over day. So very, very, very, very pretty. All right, so let's keep trucking along here now. What I'd like to do is so I want to add a transition between this waterfall and the next Still, that comes on. So let's look the transition icon. And for this one, I want to do a cross fade. You just drag and drop it. If you change your mind about the transition, you want to add that. Let's say I added a cross fade here. But maybe I want to change something else. All you have to do is control or right click on the the transition itself, and I'll zoom in a little bit secrecy it. So there's a transition icon right there, and I can change the type of transition there as well as the duration of the transition. Or if you don't want to do it that way, you can click and drag the transition icon itself like that. It really is incredibly simple. OK, so now what we've got so the logo and everything fades out, and now we have a beautiful cross fade. Now let's add a little bit emotion to this still image here. The way you do that is to click this little icon at the top right of the clips. Now, bear in mind that if you are way down and zoom level, so I know the streams moving around, but it's it's going to do that while I'm zoomed in. So watch out for these old triangles right here. You see how you can see them on each clip as I go down and zoom level, I can eventually get to a point where they disappear. Don't let that throw you. If you don't see those little triangles, just know that Oh, I'm I'm zoomed out too far zoomed in too far. I can't see them, so as I zoom back out, then I can see them. So those little icons let you add motion to the things that don't have any emotion, and it is a simple is this. Click the menu, choose pan and zoom or just pan. Or just seem, please don't ever do rotate, click pan and zoom. You can even control the angle of which the same starts you can control if it starts with a zoom in or zoom out. And you can control whether Photoshopped resize is your photo to fill the campus as it zooms in around. So that is how easy it is to add motion. So let's take a peek at that. So now I'm just scrubbing through him, clicking and dragging my play head. So there's our cross fade and look. That flower starts to move and then amazing. So now let's add another cross fade to the next two clips. There we go. Now let's add a little motion to this one. Click that little triangle with the top right of the clip. Piana Zoom. See what we got so pretty and repeat adds emotion. So now we fade into the next image. Beautiful, huh? I challenge you guys to do this because it's so much fun. And these are sellable products that you can add to your business. So it's just a matter. The biggest thing is to organize your files before you start. Put him in the order in which you want them to appear in the show, and then half your work's done. Yes, you could reorganize them in this photo shop document, but as you can see, we're dealing with a small amount of space, so you'd have to come over here and rearrange the layers and sales, which would cause them to rearrange in the timeline panel. But believe you, me, it is far easier to do this before you bring the files in at another transition here, answer more. Let me see what that one is not sure we want to add motion on there. So here's our testimonial, so I can either click the clip to activate that layer, or I can come over here in our layers pale and find where that Larry is. So I'm gonna need to go down in size on our testimonial so we can press commander Control T Now I can't see the free transform handles. So what I'm gonna do is press commander Control Zero are fit to screen trick so that I can press shift option and make that testimonial smaller. Here we go, but to screen again. So there's Artal Testimonial, but I want the testimonial to appear on top of another video clip. So let's scroll in our timeline, there's our play head. So let's find where that other video is. Okay, so I want my testimonial to appear on top of that. What am I gonna do? I have to liberate it from that layer group. So click and drag that testimonial layer all the way up and out. So let's go find were Photoshopped. Put it there. It is way up there so I could add it to any one of these video tracks too. I just need to get it out of the one that it was originally in so I could bring it down here if I wanted to you. So now let's scrub back and see what we've got. There we go. Now, if you're doing a testimonial like that, you do wanna have it on screen long enough for the people to actually read it. So I might extend the duration of it. Graphics you can extend for infinite duration because they're not a video. So they're solely controlled by how wide the clip is. Did you have a question? Yes. Is the only way to get the to release the item from the layer panel over here to make it onto its only A is to drag it all the way up to the top and all the way up. Can't. Okay, Yeah. So now let's start working on our picture in a picture effect. So at this point, it's a little easier just to go find the layers themselves. Okay, so where does that exist? Okay, so I've got a layer active, but I'm not seeing any active clips in my panel. Where is it? Oh, there it is. So remember, you've got to scroll around in this kind of linear Ah, situation here. So if I want that picture to appear on top of another picture or a video clip. I've got to get it out of that layer group so I can simply drag it up so it's still highlighted. I know that clip is active cause it's got that white outline around it. So now I can just drag it to wherever I want it. So let's a you kind of gotta move your play head. And so let's say I wanted to appear on top of that picture. Here we go and I'm gonna adjust its length a little bit. This is where having a big screen really comes in handy. So at home I've got I plugged my laptop in and I've got another monitor and it's big. So what I do is have my laptop on the stand next to my other large monitor, and I keep my timeline panel really large on the second monitor and the preview or vice versa, you know, So it's a very handy to have a large monitor should really make this panel large, and you can liberate this panel from its dock by clicking and dragging the tab outside of that docking area. And that way you can position that panel wherever you want it on your screen. So now obviously that is Ah, a little too large here for that. So I want that graphic to come in a little a little after the flower fully resolves. So now I have to do is free transform book and there's my picture within a picture effects. So now if we scrub through, the flower comes on screen resolves and then we get that picture in a picture, and then we can just add a transition to the beginning of the picture. See, this is where it would be helpful to zoom zoom a little bit so I can see the whole clip and then drag to add a transition to the end. So now when I scrub through, what we've got is this so that second picture comes on comes off, and if I want the picture within a picture effect to be gone, you know, by the time the flower fades out, I might back it up a little bit. Two right there. So it's fully off the screen by the time the flower fades off. And this is just personal persnickety preferences to use all the peas like our kind of guy did in the chat room earlier. And if I was really gonna do this picture within a picture effect, I would add a stroke to it to let me zoom in a little bit. Here. Isn't it wonderful that we can edit video with all the familiar Photoshopped controls here? So if I want to add a stroke or an outline to that, how would I do it? Layer styles just like normal. So come down here to the bottom of your layers panel. Choose the effects panel and choose stroke. Scooted out of the way by default. Foot shot wants to add a to pixel black stroke. Let's set that we could leave it set to to, but I want to change the color to maybe something that's a little softer now. I'm not going to steal the color from the image because I want I've got several of these picture within a picture effects that I want to do, and I want the stroke to all be consistent. So for this one, I might choose, uh, like a really light gray or a medium grade, just something subtle that kind of finishes off like a finishing detail of Final Touch for that, and I would also drop the opacity of the stroke. So it's barely there in that nice. That's real nice in it. Nice, full detail. And this kind of stuff matters. You know, if you're doing this is a real portfolio piece. Your attention to detail is gonna be noticed by whomever is watching it. So now let's say I want to reposition that picture within a picture. I just activate that layer, go grab my move tool and scooted around wherever I want it. Pretty incredible. So let's do that again. Let's go find our next picture within a picture, which is right here. Sometimes you'll find that it's easier to to activate a layer in the layers panel or activated in the timeline panel, so just know that you can do it both ways. So let's go ahead and scrub through our videos in back out so I can see more of it. So the next picture within a picture effects I want is about right here. We're gonna set it right there, so I've got my play head in the right position. Let's liberate that image from that group, which puts it on another, a timeline or another video track. Rather now I got to go hunt down where Photoshopped put it. They put it way over here, So do be aware that they kind of screwed around when you liberate them, but you can go find them. So now let's drag this guy back to our play head, which is right here now. Its position, the play head where we want that to fade out, which is about right there, and let's click and drag the length of that clip. So now let's look at what we've got. Great. We've still got that layer active, so it's some and free transform shift drag. Position it wherever you want. That looks pretty good. We might not make it a touch bigger press return. Now we've already added a stroke to that other player right there. So let's coffee and paste that stroke. How do we do that with a modifier keys? So we press and hold option on the Mac or Ault on the PC, and then we click and drag that stroke. See how my cursor is to arrows. That is your visual feedback that you are indeed copying that layer style. So as soon as I release my mouse button, that exact same stroke appears on that layer. So now we have to do is add a transition. Fade eight announced. Like what? We've got that need. Repeat and repeat. So here's where we need to add our next piece of art. So let's click. Our piece of Are in the Layers panel. It's liberated from that group. Let's go find where the heck Photoshopped put it There it ISS and you know that's the one it is cause it's got that white outline around it. Drag it back to where play head is. There's airplay. Head dragger, play headed for where we want that clip. Teoh end. There we go Now let's resize it free transform, shift, drag and this one I'll put over here. I do like Teoh change the placement of my picture within a picture effects now like to kind of hit all four corners on that, obviously not covering up the focal point of the image itself. And now let's copy and paste that stroke. So come over here to your layers panel press and hold the option key on a Mac or all. It's on the PC and drag the stroke from one layer to the other that insurers consistency throughout. And now the next thing we need to do is add our transitions. And that's basically the gist of it. We have questions on that. You know, we had a question in the chat room from Linda s. They want to know, Can you make these videos and templates? Like if you were doing a series of videos that are gonna follow those same transitions? Is there an easy way to just kind of replicate that? Yes. So let's take a peek at what we've got here. When we brought in the imagery by clicking the little filmstrip icon when we first created the video timeline down there, look at how are our footage came in. Okay, so our images came in a smart objects. I know they're smart objects because they have that little badge on there, and you already know that smart object content is swappable. So that's how you would make your it's not really that we're making a template. It's just that well, it kind of is. But if you bring in your footage as smart objects and that happened automatically on the still images. You can click on the movie clips themselves. See, this one isn't yet. I'll choose this one cause it's higher. This one isn't yet a smart object, but to make it a smart object, all we have to do is right. Click or control, click near its layer name and shoes. Convert to smart object. When you do that, it is still there. Sometimes Photoshopped has a little bit of a preview problem, so don't freak out. That food really is still there. But now you can. You can swap it so you would get it all exactly like you want it, and then you would control or right click, and you would use the replace contents. So let's just do that real quick. It's also replaced contents I can navigate, and I've given you some more pictures to play with here. So it's the Alternates folder inside of my content folder. So let's just click on that 1st and wherever that clip waas now it's just been swapped out. So that was a flower. Now it's a sunset, so that's how you would go about making a template. You would bring in the media using this ad media control in the filmstrip that that makes your stills a smart object doesn't make your movie clips a smart object. But if you've got actual movie clips in there, then you would just click to activate them in the layers panel and right click near their layer. Name and shoes. Convert to smart object that makes everything hot swappable. And if you've applied in the effects, let's say, for example, uh oh, maybe I want to give this particular image of color treatment. We could just add an adjustment layer just like we normally would. Hue saturation adjustment layer perhaps turned on color eyes. And that's something. I mean, it works. It's just so fantastic. Let's say I needed to color. Correct. Perhaps. Maybe this image. So let's go to worry. You can actually see it. That one right there were listing one that doesn't have ah picture in a picture. Let's say I need to color courage. This guy levels adjustment. Layer anybody you know so I could adjust the color in the image according to you know what it needed, using the tools that you already know how to use in the program. So yes, spring. Having clips and images to the play head is one way to do it. But when the move tool activated is that the grid up there on the top two to selected and alignment, they might work. Yeah, depends on what you're trying to align. Yeah, that might work to you, but when you're trimming in and controlling the duration of, you know, the imagery that's on your screen really is helpful to a position that play head wherever you want it to end. Let's say, for example, if I want, uh, this graphic to be on screen longer, it's just easy to snap it like that. You know, when you when you're controlling duration, that's not not necessarily aligning objects, aligning objects. You're absolutely right. You'd have to have more than one layer active and the move to active to get to these guys. But we're mainly talking about duration of these clips, pretty incredible here. So the last thing we could do is add some branding on the tail end of it. We would do it exactly like he would. Anything else. Um, we can go all the way to the end of our video will go ahead and delete that one for right now. Let's say this is the ending slide, but we want we want to have something out here so we can put you know, our checks on top of, um, what about a solid color adjustment layer there, Phil? Later, Rather. So click the half black, half white circle to solid color. I might go to almost black here. So now my video face to black, I'd add a transition cross fade to the end of that one. So now, after people see my testimonial and they're totally odd by my photographic prowess of this fake testimonial, then we fade into black. Obviously, I need to put a transition on my testimonial, wherever that is. It does take a little bit. Find things in here, so there's my testimonial. So I just at a transition on the front, in the back in that and now when we play, see the testimonial fades up and fades out, and then we fade into black, which is a great place for text. So we compress T to grab the type tool, and I've got a cheat sheet of what size I made all that. So we might say, uh, Lisa Snyder and use that trick of bolding. You know, our contrast trick of pairing a light style of a font next to a bold version of a font. Then we might say you no info at, you know, obviously spelled right. So for this one, I go down and font size and I make it thin just for contrast. So we'll choose a light version of that. And then I might add some tracking, which we haven't talked about, one of the same keyboard shortcuts we've been using all day. Command option, Right Arrow key. It's the same keyboard shortcut for current ing, except for we have a block of text selected instead of having our cursor in between two letters. So what I like to do is make things equal with so I would play with ease until I got my logo in my email address to be equal in with, and then we just suggest the spacing there, and then we could certainly add a transition to the text
Class Description
Adobe Creative Cloud is an essential toolkit for photographers — but navigating its many programs can be overwhelming. Join best-selling author Lesa Snider for a comprehensive course on how to harness the power of Creative Cloud to build a thriving photography business.
Lesa will show you how to grow your photography business with Creative Cloud's suite of applications. You'll learn how to build promotional materials, how to create and customize a professional-grade portfolio website with Behance, add compelling elements like slideshows, audio, and video, and display your portfolio on any mobile device — even in printed book form. You'll also learn how to use Photoshop to create a professional and engaging video portfolio to showcase on your website, iPad, Behance, or burn onto DVD.
Lesa will also cover how to use Kuler to grab a color palette from a favorite image for use on your website or promotional materials, as well as how to use familiar drag-and-drop tools in Adobe Muse. By the end of this course, you will be able to create a full-blown website worthy of your work, with light boxes and slideshows to showcase your portfolio, and contact forms to gather leads.
Software Used: Adobe Creative Cloud 2014 

Reviews
I have watched the day one and part of the day two classes -- this class is chock full of creative ways to use the cloud to expand your business -- and to help photographers help their clients get more for their money as well as save money in creating beautiful marketing tools. I had been so confused over the lightroom/photoshop thing, and Lesa makes it so easy to understand how to use each program for their strengths or super powers -- so I'm ready to power up my photography business !
Lesa makes learning easy! Thank you Lesa!