Creative Cloud Essentials
Building a Watermark in Photoshop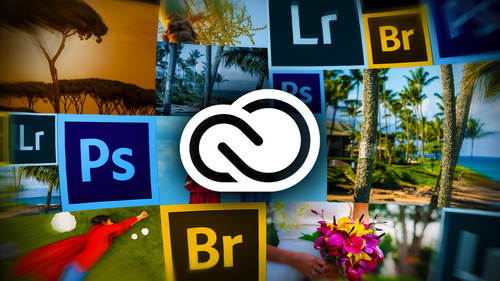 Creative Cloud Essentials
Building a Watermark in Photoshop
Lesson Info
Building a Watermark in Photoshop
let me get you excited about what we're gonna do by showing you examples of that. So I mentioned that we're gonna create an action. We're gonna create a water marking action in photo shops. We're gonna put our little tagline down there at the bottom right of photos. The action that we're going to create will work both on horizontal oriented images is where's as well as vertical. So that's a real sweet thing without having to use conditional actions. So that would be nice to learn. We're also gonna learn how to make this beautiful direct mail piece. It's gonna involve creating a typographic logo, which you're gonna be surprised at how easy that is to do. And we're gonna make a front and back postcard that you might use to, you know, send out to your clients If you're having any kind of of discount on your photographic services or for designers, this is a great way to promote promote a product or a service. So any kind of business could use the techniques that were gonna be learning toda...
y. But mostly gonna be about self promotion. We're also gonna learn how to you create this little ad. It's a nice little magazine ad again, great for photographers as well as designers or anybody. Then we're going to switch over to creating an animated GIF. So I've got a fake little pet costume company that I created called pet stains. So animated GIFs are nice when you have purchased ad space on a website. You know, those ads are always really small, but you may need to get lots of information out there like examples of your photography. Obviously, you need to get your business same in there and how they can contact you. So an animated GIF is a great way to do that, and it's easy to do in photo shop. Then we're going to create a full on video portfolio in photo shop. So within Photoshop, we can use the familiar tools that were used to working with, you know, the text tools, the filters, the color correction and so on to produce a beautiful video. So we've got a little picture within a picture effect going on, and we've got some pan and zooms going on for the stills. Teoh introduce a little motion into the still photography, so it's a great way to promote your work. And before we get into creating the actual video, we're going to talk about some things to keep in mind specific to creating video portfolios, such as how important it is to include testimonials from your clients little quality branding at the end. So we're gonna take a look at how to do that easier than you think. We're also going to use cooler, the online color palette community to upload a photo and then create a color palette from it. So that's a very handy thing to do, and we can download the color palette that we create and imported into both Photoshopped and illustrator. So we've got it right there to perhaps use on some more promotional materials or marketing materials. Then, when everybody has been waiting for, we're going to create a pro site and be hand. So the hands is a wonderful collaborative community where you can upload samples of your work or full on projects and get community feedback, and you can limit the people who can give you feedback. So from trusted people or from just the public at large, and we're gonna incorporate those projects and works in progress that we upload into a full on portfolio side called a pro site, and you're just not going to believe how simple it is to create. I have never, ever in my life seen another system that makes it so easy to make a website, so that'll be nice. We're also going to take a look at uploading videos to be hands, so be hands, has a little bit of a a final size limit and so far is what you can upload. But we can get around that by uploading our videos to YouTube and then using the embed code that YouTube provides for us again. You're not gonna believe how simple this is, and we can use that in bed code over and be hands. And then the video shows up on B hands, just like it was really posted on that particular side. Though it isn't, that's also a great way to post your own portfolios on your website. Once you export them as a video, it's much easier than it seems. And then, of course, we're going to take a look at how to get that video onto your IPad as well. Tomorrow we're going to dive into typographic logo's, creating a beautiful business card and in design and creating a super fun, super silly website in Muse. So that's what you get to look forward to tomorrow. But first, before we get started today, I want to share with you how you can connect with me online. Please go over to photo lisa dot com and sign it for the free newsletter so you can stay up to date on all my creative live courses. Also, if you're on Facebook, I love for you to connect with me their facebook dot com slash photo Lisa. If you click the like button, you can download some free cheat sheets that are different from the ones that you get. If you click the Are SPP button on the course page Now and Creativelive, I've put together a slew of cheat sheets for you. If you do click the are SPP button. There's a several page teaching on Illustrator. There's one on in design. There's one on photo shop. There's one on light room. There's a lot of information there, so I hope you take advantage of those freebies in the course. If you want to stay up to date with all of my workshops on Creativelive. I think there's like 30 of them. You can go on a routine lisa dot I n slash c l videos. So yesterday we spent the day playing in light room and you'll learn how easy it is to import and organize your images. You learn how you can preset the program to death. I mean literally. Everything you can save is a preset from watermarks toe identity plates to how do you name your files? You can say presets for how you like to correct your images. Really such a time saver. We also learned how easy it is to correct our images in light room and how everything we do is not distracted because light room isn't really editing. Your image is what it is doing is creating a record for each image that's on your hard drive that you tell it about because it's a real database and it keeps a list of your edit requests in that photos record in the database. So those edits aren't really ever applied to your image until you export it. You can always get out of any edit. You do all of them, whether it's next week or five years from now, assuming, you know, we still have desktop computers and five years, who knows. So we looked at how easy it is to build a at a water march are images in light room by using an export preset that we create in the publishing services panel of the library module. But today I'm going to make you appreciate light room even more because I'm gonna show you how dadgum difficult it is to do the same thing in photo shop. So but this is still a useful technique. Can I know some of you out there may just have photo shop and not light ring yet, So this is good to know how to do. So we're going to start out with creating a watermark that's gonna work on either a portrait or landscape oriented image, which is a handy thing to do. That way you can apply this action to a whole folder full of images and not have to worry about you know how your pictures air oriented. So it's a It's a real handy thing to learn how to do. The first step is to, uh, Of course, figure out what your watermarks gonna be, so you'll need to do a little bit of practice, a little bit of formatting with the text to see what's gonna work well for you. And when I do this at home, when I get something that I like, I take notes on all the text formatting. If it happens to be text or if I'm bringing in a graphic for a watermark, then I might make you know a notation of what size I place to that. Because you want to run through it and then run through doing it. And then you want to start recording the action and then do it again. So it's helpful to kind of jot down, You know what you like instead of having to remember it. So this is what we're going to create right here. And if you do purchase the course, you're going to get all of my exercise files. So you're going to get this file right here that has this style of watermark. So it'll help you. Perhaps if you want to create one like this is pretty standard. Then you could follow along with files, so go ahead and close this image. Analysts open up. Let's say I exported an image from light room. So I'm gonna open up a large image here. And, you know, it's large because I'm on a zoom level of less than 20%. It's still pretty honkin big here. So the first step in this is to resize the image at the size that you're actually gonna be exporting them to post wherever you're gonna post them, because you want the the water mark to be the same size on these photos. So you need to build the watermark toe work on the size that you're actually gonna export the images to. So say, for example, you're going to post these images on your website. You might decide that. Okay, I'm gonna post them at maximum dimension of 700 pixels, so the longest edge would be 700 pixels. Well, you need to resize your image in a photo shop before you start building the watermark so that your modern mark, you know, looks like you expect it to look, so that's the first thing we're gonna do. So we're gonna come up to the image menu and choose image size in. Here's where we're gonna enter the size that are pictures are gonna end up when we add the watermark because otherwise your watermark would be a different size if you if you ran it on a really high resolution image than the watermark would be microscopic. So you want to resize the image to the size that you're actually gonna exported that while you're creating your watermark. So let's go ahead and roll with pixels, so I'll change my change. My unit of measurement two pixels. So I typed in 700 down here with the re sample check box turned on because I actually, do you want to throw away pixels here? Click OK, now I'm gonna come back to the image size menu using a keyboard shortcut, which is command option I on a Mac or control Ault I on a PC, and this time I'm gonna change the resolution because that's gonna affect how my text looks atop the image. So I'm gonna turn off the re sample check box this time cause I don't want to alter the pixel dimensions. I just want to alter their resolution so we'll type in 72 Because we're gonna post this on the Web. Now we're ready to start playing with our watermark, so let's just go ahead and create it so oppressed T toe. Activate the type tool. That's probably the easiest tool keyboard shortcut. Remember, it's T for type, so let's go ahead and click atop my document and, well, type what we're gonna put there for our water market. That will format it. So to make a copyright symbol, would you definitely want to do if you're going to do a text watermark is that you can do it with a modifier key. So it's Option G on a Mac or Ault G on the PC and mine's super tiny right here. So let's make it a little bit bigger so you guys can see what we're doing here. So you want to do the copyright symbol again? That's option G on a Mac or all G on a PC. And if you look at the copyright symbol, you know, if you hold your eyes just the right way and squint, it almost looks like a G. That's the most help I can give you on remembering that keyboard shortcut. Now I'm gonna add the year very important to do that. And I'm gonna add my girl. So copyright symbol photo lisa dot com I'm a big fan of text watermarks because I can make them small and it won't take away from the image. If I'm trying to sell my images, I don't want a big old honkin watermark on top of it. And again, I'm gonna be posting these images that at a relatively small size, so I'm not worried about anybody stealing them. I mean, knock yourself about what you gonna do with its 700 pixels. Not a whole lot. So now that I've got my typeset, I'm gonna click three times to highlight the whole line and I'm gonna begin formatting it. Well, if you tuned in yesterday, you will know that Lisa's favorite fun is myriad pro. Why is that your favorite? Finally said, Well, thank you for asking. It's my favorite fun. Because if I click the styles menu at the top, look at all those versions of that fun. It's just fantastic. I could do anything I want with that. If I was stranded on the island and I had to pick just one fund I would choose Married Pro. Okay, So what I'm gonna do here is we are going to make this city bold. Cindy Bold is thicker than regular, but not as thick and fat as bold. The reason I'm choosing a bold font or semi bold rather is I wanted to hold up, you know, on top of any color background really want to be thick enough that you can actually read it. So that was gonna work out really well. And for color. I'm gonna choose a nice light grey. So I'm gonna click the little color swatch in the options bar at the top of your screen and a nice gray if you want to remember. This hex code is si si, si, si, si, si. Sounds very Italian. Doesn't see So that's a really nice grade. So click. OK, so that's looking pretty good to me. Now I want to change the point size, and I happen to know because I've done this a bunch that 18 points works really well. So once you figure out the exact formatting that again, take notes of that, the other thing I'd like to do is use the mode menu at the top of the Layers panel to change the text layers blend mode. Because what I don't want to have happen is if the text happens to sit atop a very similarly color like the same gray, then it might be difficult to read. See how that's a little hard to read right here. It's It's really impossible to read. So we're going to do two things that's going to ensure that that watermark is readable atop similarly colored pixels. And that is we're gonna change the blend mode to something that's kind of slightly see through so some of the photos color can come through, and then we're going to give it a little bit of a drop shadow to ensure that it holds up on top of any color. So let's go ahead and use the pop up menu at the top of the layers panel. Allen's choose luminosity, so that's gonna help us out a little bit. Make it a little bit see through, see as I drag it around atop the different colors. It kind of changes, So we're going for subtle but also readable. The next thing we want to do is add a drop shadow so we can click the effects button at the bottom of the layers panel and shoes drop shadow. And in the resulting layer side dialogue, I like to drop the opacity to about 20% of the drop shadow and then angle whatever you want. I intend to use 30 and then we're gonna add a distance of one, a spread of zero any size of one. So we just want it to be subtle. So now when I drag it atop that area of her dress, see how we can still see it and where it was positioned before. Before we added those two things, we could not see it, so that just keeps it readable, so you don't have to worry about what color's your in your image. See what kind of blends with a photo changes Best the luminosity blend mode change, and if you're curious, thes blend modes simply change how color on one layer interacts with colors on other layers so you can control that. And I have a fantastic deep dive on blend modes, and I invite you to take advantage of because all my courses air on sale this week while we're teaching, which is really, really great. OK, so let's say that we are happy with that watermark. So, of course, if you're doing this at home, you would now write down all the formatting so that you can record your action and not have to try to guess. So let's go ahead and delete that. And now let's start recording our action so you can open the actions panel by choosing the window menu and actions. So I'm gonna go ahead and delete the watermark that I created and we'll create another one. I have a folder and action folder for watermarks. It's just a organizational thing. You can create a folder for your actions by clicking the little folder icon at the bottom of the actions panel. Just helped you in organizing them. You can see I've got a different set of actions for the missing manuals that I write another set for skinny books, another set for my actual website and then my watermarks. So to create a new action, we are going to click. The new action icon looks like a piece of paper with a folded corner, so let's give that a click. Now we have a naming opportunity, so we'll call this one watermark cl. And if you'd like, you can even assign a keyboard shortcut to it. We're not gonna do that Stay. But you could. So, as soon as we click this record button, photo shop is going to record every single thing we do. Click record, Get our actions panel out of the way. So now what we need to do is start creating our text. So let's go ahead and press t toe, activate the text tool and click atop our image. Now we're gonna type are text so we could press Option G or Alter G on a PC. 2014 photo lisa dot com Now let's give it a quick three clicks to highlight the text. Now let's go choose are fun and your next question will be Will Lisa. It's already formatted. So why do you need to go to Zafon? You have no idea what any of these options will be set Teoh when it comes time to run this action no clue at all, So you need to reset everything. So we're going to go back to the Fatman. You and we're gonna choose myriad pro even though it's already chosen, we're gonna go to the style menu and we're gonna choose semi bold, even though it's already chosen were going to come over here to the size and we're gonna type in 18 points even though it's already chosen. I'm not worried about the alignment, cause we're gonna do something a little different with that in a moment. We're going to click the color Swatch, and we're gonna enter our color again, even though it's already there because you have no idea what that color swatches gonna be set to you when you run this action click. OK, now let's click on our type player. Make sure it looks good. The next thing we need to do is to align it, so I'm gonna show you a little trick. This is what makes the action work well on both orientations of photos. We're gonna press command A or actually we need to change our our blend mode. First, let's go to the blend mode menu and choose luminosity. Almost forgot about that. And now let's add our drop shadow. So let's click the effects button at the bottom of the layers panel choose drop shadow. And again, we're gonna set all this up again. So in her 24 opacity or whatever you like now we're good to go. So now we're ready for the alignment. Let's press command a on the macro control a on a PC to select our entire canvas. When you do now, we've got marching ants running around the whole canvas. If we switch to the move tool at the top of your tools panel in photo shop, you can see now that we have a set of alignment controls. So this is what makes the actual work well on both orientations of photos. So we're going to click the Align Bottom. INGE's see how the watermark pop to the bottom of the photo. Now we're going to click a line right edges, because I want my watermark to sit at the bottom right of my photo. If you wanted it at the bottom left, you could click the align left edges as well, so you don't have to put it exactly where where I'm putting it now we want to de select. We want to get rid of our marching ants, so it's press Commander Control D. Now I don't want my watermark to look like it's hanging off the picture. It makes me a little nervous. Looks like the Texas about to drop off the edge of the page. So while we still have our move tool active, let's nudge it up and over a little bit. So I'm gonna use the arrow keys on my keyboard to go up about 10 spaces. And then I'm gonna use the left arrow key to go over about 10 spaces just to bring it up and over. So it's not hanging off the edge of the photo. That's all I need to do now so we can come back it to the window, and you're probably shouldn't close the actions panel and click stop. So that's our action. The next thing you want to do is delete the text layer that you made and test the action. Make sure it works, so now we're back to square one, so I'll click on that action seafood shop, showing you all the different steps that you got there, and we're gonna click the play button and it works just fine. I'm sensing all kinds of fear from the Internet and the studio audience for like action, like hundreds or some scary
Class Description
Adobe Creative Cloud is an essential toolkit for photographers — but navigating its many programs can be overwhelming. Join best-selling author Lesa Snider for a comprehensive course on how to harness the power of Creative Cloud to build a thriving photography business.
Lesa will show you how to grow your photography business with Creative Cloud's suite of applications. You'll learn how to build promotional materials, how to create and customize a professional-grade portfolio website with Behance, add compelling elements like slideshows, audio, and video, and display your portfolio on any mobile device — even in printed book form. You'll also learn how to use Photoshop to create a professional and engaging video portfolio to showcase on your website, iPad, Behance, or burn onto DVD.
Lesa will also cover how to use Kuler to grab a color palette from a favorite image for use on your website or promotional materials, as well as how to use familiar drag-and-drop tools in Adobe Muse. By the end of this course, you will be able to create a full-blown website worthy of your work, with light boxes and slideshows to showcase your portfolio, and contact forms to gather leads.
Software Used: Adobe Creative Cloud 2014 

Reviews
I have watched the day one and part of the day two classes -- this class is chock full of creative ways to use the cloud to expand your business -- and to help photographers help their clients get more for their money as well as save money in creating beautiful marketing tools. I had been so confused over the lightroom/photoshop thing, and Lesa makes it so easy to understand how to use each program for their strengths or super powers -- so I'm ready to power up my photography business !
Lesa makes learning easy! Thank you Lesa!