Creative Cloud Essentials
Building Creative Photobooks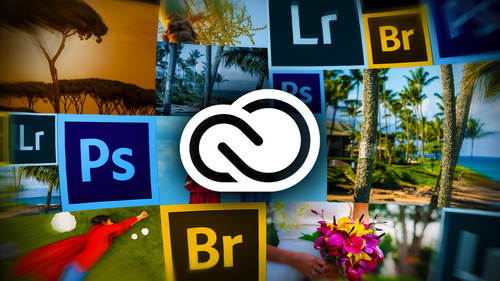 Creative Cloud Essentials
Building Creative Photobooks
Lesson Info
Building Creative Photobooks
Now let's say you want to set the size of the book. Can you could do this at any time. Really? Probably better to do it at the at the start of it. But we had to go redo all of our presets. So up here at the very top of the book module in the top, right? We've got settings. What do you want to create? OK, do you want to make a blur? Book blurb is a printing company that light room has partnered with. So you can have your books printed and shipped to write to you. Blurb also gives you code that you could use to sell your books on your own website. Pretty amazing stuff there. Great for people who make products, you know, Um, but the cool thing about leaving this set to blurb even if you're not going to use blurb to print is that when this is set to blurb, you get resolution warnings. So let us say that I love this picture right here, but I really want to zoom into that swirly part so I could click the image itself. I've gotta zoom slider and I could go. Oh, yeah, baby. I want way in there...
. Oh, yeah, That looks good to me. But look what happened. I've got a little exclamation point that appeared at the top right of that page. That is blurb which is the printing company. Letting me know that I have just succeeded in completely destroying the quality of that image. So if I'm going Teoh print it, it's gonna come back looking like Legos, which is probably not what I want. So that's why you would leave that, uh What kind of things are you gonna create? Menu set to blurb? Even if you're just gonna save it as a PdF, which is what we're gonna do, Leave it set to blurb, get it perfect and then just exported as a pdf because you won't get thes resolution warnings if you leave that man you set to pdf. So let's look at that one more time. So what we did was I came up here to the top right of the book settings panel and under the book category right here we have three options. We can create a blur book, which is a printing company. We can save its pdf or we can save the book is a J. Peg. Leave it set to blurb so that you get those resolution mornings cause you won't get them with any other thing in that list, and that just lets you know that you've zoomed in too far to your image. So anytime you click an image, you get that seems slider. So let's click back on this one again and let's drive the zoom slider to the left, and at some point that resolution morning will go away. So now I know well, I consume in that far. But safely, I can't go any farther now. Once you have zoomed into your image, I'll double click so we can see that little bit larger. Once you've zoomed into your image, you then we again to get the ability to reposition it within the frame, which is really handy. So if I wanted to, I could do something like that. So when you're doing abstracts like this, you can make them look completely different. Even if you're only starting out with five photos, you could do something different with Zoom in the position to make a little like you've got 100 of them so Let's go back to that other one there, so leave it set to blurb until you're finished. This is where you can set the size of the book. So I create a lot of landscape books, which is why that's already said there, so that lets you change the size. You can determine what kind of cover you on if you know that really only comes into play for ordering a book from blurb. And the cool thing if you are ordering from blurb, is that light room calculates how much it's gonna set you back as you're building it. So if you're, you know, decided to want to add 15 more pages when you see that price go up, you may change your mind about that. But the first time you order a book from blurb Inside of Light Room, I think you get a 15% discount just straight off the top, which is nice. You can turn on page numbers if you want. I don't think that's really a great thing to do. I think it tends to take away from the imagery in the book, but if you're using this as a client proof and that might be easy for them to say, Oh, you know, I like the style on page three, so depends on what you're using the books for. You might want to turn those those page numbers on. So now let's take a look at how to resize your photos. So let's double click this page right here. This is the odd part about the book module. You can't really click on that frame and resize it. That's really not how it works. What you've got are re sizing. You can think of them as what this book page really is is a spreadsheet. It's got sales, and and you can change the size of the cells, which therefore dictates the size of the photo. It's an odd thing, but it doesn't take very long to get used to it. So the way that's handle is a couple of different ways. You can either come over here to the image and click and drag. See how. See that grid. If you can think of these pages each folder holder as a spreadsheet, because that's probably where you've encountered sales like this before. That's really what's happening. You're changing the size of the cell, which changes how much of the photos viewable so you can either do that by clicking and dragging on any of them. But as I do that, see how the the settings and the cell panel are changing as I click and drag those. So technically, this panel is where you would change your sizes and stuff, so it just works in an odd way. But once you get used to it, it's no problem at all. So that's how you change sides. So you would just click a photo and either mouse over to it. And as soon as your cursor turns into the double sided arrow, then you can click and drag. Or what I usually end up doing is just clicking. To activate the photo sale coming over here to the sale panel and using the sliders by default light room links them all together because it assumes you want to move them all together. But you may not. So if I click the link all button to turn it off now, I have the ability to change individual sides of the photo individual sides of the cell that the photo lives in in order to position it where I want it. So that's the persnickety thing about light room photo books is that you have to use this kind of cell margin madness to try to get the size and the placement exactly like you want it. But the more you work with it, the more it'll make sense. So if, for example, I wanted this photo to be a little bit shorter, then I would make sure the left right and top settings were, you know, at their maximum or zero point. And then I would just change the bottom. And as I do that, I changed the way the photo is gonna appear on that page. So there's no into the customization is, but just realize that it that it is all controlled with either the sliders in the cell panel or by coming over to your image and clicking and dragging as soon as you see your cursor turn into the double sided arrows. Now, since I've unlinked them all, the whole photo isn't changing. Here we go. And once you make a change to the cell in that way, then you'll see the you'll see the actual grid in here so now I can, you know, grab any of these guys and do what I want to. But just bear in mind that they're all gonna change together automatically. If you don't want that behavior, turn off that link all button over there. But then, once you've turned that off, remember that you've turned it off. So if you come in here and you try to resize a photo and you were only scooting it from the top left bottom right and what's going on? Light room. Hello, then you. Oh, I turned off link. Also, the cell padding is in all moving that we have a question back. We'll re sizing the photo, distort the image at all. Re sizing a photo, distort the image. If you have this top menu right here, set to blurb, you're going to see ah, exclamation point. But there they are resized proportionately. So they're not gonna get squished or stretched or poppy job. But you can If you zoom too far, then you can, you know, lose resolution. So let's say this was a smaller photo. And if I increased its size placement on the page, I might introduce a resolution morning, but If you keep that set to blurb until you're finished, that's going to show up, which is maybe too artsy fartsy. But if you had say, like, four cells and you wanted to use the execs ing picture, but in a different position on the poor cells, do you have to have four of the same picture, or can you use the same picture on one page? Does that make so you can eat? You can use the same picture multiple times on a page. But what you would have to do is is pick a layout template that had four photo sales on it, and then he would just drag the stand photo up to the same one. And then you could position them differently. Zoom in differently to make him look like they're different pictures. His name Sophie do is blurred and you export as a pdf. Um, when you look at the pdf doesn't look like the pages of the book. It really doesn't. We're gonna do that next. Okay? Yeah, yeah, really does. The only thing is, if you when you export a pdf from light room, my room will create two pds, so I've got an example of that for you here in your exercise files, and those are right here. So what you do to get around that? So here's an example. So I exported a sunset book from Light Room, and it made one pdf for the cover. And then it made a second PdF for the dad gum content of the dadgum book, which so you could use Acrobat, which will look out on Wednesday to combine these where there's a bunch of other you know, tools that you can use to combine to. Pdf's into a single PdF. But if you know that that's gonna happen, then you can plan for it. So let's come back over here to light room and let's come over here to our cover and let's add a little bit of text. Okay, some of the double click that cover to make it larger, or I could click this two page spread button, so I'm gonna click right here to add my text, and we could call this one abstract Milly. Okay, so the text is gonna be microscopic but just highlighted, and then you can come over here on the right hand side and you'll have some limited formatting options. So what I'm gonna do is pump up the size, and then I'm gonna go ahead and press return and say, by Lisa Snyder, did it actually do it? Okay, so what I want to do now is sent my father. I've got it at myriad pro and then regular is fine. I'm gonna come down. There it is. I want to make this guy larger in. My name's smaller so you would work with the Texas like you wouldn't anywhere processor. It works exactly the same way. What I like to do a little tip for you is I like to set my text color to pick up a color that's already in the image. So with my text highlighted, I'm gonna click the little black color swatch next to the word character in the type panel. And once we do, we get that handy dandy color picker and with our tip that we learned earlier because one of the students in the audience had the brilliant question to ask it. How do you smash color from the image? So we're going to click and hold down the mouse button inside this area and then we're simply going to mouse over to the image itself. And I would try to find one of these light colors in here somewhere. Baby, I may not have a color that works perfectly for this particular one, but this is how you do that. And then once you get the color you confined to knit using this, you think of this as a saturation are over here. So let's say we like that and we can click to close that now to really make it nice. I want to make that super thick next to the thin names of thick within. Always works really well. What if the color you want to snatch us under the pop up box? Well, then you have to get a little bit creative. Yeah, you can't really move it around. So what you could do is just for the moment, zoom way into your image and reposition. You could get at it that way, but you can't move that color picker around a bit of a bummer. Okay, so let's take that back down and let's say that is fine. So if we're gonna export this Teoh a pdf that we're gonna then, you know, pass around or give away. What you would want to do is go back to all pages view. And you could simply copy that text box, come over here to page one and put that text box right there. So that would give you your cover Knowing that lighter is gonna create two pts one for the cover of one for the book. So you could duplicate that there so I can come in here to this page and I could click to add ah, photo text, and then I could pace that right in. So what we've really done is duplicated our cover kind of sort of to account for the fact that light rooms going to make it into two different documents. Or you could just combine the documents, whichever one you want before we export this. And when they go ahead and show you how to add that background to every page. So let's come down here. Let's pick the page that we want to view it on and keep scrolling down in the panels on the right hand side and you'll come across a background panel. So this is where you can drag and drop a photo that's gonna be used as the background. So let's say I want this one click and drag it, and immediately it comes into the background of every single page. If you have this check box turned on right here, apply background globally. You can change the opacity of the image, so you definitely wouldn't want to do something like that. I don't think. I mean, there may be an instance where it will work out fine, but typically for a background graphic, you're going to want to drop the opacity down quite a bit, just so that it's not so distracting. So now let's take a look at how we would add our logo to that. So what you could do is you could create, create a graphic and photo shop, see how we're using the programs together. That is the size of the book page. So what sizes? Air? But page will weaken. Scroll up here to the top, and we can click the size, but and we say, Oh, what's 10 by eight? Excellent. Then we can pop over to photo shop file new. I'm going to create a 10 by eight by 300 pixels branch cause I'm gonna print it. So the higher this number is smaller, the pixels get the lower. The number is, the bigger the pixels get So three, hundreds of good gold standard for print. And now I can say, OK, there's my document. Now it's place my logo file place, navigate to where the image lives. So I've got a cleverly named photo here or folder here, rather in the Kalev early named Logos folder. So here's my transparent, peeing click place, but a shot brings it in. And if I were really going to do this, I would make it small, and I had hanging off the edge of the pages. Just my own personal opinion. Here. You can do what you want, and that's the file I would bring in. So it will be a background graphic with the logo hanging off the bottom right of the page or wherever you place it. You know, you might want it big. Whatever. Don't worry about changing opacity here, because you can change that over in my room, we can control the opacity of our background graphic. It is this graphic or that picture that we just used, so you'd choose file. Save as whatever you want your safer Web whilst you save as. And I'm just gonna save it as a high quality J peg. So I'll just drop this on the desktop and we'll say Logo for 10 by eight Book perhaps Click, Save, drag this quality slider all the way to the right to get the highest quality J pig. Now we can come back toe light room, and we could import that. So we just choose file import, and then we would navigate to where that lives. That's on my SSD drive, and it's on the desktop. There must be a bunch of things on the desktop. There we go last but not least so now we've got our logo here in our light room catalogs. That means we can add it to that abstract book collection that we did, and you'll notice that when I added that I also talked in the keyword of logo that has helped me find it. So let's say I don't know where the heck this thing, you know, came in. If I click all photographs and I come up here to our, uh, filtering system and I choose text, I can say, Hey, show me everything that includes the word logo in it somewhere so I can see Oh, there's my actual logo. There's my signature and there's the file that we just brought in so you could find it that way when she find the dadgum thing, which is half the battle, but light room makes it easy. See, then you can come down here, scroll down to where your collections live, and we could just drag that into our collections. And when we go back to that back to our book module, see how it shows up down here in the filmstrip. So if we wanted to add a logo to every page, which again I think would be a bad idea, then you could drag it up into that background section. See how it just hangs off that thing. You can't you can't flip flop a background graphic, so I there's no way in light room for me to say, Hey, on left facing pages, make the logo hang off the left side and on right facing pages, and they could hang off the right. What you'd have to do is create two instances, this background graphic turn off, apply background globally and apply them to each page individually, which would be madness. But nevertheless, you can do it if you want it. Go ahead. So here's that opacity slider. So we'll go back to the other one that I had. So that's a super anything. So now we are ready to export this sucker. So we're going to come up to the top of the pale and we're gonna change it to pdf. Remember, we only had one blurb to see those resolution warnings when we're zooming in our photos. So now we can come down here and set up our options. I typically leave it, um, at default and we can say export book to pdf and let's sticking on the desktops. We'll call this one abstract, but live so we know what it is. Click save light room processes it Now This gives us a great segue way to go into. How the heck are you going to see this on your IPad? Well, you must download a free app on your IPad called the Adobe Reader for Mobile. There's probably other ones that would work, but this one works just fine. So what you wanted to you is to download this so you just click for IPad for IPhone. It's probably gonna pop open ITunes. ITunes is on PCs as well. If you don't have it, go ahead and go toe apple dot com and download it. So once you download this and installing on your ipad, then we're gonna come over to ITunes. So here we are in ITunes, and when you've got your IPad plugged in to your computer, you're gonna see a button to access it here on the right hand side. So what we're gonna do is go ahead and click IPad. Then you want to click APS, Then you're going to scroll down to the bottom of the apse section, and you're going to see what's called ITunes file sharing. This is the only way to get a full resolution. Pdf from your computer onto your device. Because any time you use ITunes to do any kind of sinking, it knows you have less storage on your IOS devices and you do on your computer. So it downsizes absolutely everything. And to keep that from happening, you have to use this feature called ITunes file sharing. But you can Onley do this file sharing a bit of magic on with applications that are on your IPad that support it. And it just so happens that adobe reader app, which is gloriously free, I think in this I'm Are you paying $50 a month? That is one of those at. So download it, sink it to your IPad first, that is step one. Open ITunes, click the click your ipads name or your IPhones name or whatever it ISS kind of pointless to go to this much work to show it on IPhone. But he could click APS scroll all the way down to the bottom. See my scroll bars down here. I can't go any further in the file sharing section, click single click The app that you want to share the item with. Now, over here on the right hand side. You get to tell that program what files you want to sink with that particular app. So now we're gonna come over here and click, Add and we should have our new pdf on the desktop here where I can't see it. The best one. So we'll click. Add go to the desktop. That's interesting and wonder why that showing up hasn't finished processing it yet. Let's take a peek. Still not finished yet. Okay, well, let's take a look at the one that I've already done here. So we'll come back over here to I teens. So you see, I've got one here already. So all I did was I clicked ad and then let's see, where is that final live current classes? That's so weird. I wonder if that's coming from a little apple. It I've got called default Holder, so I was gonna go turn him off. Default Folder X is a really slick little utility for the Mac. It gives you a lot more options in your open and save dialog boxes. That's kind of neat. So let's try this again and hopefully we won't have that. There we go. OK, so let's come over here. And I've got some sample files for you in your exercise files again that you get all these with purchase. So let's say here all the photo books that we've generated via pdf so you just click the one that you want to add. So I'm gonna go ahead and say add my sunsets generated and click add. Then it shows up here in this list the next time you sync with your IPad, of which we're fixing to do here. The next time you sink, then these documents will be transferred over onto your IPad. So let's go ahead and click sink. Now, your next question is gonna be well, Lisa, where the heck do those PDS wind up on your IPad in the adobe reader app. So to see them on your IPad, all you have to do is click Go find the adobe reader app on your IPad. Click it and then you're pdf's. We're going to be right there, which is really, really handy. So honestly, this shouldn't take but a couple of seconds. So that's how you would do that. Do we have any questions on the photo books that we looked at or the beginnings of this sinking process? Yes, Text, um, profile there. Can you actually add text boxes and make more text boxes for the layout you can. It's a little bit odd the way it works. Ideally, what you would do is you would choose a template that has a text box and you would do it that way. You can't draw more text boxes and add them in a way that you might think that you could, Uh, but what you can do is added what's called photo text and page text. So if you add photo text and there's panels for that that that we can look out over here, you can see them right here in this text panel. See, I've got photo text and I've got page ticks. So this really tells light room where you want to anchor that text box so you can anchor it either to the page or to the photo itself. If you anchor it to the photo itself, then when you change the size of that photo, the text size changes to which is kind of neat. So that's how you would add text to a page. So you have to decide if you want an anchor to the photo or anchor to the page. Whichever one you choose, you just click that little check box. And, um, that's how you would do that. Yeah, it's it's really flexible. The books you could make in light room, but it's limited. Teoh, which is okay, because, you know, you could go off on a crazy train with this, you know, and go down a rabbit hole that the templates were really great. So you are limited and one in what you could do. But over an in design let's say you create all this you exported as a ah J peg and maybe pop the J peg. And in designing make text boxes all day long, you know, to the cows, come home and position them wherever you want. So now it's come back over here too. Uh, I teens and see how our sink is going. Our sink is complete. So if we could change the screen to the IPad, that would be super duper awesome. And then what we're gonna do is we're going to go into the We're going to go into the Adobe reader app. And that's where our photos we're gonna be OK. So here's my home screen so you can see the adobe reader. App is right here, someone to give it a click. And there's my There's my pts right there so I can click one. This is the one that we generated Just a second ago, and there it is. So this is another book that that I created. So what you get is a long scrolling situation, so I could turn my screen. So it's nice, huh? So that's how you would get a full resolution. Pdf of a photo book that you create in light room onto your IPad, which is a neat anything. Yes. Are there, um, any other options? Because I know that use blurb. But what if you use blurb initially to start with and you make your design? Can you then change it to another? Um, any of the other template layouts or something else available? Um, you could. So probably what you'd want to do is create a saved book, and that's gonna keep it over here in your collections so we can call this one abstract live and click create. If you wanted to create different versions of that book, I would just duplicate that project, and then you could rearrange, and however you want and and create duplicates, you could change the size up here. Even after you've created it might change your layout a little bit, so you might have to go through and fine tune, you know, placement and so on and so forth. Like that
Class Description
Adobe Creative Cloud is an essential toolkit for photographers — but navigating its many programs can be overwhelming. Join best-selling author Lesa Snider for a comprehensive course on how to harness the power of Creative Cloud to build a thriving photography business.
Lesa will show you how to grow your photography business with Creative Cloud's suite of applications. You'll learn how to build promotional materials, how to create and customize a professional-grade portfolio website with Behance, add compelling elements like slideshows, audio, and video, and display your portfolio on any mobile device — even in printed book form. You'll also learn how to use Photoshop to create a professional and engaging video portfolio to showcase on your website, iPad, Behance, or burn onto DVD.
Lesa will also cover how to use Kuler to grab a color palette from a favorite image for use on your website or promotional materials, as well as how to use familiar drag-and-drop tools in Adobe Muse. By the end of this course, you will be able to create a full-blown website worthy of your work, with light boxes and slideshows to showcase your portfolio, and contact forms to gather leads.
Software Used: Adobe Creative Cloud 2014 

Reviews
I have watched the day one and part of the day two classes -- this class is chock full of creative ways to use the cloud to expand your business -- and to help photographers help their clients get more for their money as well as save money in creating beautiful marketing tools. I had been so confused over the lightroom/photoshop thing, and Lesa makes it so easy to understand how to use each program for their strengths or super powers -- so I'm ready to power up my photography business !
Lesa makes learning easy! Thank you Lesa!