Creative Cloud Essentials
Creative Cloud Overview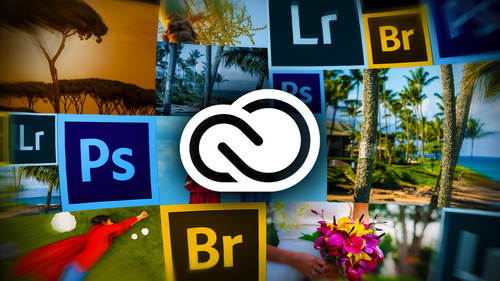 Creative Cloud Essentials
Creative Cloud Overview
Lesson Info
Creative Cloud Overview
I'm extremely pleased that you are here. It is good to come together for the purpose of squeezing all the value out of that creative plow that we can. And that's exactly what we're gonna be doing today. You know, we are in the realm of rental software now, and that is that is our reality, you know, currently. So why not get the most bang for your create creative cloud Buck? And you know, let's let's use these programs. Let's figure out the superpowers of each program and let's really use them to their strength so you can take your business to the next level. So that's what we're going to be doing today. I'm gonna get you all excited about what we're gonna learn by showing you some of the projects that we're gonna create together. So we're going to start out in light room is this isn't a full light room course, but we're gonna show you enough about light room to get really excited about it. And then hopefully you'll go check out my light room course that I just did light room essentials...
. So but light room, in my personal opinion, is hands down the best place to organize your images as well as do your color correction and your retouching. So we're gonna take this photo and you can see on the left hand side and the before version that we've got a pretty nasty color cast going on. And so I'm gonna show you how to easily get rid of that in the light room. Everything you do in light room is nondestructive. You've got a glorious history panel that keeps up with every single thing you do. So you can always back out of whatever it is that you've done, which is great. So I'm not a fan of starting over. So we're going to correct this image right here. I'm also going to show you how to use light room to do some pretty amazing retouching. So you can tell from the before and after on this image that the lovely lovely Care and Wilmore, one of my good friends I've smoothed out the skin a little bit, lightened it a little bit. I have ah, lighten the iris of the eye just to touch, and I've given her just the barest hint of paint lipstick. Karen, it's so beautiful that she does not have to wear makeup ever curse her. So we're gonna give you just a little bit of lipstick. So this is the kind of thing that that you could use light room for. So I'm showing you these in the order of which I would use the programs. So light room for importing, organizing and doing global and local adjustments like we've just seen on the first green and then on this one, we're also gonna create some photo books in light room. And it's a fabulous place to do that. So easy. And it's really enjoyable with a lot of fun. And that's why we're doing all this, right, Because it's fun fun to play with the software. So we're gonna create this book. As you can see, I've got a nice little background on each page. So we're gonna take a look at how to add that to your book and then don't under. Then we are going to use ITunes. Oh, yeah, To sink the book we can save it is a pdf from light room. So I'm gonna show you how to sink it onto your IOS device using I teams so that you've got that book to show so you can imagine the portfolio possibilities with just that one thing. So photo books to pdf onto your IPad. The next thing we're gonna do in light room, kind of keeping in the portfolio theme of things here is we're gonna create a beautiful slideshow, and this one will actually play. There's no audio, but everything you see on the screen right now is coming straight from light room. So we're gonna set an identity plate in light room. That's what you saw in the title screen at the top left. I've got a captions coming in. I've got a background of the slide that I've got you know, a picture that's featured in the center so we can easily create these slide shows in light room and then we're gonna, of course, sink them onto our ipads as well in light room, you can save Ah, a slideshow out as a PdF, or you can export it as a full on quick time movie. And then we can use ITunes to sync that movie onto our IPad. So you're going to find that you'll create probably multiple portfolios, and I know the stuff that I'm showing is mainly photographer based, but it could be used for anything. If you create a physical product, you can take pictures of it, and you can use light one to make the slide shows and do exactly what we're gonna do. If you're a graphic designer, you could put together some of the artwork that you've designed Logo's page layout. What have you and these portfolios would be useful for that, too. So that's what we're going to do there. And of course, we're gonna take that movie, export it as both a PdF and, uh, actual movie and bring that onto our IPad so we can have it wherever we go, which is really useful. We're also going to create a Web gallery in light room. It's just so crazy easy to do it. You're not going to believe it on the burner. You can put in all of your FTP information in light room, and it takes care of all the up loadings really quite incredible. So I'm going to do that as well. And then So for this picture, they were going to show you how to take your images from light room and pass them over to photo shop. So we're gonna talk about when you should do that and how you can do that, cause lightning was happy to organize. Your PST is as well. So it's ah, really neat tool. And I would encourage you even if you're a graphic designer to consider organizing and light room. It's really simple. So for this particular image, there is something missing from it. Does anybody see what it is? It's like that picture in the back of People magazine where they've used Photoshopped to remove something and you have to figure out what the heck they removed. Well, if you'll notice around Karen's neck, I took out her necklace, so we're gonna start in light room. They were gonna push that file over to photo shop, and I'm gonna show you how to remove more complex objects like that. Then we're gonna do a little bit more creative work going from light room to photo shop. We're gonna open these three images as separate layers in the photo shop document. We're gonna make a trip Tik. So trip tickets, just three panels, and I'm gonna show you how to add this creative color Teoh each panel. In my humble opinion, that's, ah, product that you can sell in your photography business. Also great for graphic designers, because you could put this in an ad, and I have actually added a little bit of branding at the bottom, right. Ka who? Moku dot com These air world famous Grammy winning Hawaiian slack key guitarists who I had the honor of shooting in the 2013 and so this could be a promotional piece. You know, you think of this, this could be your If you have a portrait, photography business is going to your head shots. And you could put this in your local newspaper in Boulder, Colorado, where I live. We have called a local rag. It's a little color magazine that comes out is called Yellow Seen, and it's got all kinds of local stuff. And that's where all the photographers and boulder they put their ad. So this would be a possible design that you might use for that. And then we're gonna take a look at how the water mark your images in light room, and then we're gonna or how easy it is to water. Mark your images and light room and how not easy it is to watermark them in Photoshopped. So hopefully by the end of at least by today, you're going to start getting a sense of how to play the light room to its specialties and how to play Photoshopped. It specialties. And when it's easier to do something in one program versus the other, and that's really the whole theme for this three days of teaching here, So we're gonna add a watermark, and then we're gonna take that watermark and the action that we're gonna create, and then we're going to sink it to the cloud so we can access that on different machines. We're also gonna create this beautiful direct mail piece. This was done in Photoshopped, and so we're going to take a look at how to do that. Then we're gonna upload this document to the creative cloud created Cloud, lets you share documents with clients, and they don't have to have the software that you use to create the thing to see it, which is really handy. So we're gonna take a look at how to do that. We're gonna take a look at how to create another, uh, what I consider a little bit more professional magazine ad, so that will definitely be helpful for you and your business. They were going to create an animated GIF, which is a nice way to if you have purchased ad space on another website and you've got a whole lot of information to get in front of those people. And animated GIF is the perfect way to do it because you've only got a finite space. So it's really just like a slide show that plays automatically and you can see the one that I've got here focuses on a fake pet stains, a fake company that created I gotta entertain myself somehow right proudly demoralizing your pit since 2000 and eight, so animated GIFs were really practical. We're going to do that in photo shop, and then we are going to create a full on video portfolio in Photoshopped Photo Shop. Most of you have been using it, you know, at least somewhat, and it's really easy to create videos and photo shop. But we got video editing capabilities back in, Um oh, I think the CS five or so used to be in the extended version on Lee. But then the Dhobi put that in the regular version when we went there. Right now there is no extended versions. Extended is the only one you get. So it's got all the capability. So this video was created in front of shot. We've got little picture within a picture effect going on here. It's a lot of fun. You already know how to use the program. I mean, I'm gonna teach you a whole lot more about it, so we're gonna be able to create beautiful professional video portfolios. And you can see in this one that I've got a mix of videos and stills and they've got a little little spot of branding at the end of it. So we're going to do that. And as you might guess, we're gonna learn how to sink those onto our APP hat as well. Then we're going to take a look at Cooler, and we're gonna learn how Teoh snatch up a color palette from a photo, which is very handy if you've got a client that has a sacred piece of art that they just love the colors in. Or if they have, you know, maybe had a photo shoot with somebody else or saw a picture that they liked. Then it's really easy using cooler online to upload that photo and snatch a color palette from there that you can then download and use in photo shop and illustrator Very, very handy. So we'll take a look at how to do that. This is an actual be hands pro site that I built, so we're gonna discover all the amazing features and power of being hands. So this is a pro site that I built with that. It's so easy you won't believe it's the easiest with the wig HTML editor I've ever seen in my life to date. It's Anybody can do this. My mom could create a site with being It's really incredible. Then we're gonna take a look at how to upload some of our video items to be hand. So we're gonna take a look at how to upload that slide show that we're going to make together, and the same process would work for a video portfolio that you put together in Photoshopped as well. So when you look at how to integrate all of that into your be hands, realm then and then we're going to dive into Adobe Illustrator. Don't be afraid. It's very friendly. It's not really, but we're going to make it friendly, so I'm gonna show you some really great tips on creating typographic logos. It's incredibly simple. The type controls across all of Adobe's programs work in the exact same way. So if you know how to set text and photo shop, you know how to set Texan illustrator and the differences. I'll point out to you. But as you can see here, there's all kinds of things that you can do with typography and so far as logos, a lot of the photographers. I mean, I don't have a logo, and they haven't really no idea what they should have is their logo. Or they have something that's really complex that doesn't scale down, you know, good enough. So we're gonna take a look at how to create some of these typographic logos as well as maybe you have an existing piece of art that was created. An illustrator. Maybe you hired a designer to make a logo for you, and you just need to tweak it. Maybe you need to resize it Or maybe you need to change the colors. So we're gonna look at using illustrator for that. Then we're gonna use in designed to create a business card. It's really handy. So these are all projects that you would need whether you're, ah, sole proprietor, your own your own business or if you work for somebody these air great skills toe have and with the cloud, you've got access to these programs, so you may as well get the most out of them. So this is a business card redesigned that I that I did for the graphic design for everyone class that I did that when you see the before version of this card, you'll be even more impressed by this version of the business card. So we'll take a look at how to do that in in design. And then finally, we're gonna end the workshop back to pet studios. We're gonna use muse, which is a visual I call it was the wig. What you see is what you get a visual html editor next to be hands. This is the second easiest way I've ever seen that you could build a website. I've got rollovers going on here at the top, right of the navigation, muses. Creating that navigation, I could rearrange pages and Muse would update those buttons. Those were not Photoshopped buttons, that's mused. Doing all that you can bring in full on PST is, if you've kind of mocked up what you want your website to look at, you can bring that into muse and kind of use it as a template and then bring in certain Photoshopped layers. It's just incredible. So we're gonna build a full on slide with with quite a complicated slide show that Muse also handles. It's got these things called widgets in there, and there's all kinds of complex JavaScript that makes those which is possible. But the important thing is that you do not have to dear mortal right, the Java script yourself. So I think you'll be really pleased and amazed and at how powerful muses and how enjoyable it ISS. So those are some of the projects that we're gonna be creating. Of course, we're also going to dip into Acrobat, and I'm going to show you some really practical things that you can do with your PdF, such as locking them with a password or or locking them so that your client can't print or can't, you know, take images out of it. We're also gonna look at how to extract images from a pdf should you get one. Let's say you've got your logo in a pdf and you don't know how the heck to get it out of there. So we're going to be looking at some practical uses for Acrobat to you. And last but not least, we're gonna take a look at a stabilizing video in Premiere Pro Now Premiere Pro. It is a beast, Let me tell you, it is a professional level, like I'm talking cinematic quality video editor. We are not going to learn how to use Premiere for making videos in this class, but what we are going to do is play it to its strengths, and one of the strengths is stabilization. So if you've taken the video that you want to include, let's say in your video portfolio and Photoshopped, but that you didn't shoot it on the tripod in the death Duggan thing is, like, all jittery, then that would be a great reason to pop it into premier stabilize. It exported again and then import the exported version in the photo shop for including in your portfolio. So we're gonna do that to you. Some things have heads explode here. But first, before we get started, I would like to share with you a few of the ways that you can connect with me online. And I absolutely love it. If if you did, so be sure to trot on over to photo lisa dot com and sign up for the free newsletter. That way you can stay abreast on on everything that that I'm up to you. If you're on Twitter, please feel free to connect with me that at at photo lisa facebook facebook dot com slash photo Lisa. If you click the like page, you can download some pretty me cheat sheets, and one of them is a typographer Z three page cheat sheet for kind of like a typographer checklist. So that's anything that's not available anywhere else. And of course, if you want to keep up with all my creative live workshops, I think I have something like 30 of them. This is my favorite thing to Dio. Then you can try it on over to lisa dot I n slash c l videos. All right, let's talk about the clouds more. I show you this image to illustrate the point that now that we have the creative cloud and I know some folks aren't as pleased about it as others. But Adobe was on this 18 month release cycle update cycle for years and years and years and years and years. That's incredibly unsustainable. So now that we're on the creative cloud, we get new features doled out incrementally. Usually wants 1/4. This is good for us as well as the programmer. So this is a shot of a happy adobe programmer. It's not really a happy to be programmer, but they might look like this. So the programmers are a little bit less stressed. We, as consumers of this wonderful software, are gonna have fewer new features less often or fewer new features more often to assembly. So instead of every 18 months, we get this huge bucket of all these new features that we suddenly have to get up to speed on. We're getting a few here and there. Better for them. Better for us. We can stay on top of our game, and it's not so overwhelming when we've got 100 new features to try to master, so that that's a really, really great thing. Also, the cash flow. Think about the cash flow of this. So we're gonna talk about pricing here in just a second and exactly what you get with the different iterations of the program. But I remember when I first started being a freelance designer that was expensive to buy into the creative suite. I mean seriously was, like $2500 for the for the master suite, and then every 18 months you had to worry about having another $1000 hanging around to upgrade the darn thing. Well, that's all gone now. So for a payment a month, depending upon which service you're going to do, is usually $10 or $50 or $20 then that is a manageable amount of money to dole out every month, especially if you don't have a whole lot of clients right now that is manageable. So I think, for for freelancers, you know, especially this is such a great time to get into this kind of thing because it's accessible, you know, and with creativelive and you've got training to, so it's far more affordable with this rental situation than it ever has been before. So I think once we get through this workshop this week, I think you're really gonna feel differently. If you If you don't feel happy about the cloud right now, then I'm reasonably certain you're gonna be a lot happier with it by the time we get through this course, because you're gonna see all the wonderful things that you can do with it. And if you could just get over the psychological hurdle of Oh my God, I don't own my software Then I think you're going to see that you have a lot of benefits. And the cash flow thing I know to me is a big deal. So just a few things to think about their. So let's talk about what the heck you get. I do have some exciting insider news for you that I don't think you're going to see posted anywhere on the Web, but you might. The Photoshopped photography program is what Adobe offers you get light room plus Photoshopped plus Bridge plus B hands basically, and it's 10 bucks a month. Now, if you go to the to the website to adobes website toe, Look at that deal today you will see that it expires today. It's not gonna expire today. They're going to extend it until the end of May. But as far as I know, they're not going to announce that. So if you've not taken advantage of, it is a great time to take advantage of it. So 10 bucks a month and they have said that they will honor that price indefinitely ish. I don't see them really going up on it cause that would really upset a lot of people. And I think there there's enough people that are a little bit, you know, pointy about the cloud. Anyway, they're not going to do that, but it is gonna be extended through the end of main I do. You have to sign it for a one year contract. So that's again light room photo shop in bridge and be hands. And that's a really wonderful set. You can install it on two machines, and you get the ability to sink your settings in your documents so you get a lot of value for that 10 bucks a month and who doesn't have $10 a month. But come on, if you're trying to do this is a business. You can find $10 a month for the full creative cloud. There is a special deal going on $30 a month. If you previously owned any version of CS, doesn't matter which one. When Adobe first came out with this deal, they said, Oh, well, it's only if you own CS three or later. Well, now they've gotten into that. So if you have any version of CS at all, even see us one, then you can get it for $30 the whole creative club for $30 a month. But that does require when your contract and that price will increase after your first year. So, basically, the whole creative plow, the whole enchilada, is going to set you back 50 bucks month pretty much if you want to go month to month. Let's say that you've got a project coming up and you need in design and illustrator, but you don't always need to use those programs. Then you could go month to month without a contract, and if you do it that way at $75 per month. But that's with no agreement. So you could have it for one month and then stop paying for it, and that's totally fine. So for the whole creative cloud, you get a whole bunch of stuff and we're gonna talk more about that at the end of the day tomorrow. The way I've structured this course is because I have a feeling that, uh, with my super brain powers seeing into the audience that most of y'all are on the photo shot photography program. So what we're gonna do is we're going to start out with everything you get with that program, and then we're going to start in on the other special features that you get if you subscribe to the whole enchilada. So with the whole enchilada, you also can install it on two machines. Mac or Windows doesn't matter which you get the same 20 gigs of file storage for collaboration. And that's just a fancy way of saying you can pass documents. You can post your documents on the cloud for access somewhere else or to share with clients. But you also get ah hosting for five websites not just any websites websites that you build with Muse or Dreamweaver, so that comes with your $50 a month. So once you begin to see all the benefits of this, then that $50 a month doesn't sound quite so so painful. And I know somebody's in. Ask the question. I have absolutely no affiliation with Adobe at all. None. Zero Zip, zilch. I don't get any kind of kick back if you subscribe to the cloud at all. My job here is just to show you what's available again. This is our reality. So let's get the most out of our creative cloud book that we can squeeze it for all it's worth. But I just want to put you at ease on that. I don't get anything. I'm not trying to convince you to do this. I'm saying this is the reality, but here's what you can do with it. All right. Okay, So since we're going to spend the 1st 2 days mainly on the stuff that is available with the Photoshopped photography program, this is really what you get. And so light room. We talked to a tiny bit about that earlier. It is a true image. Database bridges, not a database. Okay, bridges a browser. Use it to browse any files on your on your hard drive. But light room is a true database, so that is wonderful in so many ways. That means that as a database, you know there's a record. Right. Databases contain records just like the old role addicts that we used tohave. So you can think of each record as each little card that you used to put on that role. Addicts like a contact sheet or what have you so light bring is that way it makes a record for each photo. The photos don't live inside a light room there wherever you put them on your hard drive. You know, you may have a structure in your pictures folder by date. You know, by year, what have you by even well, light room sees where those photos are when you import them, and it makes a record for each one. And that means that any time you make edits to an image in light room, the edits really don't happen to the image like oranges. Keeping track of all of your edit requests on that photos record. So it's a full on nondestructive editing meaning and get out of anything you've done at any time you want right now or 10 years from now, providing we still have computers in 10 years. They're not all just Google glasses, right? Eso light room superpowers organizing, sorting, filtering rating, image editing So color correction and retouching and creative color effects. Those air like running superpowers, if you can. You want to be doing that stuff. There is far easier to do that stuff there that is in photo shop. Light room superpowers also include the ability to create fantastic slide shows. We saw sneak peek of that as well as print templates, so that would be like fine art prints for you, if you wanna, you know, include print products for your clients and Web galleries. So that's light room superpowers right there. So keep that in mind as we go through these next few days. Photo shops, superpowers. It is a pixel editor, so it has selection tools that you can get in there and actually select pixels. Light room doesn't have selection tools. You can create original art in photo shop you cannot create. Original are in light room. Okay, You have to edit existing images. You don't create images and light room, but you can create images and photoshopped. You can also create texts and phone shop, so the text you can create a light room is limited to the output module. So that would be like your your print tipple. It's or your slide show or your photo books. That's where you can and text. But you can't add text. You can't create an ad in light room, but we can do that kind of stuff over in photo shop. So, uh, we can also do compositing and Photoshopped. Compositing is just a fancy shmancy way of saying, combining images sick, combining images. So what, we're gonna do that? So the trip take that we're gonna create Photoshopped. Can't do that in light room. Any kind of collages, any kind of quality head swapping, which I highly recommend for family reunions, divorces and breakups. Well, quality had swapping will set you right as rain so we can do that kind of thing in Photoshopped, not in light. Photo shop also has content aware technology, which allows us to remove complex items from our photos you know, perhaps the cousin or the X or what have you are things, you know, things that get in the background of your shot. So with complex removal, we want to be in a photo shopped for that, like we're going to remove Karen's necklace there and video editing Photo shop is fantastic for video waiting. You already know how to use the program for the most part, so those those techniques transfer over to video as well. We can run filters on video just like we can images. We can do creative color treatments to video, just like we can Teoh images. It's really fantastic. So the kinds of stuff that we're gonna be creating in photo shop is business cars and adds things like that. Now bridge is also useful, so I don't think I'm, you know, down everything has a light room. I love you. We'll bridges often cheap, but it has a different say for hours. Then light ring, so bridge. I use it all the time to browse all of my files on my hard drive. You don't import with bridge. Bridge is kind of like a substitute for your finder. It's on the Macintosh. We have a finder, and I cant rember what is called on on Windows. Is it a finder? Explore. Yeah, so it's kind of like that, so you don't import with it, but you can see all the files on your hard drive with it. You can also use it to apply star ratings, and it does like one of our brilliant audience members here, pointed out earlier in the pre show, is that you can use bridge along with camera raw to apply changes to your images so I can make one change one image with camera raw and using bridge. I can apply that change to multiple images. So Bridge has some cool batch processing stuff, and that's mainly what I use it for is looking at these nice little fun meals of my images. You can also peruse a pdf Enbridge without opening the pdf. You can watch a quick time movie Enbridge without opening the movie. So think of it as a browser, an organizer and a batch processor. Now be hands is a really interesting thing. Adobe purchased it. Uh, I'm not sure whether in the recent recent past, and it's an online collaborative community. You can post your work. You can post works in progress. So let's say you're working on image and you want to get critical feedback on it. Then you could post that image to the D Hands community, and you can even set who's able to comment on it. That way you don't get you know. You don't let the riffraff ing and so to speak. You can post videos. You can post artwork. You can post audio. Even so, it's a really neat community for feedback, and we're gonna post directly from light room in photo shop and the other, I think, in post from illustrator as well. And then once you start posting parts of your art like that, you can bring them into a full on Web portfolio called a pro site. And this part of the creative cloud is 100 bucks, so you could build a pro site with the hands if you don't subscribe to the cloud. But it's $99 a year, so this adds, you know, a little bit more value to the money that you're plunking down for this stuff. So we're also gonna take a look at how to upload your videos. You know, slide shows or video portfolios to be hands as well
Class Description
Adobe Creative Cloud is an essential toolkit for photographers — but navigating its many programs can be overwhelming. Join best-selling author Lesa Snider for a comprehensive course on how to harness the power of Creative Cloud to build a thriving photography business.
Lesa will show you how to grow your photography business with Creative Cloud's suite of applications. You'll learn how to build promotional materials, how to create and customize a professional-grade portfolio website with Behance, add compelling elements like slideshows, audio, and video, and display your portfolio on any mobile device — even in printed book form. You'll also learn how to use Photoshop to create a professional and engaging video portfolio to showcase on your website, iPad, Behance, or burn onto DVD.
Lesa will also cover how to use Kuler to grab a color palette from a favorite image for use on your website or promotional materials, as well as how to use familiar drag-and-drop tools in Adobe Muse. By the end of this course, you will be able to create a full-blown website worthy of your work, with light boxes and slideshows to showcase your portfolio, and contact forms to gather leads.
Software Used: Adobe Creative Cloud 2014 

Reviews
I have watched the day one and part of the day two classes -- this class is chock full of creative ways to use the cloud to expand your business -- and to help photographers help their clients get more for their money as well as save money in creating beautiful marketing tools. I had been so confused over the lightroom/photoshop thing, and Lesa makes it so easy to understand how to use each program for their strengths or super powers -- so I'm ready to power up my photography business !
Lesa makes learning easy! Thank you Lesa!