Creative Cloud Essentials
DIY Postcards: Font Formatting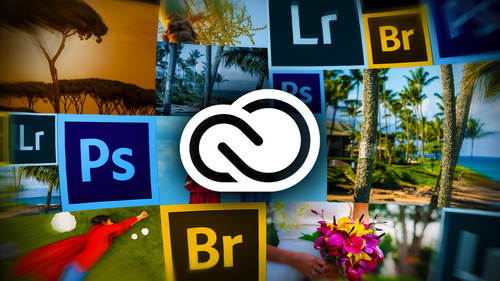 Creative Cloud Essentials
DIY Postcards: Font Formatting
Lesson Info
DIY Postcards: Font Formatting
All right, let's for designing some stuff you don't want todo a nice little direct mail postcard. This is a super handy thing Teoh know how to do. So we're gonna go ahead and close, Karen. So if you're following along in your exercise files, I've kind of got them divvied up according to the program that were in. So we're finished with marking, So we're gonna be working in the postcard folder inside a photo shop and let's take a look at what we're going to create. And I want to show you a template that you're going to get with the purchase of the course as well. So here's the file we're gonna create. If we take a look in my layers panel here, you can see that I got a couple of folders which Photoshopped calls layer groups going on. We've got a front in the back, so let me turn off the back of the postcard and turn on the front. The ability Thio Thio create these kinds of promotional pieces yourself is incredibly empowering. When I first started to learn how to do all of this on my Mac, ...
I had an overwhelming sense of independence. That was very pleasant. I can do this myself. If there is a situation where you need to get something like this out in the mail to your clients in a timely fashion, you are gonna have the skill set to do that yourself without having to pay a designer a lot of money. Perhaps you're on a budget or there's just no time to do that. So the ability to learn how to do this stuff yourself is incredibly empowering, and I think you'll feel the same way. And it's handy in so many situations learning how to do this. I imagine. You know, if your you learn how to do this and your son or daughter decides they want to get married and it's just gonna be a small, intimate situation, you could do the invitations. You know, maybe you're gonna have a family event, a big family reunion or Mom and Dad's 50th wedding anniversary of the situations and with which these skills air helpful are infinite. So I think you're really gonna like this, and this technique is simple. Absolutely anybody can do it, so that's what we're going to do also, if you purchase the course. I've given you a four up photo shop postcard template, and I've named the layers that can help you figure out where to position What? Because you know Incas expensive. If you're printing this stuff at home, um, paper is expensive. You can also save out these files and use online printing services to print this stuff for you. So you don't always have to print this at home. If you were going to say you needed to run 200 of these, you might get in touch with a local print shop. You know, maybe that what are they? They're not Kinko's anymore. They're what FedEx is or Kinko fix. Or maybe an Alfa Graphics or something like that, or online services can print them for you to. But if you are printing at home, you might want to gang them up on a page so you can fit four postcards to the page. And that's what this template is. Four. So when she would create the template or the postcard rather, then you would just use the File place command to bring in the whole Photoshopped document, really, and position that so you could print for up, so you'll get this template if you purchase the course. So let's go ahead and take a look at building this postcard. So let's go ahead and close that one. So in the exercise files, I've got them labeled for you, the front and the back. So the first thing we need to do, obviously, is gather up the images that we're gonna use. Make a folder, you know, keep your files nice and neat. And then we're going to create a new document the size of the postcard that we want to make so we can choose file new or press commander control in for new. They want to call this one postcard live, and we need to tell Photoshopped how big we want that document. Well, since we are dealing with print, it's easier to work in inches. So it's changed the unit of measurement two inches, and my favorite size postcard is a five by five by 40 yes. Why is it not four by six is gonna be your next question? Well, because we get a lot of mail, don't we? Lots and lots and lots of mail. A five by five, 5.5 by four inch postcard is a little bigger than you expect. It will stand out in a pile of mail, and it just feels real good in your hand. And it is the largest size that you can still get away with the postcard postage. So yeah, raw. So but because I want my photo hang off all the edges, which is called a bleed, I'm gonna make my document slightly larger, then the end result, because I know there's going to be some cropping. So let's go ahead and enter five by 75 Some just put, like a 750.25 extra space all the way around by 4.25 and I'm gonna go ahead and enter a resolution of 300. The resolution again just controls the size of pixels. The higher the number is, the smaller the pixel is, and the lower the number, the larger the pixel. So anywhere between 2 43 20 is a good resolution for for most printers. If you are sending something off, it's going to be printed in a magazine, and they tell you they need a higher resolution than of course, you could enter it there, but this is a good kind of gold standard to go with. Let's go ahead and click. OK, now we've got our documents. Let's start bringing in our imagery. And let's bring in our imagery in a way that we have the ability to resize it without losing quality. So that means we're going to place it as a smart object, cause a smart option puts a protective wrapper around the content that you bring in and really anything you do to that layer, such as use the free transform tool to resize or run a filter on. It kind of happens to the protective rapper instead of what's inside of the wrapper. So if you're gonna do any kind of experimentation with image size, always bring it in a smart object. Now it's navigate to where the files live, And this is also, you know, a reason why you want to do a little bit of file organisation before you start in on this, because it makes them easier to find, so we'll build the front first so we'll bring in the front image. Now I'm gonna increase the size of this, just a hair and we're really not gonna lose quality from that. I wouldn't want to make it twice as big, but I can get away with making you know, just a little bit larger to cover the edges. So let's hold the shift key as well as the option key on a Mac or Alz on a PC. And that's just gonna help us resize this image from the inside out. So I wanna make it just large enough where it extends off the edge of the canvas. And then you can use the move tool to position it however you want. So let's call that good Chelsea amend this a little bit. Now let's start adding our text so we're press T to grab the type tool. So we've clicked atop our document. We've got our blinking cursor, so we're going to create a very simple typographic logo that I promise, promise, promise will work for you no matter what your name is. No matter what your photo studio name is or what your company name is, it's timeless. It's always gonna work. It never looks old, and it's classy, so we're gonna make a typographic logo. I'll go ahead and scoop this up so you can see it while we're making it. Yeah, Let's leave it right there. Now let's start formatting it. So I'm gonna go ahead and select all to select on my type. And I'm gonna change the font to future because it's nice and spin. You know, the funds that you choose in your promotional piece is send a message about what kind of company you are. So with this really nice, big, airy, let me move it down a little bit. Nice, big, airy round. Happy fun makes you seem friendly as a photographer. Whatever the business is, uh, this particular fund I'll go ahead and keep formatting it while I'm talking here is nice and open. So it adds an air of friendliness. I'm gonna teach you some keyboard shortcuts for formatting your text here that are gonna be really handy. And they're gonna be the same keyboard shortcuts that you use in all of adobes programs which yea, which means that you can now create art in illustrator, You create a typographic logo perhaps with a transparency, really handy skills. So the way I like to resize tests because I'm real visual. I couldn't tell you. Oh, I want 13 point text, you know that's never gonna happen. I'm gonna play with the size visually. So the keyboard shortcut is it takes three fingers. So shift command greater than to increase font size. Once you have that word selected or shift command less than to go down and font size. So on a PC, that would be shift control greater than or shift control less than write that down, memorize it. It will serve. You will. So I want to make that part of it about 17 points. Good. Now, the key to making this particular typographic logo treatment work is contrast. So we're gonna introduce contrast with the size so we're gonna make photography honkin big next to the small Nelson. It's gonna work because there's contrast in size. So we're gonna make this one about 35 points, something like that. And now we're gonna triple click a top destination weddings and I'm gonna go down and size on that because I really want the photography part to capture people's eyes. The next thing I need to do is control the spacing between these lines of text, and we do that with a control called leading. Why is it letting? Because the way we used to set type back in the old days, where type was actual chunks of lead and you would set them out in a wooden kind of box situation and to introduce spacing between those lines of text, they would put literal bars of lead to space out those typographic blocks just like, you know, the blocks that your kids play with to spell words and stuff. It was like that. So that's why we call it letting is a holdover from from the way from the old printing presses. So letting is really neat so you can do it in a couple different ways. You can access the character panel either by clicking in your sidebar here if you have it open or by choosing window character, so I'll show you the leading control. The leading control is right here, and if you point your cursor at any of these settings and you take your hand off of it, then you're gonna get a little tool tip that tells you what those controls do. So you've got point size over here as well. So here's our leading control for letting for us to be able to alter it. We need to highlight the lines of text, so that's what we're going to do. So I'll go ahead and click within my texture, press command or control A to highlight all of it. And now I can either point my cursor at the little ah label next to the leading field. And I can click and drag left, decreased letting or click and drag to the right to increase letting. So if you've ever seen a design where the type is kind of stacked on top of each other like that, that's how the designer is doing is they're doing it through, letting You could create each line of this text on separate layers and then position it manually if you want. That's totally fine, too, but I tend to do it with letting. So let me show you the keyboard shortcut for letting. So let's go ahead in ah, highlight our text again. We could either click over here and highlight all of it, or we could just double click the layer thumbnail of our text layer in the keyboard shortcut for letting, which again works in all of the adobe programs is command option down, arrow or control. Ault down Arrow to increase or command option up arrow to decrease on a PC that would be control Ault up arrow. Now I'm adjusting the leading equaling across all three lines. That doesn't mean you have to. Let's say I can't get this toe look right. Let me zoom in a little bit more. Let's say I can't get it to look right when I have all of the lines selected. Uh, so I can just select one line in a just just that one. See how now I'm adjusting just the one line. So if you have all the lines of text selected, then the leading will change equally throughout those lines. But that doesn't mean you have to do that another way, Teoh. Manage spacing like this is to click within one line of text. And if you've put hard returns between those lines and we did when we were creating this, then you can open the paragraph panel, and you can use these controls right here to determine how much space before or after you want with that. So, for example, if I am in the photography line right here. And I want a little bit more space above it. You know, between Nelson, then I could simply enter a value here so you can do it with leading. Or you can handle it with the paragraph panel. And if the paragraph panel isn't already open over here in your sidebar, you can choose Window Paragraph. So that is what we're gonna do on that. So that's just about all of the front of the card here with me. Position everything so you can see it. We're going to make sure that that type is readable. We're gonna add a little color bar. So we're gonna add the rectangular marquis. We're gonna click and drag to draw a line or box across her image. And then we're going to come down here to the half black, half white circle the bottom of the layers panel choose solid color burning. Choose black. We're gonna position that layer beneath our logo, and we're gonna drop the opacity of it in that pretty
Class Description
Adobe Creative Cloud is an essential toolkit for photographers — but navigating its many programs can be overwhelming. Join best-selling author Lesa Snider for a comprehensive course on how to harness the power of Creative Cloud to build a thriving photography business.
Lesa will show you how to grow your photography business with Creative Cloud's suite of applications. You'll learn how to build promotional materials, how to create and customize a professional-grade portfolio website with Behance, add compelling elements like slideshows, audio, and video, and display your portfolio on any mobile device — even in printed book form. You'll also learn how to use Photoshop to create a professional and engaging video portfolio to showcase on your website, iPad, Behance, or burn onto DVD.
Lesa will also cover how to use Kuler to grab a color palette from a favorite image for use on your website or promotional materials, as well as how to use familiar drag-and-drop tools in Adobe Muse. By the end of this course, you will be able to create a full-blown website worthy of your work, with light boxes and slideshows to showcase your portfolio, and contact forms to gather leads.
Software Used: Adobe Creative Cloud 2014 

Reviews
I have watched the day one and part of the day two classes -- this class is chock full of creative ways to use the cloud to expand your business -- and to help photographers help their clients get more for their money as well as save money in creating beautiful marketing tools. I had been so confused over the lightroom/photoshop thing, and Lesa makes it so easy to understand how to use each program for their strengths or super powers -- so I'm ready to power up my photography business !
Lesa makes learning easy! Thank you Lesa!