Creative Cloud Essentials
DIY Postcards: Image Layout & Printing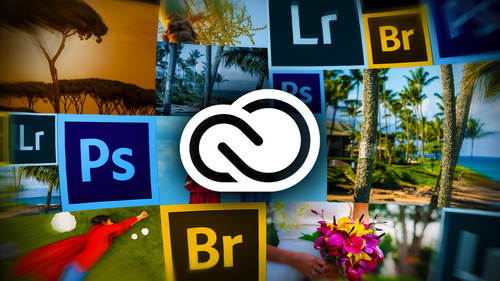 Creative Cloud Essentials
DIY Postcards: Image Layout & Printing
Lesson Info
DIY Postcards: Image Layout & Printing
So when we left off, we had just created our new logos. That was not very difficult to make. Everybody can do that and to keep it readable. Across thief photo, we added a color bar, which is really handy, and that could be any color. You want the benefit of adding that colored bar as a color fill layer, and when created that, But going down to the half black, half white circle the bottom of the layers panel and choosing solid color. The benefit of doing it that way, instead of just creating a layer filled with color, is that if you change your mind on the background color here, all you have to do is double click that layer. Thumbnail in the color picker pops back open, which gives you the ability to do cool things like snatch a color that already lives in the image. So if I wanted, I could just mouse over to any portion of my image. And if I wanted to pick up this nice Ivory does that. I need to change my text color, but I'm just giving you an example of what you could do if I wanted t...
hat color bar to be green or pick up one of the colors from the flowers. I could do that, and there's no trick about, uh, this particular color picker. Yesterday we looked at smashing colors from an image in light room, and you have to click and hold down your mouse button inside the color picker. Keep it held down until you mouse away from your image. That's not the case here in Photoshopped with the color picker. As soon as you mouse away, I'm not holding anything down. Then you get that eye dropper. But for this particular one, let's go back to a darker color and click. OK, so that's the benefit of using that solid color adjustment layer in lieu of just drawn the bar with a rectangular marquee and choosing edit Phil. So it gives you the ability to experiment easily. Now we're pretty much finished with the front of our card. The only things to keep in mind is that you don't want the text to get too close to the edge, so I might click to activate the text tool, grab the move tool and then scoot my text away from the edge. Just a little bit and then position it using my up and down arrow keys, and you can make this color bar as darker as light as you need to you. Let's click to activate that layer again, and we might go up in opacity. Just a touch just to keep that text readable. Because if you're going to the trouble of adding text to direct mail piece, arguably it needs to be legible or what point. So now we've got the front of our card built, so let's practice a little good layer organization habits, and let's pop those layers that are pertinent to the front of the card into a layer group. So let's click to activate the top most layer in our layers panel and then shift click toe. Activate the last layer. So these three layers are you know, they comprise the front of our card. Now let's put them into the layer group with a keyboard shortcut, which is command G on the Mac or control G on the PC. Soon as you do that, those layers disappear in a group. Now I'm gonna double click that group name, and we're gonna call it front just so I know what's going on. And by tucking the layers inside of a group like that, I'm going to get a very quick way to see Onley what's on the front, or only what's on the back, instead of having to click the visibility of a whole slew of layers. So let's turn off the visibility of the front. Now let's build the back of the card. No reason for us to do this in two separate Photoshopped documents, we can just do it all in one document and his turn on and off the layer groups that we need to you. So choose file place again. This place embedded in place links that's new in the latest version of photo shop CC. So we're gonna cheese place embedded. That way, the file really is in the picture we bring in really is in the photo shop document. That way we don't have to keep that file with the document if it were a linked situation. So now let's choose the back image click place when you choose file place like that photo shop assumes that you're going to need to resize it, so it gives you thes handles automatically you don't have to go someone free transform. So they're right there. I'm going to go down in size in my zoom level just a little bit by pressing commander control minus because I want to increase the size of this photo. Just a touch. So by pointing my cursor, any of the corner handles and holding down to modifier keys, which is shift an option on a mat or shifting Ault on the PC, that gives me the ability to resize the image from the inside out as well as keep it proportional So Karen's back doesn't get all sloppy job when we're changing it around. No, it's click and drag within the free transform box to position, and when you get it just right, go ahead and press return. Now, don't be afraid to summon free transform again. If you want to continue to experience experiment with the sizing of this piece, you can go to the edit menu and shoes. Ah, free transform orders. Press commander controlled T. That was the easy to remember as well t for transform because we have brought this photo in as a smart object, we can resize it all day long until the cows come home and we will never destroy the quality of our image. If you had copied and pasted this photo into the document, that would not be true. You really need to restrict yourself to maybe two rounds of re sizing and death it. Otherwise, the pixels just turn into a big old mess. So smart object preserves our content because it's got that protective rapper. So we're really re sizing the rapper. Not so much. What's inside of it is protected. So let's call that good will go up in size a little bit. My pressing commander control. Plus Now let's add the text Teoh the back of our card so it's pressed t to grab the type tool. I'm gonna set my text over here just cause it's gonna be a little bit easier to see. We want to leave this portion of the card open, because if you think about it, this is where the stamp and the address is going to go. We also need to be careful not to put anything too far down on the card because of the U. S. Postal Strip that's going to go across there. So let's go ahead and build our text right here. And for this one, I want it to be a call to action. So any time you do any kind of direct mail or advertising anything, you know, tell him what you're offering, who you are, how to contact you, but also give them a call to action. So this is where we're gonna put the call to action. So we're going to say this is a 25% off with postcards. So, in other words, bring the postcard into the studio or whatever business it is, and you can save 25% on whatever that thing is. That's also when you when you require that the direct mail piece come in to get the discount. That's a great indication of how many of the success of that particular mailing campaign. That's a great measurement tool for you to see. Oh, well, if I sent out 200 of these and only two of them came in, then that's intelligence that you did not have. You know, it's good information for your next campaign or, you know, if you give 50% off and you know all 200 people come in. You're like, Oh, no, probably won't do that again. Ted Kim. So it's going press return and we'll type our next line attacks. You want to give it an expiration date? Because if you don't have an expiration date, then people will just wait forever because people procrastinate like crazy. I do it. So you want to give him a call to action and also give them a deadline. Come down here and say for bookings. Nice fake phone number or whatever method of contact you want to to put on there. Now, let's change the font. So I'm gonna select all by pressing Commander Control A will come up here, see the font menu. And for this one, we're going to use. Can anybody guess anybody? Anybody? Mary pro? Isn't it comforting to have a go to spot for anything? I challenge you if you have a very pro. And if you don't have it and you do subscribe the whole creative cloud, guess what? You can download it for free from adobe using type kit. So once you have it, I challenge you to try not to use it because you're gonna try to get it for another fun, and then you're gonna roll your eyes and you're gonna say I should just stick with myriad pro. It's true. And I actually didn't. We chose minions. I want myriad down here. There we go. And I want this to be readable atop the card, so I'm gonna give it a bold styling, and then we're gonna use our keyboard shortcuts that we learned a moment ago to change the size. So on a Mac will press shift, command less fan to go down in size or shift command greater than to go up in size on a PC. That's shift control less than in greater than. So I'm gonna stop about right there, and I'm gonna continue to adjust the letting of our of our type here. But first, let's change the color cause we want it to be something a little darker. So select the text again. Click the little color swatch in the options bar, and this is another great opportunity to snatch up color that already lives in the image. So I'm going to go for one of these kind of teal colors in the water here, which will be real nice with the card click. OK, now let's adjust our letting. So our keyboard shortcuts for our leading, which controls the space between the lines, is command option Down. Arrow will increase letting or on a PC that's control all down or arrow and then command option up Arrow will decrease. Well, I'm getting to the point where I can't decrease the leading any further. Why is that? I bet use because we had that paragraph spacing on that we did the last time. So that's a great excuse to try back up to the window menu Click paragraph or, if it's over here in your sidebar, you can click it there. The settings you make in any of these panels and even the options far for that matter, are sticky. They stay changed until you change them back. So when you encounter something that's not working, then dip around into these different panels and see if maybe you had some extra spacing going on somewhere, and we did indeed, So we've got the paragraph panel open, so we'll just click within that field in a type zero. Here we go. So now when we use our are letting controls, they should work like we expect and they do. Now let's change the size of thes to actually want to introduce a little contrast in my type. So I'm gonna choose a light styling of the same font family any time you you switch around between the style. So we're talking, you know, condensed, bold, black light symbol, etcetera, etcetera within the same font family. You are absolutely assured that type of graphically it's gonna look fantastic. So that's another reason why I love Maria Pro. So much is new. Just the current ing and the type of a swell. Yeah, yes, yes, we'll do that next. Okay, the question is, can you just turning, which is space between letters were going to that next. I love that you mentioned. Currently I am the big typographic geek. I love it. So now that we've got these two lines, highlight and I'm gonna make these a little bit smaller because I want to catch the eye with a 25% off and then the other details could be a little bit smaller. So we'll come down in size and let's go ahead and give this whole block of text or ride alignment by selecting it and using the alignment tools in our options bar. And then last but not least, let's introduce a little bit more space between the expiration date and the phone number that they can call, so I could click within the expiration date part and then, using my paragraph panel, I can add some space after. Actually, there we go a little bit too much, so we'll call that good now with my move tool active, Aiken skewed my text over about where I wanted to appear on the card. Now it's add that color bar one more time to keep our text readable. This is a fantastic trick that just works. So let's grab the rectangular marquee tool and click and drag just outside of the edge of the document itself and then just create that bar all the way across the screen. And the neat thing is, doing it in this manner by using the solid color feel layer is not only can the experiment with color like we discussed earlier, but we're gonna have the ability to change the size of that bar because we might need to fine tune that just a little bit So for this one we could go with with why it or we could say mouse away from the image and pick up the the ivory color in her dress and click. OK, And now let's change later, stacking order so that our color bar is underneath the text, so it shows up nicely. Now I'm gonna click to select my text layer press V to grab the move tool in repossession the text just a little bit. Now let's click To activate the color of our and drop the opacity of it down. We just wanted to look like it's, you know, still visible. Now if you want the color bar to bleed to not be visible on this side which you do really do need to leave white And then we could double click that Phil layer and we get type in white. And so that way displease off. The other thing that I would do for this particular design that works well is I'm not real crazy about this hard edge. I mean, it looks fine. It looks fine, but But for me, I like things to be ah, little bit softer. So what we can do is. Add a layer mask to our image layer. And if we use the Grady in tool inside the layer mask, we can make that image look like it's fading into the white of the card, which is another great technique to have in your bag of tricks. Soto Add a layer mask. Let's click to activate the layer that we're gonna add it to. That's our image layer here. Now let's go down to the bottom of the layers panel and click the circle within the square icon. This is our layer mask right here. This guy right here and layer masking is digital masking tape. That's all it is, just like your mask off the base boards in your bedroom before you painted it. You don't want to get paint on the baseboards. Perhaps you're not gonna take those baseboards off. That's too much work, but you're gonna hide them, so digital masking tape is exactly the same thing. It's just a different color, and Photoshopped masking tape in the real world is beige or blue. In photo shop, it's black. That is the world's fastest explanation of layer mask. So with the mask active and I know it's active because it has that extra little white bracket around it. Then we're going to come over here to the tools pale, and we're going to grab the Grady Int tool that the Grady Int tools simply will lay down one color that fades softly into another color. You determine how why the transition point is between the two colors or how wide or soft the fate is by how far you drag with ingredient tool. So if we use the radiant tool inside of a layer mask and we set our Grady in colors to be black and white and you know that digital masking tape and photo shop is black, wherever we wait, we lay down that black paint is gonna be hidden temporarily in the document. So let's just take a look at that. So I've got the Grady until active. The next thing I need to do is tell photo shot what colors I want to use in my grade. Ian. We do that using the radiant, preset picker. Say that five times fast in the options bar. So give that little downward pointing triangle a single click and the third grade ian in the top row of presets will always, always, always be a black to white radiant. Now you're seeing black and white over here. But this preset really just calls my color ships, which live at the bottom of my tools panel. So the reason I'm pointing this out to you is that your color chips may not always be black and white. You could try to remember to reset them the black and white by pressing the D key for default. But I always forget to do that. So I have a feeling you'll forget to do it to you. So I want to show you where that preset is. So it just lives, right? Here's the 3rd Now, let's make sure we've got a linear Grady in type chosen and it probably still is that first little button that you see there at the top left of my screen. Unless you, you know, played around with ingredient types before linear will still be set. Come over to the document. You see that my cursor is now turn into a little cross here, so I'm gonna click and drag leftward. I'm gonna hold down my shift key to keep my great aunt. Perfectly vertical. When I release my mouse button, the image fades out and you see the paint appear over here in the layer mask in that beautiful in The fantastic thing about using the Grady int tool inside of a layer mask like this is if you are non pleased by your first professional Grady and dragging attempt, you can keep on Dragon and photo shot will update the file or update the mask. Rather, now you do need to be aware of the images edge because to me, that looks a little crappy. So I want to start my ingredient drag. I'll do that again. I want to start my Grady in drag to the left of the edge of the image because I don't want that hard edge to be seen. The farther you dragged, the softer the Grady int for, you know, depending upon the imagery or using, you know, dragging for a larger distance might work better. But for this particular image, just a little bit works. So that's just enough of a hint. I really love the way that looks, so let's say that now we we are almost finished with our car but we want to experiment with the height of this color bar. Easy peasy. All we have to do is click on the color bars mask because what's happening here because we drew that rectangular selection before we added the solid color feel layer. Photo shot goes, Oh, she's got an active selection. I bet she wants me to put the paint inside the selection on Lee. So Photoshopped handled that with a mask. See, the whole layer is really filled. The whole document is filled with white paint since I added that filled layer. But you can see the mask to the right of that solid color film layer. That pain is being hidden everywhere else except for the shape of the selection I drew. So that's its a mask to right here so you can see. Oh, this color is visible where it's white because you know that the masking tape in photo shop is black. There's actually a rhyme that creatives memorized toe. Let us know are to remind us what color does what inside of a layer mask and that is black conceals white, reveals black conceals white reveals that will be in your head for two weeks now you're welcome. Go around singing it. Black review. Black conceals White reveals. Okay, so that's basically our card. So if we want to let's say we're gonna use ah local print shop to print this sucker or we're gonna, you know, post it online. Oh, I wanted to show you how to resize this bar. So if we click the mask itself summoned free transform by pressing commander control T I could make that bar is thinner wrists because I want, you know, even after creating it, So I might make it just a little thinner because, really, the focal point of the piece is the back of that dress so that you can do that. So now we're ready to save it. So we'll say file save as we want to be sure and save this master PSD sins for Photoshopped document So we can call this one postcard live. That's fine. Make sure that you've got Photoshopped chosen from the format poppet Menu click Save. Now, if you're printing this at home, let's go ahead and create a layer group for the back of our car. That makes it easy to toggle. One set off on one set on. So let's click the top most layer press and hold the shift key. Click the other layer that's involved in the back of our card and use your keyboard shortcut of Commander Control G for group double. Click the second group's name and we'll call it back. So now when you're printing this at home, it's super easy. You just turn off the group that you don't want to print. Turn on the group that you want to print, you know, reload the paper back into the printer and then turn on the other group. So it makes it really easy to go back and forth like that. Now, if you are sending this off to print somewhere else, you will likely choose file save as and from the We make this a little bit smaller, so the folks in the back conceded from the format pop at Munich. Most likely you will be asked to save it as a tiff. T I F F. That is a lossless format, and a lot of online printers really love that format, so that will not give you any kind of quality loss whatever. So the print will look nice, so they'll likely say Save it is a tiff. Or they may say, Give me a pdf. If they do that, then she's Photoshopped. Pdf and that's really all there is to it in that. So you would save out to files. Okay, so we can just do that. Renee, let's say our printer wants a tiff. So we've got the front turned on right now. So let's say tiff. And in that saying file, I would call this one postcard underscore front. The reason I put in underscoring it no spaces is if I'm dealing with an online printer. Don't want spaces in the file name, so I kind of get into the habit in that. So here's my postcard front. I'm gonna turn off the layers for the tiff file, Click Save, and I'm gonna leave this set to none. Click. OK, so there's the front of my card. Now let's turn off the layer visibility. The front turned on the visibility of the back. Choose file save as from the format pop up menu. Choose Tiff that you can guess what we're going to name this one. Turn off the layers because the tiff format also supports layers, but you don't want a bit. The printer doesn't want your layered file because it's gonna be a lot bigger than a flat tiff, and you don't want the method with it. Nor do you want to have to be concerned if they have the funds that you used. So let's click. Save. Okay. And now, if we come over here to our folder So here's the two files we just created those air the files that you would upload to the printer or carry with you, perhaps on a flash drive to a local printer if you're gonna have somebody else do it. Yes, ma'am. When you save us a photo shop, Pdf is that the same as, Ah, regular pdf? Yeah, a great question. Thanks for asking that. Yeah, Photoshopped. Pdf is this Pdf, but it is a pdf generated from Photoshop, and perhaps that is important for some people to know. But it is a pdf. You'll get some. You'll get a dialog box with a few options, and they're just make sure that compression is turned off to be fine, high quality. So those are the files that you would send that you feel empowered. Nail you like I can't wait. I'm gonna have a dinner party Friday night, and I'm gonna make postcards and male mountain. It is a lot of fun. Lots and lots of fun.
Class Description
Adobe Creative Cloud is an essential toolkit for photographers — but navigating its many programs can be overwhelming. Join best-selling author Lesa Snider for a comprehensive course on how to harness the power of Creative Cloud to build a thriving photography business.
Lesa will show you how to grow your photography business with Creative Cloud's suite of applications. You'll learn how to build promotional materials, how to create and customize a professional-grade portfolio website with Behance, add compelling elements like slideshows, audio, and video, and display your portfolio on any mobile device — even in printed book form. You'll also learn how to use Photoshop to create a professional and engaging video portfolio to showcase on your website, iPad, Behance, or burn onto DVD.
Lesa will also cover how to use Kuler to grab a color palette from a favorite image for use on your website or promotional materials, as well as how to use familiar drag-and-drop tools in Adobe Muse. By the end of this course, you will be able to create a full-blown website worthy of your work, with light boxes and slideshows to showcase your portfolio, and contact forms to gather leads.
Software Used: Adobe Creative Cloud 2014 

Reviews
I have watched the day one and part of the day two classes -- this class is chock full of creative ways to use the cloud to expand your business -- and to help photographers help their clients get more for their money as well as save money in creating beautiful marketing tools. I had been so confused over the lightroom/photoshop thing, and Lesa makes it so easy to understand how to use each program for their strengths or super powers -- so I'm ready to power up my photography business !
Lesa makes learning easy! Thank you Lesa!