Creative Cloud Essentials
Exploring Adobe Acrobat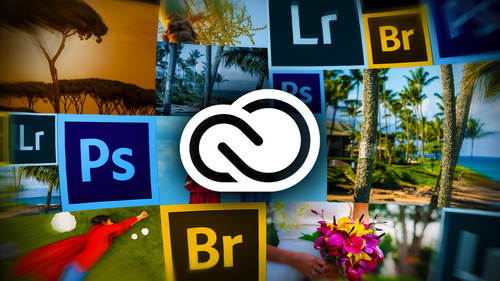 Creative Cloud Essentials
Exploring Adobe Acrobat
Lesson Info
Exploring Adobe Acrobat
so just one tiny little final note on in design. There are a slew of templates out on the Web that you can take advantage of my favorite templates, especially for invoices, which is another great reason to use in design to set up an invoice for your company. If you don't have one and those can be found by going to lisa dot I end, that's Li Lisa with E Thought. I am slash I D invoices that stands for in designed invoices Tinyurl that I made for you that goes to this graphic river dot net website and they have a bunch of really nice templates. So I know we kind of had a little crash course in, you know, using in design for the business card. But you can use it for many, many things, so these templates air very affordable. I mean, $5.6 dollars and so on. And once you download them, you can customize them, maybe pop in your logo, customized fields, so don't feel like you have to always create everything from scratch before I create anything from scratch. If it's art, I always go to fa Toli...
a dot com, and I stopped dot com to see if somebody else has already made it. Why reinvent the wheel if it's there for a few dollars for me to download saves me a lot of time. So in design, templates are often the same way. And in fact, this website graphic river dot net has a lot of templates for Photoshopped, Illustrator in design and so on. But I just wanted to direct you to these invoice templates, which is another great use foreign design. So again that you're ill is lisa dot I n slash I d invoices. All right, enough about design. Let's take a look at another program is not that it's the black sheep of all adobe APS, but it's the most neglected sheep of all of the apse, and that is Adobe Acrobat, and it is so incredibly powerful It's Superpower is dealing with PdF documents. So we're going to take a look at how to download Acrobat, so we're going to go to our creative cloud app. Come over here to the cleverly named APS button and here's the Acrobat icon right now, right here. So when you scroll down through this section of the creative cloud at all of the apse that you have installed show up at the top of the list, so you'll need to scroll down to the fine new app section. And this will be the listing of the things that you've not yet downloaded and installed. So most likely if you're on the full creative cloud subscription, then you're going to see Acrobat in this section down here. So just remember to scroll down to the ones that you haven't yet downloaded onto your machine. But this is what the icon looks like right here. Acrobat X, I pro. So I've already got that launched for you right here. So when you first open acrobat, this is the dialogue that you're going to see. It asked you list all the recent files that you've had open. Did you quick access to that? Do you want to open the file? And it gives you some commonly used, uh, tasks over here. Acrobat is also great for creating forms that you can send around and have people feel in. If you've ever gone Teoh, the IRA arrests I or some government sites where they have forms that you feeling on the Web have you ever encountered that? When you click a form, then all of a sudden it kind of lows in your Web browser, and you can click in the fields and inter text that was created with Acrobat. So acrobats, superpowers or pdf's forms things like that. But what we're gonna do is we're gonna navigate to our Maui sunsets book that we made in light room way back in time on Monday, and we're gonna take a look at a few things that you might want to do with that file. First and foremost, one of the most common uses for Acrobat. I think the most practical use for it is toe lock down your PDS if you send. If you've got a naughty client and Houston them high resolution proofs, let's say you know, ah, pdf like this that you perhaps have generated from light room. You might want to keep them from printing the document. You might want to keep them from copying and pasting images in Acrobat into something else so you can lock it down in several different ways, and that can be useful. So what we're gonna do is open the file that we want to work with and shoes, file properties or press command d D for properties makes perfect sense, doesn't it? D which is similar to a P, So we'll go ahead and click properties and we've got a bunch of different things that we can do in this dialogue. But for this purpose, we want to click security and right now, by default acrobats saying, Hey, I've got no security going on, baby, I am wide open right here and we say, Guess we know, Acrobat, we're going to change that. So from the security method menu, we're going to give it a click and we're going to click a password. Security. When you do this next dialog box comes up and you simply turn on the check box of the things sections that you want to apply. So do I want to require a password to open the document? Well, maybe if you do turn on that check box and enter the password right here immediately upon entering a password, open up a text file on your computer and write it down. I cannot tell you how many people I have run across who have like oh, I locked down my pdf so well that even I can't get into them ever. So write down your passwords because they will need to give that to the client. You know, it's a good idea toe to do that. So if you need to lock it down, you could put a password in here. I might type in Naulty. That's what I do all of my PDS at the password. Naughty. So if you ever get one for me that's locked down, you know what it is? So it's naughty and acrobat using an idea. Oh, you get a really weak password, you know, Thanks, Acrobat. But nevertheless, the next section you can turn on is permissions, and this is really where you can drill down and specify exactly what the recipient of this pdf can do with, said Pehe. For example, do you want to keep them from printing it? Did you know you could do that in that amazing? So right now, printing is a printing would not be allowed with none, or you can restrict the printing toe only a low resolution copy of the files. Or you can say, sure, you confront the high resolution. I'm not saying that all clients or not, even some of them are. And it's nice to know how to deal with the naughty ones, isn't it? Changes allowed. Will you allow the recipient of the Pdf to insert removed? Elite rotate pages? Can they fill in forms? Can they comment? Can they do all of the above X step extract pages from the media? So there's quite a lot of criteria that you can sit here about what people can do when you get these files. If you've ever received a PdF for folks, I know when when my husband and I received PDS from Adobe, let's say there'll be a non disclosure agreement. You know, there's some new feature that's coming out. You know, I got to know about the new features to keep up with the book, riding to release the book when the new software comes out. So oftentimes we will be on ah, pre release program that requires an Indy A. Well, we get a contract from Adobe. It's a pdf, and, um, you know, we can't do anything with it other than just maybe click in one field and type in, you know, a digital signature like that in a digital signature would just be you type in your name and it gets turned into a special digital signature that is actually legally binding in a court of law here. So you can restrict what can people can do with your pdf and you can set separate passwords. You can set a password for opening the document in a separate password for these other items here. So that's where all of that lives. And all you have to do is say, OK, I'm gonna go ahead and turn this off list. I locked myself out of my demo file here accidentally. So you click, OK, actually was click cancel. So you set up those security settings, click OK, I can right here. And then you would come up here to the file menu and choose save, as so once you change those password options or the security options. Rather, you do need to re save the pdf for those changes to be baked in, and then you can send it off when its merry way safe in the knowledge that people can't do squat with it, if that's what you want. So again that is, under the file menu properties, and we're gonna click the security tab and then use this poppet menu right here to specify what areas of the document or what tasks you wanna lock down. Has word to open the document, enter the password or restrict editing and printing of the document. And you can set up two different passwords. Click OK, click OK in this dialogue and then choose file. Save as pretty useful stuff right there. The next thing that's really practical to know how to do an acrobat is Remember way back on Monday when we made that pdf of our photo book from within light room and we copied it onto her. I've had remember how it was just one long scrolling situation of all of our images. That may be fine, but what if you want to create a Pdf that Scott like a page spread where you're seeing your images really like the book looks that you created well, you could export the pdf from light room, open it up in Acrobat and you can change the way you can change how it's visible when people pop it open. So let's take a look at how to do that happily. It's in the same dialog box. So we'll go back up to the file menu, choose properties, and the first thing you want to do in the description section right here is you want to give the piece a title. Now, this title is only going to be visible here when they opened the document. Okay, We're not gonna change the file name of the document. We're just changing the visible title that people see when they open our pdf. So for this one, we might say at Maui, sunsets by Nelson photos were you know, whatever you want this this will be something that your client would see. You're the recipient would see when they opened. The document has nothing to do with the file name, and that's a little bit confusing. You can think of this as the display name you can add. You know your your name in here If you want on the subject, etcetera, etcetera, etcetera. So to change. The acrobat calls it the initial view of the pdf. How does it look when somebody opens it? We can come over here to the initial view button and what we want to do to fix up this light room? Pdf to make it look like the photo book actually looks. We want to change the, uh, page layout to To up. We can do Teoh facing weaken due to a cover page, etcetera, etcetera so we can do to a continuous facing and on and on and on. Let's go ahead and pick two up cover page and then from the magnification menu, we want to choose fit page That's going to keep our images from looking so small. So the pages is gonna take up however much space there is on the person's device in which they're looking at that. Pdf. So if they're on a big honkin screen than the pages were gonna be really big when they open it, if they're on an IPad and the pages would take up, you know it's like a it's like a fit to screen command. The next thing you might want to change is the window options. Resize window to the initial page might be a nice option, and you'll have to play around with these to see what looks good to you, and you want to turn on show document title So here in the show, Poppet, Menu choose Document title That's gonna pull that description that we just entered over here. So that's the document title, not the file name. Just the title of the document. Now, since we've got that set up, we can click. OK, now, we would save the document. Okay, so right now, see how we've got one long scrolling situation here. So let's choose file save as. And for this one will call this initial you. And if we open that, see how Now we've got that name? The description appear at the top. That nice and we've still got a single scrolling page. Let's have another go for repetition. Shall we file properties? Initial view. Let's do two up facing and see what that gets us magnification fit, page resize, window to initial page. You could even have the window center itself on the screen. You could open it up in full screen mode. Then we want to make sure that we've got document title set from the show menu. Click. OK, we'll call this test to okay. If 1st 1 doesn't succeed, then try. Try again. So let's try to a continuous facing Maybe that Wanna work? Give this another name, just in case. You may need to close the document. Open it back up. Let's try that, shall we? Went on. So there's the 3rd 1 that we did give it a double click. There we go. I just had to close the door again thing and it's still one long continuous scrolling. Trust me when I say that when you do this at home, it should work perfectly. So let's go ahead and open up that original one again. Back to file properties The initial of you Ah, the pay's layout This honestly should work to at facing should change all of those pages where they're connected like that and it really does work. But for some reason, the demo gods were not with us at this moment. We'll try one last time, and if it doesn't work, we will officially give up on it. But it normally does. And then we'll close this and we'll come open up at document and it honestly should work. But it doesn't look like it is. Anyway, I assure you, in your workbook I will figure out whatever little persnickety little problem is and I will put that as a notation in your workbook. Yes, Rink. Well, it's in preview mode now, but if you set the preferences in preview mode to a different wade, will it come in the way you've said the book of Will come in the waves that the preferences in the opening application, Huh? Thank you, Frank. When I double clicked, it opened up in preview, not an acrobat. So let's go look at the 1st 1 we made in Acrobat again. Now we've got that too up situation going on. Um what? What? Your receiver has their automatic open sort of the application that they said, Hey, when this comes in, it should open with us. Definitely. Very good point. So if you recall when we were sinking these pds onto our IPad on Monday from what we generated in light room, we used Adobe Acrobat Reader. We had Teoh, I'll just go over to that webpage. We needed to download Adobe Reader for our mobile device on her IPad in order to get a full rez version of that pdf under IPad Because any time you try to sink things with ITunes, ITunes as his down sampling thing. And to get a full rez Pdf onto your IPad. You need to download this adobe reader for mobile. So this would, if you opens the pdf onto your IPad using Adobe Reader, which is really like a free version of Acrobat with far less a capabilities than it should look exactly like it does in Acrobat. So this really should work for you. So opening it in Adobe Reader is really like opening it in Acrobat. So that would be a fix if you generate the pdf from light room and you want to give those pacers up a two up look, then when you send it over to your IPad using ITunes file sharing capabilities and we looked at that on Monday as well, then it should open up with that to up spread. So a raw by that word. Okay, so again, that's just file Properties initial view. So you want to put in in the Description section you want to put in that title syriza title right there in that nice a little bit better than the final name, showing up right there and then from the initial view a tab, go ahead and choose the page layout option that you want. I set the magnification to fit the page. Turn on resize window to initial page. And if you want to set the pdf to automatically option open at a particular page, you could dial in that page right here and then from the showman you choose Document title. And when you click, OK, just realize that you're not going to see any of those changes, which is a little odd. You get no feedback from the program that hey, the change was made and you're not gonna see it until you choose file, save as give it another name and then re open that document. Apparently only an acrobat. I would have bet you money that it would have had a two page spread in preview, but apparently not. So that's another neat thing that you can do with your p. D. Efs. Now want to open up another file? Ah, honkin big one that I've got here for you, which is the skinny on Photoshopped Black Room. So let's open that up in Acrobat and I'm just dragging and dropping the icon on top of the document icon on top of the program icon. Well, this is a really big file, and if I want to send it round, I might want to reduce the file size. So that's another common thing that you might want to do. So what you can do is choose file, save as other. There is your reduced file size right there. So if you're trying to send around a pdf and it's just too big whatever reason you need to reduce the file size. All this does is it optimizes the file, and you have to tell it where you want to save it. So we'll call this one live, and you can see the little status Far that you you get down here. Acrobat is going through and, ah, downsizing the graphics so it makes for a smaller file size. And then you get a little message if if if it encountered graphics that it was not able to down, sample or downsize, so that just makes the file size a little bit smaller. So that's a real handy thing to know how to do, especially if you've got a Mac and you generate any kind of PDFs using the Mac OS. For example, if I tried to print this document. Ah, I need the actual Mac dialogue. Soldiers come over here to your document. Let's say we typed in the whole bunch of stuff. Now we're ready to choose file print in the print dialog of the Mac OS. We have a save as pdf option, but it creates the largest pdf known demand. They are humongous, absolutely huge. So you Mac people out there who creating PDS from the OS like this. If you've got access to Acrobat, that is how you can reduce the file size of a PdF. And again, we chose file save as other reduced size of pdf. So that's incredibly handy to do in Acrobat. I've got a ton of other acrobat tips for you, and they're all gonna be in your companion guide. We're going to go over how to extract an image. Ah, how to edit and extract text had extract lots of text. I can show you. Let me show you one more thing, Which is how to turn text into Texas a picture to make it creditable. Texas called OCR optical character recognition. So if you've ever got something that you need to strap text from. So we're gonna take a recipe that I found online and we're going to open it. And really, a pdf is just a picture of a thing. So if I want to turn this into actual creditable text that I could do anything I want with with my chunky Italian vegetables do here say it's a picture. It's not actual text, but we can, uh, run the optical character Character Recognition command on it. So what you would do is choose tools up here at the top, right? Not from the menu, but the tools icon right here. Give it a click. And they were coming. Gonna come down to the text recognition part right here, Choose in this file and then right here, you just tell it. What page do you want it to look at and convert into actual text? So that's how you would do that. Always leave these options, um, as they are. Then I just click. OK, this is another situation where there is no visual feedback, that something has changed. We saw a little status bar go across the screen, but that's it. But now if we come over here instead of us getting the arrow tool. See how we've got the arrow cursor right now. When we point out that page when we mouse over to the text, we get the actual I beam because it is now really text. So that's a very handy thing to Dio uh, just again open a file and then you are going to click the tools button right here, which opens that panel. Clicking it again, closes it. So click tools. Then you're going to come down to the text recognition section and then you're gonna click this option right here, recognize the text in this file. Look at the text that's in this picture that I just open and turn it into actual Tex and that's it. Any questions on that part and again in your workbook, you're going to get all kinds of other arm assure you have enable commenting and digital signatures and all that kind of stuff that we don't have time to go over today. Yes, we get the recipe. Absolutely. Get the recipe in your exercise filed way. Make this all the time. It is so incredibly good. We leave the bread out of it and it's still awesome. Cool, really great
Class Description
Adobe Creative Cloud is an essential toolkit for photographers — but navigating its many programs can be overwhelming. Join best-selling author Lesa Snider for a comprehensive course on how to harness the power of Creative Cloud to build a thriving photography business.
Lesa will show you how to grow your photography business with Creative Cloud's suite of applications. You'll learn how to build promotional materials, how to create and customize a professional-grade portfolio website with Behance, add compelling elements like slideshows, audio, and video, and display your portfolio on any mobile device — even in printed book form. You'll also learn how to use Photoshop to create a professional and engaging video portfolio to showcase on your website, iPad, Behance, or burn onto DVD.
Lesa will also cover how to use Kuler to grab a color palette from a favorite image for use on your website or promotional materials, as well as how to use familiar drag-and-drop tools in Adobe Muse. By the end of this course, you will be able to create a full-blown website worthy of your work, with light boxes and slideshows to showcase your portfolio, and contact forms to gather leads.
Software Used: Adobe Creative Cloud 2014 

Reviews
I have watched the day one and part of the day two classes -- this class is chock full of creative ways to use the cloud to expand your business -- and to help photographers help their clients get more for their money as well as save money in creating beautiful marketing tools. I had been so confused over the lightroom/photoshop thing, and Lesa makes it so easy to understand how to use each program for their strengths or super powers -- so I'm ready to power up my photography business !
Lesa makes learning easy! Thank you Lesa!