Creative Cloud Essentials
From Lightroom to Photoshop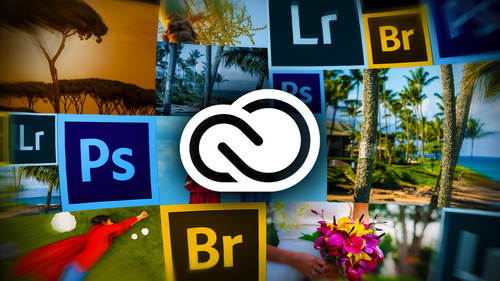 Creative Cloud Essentials
From Lightroom to Photoshop
Lesson Info
From Lightroom to Photoshop
So now let's switch gears and let's take a look at why you might want to go into photo shop. So we've looked at really, This has been the the world's quickest, you know, crash course on light room again. I urge you to check out light room essentials. So what we're gonna do is take a look at a few of the reasons you might want to go to photo shop, things that you cannot do in light room. So I'm gonna press G to go back to my library and I'll come up to the collection. Actually, we're gonna go the developed collection for this. Remember, at the top of the day where I showed you a before and after. So we were looking at this Oops. We were looking at this image right here, and we removed removed Karen's Nicolas. Now, while White Room has that spot removal tool and in light room five, you can click and drag with it. It's still not gonna do a good job. So if you need to remove complex objects like this, you're gonna need to send the image to photo shop. So what we can do is a couple of diffe...
rent things. We can choose photo edit in photo shop. If light room sees Photoshopped Sisi on your hard drive, it appears here you do not have to set it up. There are custom is ations that you can make. I'm not going to go over all of them or if you use elements instead, you can set up elements to be your external editor. If you do that, just be sure that you point up light room to the actual program icon and not the program icons Alias, because in elements will never open. It's the oddest thing in the world, but anyway, so we can choose edit in photo shot, or use the keyboard shortcut, which is command E on a Mac or control E on a PC. And just so you know where those settings are to customize your external editor, you can go to the light room in you preferences, and you just want to click external editing right here. And this is where you can set up a second editor or tell light room that you want to use elements. It doesn't automatically see elements on your hard drive, like it does Photoshopped, so Photoshopped automatically appears here. If you have it here, you can set up. What file format do you want to send over? I always send over a PSD. What? Wherever resolution do you want and so on and so forth. And if you turn on stack with original, then once we come back from Photoshopped than R p STS and are originals are gonna be stacked together so we don't see a 1,000, little thumbnails in our in our library. So I like to keep that on. Okay, so let's go ahead and pop this one over to photo shop. So here's what we're gonna create. So this is actually the Photoshopped file. Go back to grid view. And how do I know that? Cause I'm seeing the foul names right here in the library grid. Sil. So let's go ahead and click to activate the original image the CR two. And let's use that keyboard shortcut of Commander Control E. You could also right click on the photo itself and you get that same at it in menu. You see, you've got a few different options down here, so let's go ahead and press Commander Control E and the image should just show up in photo shop. But if for whatever reason, Photoshopped does not come to the front of your screen than just switch over to the program in that image will be there. So I'll come down here to my doc and switch over to photo shop and there's the image. So now let's take a peek at how to get rid of this necklace in photo shop. Now I have given you, if you purchase the course, you do have the exercise files. So you're going to get my layered files of anything we do in photo shopping. It's fully layered file so you can reverse engineer and play with this and practice with it. So to get rid of something like this necklace, we really want to do it in a non destructive manner. So we're gonna go ahead and create a new layer onto which we're gonna do our removing. So I'm gonna go ahead and create a new layer, and I'm gonna name it removed necklace and what tour we're gonna use. We've got a time to choose from. You want to choose a tool that has content where technology excess is gonna make Photoshopped look at surrounding pixels and do a better job of getting rid of the thing that you're trying to erase for this particular necklace. I'm gonna have a go with the patch tool. The patch tool is over here in the healing brush tool set was right here. And what we're gonna do is it works in a little bit like the lasso tool. So you're gonna freehand draw selection around the thing you want to get rid of, and then you can click and drag the selection onto the portion of the picture that you want Photoshopped to use to erase it. So we're gonna make a selection of the necklace, and then we're gonna drag it somewhere down in here, and then the patch tool will do a little blending to make the retouch look realistic. So let's go ahead and do that. I've got the Paschall active on when I come up here to the Options bar and turn on the content aware option. Now that was new in CS six. So if you're running CS five or earlier, you're not going to see that. But if you got see a six cheese content aware the adaptation we're going to talk about in a moment. Turn on sample all layers. Why? Because we want Photoshopped to look through the currently active empty layer down below to where the pixels actually live. Now, you could try this on the original layer. If you're brave enough, I'm not, because remember, a little bit lazy. Don't want to start over so I don't do anything on the original layer. Really, it's now let's go ahead and create a selection of the thing we want to get rid of. And I'm just gonna draw a rough selection a little outside of the necklace because you want to give photo shop a few free background pixels toe work with just to make the retouch look realistic. So I'm just drawing a kind of a loose selection around the necklace. Once I have it selected, I can click and drag inside the selected area. Keep holding down your mouse button and you can drag it down to the area of the image that you want Photoshopped to use for the fix. So for complex objects like this that we want to get rid of the ability to tell Photoshopped exactly where to sample from for the fix is incredibly useful. I find that the larger the object, the more you're gonna want to use the Pactual. If it's a little bitty thing that you're going to get rid of, you could probably get rid of it in light room with a spot removal tool set toe either hell or clone member hell does. Blending clone is straight copy or even in photo shop. You could use the spot healing brush or the healing brush to get rid of those things. But I find for larger things. If you don't have a lot of free background pixels around the thing, you're going to get rid of the patch tools. Great cause. You can specify exactly where Photoshopped goes and grabs with other pixels. And then it's not until you release the mouse button. That photo shop does any blending Now resist the urge to de select. I know you all want to go if de selecting do happiness because I can't believe that that necklace is completely gone. Do not take breath. Trot up to that adaptation menu. Give it a click. This is really photo shopped. Picky meter. How strict do you want it to be on the blending? Do you want a little blending? Very straight. You want a blending party very loose. So as soon as you release your mouse button and Photoshopped does that copy and pasting in the blending, don't de select Trot straight up to this menu and go through each one and see which one you like best, because one of them will look better than the other. See how Photo Shop is using different math every time I do this, if I consume a little bit. So every time I choose a different method, Photoshopped blends the pixels in a different way and watch watch Karen's neck right there where we got a little bit of a shadow cause it changes a little bit, and one of these methods will look better than the other. But often folks will try toe set that adaptation mini before they actually do the patch. It's impossible to know which methods gonna work better than the other, so save it until after you've done the patch. But you have to remember to do it before you get rid of the selection, because then you lose the ability the second you d select like that. The ability you can't go back up here and change anything. So I've got a little bit of a trouble area, but not too bad. I mean, it's nothing that I couldn't fix, say, with adding another new layer and let's let's call this one. Let's see if we can get rid of it with the maybe the healing brush. Come over here to the healing brush tool set. Choose healing brush. Now, with the healing brush, you need to tell Photoshopped where to sample from. So we do that with a modifier key, which is option on a Mac or halt on a PC. So we're gonna click as close to the area you're fixing as possible and then release the modifier key. Make sure that sample all layers, has turned on again because we're doing all this on empty layers. We gotta tell Photoshopped. Hey, I know I don't have any pixels on the active layer. Look down through these empty layers to where the pixels live beneath. So you got to make sure to set that sample menu All airs. And now we can come over here and we can click and drag. Maybe said a few more sample points. But before long and of course, we if we were doing this for real with zoom way in and maybe use a smaller brush and be really persnickety about what we're doing. I've got a little bit of a problem area right there. But you can see how quickly we can take care of that, Nicolas. Not too bad, huh? So there's our before and there's our after. You could spend hours trying to get rid of that in light room and you would never make it look this good. This is what photo shop is built for. Now, how do we get this back into light room? Let's say we're finished so we can choose file save as as long as you don't move the file's location. You could rename it anything you want. Just don't move its location so we could say so. This is Karen without Nicolas. And that glade is similar to a necklace, but slightly different click save. Apparently, I've done this before. As soon as photo shops finished saving. When we go back over to light room, that files gonna appear so we come back over to light room now. And there's our file actually spying that one here you. So there she is. And all her no necklace glory. So let's take a look at that one more time. So here we are on our original image and light room that has the necklace. Okay, we can do a couple different things. We can choose photo edit in, put a shop. We can just do our keyboard short kind of commander control E right here from the develop module. Or we go back to the library grid by pressing G and right click on the thumbnail and shoes at it in but a shop. But a shop opens the file. If the program does not jump to the forefront, give it a kick by just going and bringing it to the forefront. And now we're gonna assess what we need to delete. It's kind of big. I've got stuff I want to keep on the left and right sides of the thing I want to get rid of. So it's gonna be who've me. I'm gonna be faster it removing this with the patch tool. So let's create a new empty layer until which We're going to do our removing necklace. Come over here to the tools panel. Grab the healing tool set and cruise down to patch tool trot up to the options bar. Put it in content aware mode again. This came along in CS six. Don't worry about the adaptation menu. Turn on sample all layers. Now we're gonna draw a free hand selection around the thing we want to get rid of being careful to include a few of the background pixels on her skin just cause it's gonna make Photoshopped do a better job. And honestly, you could select this with any tool you want. You might have a go with the quick selection tool and then switch to the pastoral so you're not stuck with FREEHAND drawing a selection, So don't let that through you. So once we have a selection, now we're going to click and hold down our mouse button inside the selection, and we're going to drag it to the area that we want Photoshopped to use for the fix. Maybe somewhere down here and then when we released our mouse button photo shop is going to do some blending to make the retouch look riel. Now, immediately, we're gonna trot up to the top of the interface and we're going to begin to trot Through are different algorithms to see which one looks the best in that need that amazing. Once you're happy with it, you can either choose select diesel s or you compress commander Control de to diesel it and see it did a different It did it a little bit differently This time. I probably chose a different adaptation method. But each time you do, it will be different if it first to try. And it doesn't really look good. Do it again. Change the width of your selection, you know is select a few more background pixels. If you'd like this ring before you try your different adaptations, can you control Z and go back? Will it remember it? You're done. You're done. Yeah, it is hard to remember to do it, but the first few times you forget then you want for your more? Yeah, Photoshopped will train you. So now we've got a little bit of blurring that we want to take care of easily done with either the spot healing tool or the healing brush. It just depends with the spot healing brush Photoshopped samples pixels just outside of the brush cursor. But with the healing brush you can set the point at which you sample from but again for big areas. Start with the Paschall. Let Photoshopped do all the heavy lifting that is willing to so that you have less fine tuning to do, you know, in manual mood. So we've added another new layer here. So we're gonna call this one healing brush. I just like to name my layers with either what I'm deleting where what tool I use. Because if I have to go back and the clients is where the heck is my necklace, then? I don't have to start over, and I know exactly what layers that I need to turn back on. So now let's come over here to the healing tool set. Grab the healing brush may go up on birth size a little bit. And in the options bar, make sure you've got sample all layers turned on to make Photoshopped look through the empty layers. And then we're just gonna come and with option or all as close to the area where fixing as possible, fix those areas. Now, if we got into a situation, let's say like right here on this leaf because the healing brush blends. The pixels were really never going to make that leaf edge sharp. But we can't if we use the clone stamp tool because the clone stamp is a straight coffee doesn't do any blending, so get us far as you can with it with the healing brush. I'll cruise every year and make sure I don't have any other problem areas toe fix. But that looks pretty dadgum good better than the other one that we did. So now let's add another new layer clone. Come over here to the tools Pain one. Click the clone stamp tool again with the clone stamp tool you until Photoshopped What pixels you want a coffee? Same modifier. Key option on the Mac are also on the PC. Go up in breast size a little bit, using your bracket keys where your bracket keys next to the peaky for Kate Pierson of the B 50 twos. See all kinds of music I live So for this one to get that edge really straight, we would set a sample point, you know, would straddle the edge with our sample point release your modifier, key mouse over and Photoshopped shows you a preview of what that clone would look like Should you choose to click inside the brush cursor itself? So that looks pretty good to me. So that preview allows me to line up my any edges or lines that I've got so I can just click and drag, and now I've got the edge of that leave. So with just a few clicks, you could make it look good enough. Now, this is a great reason to tell you that it's important to zoom out because I could easily keep zooming in. And I could go down a rabbit hole here for an hour, zoom out, do a little bit of work, zoom out at roughly the size the thing's gonna print, which is gonna be probably around 30 to 50% of you. If you're going to print, this image is gonna end up probably about half the size it looks on screen. So at 33% zoom level, I can see that that leaf looks just fine. So there is no need for me to build the client for another hour retouching or lose that our of billable time when I could be doing something else. So zoom out, assess it before you go down a rabbit hole of of time loss And now we're gonna choose file save as and we're gonna give it a different name. So we'll call this something different, Karen without necklace. The important thing here is not to move the file. Don't move it. Because remember, light room knows where these files are. And if you wanted to show it back in light room, you cannot move in on your hard drive. But you can rename it. Anything you want now is click save. So now we get this nice will status far down here at the bottom. And we can come back over here to light room. And now you see, we've got three of them, so and you can see the file name right here. So there's her necklace gone with way too much lipstick, so she won't be happy about that. So now let's take a look at it. Well, what if you decide that it needs a little bit more work? How do you re open that file from my room. All you do is click to activate the PSD. And you can see that what the file type is right here. And now we're going to the press Commander Control E to edit in again. But this time light room asks us Whoa! I see you are opening a Photoshopped file. Exactly how would you like me to handle that? Do you want to edit the original? Do you want to edit a coffee? These two options right here will open up the PSD with your layers fully intact. This option will not. Okay, so let's go and look at that edit Original click Edit file pops back open. That's the file we just missed with. Great. So let's close that. Let's close all this now let's come back over here to light room. If I wanted to make another version of this PSD so that would be duplicating the PSD in order to do something different with it, Then I could choose edit a coffee when you do that light room creates another instance of this PSD, which is duplicating the actual PSD file on your hard drive and it opens the coffee. Now if in light room. You go ahead, delete that other coffee. If you were to go back into the develop module at this point and let's say you changed it, you decided you I want this to be a black and white. Excellent. Now let's go back to the library grid view by pressing G. Now, if we decide to edit it in photo shop again, we could press Commander Control E if we want the changes we just made in light room to appear in that PST, we have no choice but to open it as a coffee. This is bad because when you edit a coffee or you edit with light room adjustments, we lost all our layers. They got flattened. So a good rule of thumb is when you're sending a file from light room to photo shop. When it comes back to light room, don't go dinking around in the develop module because if you want to get back to that original layered file, nothing that you did in the develop module after after you had that first round of editing a photo shop is gonna appear in that file. It gets completely flattened. No, double, no, no double dipping. That's a great way to put it. Yeah, so, you know, do everything you're going to do to it. Go to photo shop, come back. If you want to continue editing in the develop module at that point, just know that you cannot Then go back to photo shop and edit those layers. If you want those light room adjustments to show now, what I could do is I could edit the original because I just wouldn't see the black and white effect over and Photoshopped. But when they come back, then that black, in my effect would, you know, should be there. But just be aware that if you go, if you take a PSD into the develop module and then you want to go back to photo shop, the changes that you made in light room are not gonna be there if you want your layers intact cause it's gonna open, anything other than these two options right here is gonna flatten your image. So this one will always open a flattened PSD, and you're not going to see this dialogue. If you're not trying to reopen the PST. The only time you encounter the style I box at all is when you are reopening a PSD file that was created when you sent a file from light room two Photoshopped that PSD comes back to light room. If you reopen that PSD, that's when you're going to encounter the style of right here. So if you want to get back to the layers that you made in photo shop, you must choose one of these two options right here. If you choose this option, light room will open. The PSD flattened. So that's the thing. Yes. Does that still ring true? Even if you open initially, open it and save it as a smart object that still ring true flattens all work no matter what. Smart, no matter what does it matter? Yeah, so just But it's easy to toe work around. Just know that you really don't want to be going Light ring Photoshopped firing first light room photo shop. You can do that. Just don't go into the develop module Be done with the develop module when you send it toe photo shop
Class Description
Adobe Creative Cloud is an essential toolkit for photographers — but navigating its many programs can be overwhelming. Join best-selling author Lesa Snider for a comprehensive course on how to harness the power of Creative Cloud to build a thriving photography business.
Lesa will show you how to grow your photography business with Creative Cloud's suite of applications. You'll learn how to build promotional materials, how to create and customize a professional-grade portfolio website with Behance, add compelling elements like slideshows, audio, and video, and display your portfolio on any mobile device — even in printed book form. You'll also learn how to use Photoshop to create a professional and engaging video portfolio to showcase on your website, iPad, Behance, or burn onto DVD.
Lesa will also cover how to use Kuler to grab a color palette from a favorite image for use on your website or promotional materials, as well as how to use familiar drag-and-drop tools in Adobe Muse. By the end of this course, you will be able to create a full-blown website worthy of your work, with light boxes and slideshows to showcase your portfolio, and contact forms to gather leads.
Software Used: Adobe Creative Cloud 2014 

Reviews
I have watched the day one and part of the day two classes -- this class is chock full of creative ways to use the cloud to expand your business -- and to help photographers help their clients get more for their money as well as save money in creating beautiful marketing tools. I had been so confused over the lightroom/photoshop thing, and Lesa makes it so easy to understand how to use each program for their strengths or super powers -- so I'm ready to power up my photography business !
Lesa makes learning easy! Thank you Lesa!