Creative Cloud Essentials
InDesign: Business Card Layout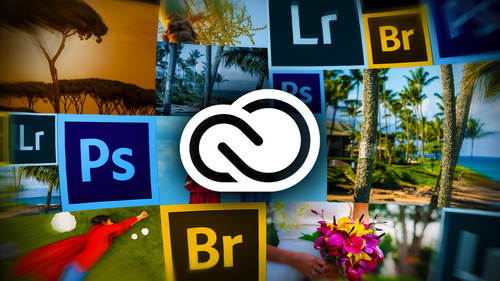 Creative Cloud Essentials
InDesign: Business Card Layout
Lesson Info
InDesign: Business Card Layout
Now let's take a peek at some of the things that you can do with glorious in design. So in your exercise files, let's come up to the in design folder and I've given you several different things in this folder. The 1st 1 you're going to find is, uh, let's see. We've got a business card template here, but what I really want to show you is the business card that we created in photo shop. And I think I've got the original. So this project we did at the and we have permission to show this So nobody freak out in the graphic design for everyone class we offer to business card makeovers. And so this was the original version of Shelly's card. And this is like so many photographers, business cars that I see you know, she's a photographer. Where's the picture? So I had her send me four of her favorite shots, what she thought were her prize winning photos, and that's when I made for her easy peasy. The photo does all the talking, and all we did was add a little text over here, gave her a logo trea...
tment typographic, you know, big paired was small, thick, paired with thin, Always works. Took photo, uh, up underneath the area where the descend er and the other letters. It's a nice little space right there to tuck it right in. Watch for that. When you're designing typographic logos, watch for little nooks and crannies that become apparent as you go up in font size. Because if your uh, logo you're creating consists of two words, there will likely be a little nook and creamy. That that second word might tuck right up into you and really look, make it looks like so be aware of that. So that's kind of what we did here and then down here at the bottom, we've got a thin paired with thick and the thing that she messed up on a little bit, it's a messed up on. She had no idea. Look at that email address. Is that professional? No, not her fault. You know, it's not like you learn this stuff in high school. How are you expected to know this stuff? Unless you really get out there and research that you're not going to know this stuff. So what we did was we had her get an email address hooked up with her domain in which she already had, which just makes it even more confusing for the client. Why do you? Why are you getting your email at me dot com When you got your own domain, that doesn't make any sense. So we got her hooked up with the right email address and then because she prefers to be contacted by email rather than phone number. We made the email. Bolden. Hey, I'd prefer for you to email me. Here's my phone numbers down here. But here's my email address. So and then for the back of the card, we put her other prize winning photo on there, which is hands down, the most beautiful shot of a dog I've ever seen in my life. Shelley is amazingly talented, so that's what we did for the back of her card. Very, very simple. So let your photography speak for you. If you're an artist of any kind, put that imagery on your business card. I have my picture on my business card because what am I selling? You're looking at it. I'm selling me. That's my real estate. Agents have their picture on their business cars. So things to think about when creating business cards. So we talked about yesterday that these days is just Azizi created business card and photo shop, and you're really not gaining anything by creating it in in design over Photoshopped other than the ability to see exactly how it's gonna print. So what we're gonna do is bring this business card into in design so that we can see the crop marks. You'll also notice that I've got the imagery bleeding off the edge of the page. So in design makes it far easier for us to see to design with the bleed. But then preview the card Exactly how it's gonna be trimmed when we send it off to the company for printing or take it down to you, FedEx Kinko's or what have you. So I'm giving you this card in your exercise files, so feel free toe, you know, use it in your own experimentations when you're designing your own cards, so we'll go ahead and close that. Now let's go back over to you in design. So if you pop open this exercise file right here, I've got a template for you in here that was graciously provided by the folks at a four over printing dot com that lets us know where our text safe margins are, what the trim line is gonna be. So this card would be trimmed right there, so we shouldn't put anything that were that. We really need to be visible any closer to that trim line than this blue line right there. And then this last outline is the bleed. So if we want our art to hang off the edges of the card, we need to make the art at least extend to those sides. So that's what we're going to do happily and in design, zooming in and zooming out works just like it does in photo shop, which is just like it does an illustrator. So, Commander, control minus to zoom in Commander Control Plus zoom out. So now that we've got that file open and you don't have to worry about this template printing, okay, it's not gonna print. I'm gonna show you how I know that it's not gonna print. So let's go ahead and get our workspace set up for doing this business card in design. We're going to come up to the window menu immigrant, choose workspace and let's choose typography. That's just gonna reset all of your panel so that you've got formatting controls that you would likely need to use when you're messing with text. So we'll do that. The next thing we want to do and this is probably the biggest thing that trips people up with in design is because by its default, it shows you a low resolution sample of any graphics you place in the document. So we're not we're not even gonna mess with that. We're gonna avoid that altogether by going up to the View menu and choosing display performance in choosing high quality because in design can handle buckets of text and graphics for really long documents. Displaying them all at the highest resolution takes the software longer to draw the pays for you to see it. So if you're doing a lot of scrolling back and forth, you're laying out a magazine, for example, or a newspaper, and you're scrolling through a lot of pages. If you always keep it set too high quality display. It takes longer for those pages to draw on your screen. So that's why by default in design shows your typical display, which is like a low rez version of your art. If you really want fast scrolling powers, then you can choose fast display and you get a really crappy version of your art. But that's OK, you know, place the art, manage the text, and then when you're ready to go back and find, too in the art, then you could come up here to view display performance in turn on high quality display. So that's just, ah, way to use the program and a little bit of a faster method if you're working with long documents. But it does trip a lot of people up because if you bring in, we can just do it. It really is hysterical. So let's go ahead and click this image box that I've already got here for you. She's filed place. We're gonna navigate to that foot a shop document, and that lives down here in the end Zion folder. There we go. Click open. Look how crappy that looks as the number one thing that trips people up when they start using in design, and they'll typically go over to photo shop. Although Freak out. Then they go over to photo shop in the open there like, Oh, my God. What's the resolution of that file? I know I built that file, you know? What is it? So they'll come up here and your image image size, and they'll go, but but it's 300 GP I. Why does it look so terrible in in design? Because you're not seeing all the pixels in design, So that's a biggie. So don't let that one throw you so we'll come back over here to in design. I love it when you have a bunch of these adobe APS open because it looks like you've got a periodic table in your doc Makes me feel like scientists because there was a question about how fast were will your computer run? If you have multiple applications open, does it slow down? Is there a limit? That's a great question. Thank you so much memory. You can get into a situation where your computer slows down to a crawl. Depends on you know how. When did you buy your computer? Is it a year old? Is it three years old? You know, three year, a three year old computer is ancient. Really, How much memory does your computer have? So that's RAM, or am random access memory? Uh, how much? How fast is your hard drive? The reason I can have a 1,000,000 of these programs open quite honestly, and we're going back and forth between them very quickly is because I've got an SSD drive in here. Oh yes, solid state drive. It has no Spinney bits in it, which means it's really, really, really fast. And I've got all of my applications stored on that SSD drive. So have two drives in this laptop, the regular drive that I bought when it came when I bought it from Apple. That's 7200 rpm's. You don't ever want to buy a hard drive that slower than 7200 rpm's. That's how fast a regular drive spins. SS D's don't have any spinning its They use a completely different technology, and they're infinitely faster than regular hard drives and more expensive. But if you're doing this professionally, I spent about probably $300 max, and that's with shipping and tax and everything to buy that SSD drive, and I installed all of my applications on it. So it's my startup drive and then the other internal hard drive I've got in here. That's what I use for all my documents, and that makes my programs smoke and fast. This computer operates like a desktop tower. It's that fast because of the SSD drive. Thank you so much. It was great. You know, I always getting clean and I have an SSD drive. So and my husband's like, How many wind? How many things you have, right? Jealous? Yeah, So memory. How fast is your hard drive? How fast is your processor? You know, how old is your computer? So that's why I can have a jillion of these acts open. But if you notice performance slowdown than this, come down here and close close. Some of those programs bridges a huge memory hog because it's looking at its drawing previews of all those you know, images. But whatever folder you pointed at its drawing previews and it cashes them all to temporary memory, so I would not have bridge open a lot of the time. In fact, there's a good reason. Disclose that close that bad boy right there Light room is not as much of a memory hog because, remember, it doesn't. Your images aren't stored in light room, so it's not like all your images were open. Bridge is a different matter altogether. So it is a bit of a memory honks. We might close that. Okay, where were we? So here we are in in design. So now let's come back up here to the View menu and she's display performance. Actually, I'm gonna click the card first. Then she's view just by performance. High quality display. Now we're seeing what we expect. So don't let that tribute if you want to see exactly how this card will print. Since this layout that I'm giving you has the bleed lineup here, the trend mark is right here, this kind of hot pink guide going all the way around the edge. If I want to see what it's gonna look like when it prints, I can choose view screen mode preview, and that shows me exactly what my business card is. No like trend. That's why you would want to do this an in design over Photoshopped or Design and Photoshopped pop it in in design. Choose that preview like we just did view screen mode preview that's showing you the print preview. I wish it said print preview that doesn't so normal shows you everything view screen mode. Preview shows you exactly what's gonna print. So that's why we're going inside. Yes, Things I like in and design is the smart guides. Do those work in photo shop? Photo shop has smart guides to you. Yeah, so as you moved objects around when you get close to other objects on other layers or layer content, you get these kind of guys that that pop up to help you align things. So yeah, but a shop passed more guys to you. I'm honestly not sure if Illustrator has smart guides, but I know Photoshopped does. Now let's say that you wanted to create this business card from scratch, So let's take a look at how to do that. So we're gonna choose file new document and in design is a little bit persnickety in that it really wants to be. It really wants to measure things in points and pikers. So that's a typographic measurement. And in design is all about handling huge buckets text. So but that doesn't mean that you're, uh forced into learning the points and Pikus system. So to create this business card, most business cards are up three and 1/4 by what, 1.75 Something like that. But if we want to have a full believe where our image hangs off the edge, then we need to make the card. Um, we need to set a bleed as well. So what we're gonna do is highlight the width fields and we're gonna type 3. in either space. I end for inches or just do Ah, quote mark for inches in design. Understands that that you want inches and not points in Pikus. So now we can tab and see it converted it to 21 pikers. So now we can tab down to the next field and type two and the quote mark for inches or space I in which everyone doesn't matter, that you could type PX for pixels. If you wanted to do that now we're gonna keep tabbing down for margins. We're gonna turn all of those off because we don't want any margins for a business card. We're going to expand the bleed and slug area down there. Sounds gross definite. So we're gonna highlight the first section and Teoh mark your bleed area, which is where you're going to extend the art to make sure that it, you know, hangs off the edge of the card. Then let's type in 0.6 to 5 and either the quotes or space in. And when you press tab, that's going to be filled in on all of these that I not type it right 0.0 seriously to five there ago. This is converted into points because this little chain like icon right here is turned on. Then I only have to enter that in one, uh, one field instead of having to tab over and Internet and all fields, which is really handy. So then you can say OK and in design is gonna open the document. So now what you would want to do is create a picture box and the way you create a picture boxes that coming over here to the tools panel and clicking that little icon right there in design calls it a rectangular frame tool. I like to think of it as a picture box. So then we would click and drag all the way to the bleed line. So this is that bleed margin right there, that red line, and we're just going to click and drag to draw a box. Now, at that point, we can place anything we want into it so they get used file place, go back to our business card, and there it is. Why does it look so crappy? Because you display performance, high quality display. So that's how you could create that card from scratch. You bring in your picture and then let me go ahead and turn off. I'll go back to this one over here, so let's turn off some of the layers here. Oh, that's right. That's right. From in design. If you bring in a PSD, which in design prefers, there's no reason to save things out as J pegs or tiffs or anything from Photoshopped, bring him in and sign. Bring in the whole Dad gum Photoshopped documents. You can get to the individual layers right here from within in design, so the way to do that is you want to grab the selection tool. The move tool in design calls it a selection tool T. So let's click to activate the thing that holds the PSD. That's this picture box right here. And then we're going to jump up to object, and we're gonna choose object layer options. See, I'm just giving you in design is so full feature, but I'm just giving you a few little reasons to dip into this menu here and there. And then we can come up here to there they were CR layers right there. That's our Photoshopped document. I'll move it up to you guys in the back and see it. So if I click the little flippy triangle next to front, I can see all the different layers. Well, if I want to set the text and in design, But I just want to show you how to make a text box with a picture. Boxes hold pictures and text boxes hold text so we can turn off the layer visibility of the name and phone number, and we can set that in in design. But there is a bug in this version of in design. When you turn that eyeball off more than half the time the preview goes completely link. Don't let that throw you If it happens just go ahead and click. OK, wait a second and it will be fine, so I don't know what the deal is with that, but nevertheless, that's what happens. So now we can come over here, grab the text tool works exactly like the textile in Illustrator and in photo shop. And but we need to draw a text box for this. So let's go ahead and click. Hold on our mouse button, drag diagonally outward to draw a box, and that's where we can type or text. So let's type Shelly's name Shelley Singer, and we'll do a fake phone number, etcetera. Now we format just like we wouldn't photo shop or any word processor so we can command A or control A to select. All we've got are alignment tools up here. We can click right alignment if we want. How do we set the text color? Well, let's say we want to pick up the color that's in this logo. Well, any time you want to snatch the color, think about a tool that you might grab it with like an eye dropper so we can come over here to the tools panel. Grab the eyedropper, click on that purple text. And if I click off of the text box now, I've got that same color text so you would format it just like you would double click it. If I want to make the type bigger, I'm gonna use my keyboard. Shortcut of shift Commander control Greater than let's say I want to make this text smaller. So shift commander control less than you know. I've got my font menu up here. My font styles when you hear if I wanna with old the email address, there's on my phone styles and so on and so forth, so you don't have to create all the text and photo shop. But these days there really is no difference from doing. An in design is in photo shop. But you do get that nice a print preview of exactly how that car's gonna print. So now let's talk about crop marks were quick. So once you're ready to print this thing print just like you do in photo shop or any other program commander control P p for print. And in this dialogue we've got a section here called Marks and believe that's where we can turn on crop marks and bleed marks if we want, and you get the world's tiniest practically useless, bring you down here at the bottom left. But if you were to print this card out, you would get little trim Mars on each corner. Adam. If you were the printer, that's how the printer lines up. The cutting machine is on those crop marks, so it looks like a plus sign on every corner. So that's how you could turn those on. And if you print it on your printer home, you're going to see those crop marks. It's a great way to test your designed to see if it really exactly what it's gonna look like now, when you're ready to send this off or take it to a company to have printed or uploaded to a site online. And a lot of the online printers have templates for you to download. Overnight Prince has a template for you to download. A four over Prince has a template you can download. That's what we were using in this one. Most of them have templates in picks, has templates in picks, does a lot of this stuff, too, and they have templates that you can use. You can choose between an illustrator template and in design template or a Photoshopped templates, whichever these programs you're more comfortable and but just realize that the text will works exactly the same way. Keyboard shortcuts are exactly the same across all three of those programs. So now let's save it by choosing file save, as do you definitely want to save it As a native in design document, you know, give it a name and save it that way you can open your business card up and continue to play with it however you want. So make sure format is set to in design CC document. And incidentally, any graphics that you place like that need to stay with in design document. They're not embedded. They're linked. So you want to keep those around If you toss this PSD when we open this file back up in design. Algo sorry, but my graphics were gone, so you'd want to create a folder just like we did with the video. Gather up your assets, make sure everything is nice and tidy. Before you start building this stuff, you can always re link files in in design gives you an easy way to do that. If you open a file and it can't find the graphic for that was placed with it, then it gives you a you know, click to find the file, and you can go route around through your hard drive and find it. But if you prepare just a touch ahead of time that you don't have to put yourself through that. So now let's say our printing company wants it as a PdF, which is very common. We've got a lot of nice presets hearing in design so we can choose. File Adobe Pdf presets. Unless you're told otherwise by the printing company, Choose high quality print. Some printing companies may say hey used PDF X one A and you're gonna go What? But if you've watched this course, you're not gonna be freaked out because you're going to remember that all those presets are built into all of the adobe APS that print. So photo shop. It's got thes illustrators. Got these in design, has these tea, but unless you're told otherwise, go ahead and choose high quality print. Give it a name, so we'll call this this car live. Click save and you get the adobe pdf export box. And if your printer wants you to turn on crop marks, then you're going to click that same marks and bleed section right there, and you're gonna turn long crop marks and bleed marks. And if they ask, you can turn on registration march to that. This helps them line up the of the color, uh, plates when they're printing so that things are in register, meaning that the colors print right on top of each other. And some colors aren't like scooted over, which looks really weird. So that's how you would do that again. You choose file adobe pdf exports. And unless you're told otherwise high quality print, that's gonna create a great pretty F. And that's the file that you're gonna send along. Um, they open that file, they're not gonna have to have the funds. So feel free. The use fonts from type kit for your business cards. I think everybody is gonna be redesigning their business cars this week. Can Is there any questions on enzyme from the Internet or the world at large? There's a question from Cayenne, actually. Who says would the business card done in Photoshop have a different bleed than the one you just imported and set a bleed for in in design. Just not clear the difference in printing between the two, with the same example used in both. Great, that's a wonderful question. Thank you. You don't have believed Mark's and photo shopped at all. Photo shop is not a print specific program that you can print with it. It's not made for this kind of thing, particularly so you have. You can turn on crop marks in the print dialog, but you can't set a bleed margin like we did in in design. In design is made for this kind of thing. So we have far more options for viewing margins like that. Then we do in Photoshopped. Photo shot. We've got the document edges. That's it. So what you could do is you could make your document a little bit larger than the final print size of the card, and you could set guides. You know, I usually bleeds or an eighth of an inch so you could create guys at an eighth of an inch, you know, in on all four sides, and that would be your your fixed for seeing a bleed margin. But because in design was made for this kind of thing, we have that that believes setting right here in the new document dialog box was very easy for us to set up those guides here. Yes, ma'am. Could you like where we did the postcard? Could you make the postcard in photo shop and then imported into in design and then after tinkering with it in design for bleed, could you then send it to be hands after that? Just so that it is in design? Doesn't have a direct path to be hands, but you could save it out. You know, as ah, I think you can upload, Pdf. Yeah, you can upload pdf's to be hand, so you should be able to do it that way. Okay? Yeah, yeah, but easier would be if you design the postcard in in photo shot would just be toe. Send it straight to be hands as a work in progress right there. Yeah, we did that yesterday. If you just have the photography program. So you have photo shop in light room. Could you design your business card in the photo shop and then check it out. How it goes in print in the print module in light room. With that give you a better idea of how every with No, not really. But when you print in photo shop, you can turn on and let me to show you real quick. So let's say we were gonna print this car straight from Photoshopped in the print dialog box, which you can access my person Commander Control P. And I love that this print dialog box got redesigned back and see a 64 Hattie. Was it complicated before? But it is totally easy toe to manage now. Used to have all kinds of buttons and menus that brought up different channels, and it was absolute madness. But if you scroll down and a lot of folks don't realize that there is a scroll bar in this print dialog, if you come down here to printing marks, you can turn on corner. See, there's our crop marks and you can turn on registration marks to you so you can do that when you print it. There's just no way to see it in your document unless you, uh, you know, like sometimes fix Let's see if I have guides in this one. I may not have guys in this one, but let's say I'll turn on my rulers here in Let's say that I knew I was gonna have a bleed and I had drawn these guys. You know, it's always about an eighth of an inch, to be honest. So what I've done and this is hysterical because my husband comes from a traditional print typographic background. I am an online Web girl, so I couldn't understand why he what He cannot understand that I can design all day and photo shop, and I don't need to see those crop marks ever cause I'm simply not used to using them. He's like, I don't understand how you can do that. I got to see what's gonna print. I'm like, I know exactly what's gonna prints everything inside the guides. He's like What? You can't see a preview. I don't need a preview of it. It's inside. The guys is totally fine. So a trick to see in that preview and photo shop, if you want to, is to grab the crop tool and just crop it in and use that crop shield and know that anything that's darkened is not gonna print easy peasy. Right? And if you want to, you can even make that crop shield black. So the crop shield is this this area outside of our crop box that is going to disappear? Should we choose 67 crop? You can change that to a solid black box, which we really give you the ability to see exactly how the car is gonna print. If you set up guys by clicking a little gear sprocket when the crop tool is active and coming down here to the crop shield opacity and typing in and agreeing that you've got what we could even turn off the rule of thirds grid here to, uh if we wanted, never show overly, there's are there's Hauer card would print. So if you really need to see that in Photoshopped Thanks Holly, for asking. That is now. And, um, I just want to make sure so before, when you said exporting from light room toe Photoshopped, you can't go back in the light room and start developing again. Well, you can. But if you make more changes in the develop module of light room and then find that you need to return to that PSD. You're gonna be dealing with a flattened file if you want the second round of changes you made in light room to go back to photo shop. That's where the problem lies. And, um, does that. Is that the same thing for illustrator two Footer shop and back? No, no, because those programs are not passing files to and from each other, because light rooms the only database that we've been dealing with and because it's the database, that's why we have that problem over. Not that it's a problem, but it's, ah, you know, it's an issue, you know, over in light room. But illustrators, not a database. A photo shop is in a database, so they're just you would end up with illustrator files and Photoshopped files, so the programs don't really They don't keep track of versions like that, like light room does because light rooms database Okay. Yes, Holly. When if he again. If you're in photo shots and you got brave to use the pen tool in there, could you do that? Tracing of an old design? Yeah, like an old logo or something and trying to find passed that way. Totally. Yeah. If they're skilled at the pencil an illustrator, the pencil and photo shot works exactly the same way. It is the same pencil. That wasn't always the case. We didn't always have all those vector tools in Photoshopped. So the lines were really blurring between Photoshopped and illustrator and in design these days. So if your skill with the pencil you could certainly open up the logo on photo shop and trace it with the pencil. But Photoshopped doesn't have that automatic image trace.
Class Description
Adobe Creative Cloud is an essential toolkit for photographers — but navigating its many programs can be overwhelming. Join best-selling author Lesa Snider for a comprehensive course on how to harness the power of Creative Cloud to build a thriving photography business.
Lesa will show you how to grow your photography business with Creative Cloud's suite of applications. You'll learn how to build promotional materials, how to create and customize a professional-grade portfolio website with Behance, add compelling elements like slideshows, audio, and video, and display your portfolio on any mobile device — even in printed book form. You'll also learn how to use Photoshop to create a professional and engaging video portfolio to showcase on your website, iPad, Behance, or burn onto DVD.
Lesa will also cover how to use Kuler to grab a color palette from a favorite image for use on your website or promotional materials, as well as how to use familiar drag-and-drop tools in Adobe Muse. By the end of this course, you will be able to create a full-blown website worthy of your work, with light boxes and slideshows to showcase your portfolio, and contact forms to gather leads.
Software Used: Adobe Creative Cloud 2014 

Reviews
I have watched the day one and part of the day two classes -- this class is chock full of creative ways to use the cloud to expand your business -- and to help photographers help their clients get more for their money as well as save money in creating beautiful marketing tools. I had been so confused over the lightroom/photoshop thing, and Lesa makes it so easy to understand how to use each program for their strengths or super powers -- so I'm ready to power up my photography business !
Lesa makes learning easy! Thank you Lesa!