Creative Cloud Essentials
Lightroom Images to Photoshop Layers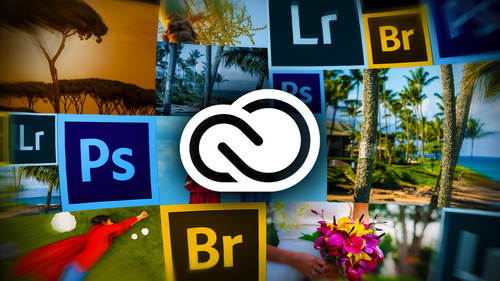 Creative Cloud Essentials
Lightroom Images to Photoshop Layers
Lesson Info
Lightroom Images to Photoshop Layers
So let me show you another way to open it Files in photo shop. So this time we're gonna create a trip Tik. So let's come down here and find some images. These guys are gonna be Let's say I want this file and I want Uncle George. If you guys air into Hawaiian music, these guys are just really incredible. And I think they're in another folder here. So let me find those guys. Let's say this one work. So it's gonna pick three images, this one, this one and this one. So now let's right. Click on those images and choose Edit in. And we see we've got other options here. We could open them is a smart object. When you do light room is gonna send over the actual raw file if you shot it and raw the raw files gonna go over there, which is kind of neat, cause that means then you can run filters on it non destructively. You can resize the content without the content getting all you know, losing inequality. And you can also, you know, open the camera raw filter over there and photo shop if you wanted...
. If you're running Photoshopped CC cameras available is a filter. But for this one, I want to show you how to open as layers in photo shop. So that's what we're gonna do. And what's gonna happen is that, uh, thes three images that we have selected are going to be sent over to photo shop photo shots going Teoh copy and paste copy than to its clipboards was temporary menu memory. Then it's gonna paste them onto a single document so that we end up with one document with three layers. That's what's gonna happen. And again, the photo shot doesn't hop to you. Then you can come over here and you can see that now all three of those images live on their own layers. So not only can you pass files between the two programs, but you can decide how you want to pass those files over. So if you're going to do any kind of compositing and the trip take is really, really just a composite combining images rather, then you definitely might want to send them over, you know, as layers, because it saves you the step of having to coffee and paste and combine them into the single document anyway, So you may as well. You may as well just let Photoshopped do that or light room. In that point, Do that work. So here we go. So let's say we want to make a trip to a trip. Take is a really neat thing to do is another sellable product that you can offer in your photography business is great for creating ads. So if you're you know, hocking your own wears, no one had to do. This stuff is really important. So now that we have a single document, all of those layers on it, I want to make my canvas size. So that is the size that actually may want to print it or the ad that I'm gonna create. So let's come up here to the image menu and shoes canvas size, and I'm gonna go in and change the unit measurement two inches because let's say I want to make a 10 by eight click. Proceed now. You might think at this point that I have just lopped off the heads of my Hawaiian slack key guitar masters. I assure you I have not. If we switch to the move tool over here on and I'm on Georgia's layer here. You can see that the rest of his head isn't either. So don't be afraid of re sizing the canvas with that image. Canvas size command. It's not going to crop. Even though it says it's going to crop, it won't crop. Don't you love Photoshopped? Okay, so now all we need to do is do a little bit of creative repositioning. So to create this trip, take I really want three panels of equal size really easy to do. You take your your with and you divide it by three. And I've already done that math for you. And I have to know that 10 divided by three is, um I need a guide at 3.33 and another guide at 6.66 So let's go ahead and do that. So I'm gonna turn, uh, coming here to the view menu, and we're going to say new guide. So I'm gonna create a vertical guide at 3. pixels. Not. Here's another tip for you guys, so I need to change the unit of measurement in the program. Easy way to do it. Turn on your rulers by choosing view, rulers, or you compress commander control are we have got pixels set up right here. Well, I want inches, so I have to dig into the preferences. Heck, no, Just right. Click on the ruler. Either one. And you get a little poppet menu, which is oh, so handy. Especially food. You web and print work. So I torque and inches when I'm working for in print pieces or pixels when I'm working on Web pieces. So again, that's just turn on your rulers. By choosing view, rulers or pressing commander control are then right, clicking anywhere within either the either ruler and his cheese inches. So now when we choose view new guide, our guide pops into the right place. Say, I do all this on purpose to show you re alive troubleshooting. So now it's another new guide and this one is gonna be a 6.66 because 10 divided by three is 3.33 So now there's our guys. So that's where I need to put my images. So I'm gonna turn off the visibility of the ones that I don't want to mess with yet so we're gonna put Sterling over here on the left hand side. So with his layer active, I'm gonna some of the free transform tool by pressing commander controlled T for transform. Now I need to see my corner handles. I can't see them right now, so let's reduce the size of the window just enough where I can see those corner handles with a keyboard shortcut. This keyboard shortcut you're gonna use every day of your photo shop life, I promise you, Commander Control zero fit to screen so it's view fit to screen. There's the keyboard shortcut and that resize is your document just enough where you can see all for corner handles so drag inward diagonally downward to reduce drag outward to increase. Let's call that good enough and click and drag within the bounding box to reposition press return when you're finished, The next thing we're gonna do is I'm going to hide this portion of the image with a layer mask. So with the correct layer active and I'm working on Sterling and I see his thumbnail right here, let's go grab the rectangular marquee tool, click and drag outside the canvas. Your selection tool is gonna snap to that guide, which is the whole point of adding it to begin with. Now, let's add a layer mask, a layer mask, this digital masking tape. That's all it is in the real world. Masking tape is beige, your balloon and photo shop. It's black. That's all you need to know. So let's come down here to the bottom of the layers panel and click the circle within the square icon and Photoshopped added the mask. So the rest of Sterling's body is there. It's just hidden. I could get back to it if I want. Now, let's repeat that on the next image is gonna be Uncle George. So Commander control T to bring it free, transform command or control zero to fit to screen. While you're holding the shift key, you can resize the image proportionately. If you hold on, Options are all in addition to shift. Then you re size from the center out. Let's call that one good. Go grab our rectangular marquee tool. It's already active now. Want to draw a box in between those two guys and click the circle within the square icon to add a layer mask? We're gonna do the last one here, Commander. Control, T Commander Control zero shift option or shift all drag inward to resize. Press return. When you're finished, zoom back up. Grab the rectangular marquee tool. Actually, we need to move him over so we'll grab the V for move. There we go. Now we'll go grab the rectangular marquee tool, click and drag to draw selection, Add a layer mask and basically we're done. At this point, What I like to do when I'm combining images like this to make the colors were consistent is give it a creative color treatment because these colors really don't you know, not so much together you are like, Where is she going with this? So we can add a creative color treatment that's gonna make bring them all in line. So I'm gonna go ahead and hide my guys by choosing view. Ah, guys. Were is it show? There we go. Guides. Turn those off for second. Now, let's add a creative color treatment. So we're going to click on the first layer, which is sterling over here. And now we're going to come down here to the half black, half white circle with the bottom of the layers panel to add an adjustment layer and adjustment layers Basically your way of saying, Hey, Photoshopped, this next change that I'm gonna make make it on its own layer, if you would, if you don't mind. So click hue saturation, Turn on the colorized check box immediately. Sterling now has a nice color color overlay. We can change the color of that overlay by clicking and dragging the hue slider. But we're gonna leave Starling set to a kind of yellowy brownish situation over here. Now we're going to duplicate that hue saturation adjustment layer. And the way you can duplicate is by having that layer active and use a keyboard shortcut, which is Commander Control J and that one you can think of as jumping that layer up to another layer. So now it's dragged the coffee layer above Uncle George. Well, now, the problem here is that adjustment layers by their nature, trickle down, so they affect everything that's underneath them unless you tell it not to you, which is what we're gonna do. So double click the thumbnail of the duplicate layer we made in turn on this little icon right here at the bottom looks like a square with a downward pointing arrow that is to clip that adjustment layer to the layer that is underneath it, so it only affects one layer down instead of all layers down. So go ahead and give it a click. So now when we start changing the hue slider on Lee, the color of Uncle George changes and not the rest. And the reason I duplicated it is because it's easier than coming down. Hear clicking the half black, half white circle, choosing hue, saturation, turning on color eyes and I can drag it all the way up. So now we're working on this final panel again. It's affecting all the layers down. I don't want that. So you're gonna turn on that little icon at the bottom left of the panel. Then once you do that, see how in the layers panel the I've got a little arrow and the the icon of the hue saturation adjustment layer scooted over to the right and it's pointing down and saying, Hey, I'm attached to just this one thing underneath me instead of everything. So that's how you know it's clipped into unclip that you just click that little icon over here in the panel again. Same thing. So now we can move the panel out of the way. Seriously, out of the way. This is a fun keyboard shortcut for you when you liberate a panel and Photoshopped, if you drag it anywhere over here, there the right hand side of your screen. There's a lot of hot spots. What's easy to accidentally doc the panel like I just did. If you want to move the panel to a position without docking it, press and hold the command key or control on a PC, and that will keep it. See how none of those blue lines are showing up anymore That keeps it from docking so I can put it wherever the heck I want is for the shop, attaching it to that. Bury the screen. So now when we change the hue slider on the last panel here, it's on Lee affecting that one panel on not all of them. Now. The final step would be to choose file save as we can call this one trip to Clive Click save, and when we come over toe light room, that trip ticket is going to be there, which means we can use it in any of those other modules that we looked at sea. There's our trip tick right there. So now we could include it in a book project we could included in a slide show we could included in a Web gallery, etcetera, etcetera. So what I want to do is now go over to photo shop and I want you to spend the rest of the evening thinking about how difficult life and Photoshopped really is and how wonderful life in light room really Is this hysterical for me? Because I make a ton of money with my photo shop See season. This Emanuel is the hottest only photo shop IQ on the planet has been for a couple of years. So I am hugely grateful for photo shopping I 11. But it has superpowers, and, you know, doing everything in photo shop takes a lot of your time, and you can just be more efficient by doing it in different ways. Okay, so play each plug program to its strengths. So here's Uncle George again, and we are in food shop, so let's go ahead and delete the layer that I made for you. So here we are at our nasty color caste situation. So the way I usually do it is in their several different ways. To do it is to come in here to the adjustments pain woman knew the half black, half white circle, the bottom of the layers panel. Give it a click and I'm a levels kind of girl. I like levels. Levels, If you're curious, stands for the level of brightness of the pixels in your image. That's where the name comes from. And basically there's a whole bunch of different ways to use levels. And I have needles and gobs of creativelive courses on this kind of stuff. But an easy way to do is to use these little eye droppers and tell photo shop what really should be black and what really should be white and what really should be in between when you do that, photo shops gonna adjust the other colors in your image accordingly. So if we click the, uh why eyedropper, it really doesn't matter which one you do first, why'd I drop her? I'm gonna come over here and click All seem a little bit more in an Uncle George's teeth area Because I know, you know, they're probably one of the lightest things. But if you are non pleased with your first I drop your clicking attempt, then you can just keep clicking around until you find something. Looks good. This actually looks pretty good. Then I could click the black eye dropper, and I could kind of over close to the focal point of my image And for this particular images, obviously, Uncle George. Then I might click on something that's really supposed to be black close to his face, like the mic stand. And if I don't like what that looks like, I could keep clicking until I find something that I do like. You know, I might come over here to a shadow then if I wanted to, I could grab the great eyedropper and I could come over here and try to find a neutral gray noticed you get no handy readout with the RGB values. My so already more difficult than light room. If I don't want to adjust that using the eyedropper that I might use the gray slider right here, Teoh. Fine tune that midpoint. Now How do I coffee and pace that to other images Can't. What you can do in our last second that we've got together today is to open up the other images that you want. Teoh. Apply the change, too, and if you have done the fix with an adjustment layer like we did, then you can drag and drop that adjustment layer, so we'll open up another image. You can use the window menu to position your to open documents so that you can see them both window arrange. And now I can click to activate the document that has the adjustment layer, and I can click and drag that adjustment layer into the other image. Heller like boat shops. But you know, if you've not seen the two programs, it's not that I'm pitting them against each other. But I kind of am because it's just so easy to do everything in photo shop when you don't when you don't know and it's not your fault that you don't know, how would you know that life is a whole lot easier for a certain subset of tasks over here in this other program that you are already paying for, that you already have access to you, so play them to their strengths
Class Description
Adobe Creative Cloud is an essential toolkit for photographers — but navigating its many programs can be overwhelming. Join best-selling author Lesa Snider for a comprehensive course on how to harness the power of Creative Cloud to build a thriving photography business.
Lesa will show you how to grow your photography business with Creative Cloud's suite of applications. You'll learn how to build promotional materials, how to create and customize a professional-grade portfolio website with Behance, add compelling elements like slideshows, audio, and video, and display your portfolio on any mobile device — even in printed book form. You'll also learn how to use Photoshop to create a professional and engaging video portfolio to showcase on your website, iPad, Behance, or burn onto DVD.
Lesa will also cover how to use Kuler to grab a color palette from a favorite image for use on your website or promotional materials, as well as how to use familiar drag-and-drop tools in Adobe Muse. By the end of this course, you will be able to create a full-blown website worthy of your work, with light boxes and slideshows to showcase your portfolio, and contact forms to gather leads.
Software Used: Adobe Creative Cloud 2014 

Reviews
I have watched the day one and part of the day two classes -- this class is chock full of creative ways to use the cloud to expand your business -- and to help photographers help their clients get more for their money as well as save money in creating beautiful marketing tools. I had been so confused over the lightroom/photoshop thing, and Lesa makes it so easy to understand how to use each program for their strengths or super powers -- so I'm ready to power up my photography business !
Lesa makes learning easy! Thank you Lesa!