Creative Cloud Essentials
Lightroom: World's Best Organizer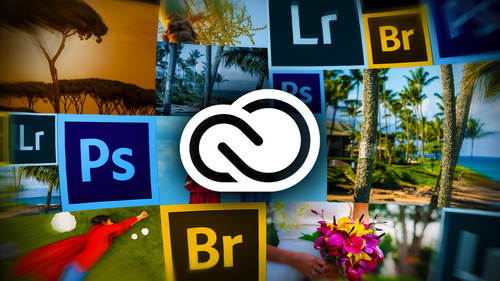 Creative Cloud Essentials
Lightroom: World's Best Organizer
Lesson Info
Lightroom: World's Best Organizer
Let's go playing light room. So this is what light room looks like. And I'm gonna go ahead and confess to you right now. I have serious crush online room, and I haven't felt this way about a piece of software in a long time. And I am a tried and true first shot girl. But once I really got in there and understood why light room could do for me and how it can make my life so much easier, I'm all over it. I'm Oliver. I absolutely love being in this program. It's safe because you could undo anything you do. It's absolutely amazing. So I'm not gonna spend a whole lot of time in here. But I want to just kind of go over what we are seeing in here. So you can see right here that I've got a little bit of another little spot of branding going on the top left here. We're gonna take a look at how to do that. If you've got a portrait studio or what have you? And you've got any kind of computer out where clients can see it? This is a great thing to do. Makes you look really, really slick and profess...
ional, So we're going to create that. And when we get into creating the slide shows in the books, we can actually pull. That is called an identity plate into those other projects, which is also super slick. So here along the top row, we've got the different modules that light room has. So the library modules were. You do all of your organization, your rating, your culling, that kind of thing. Develop module. That's what we're going to do all of our image. Corrections. The Mat module. If you're shooting with a camera, that's gene GPS enabled. You can see where you've taken your shots there, and then we can create books in the book module, slide shows in the slideshow module and so on and so forth. So these are important buttons. Toe, remember, because depending upon which module you're in, you're gonna have a different set of menus at the top. Now, that was the thing that kind of messed me up when I first started using lie room, because if you think about it, that really doesn't happen in any other piece of software that we're used to using these menus, Air always set right, not so much in light room. So just be cognizant of what module you're in because you'll be a different set of menus over on the left hand side. That's like your navigator. That's your Your whole directory structure on your computer is in here, really, so you can get to any folder. So that's a handy thing. As we cruise on down in that panel, you're going to see something called collections, collections or just albums. So after you've done your initial culling of a shoot, then you could put the keepers in an album or a collection rather. And then you can create projects from that. So it's a handy way to organize them before you start creating your your books and your slide shoes. If we keep cruising on down and that panel, you're going to see an incredible thing called published services, these air really export presets. So this is how we're gonna do our water marking. You see, I've got several different expert presets over here. I mentioned that I just wrapped writing a new I photo book. All of my images Aaron Light Room, but I need to deport some images over to I photo and I had to do that over and over and over. So instead of, you know, exporting You know, several times throughout the course of that Ronnie project, I simply made an export preset, and I named it full size. So that means it's gonna take my full size image from light room, and it's gonna changing into a J pig and some other stuff. And this is just a folder that lives on my hard drives called I photo so I can go in there and I know those are the images that any bringing the I photo. So these export presets are absolutely outrageous. I have another preset for on my website photo Lisa, I have, ah, banner of images that rotate in and out. So I like to put my best. What I think is my best works up there. So this is an export preset for that. So it re sizes, it sharpens, it changes its name, changes its format. Really amazing stuff. Here. I've got another one for video. You know, I like to create my videos at 12. 80 by 7 20 That's the native resolution of of any non retina. I've had a good resolution for or pixel dimension rather for video. So instead of having to resize, you know, every image that I want to put in my video portfolio over in Photoshopped, I simply drag and drop it onto these presets and it handles everything. So when we get into water marking, this is where we're going to do that. We're gonna set at presets for literally any any time you have to export an image from light room, you know, into, like, another size, another format or what have you? We can do it with expert presets. Really, really fast. And you can see that we've even got a quick access to some social media sites such as Facebook and Flicker. We've also got a quick path to be hands here so we can upload projects from the hands right here works in progress. Rather. And then, if you click this button down here, find more services online, their doodles and gobs of these published services. I wish to Thor they were called export presets because then people would understand what publish services is. But there are a bunch of them. There's even one for smugmug So if any of you all out there using SmugMug for your hosting or your photo backup storage or your portfolio your web gallery, then you can tunnel into SmugMug right here from light room. So is big time savers built into this This program, I always say you can preset light room to death. Everything can be preset in this program. We're gonna look at a little bit of that. So over here in the middle, we see all of our thumbnails of our images. You can change image thumbnail size really quickly and easily using the plus and minus signs on your keyboard. So to go up in size for your thumbnails, you're gonna plus the plus key. And I do want to say thank you so much to our studio. Our student in the audience. Frank Bellafiore. I love saying your name Frank Bellafiore. I want to be Italian. Si, si, si. I'm not Italian. Freckled s. So these are some of Frank's image is that we're gonna be gonna be playing with here. So those are your thumbnails. And then at the bottom, we've got what's called a filmstrip Really handy. Once we get into the develop module that we can access. Other photos from this film strip over here on the O at the top. We've got our library filter. So the next thing that we're gonna do is we're gonna play like we just imported this set of pictures from our camera. We're gonna do our initial culling, and we're gonna use this filtering system. Teoh, fine tune what we're viewing in our library. There, Over here. On the right hand side, we got a bunch of panels. You got a handy dandy hissed a gram, which is just a collection of bar graph showing you, you know, the brightness values that you capture in camera, all kinds of wonderful stuff. We've got key wording, weaken do over here keyword list. And of course, we've got all of our metadata. We've also got a panel called comments. So when people comment on your works that you've uploaded to be hands, you can see them right here in light room. So it's really, really, really need. I love this program so very much so. First, let's go ahead and oh, I want to see that you can hide thes side panels, which I do a lot, so I will be sharing with you a lot of my favorite keyboard shortcuts for light room. So to get more screen real estate, all we have to do is tap the tab key. How those side panels went away very, very handy tap tab again to bring them back. If you want to go into full screen mode, any time which we'll be doing, a little bit of you can tap the F key F for full screen. And when you do that, you see these beautiful images full screen. Now I do have a little light colored circle around my mouth, so don't think that, like, what did Frank do when you captured this image? What is that light circle now? That's my mouse. Posey. That's not frank. That's me. So the exit full screen mode just go ahead and tap the F key again. So tab to hide the panels tab to bring him back have to go full screen f to come out of full screen. Those were really, really handy, all right, so let's go ahead and press tabs that we had our side panels and let's pretend that we just brought in this imagery. And actually, I want to show you what the import dialog looks like. We're gonna choose file import photos and video when I actually gonna import anybody want to show you what it looks like so I can come down here? I don't have a memory card, uh, plugged in. But for example, pretend this is reading off of memory card or camera. You can see all of your pictures right here. You can choose using the check marks Which ones you want to import? If I only want to import a few, I guess like uncheck all. And I could come in here and just import a few. I bet you Frank knows where this is. Thing isn't Anjali. So over here on the right hand side, we've got all kinds of things we can do. Smart previews, smart previews, let you. They say that a larger preview size that you'll use in the develop module. You can also use smart previews to let's say you import all your images to an external hard drive. But you don't always trot round with that external hard drive. Maybe it's at home and maybe you're on the plane. If you've turned on smart previews, and it's on by default, I believe, then, when you you can edit those photos even though they're offline. So really, it's just a slightly larger previewed in the regular preview that you get one that's large enough that you could actually see the edit it, but not full size. So that's what smart previews is. Myron's gonna keep you from importing duplicates. If you've got an external hard drive hooked up to your machine, you can make a backup copy right here in light room at the minute you import your images. Which issues makes me sleep better at night. I don't know about y'all. And then I mentioned that you can preset light room to death. Look at all this. You can apply corrections to your images on import. Think of the time savings that you've got here. So just, for example, these air all built in presets that come with the program. So let's say you find yourself, you know, adding a little bit of clarity to every image that you bring in. Clarity's just a kind of like an uncharged masks slider in, like one. If you're familiar with that over in photo shot. It gives you contrast in the mid tones. So if you find yourself doing that to every image you import, why not do that during import and save yourself the step of doing it later? So this is what I mean when I say you can preset light room to with an inch of its little life because you can do anything if you find yourself always brightening the exposure a touch created, preset and applied on import Really amazing. Um, so these are just the ones that aren't better built in. You can also create metadata templates, so the metadata will just choose new to show you what that looks like. So this is your metadata presets. You could put in all of your copyright information, all of your contact information, everything the copyright status of your images on imports. So you don't have to do that later. Really? Lots of time saving things here. You've got the ability, Teoh, add keywords here and you actually get a few more options. If I did have ah memory card plugged in. But these images already live on my hard drive. If they didn't already live in my hard drive. I'd get some naming presets down here so you could create presets for all of the custom names. Maybe you like to name them, you know, starting with a year. You know, the year, the day and then maybe client name. So on so forth, you could set presets that for that hair and light rain to you. So that's really all there is to the import dialog. It's kind of like you can think of it, you know, Where is the thing that you want to import? Which ones do you want to import? How do you wanna handle the import? Are we copying? Moving or adding? These already live on my hard drive so I could move them to another spot on my hard drive if I wanted. And then over here, what are the different presets that you want to apply on import? And then you click import and you sit back and make yourself a nice frosty beverage. Yes, ring. So I've got 1000 images on my card. I only want to import 2 to 300 of them. Is there a way of selecting first the images you want and then checking them without having to check each one individually, I think you can drag across. And how do you want to drag across? How do you then say those are only once I want to check. Yeah. Okay. Yeah, simple. It take a little bit of time, but, you know, I don't check all and then you could You could select. So I haven't checked all of them right now. So I've got this first image selected right here. And I could shift click to select the last one in that set. And then when I click the check box, they all come on. So that's a handy thing. So just remember, toe toe, look all around the interface. You know, don't sit there and spend an hour checking and uncheck in these images. I mean, my gosh, I'll drive anybody mad, but just take a moment, take a deep breath. Look around and down here, you'll see the others and uncheck Also, you might want to start with that and then, you know, select one image shift. Select the last one that you want to import, and then click one check box. Great question frame. That's really all there is to the import process. Very, very, very, very simple. And again, light room does not move your images. It never touches your original images. Ever, ever, ever, ever, ever. Unless you export okay, so your images can live anywhere you want on your hard drive. You preserve your directory structure, you don't have to. It's not like I photo. It doesn't squirrel your images away in a catalogue that you can't, you know, tunnel your way into at all. They they live on your hard drive wherever you want to put them importing when you make that first important. So you have got your card connected and you're going to import. And there was the one that was sort of shattered out where you could make a backup copy. In that case, could you, um, have another drive connected or maybe even burn a CD? Would you wouldn't do that at the same time after you import photos and you could just tell it to barmesy D or send it to the other Dr. There are great questions, so let's pop open the import dialog again by choosing file import photos and video. So the question is about making this backup copy here. So if I I would definitely have an external drive, you know? But I often times she with a five d mark three. I don't give it a name dropping in and Canon five d more three. Yeah, I rent it, but so the pictures were honking big right there. Humongous. So I just find, you know, CDs and DVDs. They aren't big enough, you know, maybe, like some of the blue ray DVDs you know are largely fit more capacity on them. But in external hard drives have gotten so affordable, so very affordable. So that's what I do. So once you plug that in, then you could just turn on that check box right there and have your back up. Copy? Yes, ma'am. He wanted Teoh move a photograph from one part of your hard drive to another. Can you do that through light room? Absolutely. So if we were to come up here, I'll go back to Italy so I could choose move instead of add. Yeah, so you could move them around on your hard drive. The thing is that once you've imported images in the light room and that terminology really is inaccurate, more accurate would be to say, once you tell light room where your images live but you can really import with light room. So with a memory card or playing your camera, and that would be actually using light room to import images. But they just important to your hard drive. So it's not like they live in light room at all. They don't They live wherever you know. You put them. So Lisa, just to clarify, Poppy wants to know they have 10,000 photos and I photo what you were talking about it talking back and forth to various things. Can you do they need to import those images in the light room if they want them in light room? Yeah, that's a really great question. Thank you for asking that. So the deal with I photo and I should know this cause I just wrote a book on it, right. I I photo does not want you messing with the images. So you really do import into I photo in its squirrels, your images away into a package, and you really can't get at them unless you know a couple of tricks. So if you have been using Ifo did organize your images and you want to switch the light room. What you're going to have to do is export your originals from I photo because you got to get them into a place that light room can see just a regular folder on your hard drive. They're not in a regular folder, and I photo there in a package folder. Your I photo library and light room can't see into that I photo library file. So if you want to switch, you'll need to export. If you're shooting in raw, you would wanna, I would think, export your raw files so you export originals and set up the directory structure in your hard drive, and then you would just import them into light room. And really, it's not importing. It's not duplicating. You're just telling light room about those pictures. You're importing the photos in order for light room to make a record of where that photo is on your hard drive. And once you do that, you don't want to be moving the photos around behind light rooms back because then it won't know where they are. So yeah, that's the deal. Did you have another question. I just have Ah, my I have a favorite shortcut in later. I also like the l for lights on lights off. I don't know. So that oneness good when you don't want to see, like, all the stuff, so it just turns right? Well, organ import dialog box. Excellent. So if you tap the l key for lights on lights off, then you see just your your images and everything else kind of fades. Mattoo values nice. All right, so now another question. So I just wanted to clarify one more time. So if you, um if you were importing your, uh images and you've got them on your computer already, but you're want to goto what light room and you and edit in my room, it's not making a duplicate copy of it. It's just merely looking at it, Almost similar to bridge would kind of look at it and say There it is exactly. But when it is doing is it's creating a record. So it creates a catalogue, and it creates. So that's just like, you know, your database. It's a database and then or your role Adex. And then when you tell light room about images that already live on your hard drive. It creates a record for each one of those images, and it makes a note. Oh, that lives over there. I know where that photo is, and it keeps a record of that. That's really all it's doing. It's not duplicating. And also you mentioned catalogs. Um, you can, since I have created other catalogues. What is the difference between having multiple catalogs versus just one light room catalogue? That's a fantastic question. So the question is, you know, what's the difference between having a single catalogue and multiple catalogs? Catalogues are only searchable within a catalogue. So if I do any kind of star rating system or key wording or anything like that, and I go try to find those pictures, I can't search across multiple catalogues. So while it is totally fine to have multiple catalogs, and I know people that do that, they have catalog for each client or each event, I don't roll that way because I want all of my images. I want to be able to search across the entire image collection, and to do that, you have to work with one catalogue. But you can't. If you have created multiple catalogs and you want to combine them, that's really, really easy to do. And I can show you how to do that. So totally find have multiple catalogues if you want, but just realize that they're not. You can't search across multiple catalogues. So if you're trying to find something, um, then you're gonna have to try to remember what catalogue it lives in and open that catalog and then search. And then maybe close that and open up another woman and search. And that's why I this used one catalogue, it's easier for me. So if you really get good at the start rating systems and the keywords and, you know, creating collections, which is just albums, then I You should be able to do it all within one catalogue. And there is no known limit on how many images you can have in a single catalogue. Yes, sir. Lisa, one of the problems that I have with light room is I have about four terabytes of photos, and obviously my computer is only gonna hold about 500 gigabytes or a lot less because of the software on there, I I always get my question marks the great out library folders with the question marks. Because I'm I'm not always connected to the same hard drive that those photos sit on. And that's the biggest challenge that I have with the library module is is tracking where those images air sitting because light room has toe. See that original file in order to work on those images again? You store it that way, but I believe it was a lie. True. Five. Where we got smart previews because light rain five. So the newest version doesn't work in that same way. We have those smart previews that you saw in the file import dialog box. This guy right here build smart previews that allows you to work on files that are offline. So with the newer version of light room, you're not gonna have that same problem because the previews air large enough where you can actually get in there and edit them. So it won't be that much of a problem. Yes, ma'am. The building smart preview. So where he has all these images from the past that he didn't have a smart preview, and I know I dio it could we essentially reconnect those drives and re sort of imported tell to relook again and build a smart premier You in that case, And in that way, if we're not connected to the drive, we can still do work on those Exactly. You can go back in doing. Yeah, I haven't done that. So I can't tell you the exact steps, sport, but I think it is just open an import dialog and pointing back over there saying, Hey, now build my smart previews.
Class Description
Adobe Creative Cloud is an essential toolkit for photographers — but navigating its many programs can be overwhelming. Join best-selling author Lesa Snider for a comprehensive course on how to harness the power of Creative Cloud to build a thriving photography business.
Lesa will show you how to grow your photography business with Creative Cloud's suite of applications. You'll learn how to build promotional materials, how to create and customize a professional-grade portfolio website with Behance, add compelling elements like slideshows, audio, and video, and display your portfolio on any mobile device — even in printed book form. You'll also learn how to use Photoshop to create a professional and engaging video portfolio to showcase on your website, iPad, Behance, or burn onto DVD.
Lesa will also cover how to use Kuler to grab a color palette from a favorite image for use on your website or promotional materials, as well as how to use familiar drag-and-drop tools in Adobe Muse. By the end of this course, you will be able to create a full-blown website worthy of your work, with light boxes and slideshows to showcase your portfolio, and contact forms to gather leads.
Software Used: Adobe Creative Cloud 2014 

Reviews
I have watched the day one and part of the day two classes -- this class is chock full of creative ways to use the cloud to expand your business -- and to help photographers help their clients get more for their money as well as save money in creating beautiful marketing tools. I had been so confused over the lightroom/photoshop thing, and Lesa makes it so easy to understand how to use each program for their strengths or super powers -- so I'm ready to power up my photography business !
Lesa makes learning easy! Thank you Lesa!