Creative Cloud Essentials
Slideshow Video & Building Websites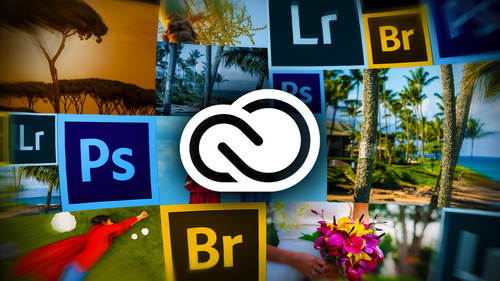 Creative Cloud Essentials
Slideshow Video & Building Websites
Lesson Info
Slideshow Video & Building Websites
to use your size Click export. Now, we're gonna end up not gonna do that because that would take about 10 minutes to do, and I'm not gonna waste your time on that. So let's go find, uh, one that I have already created. So if we come over here to our finder in the exercise files, then I can see in my cleverly named slide shows folder I have a couple of MP fours, and one of them is 6 40 by 4 80 and the other one is 10 80 you can see the size difference here, you know, 46 megabytes versus 73 megabytes. And that's why she only has 11 pictures in it. So they get big, really, really fast. So how do you get them onto your IPad? We're going to come back over here to ITunes. Why? Because I tunes is our It's our hub between all of our devices. So this time we simply have to choose file at the library. And that is how we're gonna be able to add it to our library and then sinking onto our IPad. So file and library go find where the thing lives. Let's say, is this one right here? 6 Click open. So ...
now I tunes has added it to my library. Now, I'm gonna come over here to the movies tab, and what I want to do is turn on the check box for the movies that I want to sink. How does I change Know about these movies? Because I just imported it. I just did file at the library. If I skipped that step, your movie will not be right here because I tunes will have no idea that it exists in your room. So, export, the slide show is a movie from my room. Open up, ITunes, Plug in your IPad. Click IPad over here and then choose file, add a library. Bring in that movie, navigates where that movie lives. And then when you click the movies Tab, that movie is gonna show up and it's right here. So I simply turn it on and then I click apply. So when you click apply I tunes kind of gathers up everything that you've changed the settings in here and then it sinks it. Now your next question, of course, will be Well, where the heck does the movie Dio, You just told me that I had to download this Adobe Reader mobile to see pdf's. What the heck do I have to do to see movies? Happily, your IPad or IOS device comes with a videos app straight from the apple mothership. So that's where your movies we're gonna be. PDS work a little bit differently because, remember, ITunes wants to downsize everything. So if you want a full resolution, pdf to go to your IPad, then you have to handle it in a different way. Movies are a little bit easier and honestly can be more impressive. So now I don't think we have to click. Think again. It should just be here. So let me Cruz over here. If we could put the IPad back on screen here. There we go and I'll click the videos. App. So this is the video Zappa, right? Here's the bottom left. It looks like a little directors, you know, snap. So here's all of her movies, So if I just click the movie, ITunes is going to think about it or the videos. APP is gonna think about it a little bit here, and it'll show up eventually. What's happening is this is really fun. We're using a technology called airplay to transfer the movie. What's what I'm seeing on my screen on my IPad to the TV set, and that is a slick device. If you ever want to impress anybody coming over to your house. If you have an Apple TV, then anything that you see on your IPhone or your IPad can be ported to the big TV screen. If there's an Apple TV hooked up to it, it is absolute magic. But that's the a little bit of the delay that we're seeing here, so we're probably going to go ahead and not be able to see that on the IPad. But trust me when I click done here, we'll see another screen, and you can see that the movie does indeed exist on the IPad is has taken a little bit to transfer from this screen over to the big screen across the Apple TV. But the way you do that is, you would use the gesture on a your IPad, and you would just swipe up from the bottom of the screen, and you're going to reveal this little control camel right here. An air play is the little button next to airdrop on the right of that. Right now it says the name of this TV. So if you're doing this at home, you would see your apple TV, whatever you named it appear in that list. And once you turn that on, anything that's on the screen of your IOS device shows up on your big screen, which is pretty dead. Gun slick impressed his friends and neighbors and everything. So we'll go back to the computer here. So that's how you that's how you get your movies onto your IPad. So we're gonna do that again tomorrow will make it into photo shop and start building our video portfolios. But just to recap, what we did in light room was we made a collection and then arranged the images inside the collection, the collections, just an album. Then we clicked Slide show and we messed with all these settings here we we added a. We turned on our identity plates and our title screens, and then we added a a background graphic right here and Sethi opacity. And then we've got it. All right. We also set the Thestrals up here, and we also turned on text overlays, which are in the overlay section right here. Turn on text overlays, and when you do, you'll see this little ABC button right here. And when you at home click this little poppet menu right here, you're going to see several different pieces of information that's in your metadata that you can choose from right now minus set to captions. So that's why I'm getting what's in the captions field of the metadata here and go back to the grid view in the library. This is your metadata panel on the right hand side. Just click within the caption field, and anything you type there is going to appear in your slideshow. And then you can also control the positioning of where that that information appears. If you click on it and I conscripted around wherever I want and that little white box that's kind of jumping around, that's me setting the anchor point so I can anchor it to the top left oven image the middle of an image, the right hand side. I can anchor that text overlay to the top right of the screen. If I want So that's how you would set that up, All right. And then all we did was click Export Video. Here is where we can set our size because we're dealing with ideally, pictures that are quite big, you know, Certainly if we're all shooting with fabulous five days can And girl Nikon people are like, shut up so we can set our size right here. As soon as we do that, we click export. Then we come over here to ITunes. We're gonna choose file, add a library, and we're going to navigate toe where that NP or np four lives that as it to our ITunes library. Once you do that, click the movies tab after you've plugged in your IPad and you're going to see those movies that you've brought in right here in this list. And all you have to do is click the check box and that will make them sink onto your device. The next time you click sink and then on your IPad, you're going to go to the videos app. And if you can't find it swiped down on your screen to get a search field of this type in videos, if you've got several pages of APS. It may be difficult to find, and that's how you can play your your slide shows or movies of any kind. And you know that you create for portfolio purposes and have them on your IPad, which is really fantastic. Now, another thing I want to mention briefly we've been talking about, you know, putting various things on her IPad. But what if you wanted your whole light room collection, your whole life room library on their catalog? Can you do that? Anybody now you can not with an adobe product yet I've heard tale of a product called Light Room Mobile, which is gonna be collection based, and you can create a collection. And those, if you pay $99 a year, doesn't have anything do with the cloud. Then you can have a subset of your lightning catalogue on your IPad, and you also have editing capabilities. It's not out yet, but what is out there is a program called Mosaic, and if you go to mosaic archive dot com, this will put your entire light rain catalogue on your IPad. There's a free version of it where that lets you sync 2000 images to it. It's really sinking the previews. Not the whole image, but wow portfolios on the fly right there on your IPad. A free version will let you do 2000 if you pay $70 a year to these folks than you have unlimited. So your whole life room catalogue could be on there. So that's anything. So now let's switch gears a bit and create a website really quickly. It's kind of the same situation here. Something Go back to the library and I'm gonna find something that have not yet made a A website out of. We go to the slack key concert. Here's just got a few images. So to be quick, so again, you're gonna select the images, put him in a collection, rearrange them inside the collection if you want. If I want wine on the over here, then I'm gonna move around within my collection. And then we simply click the Web module and you've got a variety of templates that you can access. They are right here. So this is the preview. Some my templates are underneath the preview. There we are template browser. So here's all the different kinds of websites that you can create in light room and you can customize them. And then once you've customized them, you can say that as a preset so that you could apply those custom is ations later on. But I tend to go for the 1st It was the 1st 1 on the list and he's classic is what I've got going on over here. I've customized the background color and so on. I stay away from the flash ones. You can see which ones were flash base because they say flash in their name so I'd stay away from those cause they're not search engine friendly. And, uh, your IOS device can't play flash movies or can't visit flash websites, so I'd stay away from the flashes. But the HTML gallery is really, really nice. So basically, you fill in your text using these panels over here on the right hand side, you've also got a layout style and you can find more to blitz online. So here I've just entered the information I've entered the site title right here, Malley, flowers. Or I could say, um, slack key guitar show, then my Maui Collection, October to them 13 slack key guitar show at a really high Here we go as your contact information, it'll show up is alive. Ah, Web mail link. If you just type it into that field right there, I can turn on my identity plate If I want, I can set my color palette and again you just click these guys and it opens up that little color picker So easy peasy there. I can set the appearance. I can add drop shadows to my photos. I've got that turned on. I think you can see that ever so slightly back there I can have these cell numbers turned on. That's great. If you're using this for client proof so you could post a few pictures and they could say, Hey, yeah, I want number number five and number 15 as a print, so it would be useful that way. What size do you want your enlargements to be? I keep mindset to 600 Remember? Or 800 red X. I don't want to attempt photo thes. So as you click any of these, you get an enlargement. So light room is handling all of that. So light room handles all of the navigation, everything the previous next. I mean, it's just so very, very simple. So if we keep scrolling down, so here's where I can control the output. Well, what quality do I want these enlargements to be? Do I want to apply a little sharpening? Well, I might thank you. Black Room for offering. Here's the magic part. The upload settings If you put in your FTP information, this stuff gets posted live on the Web as soon as you click. Upload. Now, if you want to incorporate this into another website, then you could export this Web gallery as HTML pages. And then you could upload those files you know and link them to your own website. But it will go straight to the Web if you import this, or if you fill in the upload settings right here, so really pretty easy. You've got fewer options in the Web gallery than any of the ones that we looked at so far a photo because the most options Web gallery and inside show the least, So not a whole lot you can do, but it's functional. I mean, really. So if we go back to the index get rid of some of my panels here so you can see what it's gonna look like on the Web. That is not too shabby in my personal, humble opinion and then the enlargements. And if you click this link right here, that will open up your email program because I put my email address back in this field right here. We're actually this one right here. So very, very, very, very simple. And that's really all there is to that. Any questions on the Web gallery part? It's really, really easy now what you cannot do because I know they'll be a question on it is the five free website hosting that you get with the full creative cloud. Membership does not work for this. It on Lee works for websites. You build in Dreamweaver or Muse. That is all. Yes, Frank are behind. Bring. I was Are you able, Teoh, Take this and exported into Dreamweaver and then work on it some more. You could You could just click the export button down here and it will export html files. OK? Yeah. So you get an index page will get all the images and then you'll get you know the enlargement pages. So you just export to a folder on your hard drive. So even though they are exported html pages, you can use them on any of the other side you can. But with with your create, with the full creative cloud membership, their subscription, rather you get hosting for five websites with it. And what I'm saying is that those five free hosting sites cannot be created with light when they have to be created with Muser. Dreamweaver. So, yeah, you know, I have obviously my own side photo Lisa. So if I click published down here to the web upload, that's gonna go straight to my website. And what folders? They're going to go into my website? Well, whatever sub folder I set right here so he can enter all the information for your own website. No, but I'm just saying, if you don't already have hosting from somewhere, that's where your website lives. Then you can't use those five free sites you get with a full creative cloud membership. But if you build the site and muse when you can, so just a little bit of a limitation on that part
Class Description
Adobe Creative Cloud is an essential toolkit for photographers — but navigating its many programs can be overwhelming. Join best-selling author Lesa Snider for a comprehensive course on how to harness the power of Creative Cloud to build a thriving photography business.
Lesa will show you how to grow your photography business with Creative Cloud's suite of applications. You'll learn how to build promotional materials, how to create and customize a professional-grade portfolio website with Behance, add compelling elements like slideshows, audio, and video, and display your portfolio on any mobile device — even in printed book form. You'll also learn how to use Photoshop to create a professional and engaging video portfolio to showcase on your website, iPad, Behance, or burn onto DVD.
Lesa will also cover how to use Kuler to grab a color palette from a favorite image for use on your website or promotional materials, as well as how to use familiar drag-and-drop tools in Adobe Muse. By the end of this course, you will be able to create a full-blown website worthy of your work, with light boxes and slideshows to showcase your portfolio, and contact forms to gather leads.
Software Used: Adobe Creative Cloud 2014 

Reviews
I have watched the day one and part of the day two classes -- this class is chock full of creative ways to use the cloud to expand your business -- and to help photographers help their clients get more for their money as well as save money in creating beautiful marketing tools. I had been so confused over the lightroom/photoshop thing, and Lesa makes it so easy to understand how to use each program for their strengths or super powers -- so I'm ready to power up my photography business !
Lesa makes learning easy! Thank you Lesa!