Creative Cloud Essentials
Syncing with Creative Cloud & Bridge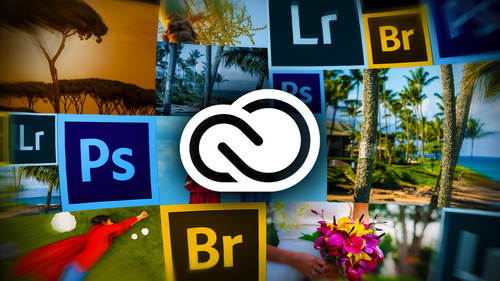 Creative Cloud Essentials
Syncing with Creative Cloud & Bridge
Lesson Info
Syncing with Creative Cloud & Bridge
The next thing we're gonna do is since we have created an action, this is a prime opportunity to sink our presets with the creative cloud. Why would you want to do this? Well, if you work at an office and then you work from home if you have presets that you've created, such as this action, we dismayed on your work computer, you may need to access them at home, and it's super easy. Or let's say you know, you go to, ah, clients home or something you need to access your presets or it'll and gobs of situations where that would be handy and Photoshopped makes it extremely easy to do that. So that's what we're going to do right now. Yesterday, we if you tuned in, we don't have this ability in light room. But what we did was used. The cloud file sharing to copy are presets from our computer up to the cloud. And then that just means if we log into the cloud on another machine, then we could pull those settings down, and that's exactly how you would access. If you created all these presets at w...
ork, you're signed into your creative cloud account at work. You sink your presets like we're about to do when you come home and you're signed into your creative cloud account. Then you can't sink the presets and they're pulled down, installed automatically. So the key to making that work is signing in and out of your adobe I d. So we're gonna set up what preferences we want to sink by choosing photo shop preferences, sync settings. Now, you're only going to see this in photo shop. Sisi is not in CS six because it's not to create a cloud app sold to sync settings. And we have this little dialog box that allows us to tell Photoshopped exactly what settings we want to sink, as well as what happens when conflicts occur. So let's say when you go to sink your settings. Photo shop sees that a new reversion of your settings or on the cloud. Then it's gonna ask you Oh, what do you want me to do? Do you want me to overwrite with the ones you're about to coffee or, you know, how do you want me to to handle that, keep the ones on the cloud, or keep the ones that air local on your machine and think those to the cloud. So we're just gonna leave it set to always ask because you don't know what the situation is gonna be so you can see everything that's gonna get sink here, your preferences. You know how many How do you have photo shop set up in so far as custom workspaces, color of the interface? All your actions are going to get seeing any custom brushes that you've made any of you doing. Fine art photo shop. You know, we're bound to love this one. Any custom color swatches, any layer styles, any of the saved Grady INTs that you've created any custom shapes that you created with the the the vector custom shaped hole in photo shots are going to get sink as well as any patterns contours have to do with the layer style dialog box you get when you're creating drop shadows of stuff, you can select different contours to make the drop. Shadows look different in any of your tool presets. So let's say, for example, you use the crop tool a whole lot and you've saved some custom crop presets. Then if you have tool presets turned on than any of those custom settings for the tools themselves are gonna swim upstream to the cloud as well. So as soon as you get that set up, and this is also a great place to see when you're last sink waas quite a while back, apparently, go ahead and click. OK, And you do need an Internet connection to sink your settings like this. So once you get him set up, you can sink them in a couple of different ways. You can try it back up to the Photoshopped menu and you'll see your adobe. I d right there. And you can choose sync settings now or, if you choose manage sync settings that opens up that preferences dialog that we just looked at so we could sink our settings now using that button right there Or if I have a document open and honest open one of the last ones that I did our Karen original here. If you squint your eyes and you get really close to your screen, you're going to see the world's most microscopic button at the bottom left of the status bar. When you have an open document, you're not going to see this unless you have a picture open or a new document, you know, blank screen. But this little guy right here looks like a gear sprocket with two arrows that will also sink your your settings and looking here, this other button share on the hands. How we're gonna be uploading some of our final to share on be hands. But it's built in right there in photo shop as well as illustrator and light room. Why is it built into Photoshopped Illustrator and light room? Well, light room You are massaging your images and you can create color effects. And we also saw yesterday how we could bring in, you know, P s DS. So that's why we have an easy path to be Hansen light room because you're creating things there that you would, you know, ideally upload in Photoshopped. Photo shop is also where we create art, you know, So that's why we have a but in there and illustrator is the other program where we would be creating new art. Makes sense to have it there doesn't make as much sense toe have this kind of thing in in design because in design is page layout program, but we'll be covering a lot more that tomorrow. Is Is there a way toe set up years things that automatically does it? Because I would do the same thing where I forgot to sink for a year and then I lost all my stuff's there. Wait, oh, studded up. So it automatically thinks for you without you having to remember. That's a great question, but unfortunately I don't think so. But, you know, way will likely see some things change with our ability to interact with the cloud. I mean, this is really what, the second year, maybe, of having the cloud. So don't be still working some things out, the song new. So maybe we'll get something like that in the future, you know? So that's also how you can sink your your settings down there. Any questions on thinking settings? Pretty easy again. You can't do that with light room, but what you can do is come up to the cloud and let's see. There we are. If you click files and you click open folder that's gonna open a creative Cloud folder on your hard drive, and you could just drag your light room presets over that. We did. We did that yesterday. So there's on my light room presets. And then if you needed to access those another machine, you would log in, log out of. You know whomever's account is logged in at the moment and I'll show you how to do that. So you're going to go to the help menu, and this is where you can sign out. It's not over here like it should be, is over. Yeah, And in Texas, that is a word. It's build h Y eight. Get over here. That's actually a good point because Diane Longer and wondered where her settings went. Teoh. When she downloaded the creative cloud, she lost all the presets, plug ins, actions, brushes. Where did they go? Maybe they need to just log in. Yeah, that's exactly where they are. Yeah, great questioning you. How's your so good? So go to the help menu. This is where you can sign out so you'd sign out, and then you go right back to the help menu and signed back in. So that's how you can access that stuff. And when you do that as soon as you sign in, then you'll need to sink your settings. And that's when the ones from the cloud we pulled down at they may have just automatically appear, you know, within the program. All right. And the next thing we're gonna do is I'm gonna spend just a few moments talking about the superpowers of Bridge because you also get bruised with a Photoshopped photography program and it is quite powerful. It is a completely different entity from light room. And that crazy. This is kind of crazy stuff my husband and I due when we're out having fun, we get Star Trek conventions and we dress up. It's a lot of fun. So bridge is really a browser. So what I use bridge for because you'll know now that I'm a light room girl, is I use a fair amount of stock imagery in my designs and in my projects that I teach for classes. And also I used to be that I stopped photo chief evangelist for almost seven years, and that was a really great gig. So I keep all the stock imagery that I download because the great thing about royalty free stock imagery is that you can use it on multiple projects. You don't have to pay a per usage fee. It's one price typically pretty affordable. I'm using more fa Tolia thes days, and I am. I stopped photo because I stocks. Prices kind of went through the roof, so I'm digging for Tolia quite a bit, but you can use it as long as it's in a promotional usage. So promoting you, your service, your company, your product, your new record, your event, what have you. Then you can use it again and again under the royalty free license. So I keep all of my stock imagery around. So bridge being a fantastic file browsing utility. It's not a database. It does not create records. You do not import photos into bridge, though you can use it to import photos. It's got a and feature that you can use to get photos off of your camera or memory car, but but you're just importing them to your hard drive. You're not importing them into bridge. Really. The only program that works like that is I photo I photo squirrels, all your files away. So you really are importing it into the IPhone around. But not so with bridge or light room. So bridge has this wonderful ability to show you all these nice thumbnails previews of all of your images. As you can see here, I'm even seeing previews of illustrations. So if you're finder, let's say on your Mac. Or, you know, the Explorer on Windows doesn't show you these nice fund nails than then use bridge. It's fantastic. It is a separate download now that we're in the creative cloud. It used to just get installed alongside a photo shop. Doesn't anymore, so you'll have to download it from the cloud. And the way you do that is click the cloud icon. Go over to the apse button and you'll see bridge right here. So make sure to download that. So it's just a great way for me to find files visually like if I'm hunting for, let's say, a texture that I want to use in a design or or, you know, I want to use a top of photo to make it look old. Then I could come appear to my search box, and I might type in texture in a press return. And now what bridges done is let me tunnel into the metadata in these files. So stock imagery has quite a bit of keywords associated with it. So that's what this is doing right here is searching the metadata of the currently active folder that I clicked on so you can see your your directory structure over here if you click the folders tab, I've got several folders in the favorites panel right here just to give me quicker access to those files. But as you can see, it works pretty well. So this photo right here might be the exact texture that I'm looking for. I can press the space bar to go full screen to check it out. So I like using bridge when I'm hunting for imagery. It's easier for me to find the image I want then using my Mac's finder. So that might be a great use for bridge for you. Incidentally, you'll see here that, uh, let me turn this off. Here we go. Do that one more time. So what's happening here? You see this little, uh, don't sign or cancel search. It's really looking inside of the folders to you and showing me what? That inside of those folders which is anything. So I go and turn off that search. Come back over here to stock art, and at this point, since I'm not doing a search, it's not digging into those folders and showing me the art. But if I want to see all the art that's in this folder, including everything that's in the sub folders, then here's a great little trick for you. Click the little triangle next to or greater than sign rather next to the folder that you're looking at and choose. Show items from sub folders soon as you do that. Now why you'll still see the folders you're seeing the icons of everything inside of those folders or the previews of it. Rather as well. It does take bridge a little bit to draw these previews. Just keep an eye appealed at the bottom, left your screen. Here you see that circle that's turning its microscopic, but it is actually turning bridges building the thumbnail previews that, and it only has to do that one time. But the first time you go into a folder and you do that that trick that I just showed you, which Adobe calls folder cruising okay, then don't be surprised if it takes a few seconds for all those previews to show up because it has to build them. So that's a really neat thing in bridge. So that's one way to use bridge. Bridge is also a fantastic batch processing tool. You can get to that same image, uh, script that we just use for the action inside of Bridge. So the batch processing stuff lives under the tools menu, so become done here to photo shop. You see all the different things that you can trigger from within Photoshopped. So here's a batch processing tool. We can use that to rename your files. You can make a contact sheet and what's a contact sheet? It's just Were you getting up a whole slew of thumbnails on a sheet, probably for client proofs. There's that image processor script that we just looked at in Photoshop. You can access it right here in bridge as well as the lens correction filter. You can load files into Photoshopped layers that would do the same. Thing is when we were in light ring yesterday, where we selected a couple of files and light room and we said load as layers over in photo shops. It would take those files up and open them and copy and paste them and put them into a single Photoshopped document. For you. That's a handy thing to do. If you're gonna do a composite or create a collage, make Photoshopped do as much of the work as it can. Before you get in there and start playing around with your files. You can merged HDR Pro. What does that mean? Well, if you've set up bracketing on your camera where it's taking one picture at a let's say, uh F stop below in the F stop above. Then you can combine those exposures into the theoretically one one perfect or very surreal exposure. You can trigger that dialogue box right here. Ah, photo emerges Great for creating Panorama, Zittel stitch photos together and all kinds of neat things. So bridge is pretty amazing. And let me show you one more thing that we'll hop out of bridge. So we're gonna come to my pictures folder and look at this madness. Look at this man is this is Russell Brown. So right after photo shot week, we all went to Boulder and Russell did Hiss Adam conference And this was how he trotted round at the Adam Conference. So he was like some Japanese demon. I think that's what that was So crazy stuff. So let's go find the folder full of images. And what I want to do is briefly show you how to access camera raw from inside a bridge and then take those adjustments that we make on one photo and copy and paste them two other photos using bridge. So you can't do that in photo shop, but you can do it in bridge. So let's go find this Orchid Show folder. I love orchids. Anybody else left some orchids around here? I love working. OK, so let's say that I want Teoh edit one of these guys, So I'm gonna go ahead and let's just edit this guy right here, so I'm gonna double click it and because it's a raw image bridge automatically opens up the camera raw plug in. So I'm just gonna make a few changes here. I'm gonna bump up the clarity so it looks like we've got something really surreal here, and I'm gonna drop the vibrance a little bit and maybe bump up the contrast. Something that's noticeable. Let's call that good. I ain't looks like a spaceship. So now I'm gonna click Done because I've finished editing this image Click done back in bridge. I see my changes appear. See how they just showed up? Will If I right click that fun nail and I go down to develop settings There's my copy settings so I could copy the settings And now I can come over here and click toe. Activate one photo and shift click to activate a range right click again She's developed settings, paste settings. Camera is gonna ask what setting? So I want to paste. I'm gonna say Let it roll with all of them Click OK And within a couple of seconds all of those photos update with those same changes. So that's handy. So you can kind of think of light room as bridge plus camera raw, plus a whole bunch of other super awesome stuff. So that's a little bit about bridge. Any questions on the bridge? Guess ring. It was a still raw files. Oh, you have to save them in order to maintain those changes. No, that's the beauty of it. So adobe camera, raw tux, all the edit requests in the metadata of the file. So you don't have to save it. So those changes will stay until I change them. Yeah, which is really neat. Yes, ma'am. Even if you open a J peg with camera who then make those? Yeah, you absolutely can. Great question. You can open a J peg with camera raw. You can't double click it. Open it because the file extension for the shop's gonna go. Oh, that's my kind of Also, I'm gonna grab that. So But what you can do is I don't think I've got a j pig in here, but you could right click the J Peg thumbnail Enbridge and say open with camera raw and then opened that way. The only thing you won't have ability to do over there with the J peg is change the white balance with those presets that you've got in camera. But you could still set a custom white balance like we did yesterday. We like room. Yeah. And incidentally, everything you learned in light room yesterday translates Teoh Camera raw is exactly the same. It is the same engine that mean that the develop module of light room is camera raw just with a different coat of paint on it. Really? Yes, sir. Uh, now there's a little icon that shows above your thumbnail there that shows that you've got adobe camera raw, um, settings on that thumbnail or that image If you wanted to go back and make it the original. Oh, that's a fun show that that's a phone. And it's hard to do. You want to see how to do it. Okay, so any time you make a change using camera raw two a photo Enbridge, you get that little little circle with too little triangles on their late, you know? Hey, I've been messed with in camera, so let's go ahead and double click one of those photos to open it back up in camera raw. The way to revert to your original is tucked inside of the basic panel, and I'm on The basic panel causes these air your little panels right here. So you click the little buttons and the panel changes. So in the basic panel, you want to click the microscopic fly out menu, and you're gonna choose camera raw defaults and that takes you right back to the original. It's weird and it's un intuitive, but that is how it works. So now if we click done and go back to bridge, then that photo goes back to its original. But the others are not automatically effective because there's not any real sinking going on to that. We just did a copy and paste. So it is good to know. One more thing that I want to show you on Bridge is that talking about its file preview superpowers is that you can view pdf's without opening them. You can view movies without opening them, so let's take a look at a honkin big PdF. So I'm not gonna open it. So this is my Photoshopped book. So I'm just gonna drag this panel out so I can see the preview a little bit larger. And if you look underneath that preview, look, I've got next and back buttons. I can go through that pdf, and it's gonna take a second to catch up with me. I can march through that whole dad gum look at that 928 page photo shop, but I always tell people, Not only would that but teach you everything you need to know about the program. But it's heavy enough and thick, and if you can use it as a weapon, you can use it as a flower. Press the door stop. It's very, very useful. So the ability to peek inside of files without taking the time to open them is a bit of the time saver. So that's one of bridges superpowers. And again, if we navigate to a movie, we would be able to play the movie in that Previ areas. Well, just be cognisant that you can change the size of these panels by pointing your cursor at any of these dividing lines. And when your cursor turns into a double sided arrow, then you can click and drag to make that paint a larger or smaller. So that's a handy thing. If you're a designer, this is really handy, cause you may not know which document you need to open to do what with that, you can take a peek at a mall here in bridge without having open Um, okay, that's all on bridge, at least. So do we have time for one more General Bridge question. You bet I feel like this is brought up by C. J D photo, but I think a lot of other people may be wondering, as we've been talking about, it's all about learning new uses for the software. So C. J D Photo says, I'm already a heavy light room user for a lot of what bridge does. Is there a reason to use bridge? I've always thought of Bridge as being for people who don't use light room to get a lot of these features. Should I reconsider? That's a wonderful question. The answer is no. If you're using light room, you would Onley be using bridge for the file browsing, searching aspect of it peeking inside of files. You would not be accessing camera raw inside of it or doing any of those copy and paste develop settings like we did. That's a great question. Yeah, light room is superior, so light room is really bridge plus camera raw plus a whole bunch of other stuff. So but what I've showed you here in so far as file browsing and searching is still a great reason tohave bridge installed on your machine. Because in my personal opinion, I think it's way easier to find specific files using bridge than it is the finder on My Mac, and I think you'll likely feel the same way.
Class Description
Adobe Creative Cloud is an essential toolkit for photographers — but navigating its many programs can be overwhelming. Join best-selling author Lesa Snider for a comprehensive course on how to harness the power of Creative Cloud to build a thriving photography business.
Lesa will show you how to grow your photography business with Creative Cloud's suite of applications. You'll learn how to build promotional materials, how to create and customize a professional-grade portfolio website with Behance, add compelling elements like slideshows, audio, and video, and display your portfolio on any mobile device — even in printed book form. You'll also learn how to use Photoshop to create a professional and engaging video portfolio to showcase on your website, iPad, Behance, or burn onto DVD.
Lesa will also cover how to use Kuler to grab a color palette from a favorite image for use on your website or promotional materials, as well as how to use familiar drag-and-drop tools in Adobe Muse. By the end of this course, you will be able to create a full-blown website worthy of your work, with light boxes and slideshows to showcase your portfolio, and contact forms to gather leads.
Software Used: Adobe Creative Cloud 2014 

Reviews
I have watched the day one and part of the day two classes -- this class is chock full of creative ways to use the cloud to expand your business -- and to help photographers help their clients get more for their money as well as save money in creating beautiful marketing tools. I had been so confused over the lightroom/photoshop thing, and Lesa makes it so easy to understand how to use each program for their strengths or super powers -- so I'm ready to power up my photography business !
Lesa makes learning easy! Thank you Lesa!