Creative Cloud Essentials
Video in Premier & Intro to Muse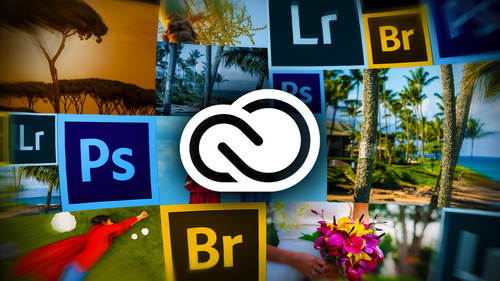 Creative Cloud Essentials
Video in Premier & Intro to Muse
Lesson Info
Video in Premier & Intro to Muse
The next thing we want to look at is using Premiere Pro to stabilize our video. So let's take a look at a couple of pieces of footage that I have for you here. I'm gonna open them up in quick time, player, and I've got the stabilized version in a non stabilized version. So here's the non stabilized version. This is one of those GoPro, um, cameras on top of a helicopter situation and sand in San Diego on Coronado Beach. I think corn on a beach so you can see it's pretty jerky, right? Who? The only thing when you stabilize video like this in Premiere Pro. Is there some cropping that happens, just like when you stitch a panorama together in order for the program toe to match up all the pieces and parts. Then things were moved around a little bit, and you'll lose some areas around, you know, mainly the top or the bottom. That's gonna happen with us with this image stabilization to. But if it's crucial video, it may not be, you know that may not be a deal breaker for you. So now let's take ...
a look at the version that we can create from premier pro notice. We've got quite a bit cropped out of the bat, but look how stable that is compared to the other one. That was just, you know, jittering all over the place. But we did lose some of the picture at the top, but look how smooth it is. It's not perfect, but it's noticeably better than it was before. So let's take a peek at how to do that. In Premiere, we enclose if all that stuff So I've got Premier Open. So I'm just going to click and drag my non stabilized video. Actually, I can't do it that way. I have to create any project and for mirror. There we go. So here's premier. Pretty scary, huh? So I've got a new project here. You can just say file. New project. Given the name. If you want, we can call this stabilization stabilizing test Click. OK, so there's are you talking interface? I told you, What quadrant do you want to focus on in this class today? It's really incredible. So now let's just drag the clip into this clip section right here, so I'll rearrange my windows a little bit. Here's the non stabilized video is gonna click and drag it into that first section, and pretty soon here we go. Now we've got our video in Premiere. The next thing you want to do is click and drag the video from this clip section into the actual timeline. So this timeline down here is like the timeline that we used in photo shop to build our video portfolios yesterday, except for it's got a 1,000,000 more superpowers and Photoshopped does. So let's go ahead and click and drag that video down here. And when you do, it shows up in this area the top prize. So it's kind of like the original clip over here. And here's the one that you're editing. There it is. It's under distort the There you go. I just have to know where it is. Their brilliant John Marie Uh, yeah. So that's the thing about these programs. Boy, Howdy. If you don't use them every day, I mean, look how many presets there are in this thing and there's presets inside of presets inside of presets. So it's easy to forget where the heck that one command is that you use once every three months. So thank goodness you've got a little search field up there. So what we're looking for is a stabilizer. So just type in S t a B stab. Stab me because I'm in premiere pro, right in its in video effects distort. And what you're gonna do all of these effects over here, you just click and drag them on top of the clip. Now, we're not going to sit here and wait for this to happen, but I've shown you the difference between the non stabilized video in the stabilize video. So this is gonna take a little while, even if it's a short clip. So once you once you finish, then you would, of course, a file export. And if this were really finished, we would get options over here. They wouldn't all be great out. So you would just save It is a movie that you could export right into photo shop. So that's one practical usage of premier pro. And again, all we did was create file new project. We scooted our interface out of the way. We came over here to where footage. Liz, you're going to click and drag into this upper left quadrant of Premier Pro. Then you're going to click and drag the footage down into the timeline. Then you're going to come down here to the effects panel, type in stabilization, or just remember that it's in the video effects distort category and then click and drag that warp stabilizer over onto the footage, and then Premier Pro is gonna set about stabilizing your video. So that's pretty much all there is to. And that's all I'm willing to teach you on Premiere Pro. So in your exercise files, I've given you all my assets in that nice I gave you all my assets in the in the exercise files. So we're in the Mews folder and you've got an images folder, all of the graphics that you're going to see in the website that we're about to build or here for you to play with, including a couple of ah background patterns that you might play with in your in your own websites. They're royalty free, so feel free to use that. I also started the design of the site in photo shop, and I'm gonna show you in a minute how easy it is to mock up aside design and photo shop and bring that side design right and amuse. We don't have to save our graphics out from photo shop. We don't have to do any slicing, dicing, chopping or cutting of any time we can access our PSD right here from within News Weaken, turn layers off and on is unbelievably easy. Not as easy as a B Hansbrough site, but the next best thing. So let's take a look at what we're gonna build here, so you'll notice. So here's the website that we're gonna build and we are live on the Web right now. You'll notice that the Sorrell has the word business catalyst in it. That's the free Web hosting that you get with the full creative cloud subscriptions you get. Five. Uh, you can host five websites with business catalyst, but you're not stuck with having that kind of girl. You know, that would be a really terrible Uriel to have. This is a temporary your else really need that news. Let's you post your site on the Web and kind of like he can consider it a trial mode when you're ready to take it live when you're ready to hook it up to the actual domain in which you will use for this side. Then you can do so. But it's great that using business, callous, you can see what it's gonna look like on the Web and tested in different Web browsers. So this is what we're going to make. So in use, we're gonna make this nice tiled background pattern. We're actually gonna pop in the illustrator again ever so briefly to manage this tile background. And here's the logo from my Photoshopped file. This is HTML text that I added in use right here. All of the navigation and the rollovers that you're seeing take place were built by Muse. I brought these images in from Photoshopped. I added a stroke in Muse. I rounded the corners in Muse. I brought in these headers from photo shop and then I added this text separately. I added this pink bar at the bottom in Muse and the copyright information. And as you can see, I've really got sub navigation here and I didn't format the sub navigation buttons, but this is to showing you that, you know, muses happy to create sub navigation rollovers for you as well So it's doing all of the JavaScript, all of the CSS in the background. So let's go ahead and click on cost teams and I'll show you what else we're gonna make. So here is one of the many slideshow templates that are built into muse. So as we mouse over these pictures, see, I've said an off state and a rollover state see how they're there? They're about 50% opaque. Ah, when they're when I haven't pointed my cursor at them. And then when I world over the pictures, then they become it at 100% viewable. And if I click any of those images, this is a little widget that I used in used to make this. So this is called a lights out slide show. All of this came straight from use. You'll notice that I got captured and going on here. It's amused it all of this for us. I can click anywhere off the page, and I'm even giving you instructions right there. So this is similar to what we're going to create. So let's go ahead and pop open. Muse and I will show you one more slide show template that you can do. So we'll build all this from scratch. But I'm gonna click preview because we're going to use a different slideshow template. So here, medical it costumes. And here I did for method. But no. Now one what cost teams. And this is a different type of slideshow that you can create in use very, very easily. So for photographers, this might be a little bit more palatable for you. So as I roll over the images, they go to 100% in opacity setting. And as I click on each one that I see them large sighs over there on the right, and you just won't believe how easy this stuff is to set up. I can also use this included navigation underneath my slideshow to go back and forth between the images. And we've also got captioning going on There Got are saying little pink bar a footer down here. Muse calls this area of fitter and it calls this area up here a header. The area inside this white box right here and you can change this colors background. You can change the stroke option on that, but this is really considered the live A content area. But the neat thing about having this this page background and muse calls it a browser background because it fills your browser window. So if I switch back over here to Firefox, that's about as large as I could make my browser. But if I scooted over and I make it even wider, see how I've still got that background pattern? And if I scroll down my food or still goes all the way over to the edge? So that's why I'm used calls, this area, that browser background. But when we get in using build this side, you're going to see that Muse considers this area the live content part. Okay, so now let's come over to Muse. I'm gonna go ahead and close this site, and we're going to start over from scratch together. So the first step is obviously to download Muse. And again, you would do that by going to the creative cloud at and scrolling down till we get to the programs that aren't yet installed. And you're gonna be looking for this icon right here. Once you get it installed, launch it and then we're going to create a new site using our fun little Chihuahua pictures. I've gotten so much mileage out of that wall. Uh, okay, so here's the screen you see when you first open muse. So we are going to create a new site so we'll click new site. And there's all kinds of muse tutorials that are available on adobe dot com And you can have a direct path to these guys right here. So let's go ahead and click site. You says, Hey, I hear you want to build a site. What size would you like this site So you can inter specific page with in minimum height of the page if you want. Teoh these air standard numbers there in pixels so you might want to just roll with those to start. You can always customize that later, so let's go ahead and click, OK, and Muse opens up in plan mode. OK, these air amuses different modes, kind of like the different modes that light room has so in plan mode. This is where you create your page structure in its so easy you won't believe it. Use automatically gives you a home page. Nice. When you point your cursor at thes pages, you see these little plus signs that they let you add additional pages according to where you want them, so you can think of your website as a flow chart. So here's my home page. If I want to add another one, let's say I want to add costumes. I click the plus sign use gives me another page. Highlights the name, and I can call it cost. Seems if I want to add a sub page in that section, you know, for folks to drill down. Then I click the plus sign underneath that page. So let's say I want to have a special page for pet sitting hats. Click to add another page and we'll call this one location. Click to add another page, and we'll call this one about us. Whatever you want, as many pages as you want. This is how they're handled in that fantastic. Now let's say that you go dead government. I want my about us page, you know, next to my home page. Click and drag. Rearrange them once we build the navigation, and by navigation I mean these buttons right here. These buttons are being populated by that page structure. When she built the navigation. If you choose toe to rearrange the pages, the navigation rearranges itself to match. Can you even believe that the Web developers in the audience we went? Uh uh, it's unbelievable. So anything you want to do, drag and drop these pages around. If you decide who needs a hat page never deal, delete it. Your navigation updates itself pretty incredible. We'll go ahead and that back. We've also got a master page down here, which is something that in design is famous for. So because in design is the ultimate text handler in your dealing with lots of pages, you know you could, because in design is a special power of handling large documents. Well, you might have a different look for certain sections of that piece that you're creating, for example, or Photoshopped the Missing manual. We've got different formatting for the front matter of the book. Then we do from the actual page, you know, the actual content, but we've got another set of formatting rules for the table of contents. So when you set up a master page that allows you to set up that paint all the repeating elements on that page set him up in one place, and they populate all the other pages that are attached to that master page automatically. So what kinds of things would we put on our master page on a website? Well, the navigation, the header and the footer, perhaps the background pattern if we wanted to add one. So those would all be great candidates or adding to a master page, and that that this makes it efficient instead of if you decide, dead guy My, I want a different background. If you didn't have it set up on master pages, you'd have to go in and change that background on every single page of your site. It's a little bitty site that may not be the big deal, but even a side of small with this still be, you know, it take a little bit of time to go in there and do that, and you might position something a little bit of a different spot than you would. But if it's all in a master page, it said, so let's go ahead and double click to open our master page. Give it a second and it opens. So what we've got right here is this gray area that's our browser background. So that's the area that's going to show if people make their browser window really wide. This area within the white boxes are live content area or live page content. These little balloon handles up here allow you to adjust where the top of the page starts. Do you want to slide it down a little bit, you know, and have a lot of room for header with that nice background back there. So thes air. The things that Muse asked you about when you create your new site in the new site dialogue you can change, you know the size of the pages. But you can also change them, using these blue bars right here. Same thing at the footer. So when you point your cursor at these blue bars, mused tells you what they are, So this is the footer section. This last bar right here is the bottom of the page. If I want to have a lot of ah browser background beneath the bottom of that live content area, I can click and drag that down before, Right now it was, Leave it there
Class Description
Adobe Creative Cloud is an essential toolkit for photographers — but navigating its many programs can be overwhelming. Join best-selling author Lesa Snider for a comprehensive course on how to harness the power of Creative Cloud to build a thriving photography business.
Lesa will show you how to grow your photography business with Creative Cloud's suite of applications. You'll learn how to build promotional materials, how to create and customize a professional-grade portfolio website with Behance, add compelling elements like slideshows, audio, and video, and display your portfolio on any mobile device — even in printed book form. You'll also learn how to use Photoshop to create a professional and engaging video portfolio to showcase on your website, iPad, Behance, or burn onto DVD.
Lesa will also cover how to use Kuler to grab a color palette from a favorite image for use on your website or promotional materials, as well as how to use familiar drag-and-drop tools in Adobe Muse. By the end of this course, you will be able to create a full-blown website worthy of your work, with light boxes and slideshows to showcase your portfolio, and contact forms to gather leads.
Software Used: Adobe Creative Cloud 2014 

Reviews
I have watched the day one and part of the day two classes -- this class is chock full of creative ways to use the cloud to expand your business -- and to help photographers help their clients get more for their money as well as save money in creating beautiful marketing tools. I had been so confused over the lightroom/photoshop thing, and Lesa makes it so easy to understand how to use each program for their strengths or super powers -- so I'm ready to power up my photography business !
Lesa makes learning easy! Thank you Lesa!