Gear and Accessories
Jack Davis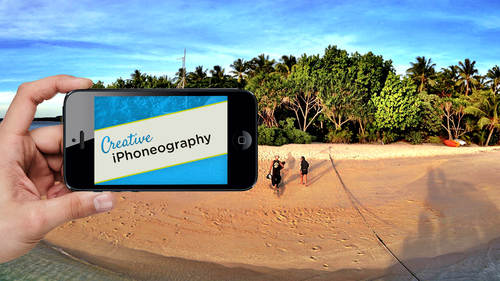 Gear and Accessories
Jack Davis
Lesson Info
5. Gear and Accessories
Lesson Info
Gear and Accessories
but we won't be cooking today, but we are kind of cooking. But I want to start off with one thing. We're gonna be talking about hardware stuff that you can use to extend, especially the shooting capabilities of the IPhone or any mobile device. But the one I thought I would start off with and I'm gonna come over here This is gonna be so fun. I don't get to walk around with you guys. Is this right? Here is and you guys actually get to be on camera. Is that Emily actually seeing? Yeah, what this is and I've rotated it this way. Is what I mentioned before is that since all these cameras including this new little GoPro hero three black is WiFi enabled, it sends out its own WiFi signal. You can actually control it from a mobile device. And that includes up here. We've got my Nikon 7100 which is also could be controlled by it. And the nice thing is that when it captures it, it can actually capture the video. I'm straight to the device, in this case, an IPhone. So even though we're doing this ...
here, we won't show you the other things in here, but you can't see the WiFi single it uses. It is a WiFi hub in and of itself. This is the GoPro. I'll turn that off. And, um, just like a Nikon O r Kannan or ah, pocket camera that is now WiFi enabled. You're going to be able to control those devices and actually send images directly to your device from that on. Because of that, I'm not going to do the Nikon now, but it's the same sort of thing. The nice thing is that you actually get the images directly on, um, your advice much like shooting tethered in a studio, which we've been doing with our pro cameras for a long time. So now I'm gonna switch back over to our other WiFi station, the one that's being used here, And what that's going to allow me to dio is who are taking advantage of new capability of the Mac IOS six. The fact that what's known as airplay can be used to mirror everything on the phone. Now, just certain APS It used to be in the past that you could only do certain video APs or things like that would allow you to project. In this case, we can take advantage of the fact that the WiFi signal in here is letting the mirror my entire device and how I got to that is, here I am in my very messy desktop on my IPhone. When you double click the home screen and then go to your left. You know that's your typical controls for where you control your music and things like that. Go one more time. This is where that little button in the lower right hand corner of air share comes into play. So that means anything on your mobile device. And we're now we're Android probably has something similar to it, maybe not would show up on another pair play enabled device, specifically an Apple TV, by the way, not a sales pitch. Rampal TV. But it's the best 99 bucks you'll ever buy. No is in the world not to get an Apple TV. It's the best way you'll ever see your images share everything through your flat screen TV. It's gorgeous. It has all your movies, your music slide shows. It's just it's awesome. But what Apple has done to get beautiful imagery through to a TV set is fantastic. So, as an example, if you have an apple TV, which is what we have here, um, you can do this this mirroring of your device so you can see exactly what I'm gonna be seeing, including when we talk about shooting, which is what we're talking about now, Um, as an aside, I'll also mention that obviously, this is incredibly cool for all of you teachers out there because it means that anything that you have accessible via an app, any teaching science, you know, literature, art, history, anything that you can have out of the 10 zillion mobile APs can be instantly shared in your entire classroom. So this is huge from a teacher educational standpoint, let alone what we're gonna be doing today, which is gonna be very cool. But it's also the entire idea that everything that's on a mobile device, including your ITunes university you all know about ITunes University. Apple has partnered with a ton of major Ivy League schools around the country so you can take classes from Princeton and Berkeley and everything like that, including the syllabus and even the test. Now they're putting the test on it. You don't get it for credit, but everybody on the planet can take Berkeley classes. That's fantastic. And that you can see it on a big screen TV. Um, so anyway, enough of that. Shots, keys. Let's go back. Teoh this scenario here, back to their table. I mentioned off, and I'm gonna turn that off because I'm not gonna be shooting that for now. I mentioned that this is your new camera bag. A fanny pack, those of us watching in Australia. I'm sorry that I'm calling it a fanny pack, but that's what we call it here. I know you call it a bum bag and deeply offended that we're going at a fanny pack. His family means something very different down under, but we'll call it a bum bag just for you guys here. Okay, so for your bum bag, I'm gonna pull out some things just to show you the idea that you're no longer going to be having your, um you're no longer gonna be breaking your back with a camera bag that has all your crip mint catcher disposal. What you feel like doing that magic trick with the arm goes down and you go like this and you pull out a cow or something. Okay on. And we need some more lenses. We need a digital camera kit we need I think that's more than enough here and here. Okay, I think that will do it. What are some of the things that I have here? One of this sitting off to the side? Okay, so some of the things in terms of this IPhone, um, Chomsky's as I called him the one of the three. The things that's been out for a long time are the older clip. How can you extend the capabilities of the limited lens? We don't have zoom as photographers were used to having zoom lenses and being able to change our field of view with said lenses. Over clip is some of the best ones out there. There are other cheap plastic ones. You go on eBay and you can find knockoffs of these. But Olo clip is very nice, especially their new one, which is just out, which is there to x, um, converter, as it were. So this is the first time that you've had telephoto capabilities with a decent piece of glass in an affordable way, and it comes on the other side with a circular polarizer lens that is variable in terms of being able to change it. So if you've worked with a polarizer, especially a circular polarizer, the very cool you can even take off the polarizer and put it with the two X converter as well. Um, and it also has a converter so you can actually use it with your old olo clip. And, of course, if you're not familiar with the older clip, it comes with a fish eye lens. It comes with a wide angle lens, and it comes with a macro lens by unscrewing the wide angle and it becomes a basically one centimeter macro, which will shoot within a minute. But it's extremely cool. The older clip is very, very cool. Do get it one for the size of your device. This one is for a four, and the five is a dinner case, so we'll actually have to Jerry rig it to work with my five. But you can actually use the circular. Polarizer does come with an adapter, so if you have a older one, you can buy this and use the polarizer on your older one. So those are a few things related to lenses. There are some other lenders. There's other lens manufacturers that are selling adapters for the IPhone. Um, um, you're looking for obviously true optical glass and multi element glass, if you can. One of the ones that's out there, which I should have, which I bought just because I thought it was ridiculous that the party favor is basically a 300 millimeter telephoto that you can buy for the IPhone. And what you do is you buy that and then throw away the lens and it gives you a nice little tripod. You know that comes with it. So this is the Tripod mount that I use from that ridiculous 300 millimeter lens, which is only good for trying to pick up a date at a really geeky IPhone bar is by whipping out your 300 millimeter um, telephoto glass and trying to impress somebody so tripod and there's a number of different tripods out there. I like this one. There are some other ones out there that are nice. There's one that folds up, is basically the size of key chain and I'll try and get the name for that one. I think that's actually on the list. That's on my Facebook fan page. Remind me, and I'll give you that address that will give you a list of some of these chunks chut skis and where you can get them when the main ones that I like, um, when we get past lenses and how we shoot and specifically that now we're gonna have macro wide angle fisheye and now two x converter. Actually, we do one other thing where we get to that we are going to shoot with it. The other great thing about the olo clip or any time that you have a fish eye which will also going to get on this waterproof case, is, um anytime you shoot video, by definition, when you shoot video, you're taking an eight megapixel arm or censor. You're only gonna use the two megapixel interior sensor this 10 80 p sensor 10 80 by 9 So we're awfully a two megapixel file, so it uses the center portion of it so it crops into the sensor, which means that also crops into the image which means you end up with a little bit of a telephoto when you shoot video. You've probably noticed that. So what was this field of you all of a sudden becomes this field of view as soon as you're shooting video. But you may go, but I want this field of view. Is your that whiner that we told about earlier? We don't like that. So using the wide angle olo clip takes you back to a traditional field of you that you would get something that's more natural and would allow you to capture more traditional scene. So even if you not overly excited about the macro, the fish, I just having at your disposal the wide angle lens so that when you shoot video with your IPhone or any kind of mobile device, it'll work. So that's another reason for the lenses lenses. The other thing that I think is indispensable for, um, any mobile device user, android or apple or otherwise take off for a little backing. Here is a better case, because how many of you think that you have plenty of battery life on your device? Not one person on the planet holds that opinion So that means that you will need extra power, especially if you're shooting because you love what you're doing. I mean, this is this is one of the main passions in life. It's one of most frustration, frustrating things in the world to go. So this was one of my favorites here. And this is the I bets case the mojo. I bet I b a t t z. The reason why I like this case here is because of this and this the android. Some of the android phones have this, which makes them cool and groovy er up until now. And this is a removable battery. Okay, so not only has a 22 100 mil amp. Capacity on it, so that's cool. But the fact that you have, um, this so you can swap it out without swapping out a case or something else is fantastic. As we all know, you have to tell you you immediately. Everybody in the studio audience goes, OK, I got it. It's a move. Better case. The other cool thing about this is one that comes with a charger so you can charge all these when you're not shooting, comes with two batteries. You can always be charging one while you're shooting with another. You always have an extra one in your pocket. Cool. You go on eBay and this is something that I do like going on eBay. I bought an extra charger and pre extra batteries delivered for 10 bucks. These are the same batteries that you would get for a Samsung or anything else. These are a standard universal battery that you can get for dirt Cheap. The three for 10 bucks? Or is it is good as this battery? No, But again, since you can literally, you could be out shooting in the field for a month and never have to worry about charging because you literally have these in your pocket. Be responsible recycling these, but they are awesome. So the fact that you have now unlimited capacity in your pocket is, for me the greatest invention since sliced bread. Okay, so that is the I bats case. Mojo. Replaceable. It's nice that sexy comes in silver or red. You get both when you buy. So, um anyway, so that's battery case. You also I would probably recommend getting some sort of external battery case. This is one of the morphy ones. There's a 1,000,000 cases that allow you to have an external power source. The nice thing about that, because it's USB, it's not specific to a specific device like an IPad. Like last night this morning, I almost had a heart attack because my charger did not charge my IPad. Well, this afternoon, we're gonna be dealing with the IPad. And since I'm projecting that image, I can't charge at the same time, I'm projecting it. So if I had no ipad charged, we would all have a very short afternoon. You have my IPhone here, but I'm primarily gonna teach with the IPad. Anyway, this just says that you can charge any device that you want from it. So these external battery packs are great, especially if you get something like this with the I bats case. When you get that, you actually come up. You actually get one of these. Obviously, you got 10 billion cables now for everything. So the I bats came out with a cool thing. It's got the pin on there, and then you pull it out and there's a mini USB cool pulled this out and It's the micro USB. So in one fell swoop, you have all three in one. I like it. It's a little bit flimsy, and those things can come out. So I found another one. Aren't even. This one is so cheap. It don't think it has a name on it. I found this at a hardware store, so it's the exact same thing, said the three connectors, micro mini and 30 pin. There's no moving parts to it, so I like this one that you can look for it. No, I don't have a name for it because there is no name on it. It's some Chinese manufacturer, but something like it. So I like that. Especially if you get one of these because this is Apple's lightning, um, micro USB two lightning adapter, which goes on to one of these. And so now I've got four different, virtually every single thing at my disposal. That's with me 24 7 So I can always charge anything. Okay, I really should be selling something up here because I really should be, you know, saying you know, how much would you pay for this now if I throw this all in here now, and it makes smoothies and ice cream. You don't get the laugh from virtual audience. Okay, Thank you. I appreciate that. Okay, so batteries for it cases, a few other cases we talked about the battery case. This is the life proof nudes cases is a waterproof or basically indestructible case. The reason why I like this one for shooting the surf or shooting snow or taking anywhere is one. It's indestructible. It's a really great polycarbonate case, but they've come up with a way to not have it sealed. Meaning there is no front toe, a waterproof case, no meaning the gas get actually seals to the front of the phone. So there's nothing when you touch it. You're not touching through plastic to get to the phone. It's fully waterproof, and the ocean actually touches your screen, which is fine because it's a wonderful piece of, you know, glass. So this is the nudes. I think they that's pronounced. I don't know how a new DZ I think is, but it's a life proof case. There's a bunch of waterproof cases. I like it. It's great. I use it, Um, stops time. Tell your friends name that a TV show Freeze Ray stops time. Tell your friends that's gonna be one of the questions. Somebody in the studio audience. What TV show is that? A quote from Freeze Ray stops time. Tell your friends it was from a blawg. I'll give you a tip. It was from a block. I'm gonna say it's gotta be just Sweden. It's just waiting with you, Jack. But you have to say the name of it. We know it's justice because it's cool. So by definition, if it has to be, what is that? A reference to and it is from a blawg. There's your tip. If you can't get it now, you shouldn't be in the audience, okay? And another waterproof case, which I like. This is the op tricks. Okay, Op tricks. Carol Merrill. The thing that I like about the op tricks and in addition to it being basically an extreme sports case, um, it's very easy to get in and out. You don't have to do a whole lot with the building gaskets. It comes with a little liner for it, but because they knew is primarily going to be for video stream sports video is it has the built in wide angle lens adapter to it. Exactly. This is a fisheye so much like a GoPro. This basically turns your IPhone into a GoPro esque camera so it's waterproof. You can see the brackets, you can put it on your helmet. You can do whatever you want with it, and that takes your field of view back to what would be a traditional super wide angle. So this is the op tricks. Excuse me, O P T R I X op tricks case. I'll take this in a swimming pool or surfing or whatever else like that. You know, almost all the waterproof cases are going to be limited to somewhere between five and 15 feet. None of them are going to go down to a full atmosphere what's known as an atmosphere in terms of diving. So you wouldn't use any of waterproof cases for diving per se, even though some of them may now be rated to Anat Mus. Fear or below. That's where the GoPro comes in handy. When the go pro, you should be getting a go pro. If you're an IPhone freak, you should be a GoPro freak because the GoPro again is wireless in terms of its control, but it's 12 megapixels. It's 60 frames a second as a burst mode of 30 frames in one second, so I use it for shooting waves. Those little short break waves so I can shoot a shot. 30 frames full resolution megapixels will shoot two frames a second in a time lapse mode. Two frames a second and they will shoot 2 to 4000 shots continuously. So I just put on the nose of my board and shoot. So they're really fun. They're indestructible. These will go down to 10 million feet underwater. Yeah, trust me. So they are great. And what a lot of people are doing is that they're putting these just sticking it via bracket on the bottom of their DSLR when they're shooting scoop of photography, which is another class we have coming up in December and underwater photography class here. A creative life, Yes, but you just mounted Leave it on and shoot high def video while you're using your DSL offer all your still stuff and again with the whales and hunger the whales down in the Caribbean. I was using a GoPro consistently. Okay, There's a couple things related to cases. A couple things related to batteries. Um, mentioned the tripod. There's a bunch of other little tripod mounts because we do have, you know, android and every other thing you want to do. Obviously, this one could be used for the GoPro. There are other clips again, Like this one. I can remember. This is another no name one that actually has an IPOD bracket Mount on it for using any mobile device. Um, let's go to these. There's a bunch of these. I've got one in the studio that we're gonna be using all day, and that's this idea of a stylist, a one that is conductive. Taking the basically the electricity from your hand and moving it down the stylist to the screen sort registers that touch. You know, these air capacitive, um, devices. There's a bunch of them out there. The one I'm gonna be using in class is from welcome what they call their bamboo stylist. It's not associated with the tablet. Welcome. Does have a pressure sensitive tablet that uses Bluetooth as Pogo does. There's a few out there right now, so both of those air great. I normally would have one of those with me, but I don't have it at the moment. But the bamboo one is a great overall stylist. This if you really want a nice high class one, it's called Simple Pen. This was a Kickstarter won the simple pin one. It's just it's just very nicely done in terms of how it's generated. It's a regular pan and a very nice status. Tripathi End This one is one of my favorites actually Love this When we get into it, it's the sense to S E N S U. And it's beautiful. It's elegant. It's a traditional one. But what's cool about this one is that it flips over, and it's actually is a traditional brush pen that is conductive. So you were actually are using a true brush to paint with. Does it change? The Howard actually interacts with screen? Not really, because it still basically a single point touch. Does it change how you interact with the screen by laying down a brushstroke? Yes, obviously it's different putting, you know, drawing with a piece of rubber tipped versus a brush. So if you do a lot of painting or sketching. You may want to look at this one. The sin su. It's really, really nice. I like it. And, um, so anyway, and it has both the brush tip and the rubber tip. You can't have too many of these. I've got it in the other room. Remind me this is the standard apple one. But from even at Costco, they have a wall plate that replaces a traditional wall plate that has multiple US bees as well as a traditional grounded plug. And it comes with a small round one that has to us bees. The nice thing about those is that they have different, um, em fridges. The IPad uses once twice the amount of power as a traditional IPhone. This sort of charge you would not use for an IPad would take too long. The nice thing about that one and I'll show it to you from Costco is because it has a two mil amp a swell as a 20.5 mil AMP. Option to it. It just charges your phone or your IPad really fast. You know, the IPad takes a long time to trust, no matter what, But if you use the two mil amp on your IPhone in charge twice as fast, and I travel with it. So it's just a little bit bigger than this, and it has to ones and their high, um, high amperage. Okay, this year. Camera Kinect camera connector kit. This is also from Apple. Right now, this only works with the IPad, not the IPhone, which is a shame. But basically it's an SD card reader and plugs into your IPad, and that will suck anything from an SD card on to your device. It comes when you get the apple connector. Kid has their standard USB one as well as the 30 pin one, the U. S. B. One. A lot of times that won't work because it will stay. There's not enough power. Uh, USB reader needs a little bit about of power. And so sometimes, you know, like a compact flash card reader. Theoretically, the USB version of this would allow you to take your compact flash cards and put it into your IPad. I've had limited variable like success with this, but this is actually a nice is that most of the world of switching over to SD cards. This would let you suck anything down from your pocket cameras or SLRs right into your IPad, and you can select which images to import import all. Like I said, I actually even know I'm shooting with a big boy camera when I'm in the field that proverbial tweaking images in bed. I like tweaking at least some of them representational ones on the IPad. So the did the apple camera connector kit, I think, is really cool, and that's the size of it. And last but not least, we said that when you carry your IPhone, not only do you have your IPhone, but you have your entire digital dark room. You have your Internet connection. You have your word processor, you have everything else in the world. And, of course, with these you also have your cash register. These are both free if you contact the company's. This is PayPal's reader, and this is the Square reader. You know, if you guys haven't figured out how to make money with your IPhone or sell devices, sell things products, have your friends pay for their beer that you had to use your cash for, uh, the PayPal and Square Reader are awesome. and both of those. This one has no monthly charge on it. And for the papal, I think if you use this one, you don't have to the what they call the pay here. Um, there are several. Some of them are monthly charges, and some of them are free. But both of those are things. So have all of that. Your charger, your extra battery, multiple batteries, multiple cases try ponds, mounts an extra camera. Um, your connector kids, Your cables. Oh, this one of the things like this, you know, they they have little teeny devices now that will actually plug into your IPhone their little teeny square ones that go right into your audio, Jack. So it actually extends it when you're shooting video. It's nice to have a nice, significant light source at your disposal. This one, I actually, rather than putting it onto the phone. This one is from a company, uh called. I got it again. I got this at a hardware store. If you go on eBay, there's about a 1,000,000 of these here. Larry, How's that for a company's name? This is Larry's one. But the nice thing about this is that you literally could, you know, do this. This also rotates so you can, you know, rotated. We're going to use this in a second to shoot, But something like that that's kicking out, actually quite a bit of light to it. So whether you clip it onto a hat or into something like this being able to shape, you know, light in a scene with these is, you know, actually nice. So have, at some point, some little light. This is one of the smallest ones and brightest ones that I've seen, especially with the clips on it. And it actually is a magnet in years. Well, toe, keep it last with things. Questions about IPhone chance keys before we jump into questions. Yeah, I wanted to say that I m Parker and no Well, China said Dr Horrible. What? Dr Horrible. Dr Horrible's sing along Block. That's right. Before we do anything useful. E. I just wanted to make sure that way sing along block if you've never seen it, it's available on ITunes and Netflix. You all need to see Dr Horrible's singalong block. It is awesome. What accessory would you want for the IPhone? That hasn't been invented yet. Good question. I think the this concept of, um, lends it. Some people you may have heard are actually what they're doing is they're docking the IPhone into a completely different sensor that has zoom lenses and a bigger megapixel. And so they're kind of they're doing basically a tether thing. They're just sticking a camera with WiFi or Bluetooth onto an IPhone. And then they're doing iconography when really they're doing what we talked about before the shooting with different camera that has some interesting stuff to it because it's still mobile. You're still getting all the benefits of the apse. You're still getting your Internet access, but you're getting potentially a bigger sensor or zoom. So I think that has some potential of those sorts of things. I think the lens is coming up with something that, um, you know, like what? Although Clip and others there's, you know, still range. We like that. Um, I think this is a great step. The batteries, the removable batteries to think the one thing, um, of combining the case may be a waterproof case with the wide angle and a battery. As a matter fact, I think life proof is working on a battery case as well that combines all of these things into. One would be great in all in one. Obviously, thing would be, I'm great. Um, the one thing that Apple has not done that the android phones have done much better at is they since they don't allow you to swap out the battery or extend the memory, you can't put in a little micro SD card. There was a case that I actually backed on Kickstarter, which promised, still has not seen the light of day. And again, I will say it's the apples fault because of them needing to control hardware. But it was a battery case with an extra flash on it and a micro SD card slot that you could access via an app. So for you to be able to throw in another 128 megs of memory by an SD card slot, if somebody could figure out a way how to do that removable memory, that would be great. And I think that's what the problem is not. The company is the apple, so they're actually going to make the case, has got a built in 128 makes of spare memory. So a case with more memory that's waterproof, you know, and slices it dices, make hundreds of julienne potatoes, and just seconds is what I want at the other thing that I don't have here that I also have ordered on Kickstarter. Is there a number of basically their mobile tripods that are WiFi controlled that allow you to rotate and do your panoramas or mobile? You know, conferencing by having a complete access to to, um, controlling a variable angled tripod. And there's a few of those out right now that are great. I can't wait to get my hands on mine. That should be shipping sometimes. But those I think great, if I normally would also have up here an egg timer. Um, and you can make your own. If you've got a Nike a timer, the solid state steal. One Nice thing about that is you can actually mount something like this little bracket on two of the egg timer, and then I'll shoot a a time lapse video on that where you'll get you know, like over an hour, you'll shoot a time lapse video, so I'll be sharing with you some of those videos when we get into video tomorrow the idea of shooting time lapse video and doing it where you're doing a pan at the same time. And that's the nice thing about these variable tripods that you could do a pan, um, a multidimensional pan while you're doing it. Time lapse over ours is very, very cool. So those things those controlling of the elements are cool whether you make your own by something like an egg timer or you by 1/3 party app that being so good. But there's one other chart scared in Yeah, Any other questions? Jack, Before we start shooting, I have a question from N G Rows and N. J. Rose. I'm sorry. And you had talked about how you would like to have a case with you. No external storage. So NJ Rose asked, Do you or can you recommend a way to offload photos to an external storage like an SD to free up space and keep shooting in the field? Is there any way to do that at the present moment? Yes, you can. There is an app that we're gonna be covering. This is also going to be part of our discussion. Afternoon. One of my favorites is an app called photo Sync. Photo sync allows you to either via a WiFi network or via Bluetooth connect any device to any other device, including an IPhone to a laptop or an IPhone to an IPad. So, um, it's basically shooting tethered via Bluetooth. And the nice thing about that app, because it's Bluetooth, you don't have to be by any kind of signal. You could be out in the field and then you can actually transfer, as you'd like from, say, your IPhone into your IPad or directly to a laptop if you had it, um and, um so that would be one way of doing it. One for sharing it. It could be that this new with IOS seven, this new air drop could be set up to automatically as you shoot it, you know, send it over. You can do that now with shared photo stream, where every time you shoot it, it's gonna automatically do I put a stream to another device, so it is unlikely backing up. So theoretically you could deleted as long as you're sure it's in a stream The problem with that is, if you're on the field and it's using your cellular data, that may not be real practical so fast. Bluetooth four device may be the best way to do that in the field. Um, another way to do that. I think that's probably, you know, I'm sure there are other plenty of APS that do that that do that wife I, um situation. I just haven't elect the photo Sync one. And we're gonna be using the nice thing with photo Sync because it does that. That's an easy way for you to copy from your computer to your IPhone, your IPhone, your IPad, your IPad to your IPhone and your computer. And I mean it goes seamlessly any which way you want because it's primarily you'd be using it via WiFi. It actually is quite fast. Yes, yeah, I just had a couple questions. The first question was about, like some of the limits of those accessories, such as like the although clip that can only be used on the naked phone right? You can't have ah, case with it. Correct. It's correct. Olo Clip just came up with their own tastes, so it's a regular, normal, cool and groovy case that has a little swap out thing that just comes up so you can put it on. So some cases were perfect purposely made so that the top truce comes off. So you keep it on. You basically take pop that off for something like a nolo clip, although clip has it with it. That little thing just bends over and you put on the olo clip. But you're right. It's not made as a variable. There are ones that have, ah, spring tension clip that you could theoretically put over a case again. Those air usually the proverbial Chinese ones that have limited quality and also you have your alignment issues, and any time you have a lens that's slightly off centre, your potential of chromatic aberrations and that kind of stuff just gets nasty, okay? And just a similar with with some of those like life proof waterproof cases, you're kind of limited is toe. What other things you can use as far as, like, extra batteries or being able to yeah, all that. Yeah, Like I said, I believe it's life proof that's coming up with a battery. What a proof battery case and basically that. And if they're combining that with the option of also having a lens on top of it like this one, this is waterproof and lens. So it's combining those two things. I think we will be seeing that sort of stuff just because it makes sense. Especially battery life is this big issue. But I don't know of any that, um, we're gonna allow you as an example, this one. The life proof case does have a little teeny switch at the bottom so you can bring in your battery. Well, the cases on so you can charge it and you can use your phone headsets so they life proof cases. A complete case. You could leave this on 24 7 OK, we'll be totally fine and you can charge it and do everything. But it's not when battery comes in, then you're dealing with something. That's why I like these things so I can, you know, extended when a cable to it and it's small enough and keep it in my pocket so actually can keep it in the life proof case. Do have more battery life. That's how I work around that. Okay, Last question. I know Sony is gonna be coming out with a new both, um, phone, which includes some detachable lenses. Like one I've seen is a really nice Carl Zeiss lands with, like, ho, you know, 1.8 aperture on it or whatever. What do you think about some of those bigger, fancier lenses? If you're talking about that one that's actually going to connect to the IPhone, it's gonna connect to a mobile device. You talk about that? A little, little square thing they got going on? I think so, Yeah. I don't know. Yeah, it's again. It's the concept of adding on a device. You want the mobile experience We wanted to go into your app. You wanna be able to share it immediately, but you want either a nicer sensor or you want nicer glass on it. So we're gonna see more of that. I think Sony is gonna be one of the first ones with it, which will be a consumer device as opposed to the special toe devices, the golden crusted one by t pain or whatever. You know, whoever is working on that one, so that one looks cool and it's not out yet, so I think that has a neat potential. You know, it's not. It's not shooting, um, with the phone, but I don't care.
Class Materials
iPhoneography Companion Workbook.pdf
Ratings and Reviews
Jack is terrific and there's a lot I learned watching the videos. Of course this is a fast-changing field so some things are dated--some of the apps no longer exist--but I highly recommend this course to anyone wanting a wide and pretty in-depth orientation to the world of Iphone photo apps.
Student Work