KingCamera App
Jack Davis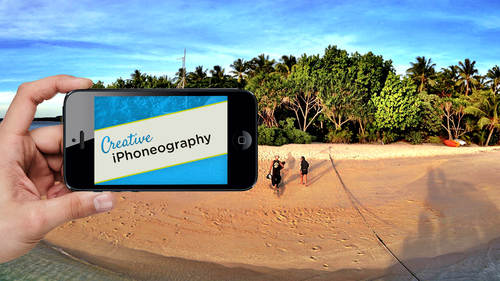 KingCamera App
Jack Davis
Lesson Info
9. KingCamera App
Lesson Info
KingCamera App
I would want as much control as possible over the creating of those, um, presets. Um, they're fun because the Northern Europeans, I'd say Swedes, but they're probably not Swedes and totally, you know, offend them. If I called them a sweet when they were, you know, whatever. So I won't. But you should go through it. King cameras worth at the great videos. Two main developers, totally passionate, totally freaky, totally are losing sleep now because their entire interfaces all three dimensional and skew more FIC where everything now is going to flat and it's the most unflattering her face you'll ever see. But anyway, so I recommend that you go through their videos. They are excellent. It does shoot both video as well as stills. As you can see here is we assume that up in the lower right hand corner does have a ton of things. Big buttons, burst modes, flash gears. It actually has a huge range of options at its capabilities, including a variable anti shake setting and, um, all sorts of thin...
gs. Okay, metadata. It's adding your metadata to the files, so it's adding your copyright. Okay, that's pretty darn cool. I don't know of any other one that does that. And the's the two guys, Janek and Martin. And, um, if you were out there, Janek and Martin, I think you guys have done an awesome job here. Okay? So But again, I'm not going to use it as a camera app per se. I'm gonna jump up here to the lower left hand corner, which is going to bring up. They're into the front. Can't have nice things. What? Okay, this is new. Like I said, I just redid this. Enter the following your answer, Or do I enter the following or do I enter my answer? That's just weird. And it's an old English. I can't I have to put in apostrophe. Oh, come on. Here, I take it all back. You guys are both need to get out more often because I don't know what's going. I'm sure this has to do with their sinking, and they're wonderful APs so they somebody doesn't hijack your thing. So let's okay, I'll do it because I like you. Okay, so you have what they call their photo desk. Same sort of thing. So we're going to do that same sort of import process will go back to our studio. We'll go back, We'll bring in a couple more images and, um, we'll say, Done well, that's bringing in those images there that was actually in my studio, not my camera roll. And we know that camera roll there's that image. So we're working on the exact same ones from both of the images, so that's gonna be the exact same image that we did before. So I want to make sure that we do that one. And, um, it could be that we do some other you know, portrait's and things like that. I can't zoom in on those. I can select them, but I can't zoom in. That's the nice thing of that cake. That Kimber Plus on the IPhone is the only app that I know. If that lets you access pull resolution camera roll before importing, you see the little question mark floating up here. You've got to repeat a graph. You've got some cute things you're going to see continued excessive acuteness throughout the application. So, um, and you've got multiple pages so you can see them sweeping left and right to it. Here is that exact same image, and this is where it gets a little interesting. Q p I c. That is. Q. You look down the bottom quick. It's a quick edit that gives you access to your presets and framing and cropping. It was interesting going back to your questions, they said. Well, ah, look is one thing, but you may want to do a variation that look by having different framing. So this entire elaborate formula is the look, but it's isolated from the framing. The framing will be part of that look, but you can change well. You'll see in a second you can change the frame and the cropping of it. So they said, Well, we'll give you the look, But we'll also really quickly let you change the framing in the cramping. Nice pro. The Pro is their entire access to all the total editing things, which includes light leaks and textures and eternal adjustments and intensifier and all sorts of things. I is there little metadata, so again with this one with this app that I shot this with it didn't have it, but it's giving May all my metadata at the same time as the other amp. See which we haven't done yet. C is for copy. So what if I had already tweak this? Well, let's go ahead and tweak this first, I'll show you the queue. So here are all these different themes that they have at their disposal. You know what? Since I tossed it, it doesn't have all my themes because all the thing I made a bunch of themes and they're not here. That's okay. Okay. I don't take it personally, so we'll use sun bleach. And when you go to it, I've got my some bleach here, and it automatically gives me my little Polaroid frame. I can click on the frame ago. I like sun bleach, but I really want it to be a Polaroid transfer frame. And it really shouldn't be square. So I'm gonna hit check box. So I want to control my own cropping. So I'm gonna come over here and I do like it basically square. And I can use my different aspect ratios so I can find Tune it. And again, this is all procedural. And I hit the little check box. So now I've got I go. Great. I love it. So there's my quick edit. Oh, also, let's go back into that little quick edit scenario here because I also have a slider that's going to affect my effect. So that's another thing. What people are doing with a preset. I like this preset. It's this elaborate formula of all this stuff, but I just could you dial it down a little bit? So they're in this quick mode. I've confined to knit and make a little bit of a variation on and then hit my check box. Okay, You'll notice now that I've got a little number two on their that means it has my original and this effect it's keeping track of all of them much like virtual companies in light room again, as we say in Japan. Savoy This name. Hi. Okay, Davis. Hey. Okay, so we have that as an example where you got the way? I So we can come up here and we can hit that, See for copy. And we can go to another image here, and then it's a little bit confusing because the sea is still there. And I go, Where's my p for pays? No pea beans, pro. So you come up here and you paste that look. So now that look happens to be, you'll notice it shares the crop with it. It shows the framing. It shares everything with it. I can either go into Q and fine tune it just like I did with my first image. And by the way, I could do that to 50 images at once. Very cool. This is what we do in photo shop. But I'm gonna go into P for pro, and that's going to give me access to everything that made up that formula. So I can either start with the formula and use that as a starting point. Or I could just jump right into P and start creating from scratch. So, for example, will start off with the crop tool. And again, I want a different crop. So this there's no reason for this not be a more horizontal, more vertical image and all my aspect ratios, and it still has all my other effects. You've got your white balance from warm to cool. Okay, we have got and again we should probably have done another one we've got This is where it gets really cute. And I told you this this skew more FIC concept of everything being dimensional. Each one of these little marvels at the bottom is a different parameter set, much like and snap seed where you can world your finger up and down to change the parameter. These are little marbles. Don't ask me. It has a little teeny preview. So maybe you kind of understand what they mean. I don't. You got a light bulb in the upper left as it process the light bulbs gonna flash. Like I said, this is a is the anti flat, um, interface. But you have exposure. And again you see that flashing. So it takes a second for to do it. You've got contrast. You've got your ability to fine tune blacks. Now, this is adding black to the equation. This is your brights. This is allowing you to find tune. So in case this is a very targeted and controlled way of fine tuning the tonal range when you get to shadows Now we're doing the opposite. Now we're gonna bring in shadow detail, So this is great. This is gonna light room, adobe camera, raw kind of thing where you can say, Would you please make that blacks blacker, but the shadows lighter for you to go down to that last quarter portion of your hissed a gram and pull out 3/4 detail and darkened black details so it doesn't become muddy. That's what we call bitchin. OK, that's a really cool adjustment. And before this something like this, you'd have to use an elaborate curves adjustment. And if you've ever done a curves adjustment, will you drop it off at the bottom and yet jump up in the 3/4 and then go back to the middle part tones. Your potential of getting muddy little post arising in that area is is significant. So again very, very cool in terms of that, so I can pull out shattered detail, and I have highlight recovery. So again, even though I can brighten the brightest of my highlights, I can lighten up. I can still say, You know what? I don't want you to blow out those quarter tones. Very cool, in fact, that it's nondestructive and doing all that so I can set that and overall my exposure. I think I don't need Let's go back up here. That's black, so I'm gonna make a little lighter, but I want to set that tone range. The fact that I'm looking through light leaks during all this is kind of messed up, right, But will leave that going on. So, um, white balance tone. You have these red, green and blue where you can set the saturation for any portion of your total range, including the adjustment of these different parameters. So you can go from blue to yellow, almost kind of like a white balance. But these air customized ones that aren't normally available and you can go right into your red, green and blue channels and change saturation for each beautiful. If you do this in concert with a black and white, obviously you've got a huge range of black and white manipulation to it. So very nice again, I haven't seen this in other in other ones. This is what they call the intensifier. If you look up at the top, this is the intensifier, and we just crank it up and it's a little bit like clarity or structure, but not really. It's a It's a localized contrast enhancement, but it's not, um, giving me access to maintaining the shadow detail. It's a little heavy handed on it, So it is certainly adding a lot of contrast to the image. Normally, if I did this and hit clicked check box, my problem is is that I would have just corrupt my image right in something like like snap seed. The nice thing is, here I can come back here to my shadow, to my shadows. And this is going back to my original image so I can actually pull back in some detail here, and it's still there because these air just stacked procedural adjustments. So that is is really nice. And I can take down like my contract. Since I've added so much there, these air color risers thes are and let me actually turn off my light leaks here and, um, actually turned off my, uh, light leaks. So well, we're just helps if you hit the chick box. So this is adding a little color tint to the file so you can come over here and do a tent. This one already has. This formula has both of these in here, so I can take that one, and I can remove it, and I can take this one and I can remove it or I can add another one to it if I want to give it a slight. And I think it was using something like this so it might want to add this kind of color effect. I can't and I can change the intensity of it. Okay, so these air are color effects to it that are separate from my light leaks. So I can again, I can have my light leaks. Let's change the intensity of my light leaks in here. Let's remove this one completely. If you click on it, it allows you to change it. You have a bunch. I can click on an ad, you know, three different light leaks. So it's nice I can stack all these effects together, including some that have got, you know, some other little effects going on. And I can change that intensity. I'm basically screwing up my image now for teaching purposes, but you're gonna get the idea here. So light leaks, scratches. Yet you got You know, I can add multiple layers of different types of scratches to it, and each one can have its own little, um, intensity to it. I can zoom in and pan to get a feel for my effect again. I wish I could do that in stamps Eat. We'll check box to it. All of this is part of the recipe Nondestructive procedural recipe that I have. I've got my vignette in here so I can say I want a gold vignette and I want the size and I want with the capacity to be more subtle. And actually, I like it just on the edge. Okay, so here I've got been yet. Last not Least we've already got one little Polaroid transfer frame. Let's say that I want to go to, you know, sprocket ID film or something else. So they're actually very nice frames. This one also has a little teeny density bar situation here. It has cute little things you can add. Do it. But we'll go with our Let's go with this one here. Okay, so we check box check, we can save weaken. Save it as the photo. We can save a copy of it, which is going to keep the original intact and make a copy of it. You can save the quick Matic look so I can save what gonna call this. I just Let's just be simple. J HD one. You do have a preview, so it So we'll say I want to save it. That and I want to put it in one of my sub categories. Done. And now I've got one that saved for posterity. It's a great starting point. That's how you can unify a series of images. One of the things that we like to do. We're all doing Siris of images. Why not save that? I can also click and save and say, Save that photo so just because I save the look didn't mean that I necessarily saved it. The photo desk is, Where does that? Here's our particular look. I can again come up here and say, Copy, I can come over here to another image. I can even come up here and click through multiple images. Let's do Let's do this one and this one and this one just those two and then down the bottom of the sea and confusing paste. And it's pacing those looks to multiple images that right there, if I trying to replicate that formula in snap seed, which will do after our break, obviously, I would have taken Justus long to replicate the entire process. Starting from scratch and snap. See, love snaps don't get me wrong. But that right there is the future off graphics, procedural editing, nondestructive editing, multiple versions of it, saving presets and applying batch presets the same thing. If I want to output these files right now and again, they all have to on it so and come over here. I click on one and hold it and then tap on the other ones. And now I can export. I can export all the photos in the stack, which is the original, much like camera plus or just the tap top photo, okay?
Class Materials
iPhoneography Companion Workbook.pdf
Ratings and Reviews
Jack is terrific and there's a lot I learned watching the videos. Of course this is a fast-changing field so some things are dated--some of the apps no longer exist--but I highly recommend this course to anyone wanting a wide and pretty in-depth orientation to the world of Iphone photo apps.
Student Work