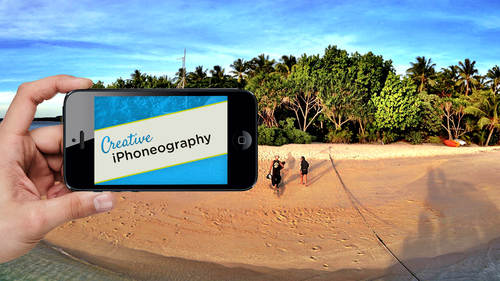 Lesson Info
10. Snapseed App
Lesson Info
Snapseed App
this could easily be a weeklong class. So we're just kind of were skimming the top of some things that hopefully are going to help you with your mobile photography and give you some creative options. More control on how you do some things. Where we last left off was king camera. The one thing I wanted to show you. As I mentioned, you see the little to here that if you click on an item, you have a little browse button at the bottom and then you'll have all your different versions of it. And in this case, that means the tweet when I just did by sharing and then my original so I can edit this one. I could come up here and that quick find another look that I like, you know, and that now I will have which CPI, Uh, and I could add a frame to it and hit check box, and now it's still in this browse mode. I'm now going to have three versions, so that is nice. It's elegant. It's quick. It gives you access to all these things, much like virtual copies in a leg room and again, since its procedural...
it's not actually duplicating the file on Lee. When you're ready to share or tweak the file, will you do this share and send it out to whatever you'd like it to do? Is that a question? Yeah. So if you're gonna apply various pre saved presets to an image like, I think you're talking earlier about how you might create your own custom framing vignettes so you might have anaesthetic precept that you'd apply, and then you might have a custom vignette frame preset that you apply. So in that application, 11 overwrite the other. Would you have Teoh check mark the first preset to them. Be able to put the second preset on top of it without doing away with the previous recipe. I don't know of any, and your time of your favorite African is my favorite app. Oh, I was talking about mixtures is mixtures No, the other one that you mentioned that you used your story filled restore filter Storm, which is another classic photo forage and filter storm have been around forever. Photo Jean Butter gene to our other ones that I'm sure we're getting questions about that have been around for a long time, which also allows you to do recipes. Save off your recipes, filter storm. Um, but until you are able to make presets, um that are additive as opposed to replacing, which I don't know of any APS, including filter storm working camera. You're not, um, it's not asking your opinion, but what you would like to say it is a preset, as opposed to a light room that really is how things should be done because I save a vignette and I apply a vineyard as a preset. It ignores all the other parameters because I only saved vignette is a preset, so I could save it to a black and white. I could apply to a black and white. I can apply it to a sepia tone. I get apply to a full color. It could care less. The preset is only one parameter. Most of these things in a mobile device have not isolated out this preset from something else. So you would be replacing it. So I don't know what answer question If you had, you know, preset that had 20 things to it, and one preset that you wish only had one thing to it to apply that one preset and combine it with another preset. I don't know of any way that you would do that. Um, it's interesting talking about that topic. Snap Seed. Actually, there's a desktop version of Snap Seat, which Google took off the market for now. So if you have that, can beg, borrow or steal it from a friend, it's awesome. It's fantastic, it's great. And that even though it doesn't still do batch processing what they've done for each one of the different modules. If you like something, you did you say that is a preset, So you're dramatic light or center focus, or whatever it happens to be, you can save. That is a preset. So you have individual presets. You don't have the entire formula. So they went that way. So from that standpoint, you could say, I love this of this particular category and apply. It is a preset so many ways to skin this cat. What we want to go for is, I think, moved toward what leg room is doing just because it allows you both. It's a very full recipe that that affects every single thing in the image I've saved everything, including my sharpening and noise reduction and everything else, or I want to save a very small portion of a recipe. Okay, so good questions. Um OK, so that was the last of, uh, King camera. I think what I want to do now is to jump just so we don't get lost on. I was going to go into Photoshopped touch. Um but I think I'll hold off on that until either later today or tomorrow. Because that fits into both the embellishing and elaborating on the image is what we're gonna focus on tomorrow, all the special effects, all the cool and groovy ease and the retros and the crunches and the HD ours and all that sort of stuff. Stitching of Pano. So I think we'll stitch a panel and get that set because that's really the optimizing. I also want to do the retouching, if we can. Today there's some great retouching APS out there, but in this case right now, I think snap seed is kind of the for many people. If not most people. It's the heavy hitter in terms of image processing. Just because the engine behind it is so good that you end up with a high quality image. It has all sorts of cool effects you may notice. And King camera. You know, it's cool. It's got a lot of things, but in terms of it, um, maintaining the integrity of the image through that process, it may not be as good as a zoo snaps here. If you've never worked with Snap seed before the overview, you have a little question mark, which will bring these things up these nice little hand written things. Basically, the concept is that you have these categories in the left hand side that are how you gonna affect the image. Usually they're starting with the upper left hand corner is automatic and going all the way to the last one being framed. So they're kind of organized based upon how you might work in a workflow, though, as you're going to see, I typically and probably most people don't work in a strictly linear fashion. Um, I mentioned before, let's actually jump back to the camera because this is a nice feature of Snap seat. If we go to our camera roll and we'll find our little element, remember that we working with her image. I saved back out my original here. So this is what I tweaked in just opened up. So that's what I tweaked in camera Plus and it save off a version of that. And this is the exact same copy of that. If I click and hold down the camera roll, I can copy And the nice Excuse me. Nothing about that in relationship to snap seed. When I apply by clicking the upper left, I can paste. And that means I don't have to search back through my photo world to find what I just go through it. Fine. Which one I want to work on always do. Copy and paste. It just means you're not searching for the image. Typically you what I'm gonna do, especially if you're doing a lot of tonal effects to your image. I'm going to crop first because it does take into account the edge of your image when it does, in effect, much like light room in adobe camera raw. You'd want to crop, not necessarily get the aspect or issue of your image. But because if you knew you were heading towards square, you would want that because the effects are shaped about around the canvas size, so I'm or concerned with it, for that reason than getting the exact aspect ratio that I want. You do have different aspect ratios you can rotate during this process. In terms of this crop, you'll notice down here the bottom where it says aspect ratio. It's giving me information down here. There's always gonna be in terms of this interface. The main working window. You have a back button in the left hand, lower left hand side, which is basically I don't want what you're doing. Now revert to whatever you ask. Did apply is the right you haven't undo. That's right within this application, right within this module, not outside of it. So you can't undo multiple steps, and you're always gonna have a little usually an additional piece of information on the left and right hand side. You can see that's almost square, but it's changing that aspect ratio, and again I'll leave it at freeform and hit. Apply that where there was completely destructive. Aside from reverting the image down here, I have no way of undoing that I have to refer if you've done five steps it reverts all the way back to the beginning. So this is a destructive process. And because of that, the order in which you do things and snap seat is actually quite important. Just like the olden days of Photoshopped, actually, pre layer days and photo shop, they were doing what you do. Something is important because you want to make sure this point before we've done anything. This has that got the most information in my file as soon as I do anything. By definition, I can't add any more information than what was grabbed when I pressed the shutter. There's one kind of caveat to that is any time you do a blurring effect, when you blur, you're taking a pixel, and you're making more pixels from it that technically have more information in it. So a blurring process can actually add information. But for the most part, you will never have Mawr information mawr, um, tone and color information that any original the problem is is that our images aren't in the tone and color that we want. So I'm gonna pull out the shadow detail in this file, and it's gonna look like I have got a greater dynamic range. To do that, I actually have to throw away a lot of the total that's in the image totally fine, because I'm pulling it into the tonal range. I want the visible spectrum that's telling the story that I want. But it just says that the order in which you do things and snap see much like the original photo shop is really important. So that means that the first thing you're going to do is you're gonna ask what is the most important thing in this file? What's the biggest problem? In other words, you fix the biggest problem before you move to the more subtle problems. This is the same thing in any destructive pixel editor. The order in what you do things is important and photo shop. You have, you know, adjustment layers on something some sense that gives you some flexibility. But still, the order in which you do adjustment layers is important, even though you can throw away when you don't like. If you do contrast to an image and you compromise your shadow detail, but make it to contrast E, and then you do another curves adjustment on top of that even though it's non destructive, your curves in a sense through a way you don't have access to that original information. Your curves here will not get to something that you compromised below it. Same thing is here, like room and adobe camera don't work that way. Even if you do do contrast, it looks dark. This adjustment has access to your original. So the order in which you do things in light room is not nearly as important. We will always have access to that information. Doesn't mean that you might not be a complete idiot, not know what you're doing and make a piece of garbage out of it. But you have access to all the information. OK, so we've done a crap. So in this case, I'm looking at this file and there's a few things that I see. One is the total range. I've got a black on black on black file. I'm using an old antique camera set up that creative life did for me. I love it. I'm seeing the sharp edges of the type of my foreground, which just shouts hdrs kind of effect where I want to exaggerate the different planes in my story. So I want to exaggerate all the planes in the story, So I'm afraid it's the perfect candidate for our little excessive tonal mapping HDR effect. There are three ways to do tonal adjustments. Three main ways is actually a bunch of ways, but there's three main ways of doing a total adjustment in snap. See, the 1st 1 you've got automatic, and that's gonna automatically do. I'll just do it for you and you're gonna see what it does here and again. It's gonna tell me that up and down. So there is the adjustment If I click down here in the lower left, it's just a slight contrast boost in here. And it also is doing a color correction or white balance. How snap seed works is the up and down in the main window lets you change the parameters kind like those little marbles we saw in King camera and then left and right allows you to change that. Okay, um, this auto adjustment is very conservative, but since one of the first thing it does is contrast, contrast is one of your most important things to be careful of because contrast by definition, is frightening, your brights and darks in your darks. We're trying to maintain the integrity of our lights and shadows, so I do not ever do contrast as a first adjustment. There's no benefit. You want to pull out that shadow detail, and when you're at the end, you're going to shape your black and white points to create the amount of contrast. But until you've pulled out the detail, there's no way I would want to increase contrast in blacks. When I'm trying to pull out detail in. The blacks will be very cautious about any use of contrast. Problem is, for a lot of APS, especially in the old days. Brightness and contrast were the two main adjustments, which are awful. They constantly fighting each other. Don't get me started. This isn't alive in class, Okay, you have selective adjustment. You go into selective adjustment. It's really nice. It's kind of using Knicks U point technology. It makes masks again. I usually save selective adjustments and dodging and burning that sort of thing toe later on. You first typically will want to do global adjustments and then move to targeted adjustments. Get the overall image fixed first, see what you can do with global adjustments and then fine tune it with localized adjustments. That's just a general image editing concept. Image tune. The little Yellow Wrench icon is great. It's probably the most powerful global editing tool within Snap. See, the options it has are these brightness, ambience or ambience? Contrast saturation and white balance, and it has those, and it doesn't very, very, well brightness. Again, this is a nice mid tone brightness. It's not the contrast you'll notice. I'm able to pull out mid tone brightness without losing my complete highlight detail in the back, so even that that was going up to you'll see the numeric value. I'm over 50 and it still is not blowing out my highlights. So it is a nice mid tone brightness adjustment, much like the photo shops, brightness and contrast, which was fixed several versions ago. Ambience is really nice because it is pulling out shadow and highlight detail, meaning it's going into the 3/4 tones and quarter tones. You'll notice that the background is getting darker and my foreground getting lighter, so ambience is actually doing a very elaborate tweak to the file to pull out both shadow and highlight detail at the same time, it can be a little bit of a natural look, so it depends upon what you're working on, whether it's good. I would be cautious with Portrait's on it because of how it's gonna unnaturally take that tone range and get rid of the shadows on the side of the nose and dark in the highlight on the top of the nose. So you flattened something like a face in this case in landscape. But something like this still life. You can actually see that it did a great job of pulling out the shadow detail, looking over here in this portion of the, um, a little plastic camera here. So ambience can be great. And it may be one of the first things that that we use here because it's doing such a great job on that mid tone. Nice thing also about ambiance is, since I have pulled out on my highlight detail. If I really want to pull out more information, you'll notice I can pull out now. Brightness and concert with ambience get a huge amount of tonal range out of the shadows without affecting my highlights. What's the technical term for that pitch in It's bitch for you to be able to have that amount of control where I'm adding that much brightness to the file. And yet, looking at the shadow detail, I'm not losing any me highlight detail that I'm not compromised. Any highlights is pretty darn cool. Now I'm using because again, this is a still life and I'm going for the excessive. Just Those two adjustments are great. Now we'll give you one other thing about ambiance, which is cool, especially in relationship to portrait's ambience. Is this kind of mid tone contrast adjustment? It's kind of like clarity, clarity in light room and a CR can pull out shadow and highlight detail. Um, and we all know, as I'm sure you know, what anti clarity does and flower shop in light room. Oh, you should cause it's skin softening, so an anti ambience is actually a diffuse glow. Now you can't see it. I'm gonna so I'm gonna take up my brightness. But if you look around the edges, you can see the film noir effect. You see that glow, so keep that in the back of your mind. You wouldn't use it in this point because I'm compromising my shadow detail. But if you'd shape your tone correctly using other adjustments, an anti anti ambience is a beautiful, skin softening portrait filter within snap seat. And it's really one of the only ones that actually does a nice, diffuse glow. So it's kind of a hidden secret. Don't tell anybody, OK, but anyway, so we won't use it here. I actually like the fact that we're pulling that up. We don't need all that brightness, so I'll take that down and again, I'm gonna be continuing to shape it. So even though I may end up with something that's darker, I'm liking the fact that in this one in one fell swoop pulling out my entire tonal range, and I'm doing it to my original file. So I'm having access to all the original information. I'm doing as much heavy lifting as I can in turn in the tone, and that was my first step. I'm not gonna goto effect like detail or drama to pull it out. If I can do it here the second we're gonna do those two adjustments which are amazing for pulling out total information in a file both detail and drama. But in this case, I can do it in one fell swoop by taking advantage of ambiance and fine tuning it with brightness. Since this is a dark image to begin with, okay? Other things contrast. Like I said, I typically don't I try and stay away from contrast when I'm ready to set my black and white point that actually that first original one that auto because it does set a black and white point. It's actually this one of the things you could do it very talent. Set your eternal range all you want, all your fax hit auto, and it's just gonna snap a white on black point for you. So that's a nice use for it. I typically don't use a lot of contrast because, um, that's a little scary. Saturation is nice saturation, especially in concert where there are other portions of the app that lets you do saturation. So again, I'm not gonna get too carried away here. White balance is actually nice for white balance. Left and right, you'll notice. Stand at the bottom here. Moving it to the right is gonna take you through different typical white balance of tungsten incandescent fluorescent, things like that on the left hand side there just kind of freaky effects red, green and blue. So they put it into white balance. But technically, they're not in the concept of white balance. So typically, if you take it down a little bit your cooling the file up a little bit, you're warming it. Typically, those are the two things that you would do. Is that nice little tip there? If you do come up here to saturation and make a nice, complete black and white, you can go down the white balance and make a beautiful see Peotone, which is another way of doing it. White balance is a great way of coming up with a C Peotone effect with a lot of control. So right there, I just did a sepia tone effect. We're not gonna go there, so we'll take back our saturation. You can see the numeric value so I can always see exactly what I'm doing. You do have to remember it because it's not keeping track of it for you. Okay, so here's our image. Using primarily brightness, a little bit of white balance here and um, ambience makes sense. Okay, apply. It's now set. If I hit the compare button, the compare is, as it was opened not the last adjustment. It's showing me my crop and where I met now because I mentioned that this is kind of an antique theme in here. The two things I'm going to do to kind of exaggerate this edge distinction, this faux HDR tone mapping especially around edges. The grungy kind of look on this one. The two ones I mentioned before are gonna be on again. We could we already did. Crop straightened is really nice. Very fine tune. We just did Image tune, selective adjust I'm gonna come back to at the end of my formula. That's what I saved to the end. But detail and drama, the little pencil sharpener and our little clouds icon help you can shape tone. We'll start off with detail because I mentioned this earlier in the day. This idea about the topic of sharpening and being cautious about sharpening if you go into sharpening there is a little loop down here so I can kind of see the sharpening as I come over here. And if I do go left and right. I can see kind of the effect, but I really can't even that's not an accurate representation, a wonder one pixel representation of what the image looks like. If you do want a little sharpening, if you know it's a little bit soft and you want to give it 5 to 10 clicks, as it were as opposed to 100. Here it is using Nik Sharpener pro great technology. It's amazing technology you can see here, even at 100% the you know, the edge fringing is really limited, but I really don't know. I'm not looking at actual pixels. That's for a person who's does this for a living. Just be really cautious. Um, and I would say be don't use it or all, or use 5 to 10 of it as a little bit until you get onto a desktop computer. All this is based upon the fact that we're talking about printing now. If you're gonna print to these than sharpening is one of the most important things related to sharp to printing and sharpening. For a particular print means sharpening for a particular paper. You sharpened completely different for a coded stock or a metallic print versus an encoded stock like a watercolor paper or canvas wrap. Those there are two kind of main things. Canvas wrap. You can sharpen the heck out of it and get away with it because of the refraction of light over the surface or watercolor paper, cause it has dot gain. If you're going out to a coded stock or the new mid metal prints that are so popular, you'd better be really, really cautious because everything flows on top of the surface and any excessive sharpening will look awful. So I would much rather have you be really causes with sharpening. And if you know you're going out to Prince bringing into Photoshopped, check it to a little fine tuning or light room or something and do it there. OK, so I'm going to take that down. Even though you can see that it is bringing in some detail. I'll give it a little bit, but structure structure is our poster child. Nick has has had structure for a while. They have a number of their different applications. Structure will take it all. The way up is clarity, and I would say it's even better than adobes clarity in a CR in light room. It has less artifacts and its ability to pull out. Um, highlight and shadow detail is excellent for people like me who get a little excessive. I yes, I overuse structure, but it's cool. It's really nice, Um, as I overused clarity in like, but there again, you can see how much we're pulling in on that file. So I'm going to use an excessive one. Knowing that I'm going for this exaggerated effect, I'm going to use a ton of structure, very little sharpening. Okay, here is our image before, after before after now, at some point, I may undo completely because as I add another thing like drama on here, I should have actually not actually applied it. I should have just said Cancel so you could see drama. In comparison, drama is a little faux HDR tone mapping drama is, and you have are six different flavors of drama. Here is an exaggerated glow. It's like using shadow highlight within Photoshopped. It is an exaggerated tone map to the file. It has basically three flavors drama bright and dark and a light inversion of light and heavy version of each one. So here is Drama one. I'll just show you that before and after. Here's our compromise so you can see how, um, much tone mapping it's doing. How much highlight it's pulling in and how much shadow detail it's pulling in. It's also reducing the saturation. It takes it for granted that you're doing a little bit of an taking effect. So d saturates the file. Also, any time that you pull out shadow and highlight detail, by definition, you're also gonna increase contrast. And whenever you increase contrast, you're increasing saturation of color. So a little D saturation anytime you get a little crazy with tone is a good idea. Because if not, your color is gonna get out of control and go running screaming from the room. Okay, so this is gonna be drama to you can see we're starting and now pulling the halo effects both of these. OK, so here is our four after and have filter strength, so are left and right is gonna be a filter strength. So it could be that you like drama to but at a reduced rate. And again you can make it be you know more believable. Also, this time before I go, let's just go ahead to the other ones. There's drama here is bright. So if you really have a dark image than both of these, are a great way of doing tone mapping or total resuscitation to a dead image. This one. You may even do boot before ambience, depending upon if ambiance is working, I would always start off with that. And the dark is your moody little grungy and a cool thing. And again, you've got intensity for each one of these. But you'll notice that they're doing something even at zero strength. Dark is darkening the file, so it's not like it's that intensity slider is taking you all the way down to no effect. So in this case will do regular one will take the strength up, and I will pull back in some saturation to the phone. So here's our before and after I know I'm gonna dark in that background, so I don't mind it. That's a decision that you have to make is highlight detail. That's, Ah, global decision for HDR in general. The problem with the benefit of HDR high dynamic range imagery is you're pulling in all your shadow and highlight detail. The problem with HDR is that you're pulling in all your shadow and highlight detail, meaning that how we shape stories is photographers is we shape by drawing the person's eye through our story by shaping light in the scene. Things are in the shadow because we don't want them. They're not part of the story, so we shape it. We put the shadow back in the cliff. Face hides that the rocks here do this. The portrait is hiding the fact that Marge has got a mole on her left hand side and we want to hide it. So we should, you know, we're all we use light and shadow to scope the scene. Same thing with highlights HDR because it pulls out normally globally all your shadow and highlight detail, even though it pulled out the detail in your black models, hair also pulled out the detail in the backyard that's got the junk pile in the trash and everything else that's in the back. It has no idea what you want. So by using HDR, you're actually removing this'll wonderful idea of shaping light from your scene because everything is flat. That's why it looks like an illustration. Exactly exaggerated. HDR looks like an old postcard. You know where everything is the same intensity. Everything is colorful. Everything is whatever. So, um uh, keep that mind. No matter how you do tone, mapping to an image is you only want to pull out that highlight and shadow detail where you want it. In this case, that's actually is a distraction. The bricks in the background are not as nice as if it went to a subtle So I actually don't like that. So in this case, if I had the ability to mask in this feature, which I don't have in snap see, this would be a case like I did in camera plus where I would paint in an HDR effect into my subject matter and leave it outside of the background. In a second, I'm gonna do something else toe, remove the distraction of the background, so it's gonna be fine. But in this case, just keep that in mind that HDR, by definition, is actually a bug as well as a feature for me. There's no reason for you to pull out. Universal highlight shatter detail. If what you're doing is pulling out distractions throughout your image, everything becomes a distraction no longer using shadow and highlight to lead the eye through your story. Okay, so we've added some saturation to it. We've done that effect. I like where it's going with that tone hit, apply and do again. A compare. So here you can see what we're able to do in terms of the tone. That's why people love snaps it. It is just freaking cool in terms of the quality of what it's able to dio. Okay, so we've done already those steps. We just use drama in there. We have vintage, we have grunge. We've got crunch. Don't get me started on grunge. Okay, I'll do brunch. But I'm not going to save it because what it does is it does your retro effects, and you have in terms of your style you have. Let's start all the way on the left hand side, you have literally zillions and zillions of these combinations of different basically cross processing tonal effects, as well as brightness and contrast effects as well as color effects. So each one of these were now into the thousands of the recipe and we're gonna come right up to 14. 1500 is what our effects are for the style, my tip for you, right around 1 408 100 I found or usable in the sense that they're not so contrast. I can't use them. So if I take it right up here around 400 mrs 4 70 I can get a nice little effect. And also right around 800. I kind of found something that I kind of like. So here is that also where I'm not compromising the image too much in terms of that you also notice it's also immediately throwing on a blur on the edges. You'll notice that it's nice because it got rid of the stuff that's in the lower right hand corner, even though it's also getting rid of air. If we go up and down, we've got style, brightness, contrast, texture, strengthen saturation. You wouldn't know that if you pinch with your fingers, you can actually change the center size, and you can move the center anywhere around the scene that you'd like. So that's nice, where you're doing a targeted blurring of the file and you can see what's left behind is the texture. The texture is not being blurred, so you can actually kind of get this blurring of distractions if I wanted to leave the air visible and don't mind. And I like the fact that my lower right hand corner is disappearing. I can do that by simply moving around this focal spot and maybe, you know a little bit more here, so I still have that in the lower right hand corner has disappeared. I have my texture strength so you can go super exaggerated on here. You've got a number using our little parameters on the lower left or right. You can go into texture, and you've got a range of textures, not crazy about most of them. You'll notice this little crossed arrows that's going to randomize the texture in the scene. The's air seamlessly tiling patterns. And so it's doing a combination of scooting them around the scene and rotating them. It's actually nice is you can get with a pixel based texture. It's doing that, and I also mentioned before when you asked that question about formulas and it looking exactly the same. The nice thing about this random ization is that each one, even though it's the same texture, the images were left in the same drawer over years. It's not that no one is going to be cracked glass or something like that. Like some of these here, they all share the same texture, but they are all variable. They they're not exactly the same. So it's very nice for doing a scene. So that's textures. Texas strength Shuffle is just going to randomize for people too lazy to school left, and right now it's you can find some nice solutions. So here is, um, grunge. I would like it would be really nice if I could hit. Apply? Yes. Could you please say that is a preset or save that is something and then let me go back because that's a little bit excessive. That's not where I was going. So again, in light room where a CR or some of the apse we've already seen where you could make a recipe or save it as a version, that would be really nice. But in this case, because this is not where I'm headed, I have to go here to the back and move over to my next one. So there's no easy way. If I hit, go and save, I'd have to start all over on the image. Okay, Now, what I could do is I could come up here and save at this point. So now I have saved it. So now I could go back in, apply the grunge, and then when I'm done with the grand save it and then reload in my last step, kind of doing the photo photo shop save as routine for workflow. But that's a little bit of a clue. But you certainly could do that, so I could, you know, do that right now. I could save this. I could do that exact same grunge that I just did.
Class Materials
iPhoneography Companion Workbook.pdf
Ratings and Reviews
Jack is terrific and there's a lot I learned watching the videos. Of course this is a fast-changing field so some things are dated--some of the apps no longer exist--but I highly recommend this course to anyone wanting a wide and pretty in-depth orientation to the world of Iphone photo apps.
Student Work