Creating and Using Presets
Dave Cross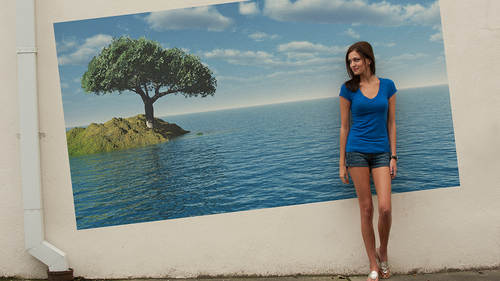 Creating and Using Presets
Dave Cross
Lesson Info
5. Creating and Using Presets
Lesson Info
Creating and Using Presets
Presets have been around for a long time and photo shop I can't remember how long, but they're probably one of the longest running things that's the most under utilized by the average photo shop user and it's a crying shame because they're wonderful and this is probably the prime example I mention before where people sit and they go to a presets and they not and they make a note and then they never make any because in the heat of the action you're just we default back to our normal habits, which are do things a certain way so I mean plant this seat in your head if you ever find yourself in photo shop and I know I'm saying this because it happens all the time where you're using a particular tool and you change the opacity and use the tool than you change it back again then two hours later you change the capacity and change it back again. Well, every time you're going up to the options bar and changing settings, you're taking extra time that could potentially be unnecessary. How many tim...
es have you ever gone to crop? Something in photoshopped cropping is surprisingly difficult photoshopped I would think, would be much easier than it is to say I want a crop to an eight by ten but instead people click on the crop tool they type eight ten under all that information every single time if you had a tool preset, you would just pick it and say eight by ten please and it's done so that's the concept of a tool precept is that fills in all the settings for your tool ahead of time or pre as in preset to save you time so let's look at a couple of examples of how we would do this since I mention the crop till here is an example I go to the crop tool and you see up here is just giving me some choices and there are a few little pop up things but you still have to spend time entering information look on the far left of the options farsi where the crop tool symbol is a lot of people mistakenly believe that's just a symbol to remind you you're working with the crop tool and it kind of is but if you look beside it there's a little teeny tiny downward pointing triangle in photo shop that's a little symbol to say there's more stuff here and in this case the more stuff is a menu of presets now most of these our were ones that were already done by adobe for us so they're they're they're just kind of not obvious and I'll see people all the time and say every time I want to make an eight by ten I have to type in eight tab ten tab like actually you don't it's just not obvious that you could do it this way. You click on the pre set and it fills in all the blanks for you. So that theory means think about any tool using photo shop where hopefully what you're doing every time to use a tool is checking the options bar to see what the settings are. This fills in those settings for you, so let's, use another example using the type tool, and I use that example because it probably has the most options of anything you could possibly do in photo shop, because when you go to use the type tool, you've got correspond style, size and he hellsing alignment color. All of these options are in here to decide what you want your type to look like. And if this is a project here were doing where you were doing a series of things where that's, the style of type that you wanted instead of trying to write what I used to to, I laughed at myself sometimes is I used at a pad of paper and write down myriad pro sending condensed write down all the notes so I could do it again later, which worked, and if you're getting paid by the hour, do it that way. Okay, but if you want to get paid by the hour and take less time this is a much better choice is you put in and even what I often do is exactly this I put in just gobbledygook type just to make it look the size that I want and then make it a preset ok, so here's how this works and this is the same with any tool you click on the tools you change the settings in this case you actually enter some type and then you go to that same little pull down menu to show all the list of existing presets that I have and you say I have a lot for type because one of ones I use the most if you didn't already know it any time in photo shop where you see the little turning page symbol that's adobe for new so if you want to make a new preset you click on that button and it says what would you like to call this new tool preset? I would highly recommend you not use the name that adobe suggest horizontal type to a one not a terribly useful name for her pre set in fact, I usually delete anything that says the name of the tool because I know when I'm using a preset it has the little letter t beside it so I know it's a type two a preset anyway so therefore calling it type tool, blah, blah, blah makes no sense to me. So instead, I call it something that's going to make sense to me, like myriad semi and I use a little coach myself like a line center and things like that. So what? Some name that makes sense to you. Whatever the size was, you know, all that kind of stuff. And then you click. Ok. So now I have another tool tree set for the type tool in there. Now, what is important to note about tool presets is there's. A very important reason why it's called preset is you have to choose it before you use the tool. In other words, if I've already typed and then I switched the tool preset, nothing will happen because you have to choose at first to influence the way that tool will then work. So especially for tools like clone stamp and brushes and things like that, you have to get in the habit. The whole reason for making presets is you pick the priest at first and then use the tool. So in this case, for example, I deleted the type player. So now I'm thinking let's, go back and put these to some other different settings just so you can see that it's quite different. Okay, so this is the way my type tool currently works, so if I clicks and started typing it would use those settings I want to use the preset I create a moment ago oh so the habit I have two changes don't click yet to start typing I have to first go and say where is that preset I just made and you find it and it fills in all the blanks then you khun click and start typing think about how many times in voter shop you're doing something and you end up thinking what setting have to go back somehow and look and see what did I use for that tool like the clone stamp tool and really in many cases there is no easy way to tell if you use the paintbrush twenty minutes ago at that time it might have been set on this size of brush at fifty percent capacity but if used the brush after that, it always remembers up in that options bar the most recent thing you did so the other ben of having tool presets is from a consistency standpoint. You know, when I'm working on this project, I want to keep going back to that precept because that means that all look the same and that's part of the point of this is saving time but also can help with anything where you're trying to make sure you're keeping the same look um before I really embraced the idea of tulle presets, and I always use myself as an example of not the best way to do things at first is I would open a previous document and look at the type player and go, okay, it was helvetica, and I'd write it all down so I could emulate it in this other one or copy and paste the text or something. This is just easier, and it applies to a lot of things in photo shop. For example, with the clone stamp, one of the ways weaken make the clone stamp more effective is to change its settings, depending what you're trying to do with it. For example, if I'm trying to clone away little white specks on a photograph, I would often change the blend mo to darken. That means the clone tool will only affect areas that it can make darker, but then for other situations. I wanted to be enlightened mocs and trying to get rid of black little dust specks or something. So I used to always switch back and forth between dark and mode and light mode. And then I also found sometimes I need I felt look better if it was that, say, eighty percent of pass instead of one hundred. But every single time it would take me a lot of time in the clone stem tool because each time I have to go kate now let me change it to this mode and change this opacity. Now I have a siri's of presets that I could just switch very quickly between dark, enlightened, normal, etcetera. Now as a little extra tip here, it's not a bad idea to make one tool presets just just normal because the danger of the options bar a lot of people forget is if I'm doing something say with my paintbrush and I changed it to a giant brush at twenty percent opacity and overlay mode until I change it back again, it'll stay like that, so it could be two weeks later to go to something with a paintbrush in like what is happening what's wrong with photo shop is just still remembering you have those settings. So if you make a tool preset called normal, that just sort of resets your tool back to your normal. The reason I say that it is it is possible if you control or right click right here you can see there's an option is reset tool that's a good theory with one potential problem reset tool imagines called reset tool to the default settings that adobe put in there because, frankly, sometimes the default settings for tool are ones you would never use for example, dodge in bern tools are set to fifty percent I think that's too high so I made my normal twenty five percent so instead of saying we set tool I goto a tool preset that's called normal settings for that particular tool because otherwise what you find is people run in that situation again they're trying to do something like what is happening here and then they go to look at the options bar to see why a tool is operating a certain way so instead if you get in the habit of a creating tool presets and b using them then it will save time you khun make his many tool pre census you want there's no downside to making lots of presets except the menu is long so I mean it's not like you're gonna hold my photo shopped suddenly slowing down that's not gonna happen this is just, you know here's the operation of what it's doing and then they're presets available to mention before you can move those presets between tools so let's look at this one that more here you may or may not have noticed. I will point out that at the bottom right now there's old checkbook says current tool on lee I normally have that turned on because if I'm working with the clone stamp tool, why would I want to see all my type to a process so if I turn this off, you'll see what I mean. You get a list of everything, so even though I'm under the clone staff, I have to actually scroll down to find my clone stamps tool presets, which to me doesn't make a lot of sense in this situation. I'll show you the second a time where I might use it. I used to joke about the fact that some of the tool presets that were provided by adobe were, how should I say this interesting, where you would look at and go, for example, I believe I've already deleted it, but one of the tool presets and I kid you not that was built in as one of the default presets was called fill with bubbles pattern for the paint bucket tool, which is awesome because, I mean, I want to fill with bubbles almost every day in photos, so the fact that that was available to me, I thought, was great, so some of the choices were somewhat questionable as to why would they put that pre set in there? But I think in retrospect, there were trying to show look, you can make anything into a preset, but as an example of something that's, the opposite it's, how good it is, one of the harder tools to uses the mixer brush tool they've made it, they hired someone who really knows how to use this tool to make a bunch of tulle presets for that tool, which are great because I used to look at the mixer brush options like iran, I don't really know what to you, so now there are that's for that, so on a day they basis though, here's, what I would suggest is that keep it set to current tool on lee, and as soon as you switch tools, you'll see just a list of your existing tools. However, there is also a tool preset panel, which if you didn't see it, you would look under the window menu and you'll see tool presets. Mine is down here because I had current tool on ly previously check it stays checked if I turn it off here and this was like, I wish I could member of the fellow's name is yes, it was actually I love when this happens, it was a student in a class saying, couldn't you use the tool presets for this? Sounds like that's a brilliant idea. So let's create a scenario here where I'm currently working on something and I decide I need to add some text well, right now, I still have the clone stamp tool as my active tool. So in my previous way of thinking, I would have pressed tea for the type tool and then gone up to the tool pre set menu and pulled it down and picked my type toe a preset, but his idea was when you don't have current tool on lee, that shows you all your tool presets, so in one motion I could click on this pre set and automatically picks the type to a for me and picks the preset. Now you have to start typing. I thought what a brilliant idea is as a way of switching between tools and picking the preset you want use the tool preset panel with that current will only turn off, so that makes it even more efficient cause now you're not doing a two step procedure of first pick the tool, then pick the preset is doing it in one motion, and that fellow mentioned that probably both. I don't know five or six years ago and I used up all the time now I'm like that is a really smart idea, but it only works of course if you go to the pre set menu and all you see is adobes default process it's not as good as here are ones that I have made now every time I show tool prices, I mentioned this before what usually happens is people are not england presents and writing in town so here's, what has happened? Please raise your right hand and say, I promise I will make presets from two of my tools you don't have to say it, but you have to think about that because this I swear this eye and the reason I say that is because a few years ago I used to do a seminar tour, go to cities every couple of years and went to a city had been to probably two years earlier, and this fellow came up during a break and said, I feel like I should apologize to you, dave and I was like, ok, he said, because two years ago you talked about tool presets and I sat there went that's a great idea, and I just realized this morning, he's probably gonna mention tool presets and I haven't done them yet, and I was like, well, at least you're recognizing that you need to do it. But if it's taken two years for youto realize that so that's, why only semi jokingly say, you have toe promise yourself you're going to actually do this because it I promise you it really does save time if you take that little bit of extra time of making them and then remembering change your work habit, don't just go in physically, click on a tool and then start using it start using presets, and every time you're using a tool, and you're like that's the third time today that I've used that same setting make a preset, because if you use it three times that date, it's likely use it again. So that's kind of the mindset you have to think about is this is the umpteenth time that they used a word we use in our family for many, this is the umpteenth time I've done that. Why might keep doing that manually every time? Why not make a preset so that's tool presets and that's just the first kind of priest that we can make there's lots of other kinds and it's the same theory of saying this is the umpteenth time that I have done this procedure. Is there a way I could make a preset so here's the philosophy you, I think should have anything you're looking at and photoshopped that in love settings, look and see if there's one, those little downward pointing triangles, or that little newpage icon that typically means you can make a preset, sometimes it's a menu as we'll show you sometimes it's a fly it menu, so finding it is not exactly the easiest thing, but if you find yourself going, I often make this same curves adjustment why am I making this same curves adjustment ever? Meantime, if I could make a preset out of it so let's talk about that I'm using adjustment layers I go to curves and I make I'll just make whatever adjustment just so we can have something in here to talk about, so we're going to pretend for the sake of argument this is a pre set that I or this is a just one I made with curves that for a project working on I could see myself using over and over again and I did it by hand arbitrarily I could look down and go right down ok it was one ninety four now that's a lot of work, so instead once I've made it and say yes that works, I go to the fly of menu and shoes save curves preset and then you name it something that makes sense to you this works really well because it prompts you to save it in the appropriate folder so there's no work required on your part to go. What do I do with this when you're making a curbs preset it's actually saving it into the curves preset folder so it happens automatically so I wouldn't normally call it this but I want you to see this is what it looks like I hit save and then from now on I could open another photograph just to show you it's not a trick so here I am in another photograph, and I think I need to do that same kind of cursed thing. I go to the curves adjustment and go to this list of presets and here's, the one I just made now that's applied now here's the beauty of it, this type of pre set in fact, almost every precept is that when you apply up or I should say, when you choose a preset you previously made, it really is saying, start here in other words, that's, not a permanent curves adjustment. So on this photo, if I felt I may be needed to make this little adjustment, I still can. So what it's doing is pre populating that whatever that function is with the numbers you previously saved, but you're not stuck with them, so you might look and say on this particular photo, I need to tweak it a little further, and then you'd say that is a preset. So again, I'm going to repeat myself about this a locks, I think it's important there's no downside to doing this a lot, except you'll have a long list of presets, and please get in the habit of not calling them curves preset one curves preset to that will not help you later, because you'll go, I have no idea. So call it something that makes sense to you like mid tone enhancement or something whatever is that I'm using just throw away names because at the end I'm going to need all these because I'm not going to actually use these specific ones so almost every adjustment layer has presets let me rephrase that almost every just wears allows you to save your own precepts there are a few that on ly have priest that's that have been made by someone else that you can't make your own that fairly where most of them though you can so that means same idea if you find yourself going I'm making the same kind of adjustments over and over again why am I doing that every time and I talked of all time said I typically always start with an s curve I'm like you mean you create in like click on it and drag the little thing is they're like yeah I'm like so why not make a curve preset there like that idea and then the next day I'll bet you they go on at a curve and click on the points and drag him by hand because old habits die hard so someone I don't know who was once talked about change being painful you need to force yourself to think don't just jump in and click on those nod modules and moving around make a preset and then from then on it will be easier so I won't bother going through every single adjustment here, but keep that in mind that that shows up everywhere. If you use light room or camera raw, both of those they live and breathe presets. So a lot of people always this actually kind of annoys me a little bit. The number of times I hear people talking about, like one presets like when presets like it's this new thing? Well, you can make presets and, like yeah, and in photoshopped to all over the place. So if you're a light room user and you like love presets and you'll love doing this to a jew, is there not made for you? A lot of people make light room presets and giving away your cell. Um, well, here, you just do it yourself, but that's a museum better because then it's customized to what you want, not what someone else is saying. Use my preset so camera you can save a preset lightman created preset photo shop all of these different things that all these ways you can make your own presets. And it goes beyond just the simple operation of something like applying a curve or something else we can also make take this a little step further, make our own presets for other sort of situations.
Class Materials
Dave Cross - Customizing Photoshops Panels Shortcuts Menus - Reference Guide.pdf
Ratings and Reviews
Thank you so much Dave for this awesome course. I can tell already that my work in Photoshop is going to be so much more effective. I actually did stop the videos and make some tool presets and a curve preset. Thanks Creative Live for featuring such an easy to follow and understand instructor like Dave.
Student Work