Resolve is Made of Pages
Casey Faris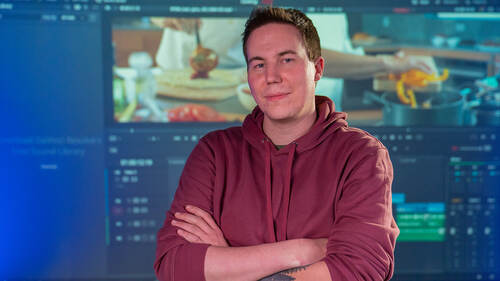 Resolve is Made of Pages
Casey Faris
Lesson Info
4. Resolve is Made of Pages
Get familiar with the layout and organization of Resolve.
Lesson Info
Resolve is Made of Pages
When you're going to make a video, there's a certain workflow that kind of everything goes through. You start by managing your media, and generally what you do is you bring all of that media into some kind of editor. That's where you do all of your editing, and if you're gonna do effects, then you'll take everything from that editing app, and you will export it out. You'll actually render new video, and put it into something like After Effects. And that's where you do your graphics, and your effects in your compositing app. And then you take that, and you bring it back into your editing app. And then once everything's looking good, and pretty much where it should be, then you export that to your audio app. Something like Pro Tools or Adobe Audition, and you do your mix. And then you have to bring that back into your editing app. And after that, then if you want to do color, you have to export that to something that does color or maybe you can do some basic color inside of your editing ...
app, but it's just, it's a lot of moving back and forth, and rendering your footage and putting it into a different app, and kind of moving back and forth. And that takes a lot of time and a lot of kind of technical know-how to move back and forth throughout that workflow. So the way that Resolve is designed is basically just to do all of those things in one program. Inside of a resolve, you can manage your media. You can do your basic edits. You can do your graphics. You can do your color. You can do your audio mixing. You can do your visual effects, and you can even render multiple different outputs. All these things, all inside of one app without rendering, without going to you know, three or four different other programs that all kind of lives in one. And this is really exciting because doing things this way, kind of necessitated doing things in a certain order, right? So you get your edit all the way done, and then you go into your effects, and then you do your audio mixing, and then you do your color correction. And each step has to be done before the next step, which really locks you in, and kind of stifles your creativity a little bit. But this is really cool because Resolve can actually move back and forth seamlessly in-between all of those things at any time without having to lock you into a very specific timing for your edit or a certain look for your film. So I'm really excited to show you how this works because it's revolutionized the way that I make videos. And I know is really exciting for a lot of people who've worked in the post-production industry for quite a while.
Class Materials
DaVinci Resolve - 17 Shortcuts.pdf
Ratings and Reviews
I'm glad to see the DaVinci Resolve courses have been added to Creative Live. Casey Faris does a great job with his teaching. In this course he clearly explains the layout of each page and shares example workflows for each. It's really good as an intro to Resolve.
Helpful class if you are interested in DaVinci Resolve. Casey Faris presents the information clearly and doesn't waste time. Looking forward to his Color Correction and Fusion classes.
Made navigating through Davinci an exciting thing to do! Great work!
Student Work