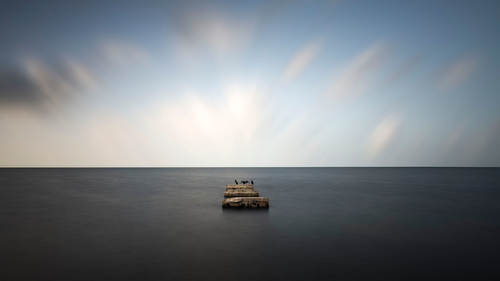 Lesson Info
Liquify
I have a big nose. I know I do. Here, I'm gonna press Command or Control + J just to duplicate my layer. I'll do this a lot of times just to show you a before and the after. Liquify. So, Liquify can be used for great purposes of good and it can be used for many purposes of evil. So, what we'll do is, I can go in here and... The main tool in Liquify, we could do 90 minutes on Liquify alone so I'm not going to go through everything in here. The main tool is this Forward Warp tool and what it'll do is it'll nudge and warp things. So, if my ears weren't small enough as it is, I can make it even smaller. Let's back out of that. So, it'll go in there and it'll warp and nudge. And that's really, that's the main tool that we use. We go in there and do it. Now, the key to this tool is you very, very rarely, like if I wanted to do something to my nose, I'm very rarely going to go over the nose and just grab the part of it that I want and move it, all right? Because that's what you get. If I wann...
a move my ear, I'm very rarely going to do this 'cause that's what you get. You'll notice, if I wanna do something, if I wanna go in here and like tuck in my little stray eyebrow hair, I nudge. You go on the outside and you nudge in. That's the key to that tool right inside of there. But, there's a couple other things that'll help us. So, just keep that in mind. You wanna know something else? Random fact about me? Notice I have no earlobes. See that? No earlobes. You can see it right there. Nothing. I can never get an earring 'cause it just like looks silly. It's just like the whole bottom of my ear. All right. Anyway, back to my nose. (Matt laughs) So, there's another tool in here that's gonna come in pretty handy. And that is the Freeze Mask tool. So what the Freeze Mask tool will let us do is I can go in here and I can freeze the area around my nose, like so. Okay. I don't have to do too much more than that. Then, I can go to my Warp tool here and when I'm doing something like this I usually get a larger brush than I need and then I can go in and just nudge. Nudge. Nudge. Nudge. And just kinda... tuck that a little bit. Click OK. So, it's a minor change but just just little things. (audience laughs) This is a tool, less is more. It's these little things that you would you never, ever tell anybody that you do, okay? Never tell them that you did it but it's just, sometimes it's the tiny things that make all the difference in the world. But all that for, you know, just between those two tools, there's other stuff inside of here. I mean, you can go crazy with it. There's a Pucker tool which you know, you can only guess what it does. And then there's a Bloat tool, which I might, I probably should use on my ears. (audience laughs) So, Pucker and Bloat, Freeze Mask really comes in handy because a lot of times you will be freezing stuff. Another way that I see people use this all the time and I wouldn't do it on this photo because it's being picky but anytime that I do shoot, I don't shoot a lot of portraits but anytime I do, I generally don't have an assistant or anything like that. I don't pay attention to the details, you know. I'm just, it's shooting and I'm usually looking at the light and the camera settings and trying to get poses and whatnot. But you get weird wrinkles and things in clothes that when it's later on, especially if it's more for a more formal type of a purpose, you get these little wrinkles that look off. And I would never think about correcting these before but, you know, it can be a great tool to just go in and tuck little things like that. So, I see it used for that a lot, too. We'll close me up there. And then, if you've never seen this it's pretty cool to see. But Liquify actually senses faces. You can see here Face-Aware Liquify, and I can change eye size. I can change eye height. Hi. I can link them together, I can change eye width. I can change eye tilt. How you doing? (audience laughs) Eye distance. Pretty freaky, isn't it? Nose. Width. You get the idea. Yeah we got like a, we kinda got the half-smile so we can go full smile or we can go pouty face. Upper lip. So this is more for fashion, beauty retouch. I mean, I don't think most of us on a daily basis are doing this kind of work. But is does have it's again, fashion, beauty-type work. They do this stuff all the time.
Ratings and Reviews
I've always wondered what all the filters were in Photoshop. This class showed how they work, and which ones are helpful to use. I learned a lot and I recommend this class.
Student Work