Ditch Your Day Job
Michelle Ward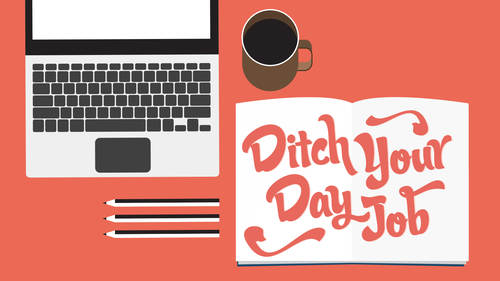 Ditch Your Day Job
Michelle Ward
Class Description
You don't have to commit your life to a soul-sucking day job. In fact, you can drum up the job of your dreams if you have the right mindset and an action plan to back it up. In Ditch Your Day Job, career coach Michelle Ward will show you what it takes to go from bored-at-work to satisfied and self-employed.

There was a time when Michelle was wasting her days working in finance. She was miserable at work and needed a change. Over the course of two years she cooked up her escape plan and has been perfecting her approach by helping others for the last five years. In this class, she'll show you how to prepare to leave your day job for a career you love. 
You'll learn how to:
Create a simple plan for getting your business started




Establish an emergency fund




Identify your existing sources of help and support



Michelle will take the mystery out of starting your own small business and help you zero in on the details that will make it happen. You'll develop a savings plan that will give you a good buffer before making the leap and get tips on exactly what it takes to make your new endeavor profitable.
If you are done with counting down the minutes at your day job and want to launch your own creative business, Michelle is ready to give you all the inspiration and insights you need to set yourself up with a life and job you love.
As a bonus when you purchase this class, you'll get:
 1 Year Membership Free to Bidsketch

2 Free Hours on Breather, to apply towards booking one of their beautifully designed workspaces.



Class Materials
Amazing Discount Codes.pdf
Ditch Your Day Job Workbook.pdf
Ratings and Reviews
Fantastic course! I highly recommend it. Michelle is a wonderful teacher: energetic, passionate, funny, and encouraging. Kenna is also a great facilitator; the most natural and genuine host I've seen so far on Creative Live! Great job both of you. And a well-deserved shout-out to the in-class participants, who were engaged and candid about their own situations. Best of luck to both of you with ditching your day jobs. This class has given me the structure and several practical tools to facilitate my own transition to creative entrepreneurship and out of a soul-sucking job. Michelle shared many supportive messages that made me look more confidently at my "uniquity" and its value in the creative marketplace; as a result, I am now eager to take the action towards building my art business. I will use my S.N.A.P. to comfortably and confidently get to where I want to be, so that I don't snap at my day job in the process ;-)
This course is truly AMAZING! I've been in hyper - forward motion since the first day! Thank you Michelle! This course was honestly different then any other! It gave actionable items, where to find support, and tons of yummy resources (which if very time consuming and somewhat impossible when you have a DAY JOB!) My Day Job is actually "ditching" me but by having a plan (which Michelle gives step by step details how to do), I'm totally comfortable and even EXCITED to be DITCHED! Several items that she shared I've already been able to implement into my creative business plan AND my personal life! Double whammy! I ended up buying the course to make sure I didn't miss anything! Super excited to continue and wish everyone luck on their own creative journey! ~Enjoy!
I was one of the fortunate studio members of this class. Wow! So much great information, step by step instructions, enthusiastic encouragement and fun! Michelle takes you through the baby steps needed to form a solid foundation to get ready to ditch your day job and do it with a plan, a safety net and a support network. A common sense guide to doing something uncommon and (to some) seemingly nonsensical. The videos will teach, inspire and encourage, the workbook will make it real for your own situation and the resources that are provided will be invaluable as you prepare to ditch your day job. You will be so glad you purchased this class!
Student Work