Diving into Photoshop Filters
Flames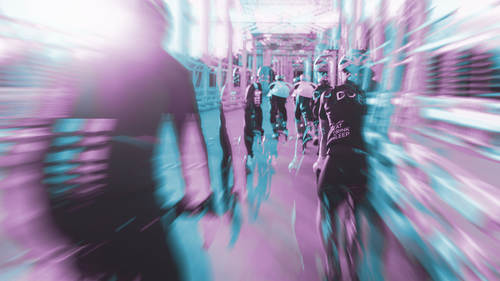 Diving into Photoshop Filters
Flames
Lesson Info
Flames
you can also render flames, which is, like, so fun. Okay, so too do the flames. We need to have a blank layer, and then the flames have to have a path because that's how they work. They work a long path. So the easiest way to get a path is to use the shape tools. And so, in this case, we're gonna put a path on this. Oh, so I'm gonna grab the Ellipse path tool, and we don't need it to be a shape. We just want it to be a path. So there's no Phil. There's none of that business, just a path. And then I'm just going to click and drag to draw this path right over this. Oh, and now I can just make flames. And it's a simple is choosing filter runner flame and hope my computer can handle it. This is a little processor intensive, so they actually you can choose quality like low, medium, high or fine, which is very slow. They warn you. So I'm not going to do that on camera because we may never recover. I just don't trust my computer right now, so we'll just leave that alone but there are all kind...
s of presets that you can choose from. And, um, this is one that I put together when I was making this. So you can adjust like the types of flames. You can have one single flame going along the path, or multiple ones that can change directions and be different angle that contains there with. And you could make thm randomized, and you just have to mess around with it. There's no better way to really tell you, but you just have to mess around with it on. Then when you're happy with it, you click OK and you have fire. And if you don't want to see the the path anymore, you just can't go to the path panel and click off of it and it'll go. And then, of course, it's fun. I'm gonna take this path and traffics now. We don't need it on going to come back and make another new layer. And then I thought, Let's go back to our little amoeba custom shape, a tool. And this time, let's choose Now again, if you've never used this tool before, you're probably looking at just a limited number of shapes like this. So to access all the shapes, you want to come to the gear and then choose all or whatever subset that you want. But in this case, I'm gonna grab this music new and I'm still in path mode and I'm just going to click and I'll hold shift So I don't get something wonky and something like that. And again, we'll come back to filter render flame, and we can go with this Or, you know, I kind of liked the other one, which I don't even know what it was. Now. Then there's not so good flames for whatever particularly use you have going on. So you just got a play with it. I like that. This is a preset I made. So once you find a precept that you like for your use, then you want to be ableto save it. So once you get the settings where you like it, then come back up here and save the preset and you can give it a name like hot tunes or hot, And that way you can apply it again without I don't know. I always have a hard time in there. Like when I'm messing around with the things I forget, what's what and like. I think I'm changing one setting. And then when I try to fix it back, it doesn't look the same as it did before. Something else changed, and it's kind of I don't know. I get lost in there. So it's really helpful. If you finally do get it something that you really like, save it and then we just have this cool add or whenever this would be I don't know. Um, there's some other cool things that you can render. Some of them are kind of. I haven't figured out good uses for them yet. We'll see cloud later. We'll take a look at how rendering clouds can be useful. You can render, um, picture frames. You can render trees I think in, like choose what type of tree that you want. So I'm sure someone has done something brilliant with with this. It's not me. But if you make something brilliant with rendering trees, send it to me. I would love to see it, but that is available. There's all different kinds of things that you can render. So my favorites are the fire and the uh, lens flare and the clouds actually will do some of those. And you can do all kinds of effects. As I'm sure Cory has probably been working with people in three D World, that might be a little more handy and maybe the trees to I don't render dreams in my portrait world, but, um, other people might in a three D world.
Class Description
When it comes to Adobe® Photoshop® filters, there's more than meets the eye. Beyond cheap tricks and quick fixes, Khara Plicanic will show you the powerful manipulations, effects, and more that one can do when utilizing this tool. Discover new uses for filters you thought you knew, and several you likely overlooked.
Software Used: Adobe Photoshop CC 2017

Reviews
Khara is knowledgeable, creative and has a fun and easy to understand teaching style. This class goes over some of the default Photoshop filters and offers ideas about how to use them for creative effects. My favorite new thing I learned was about displacement maps, but I'm looking forward to trying more of these out.
Explore More Free Classes
THE
CREATOR

PASS
Enjoy the free classes? Get 2000+ more Classes and watch it anytime, anywhere.
Get The Pass