DIY Makeup for Photographers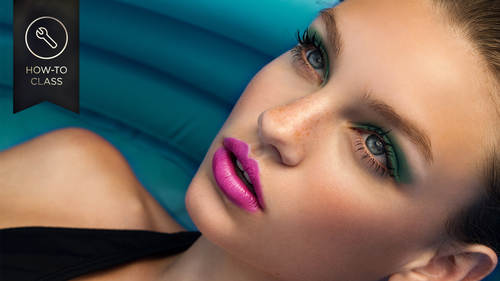 Lesson Info
DIY Makeup for Photographers
Beautiful, styled shoots can be done without the help of a makeup artist. Learn how to provide your clients with gorgeous, glowy foundation, red carpet-worthy eyes and a brilliant smile. In DIY Makeup for Photographers, Courtney Dailey will discuss how to offer a high-end experience with makeup and hair services you provide yourself. 
You'll learn which products work well for beginners and why doing makeup for photography by yourself opens you up to exciting possibilities. This is often an overlooked component of portraiture, but being able to provide makeup for your photography services can really set you apart. 
Reviews
Wow! And, again..... Wow! As a successful male photographer, age 59 and a user of make-up on my own face, I loved this Creative Live production. I loved the fact that Courtney Daily shared a man getting make-up on him...as well as a woman. I am married, but, look years younger by applying Courtney's talents to my own face. Being an older male, I use moisturizers to look younger and my Client's love and give positive comments about it. Also, I love the fact that Courtney put make-up on a man and made him look years younger...as I do for myself. But, most of all....Courtney....I love the fact that your teaching revealed that you are "blending and concealing" imperfections on a Clients face....not "fixing" their face as some so called "Make-up Artist" proclaim. All-in-all...I believe this video download is one of the best investments I have made for my business since I started into photography back in 1985. So, keep up the great work, Courtney Daily. I hope Creative Live lets you produce us another one.
Hmmm, well... just got done watching this video. Firstly, I am not a professed expert at make up, but, I feel after so many years of going to the MAC make up counter and watching "what not to wear" episodes, I did NOT learn anything new in this paid podcast. as a new aspiring boudoir photographer, i see value in learning make up due to the risk the reliability and schedule constraints of a paid make artist. i think the concept is a good idea. i think the execution of this was poor. there was too much talking initially about bunnies and cats. i appreciate trying to connect with an audience, but, for the number of times courtney explained why she could NOT show us other techniques due to a lack of time, or tangents she went on, i would have liked to have seen more instruction. even at the end, a few more advanced make up photos and her verbally walking us through the techniques around eyes, would have been better than omitting them altogether from this presentation. i think going to your MAC counter, the girls there are fantastic! they have really taught me so many things about how to do eyes. skin tone evening is pretty basic to me. i want to learn more about adapting to different client eye shapes, skin colors. having an example of a starter kit would have been nice too. i don't want to go to her website, have to give an email to get that information. i'd rather see that on creative live. the LA accent was driving me a little nuts after 1.75 hrs, so, although i wanted to learn more, i was finding myself glad it was over. :/
Thank you so much for giving such an interesting look into makeup for photographers. Even if I'm more a retoucher, this class helped me to understand the "why" of this step of preparation for the shoot. Courtney has the talent to present with a charming personality and creates a calming atmosphere. Combined with her great in-depth knowledge and an easy to follow way of teaching, this class is worth every dollar for everyone who wants to get into DIY Makeup. Not only photographers. Awesome Courtney!