Deciding on a Wordpress Payment Method
Brian Wood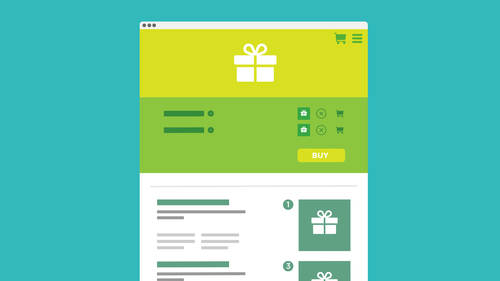 Deciding on a Wordpress Payment Method
Brian Wood
Lesson Info
4. Deciding on a Wordpress Payment Method
Lesson Info
Deciding on a Wordpress Payment Method
I want to talk a little bit about what to look for when you're dealing with a payment processing or when you want to sell stuff. What is are things you need to think about to make the decision. Do I go with a full shopping cart? So I just use a PayPal button. Okay. What's that process look like? What I'm gonna do is I'm gonna go out to a pdf I have and open it up and say what to look for. So in this pdf I have things to think about when deciding how to sell on, and that that's not even proper English. You know what I was thinking? Their But whatever. What to consider? If you are thinking about using an easy method using like the PayPal's, the Amazons, the dist of that guy, here's some just some general things to think about. How easy is it to use once you dive into it is gonna get really complicated. What kind of payment processors do they use? OK, Do they offer just if it's PayPal? PayPal button, is it just payment? Papal processing? If it's Amazon, is it just Amazon processing? If yo...
u decide you want to let customers accept more than one kind of payment. You might have to use a bunch of these together. Okay. Does it integrate with email marketing? This is pretty big. If you decide that you want to be able to do things like send out email blasts to people that have already bought from you versus people who haven't bought, there's a lot of things to think about their A lot of these simple systems may not cut it for you. You're gonna have to do it manually, OK? This is why people will start to use more complex systems because they can integrate different things. Is it free, or does it cost money? You guys, that if you're gonna use a system of service something to sell something, you're probably gonna want to go free, It depends. It's up to you. But, like a lot of the big ones are free. Okay, if you start paying money, monthly money, that kind of thing, it could mean that you want more options, okay? Or you want to store the data somewhere. You want to, you know, have other other things that you can do. Essentially, that's the idea Is there a membership price that kind of goes across? Closser goes in with cost versus free, if you will. Is there any kind of shipping integration? A lot of these simple ones don't. They don't have taxation. They don't have any kind of shipping that I have any method for doing that. So that's something you have to handle yourself. Just got to think about the product, What you're trying to sell. That's the idea. Do they offer other types of products or services that you want? Some of them do. Some of them don't once you start digging in and that's what we're gonna do today as we go through each sure the features you've got to decide. Is this enough for me? I can't tell you how many times that I went in and I used a simple processing, and I realized later that you know what we need to set up shipping. We need to do this, we need to do that. And I went from a simple tomb or, you know, woo commerce. And we're plug in eventually, maybe the membership system or cart debating and how much you need to do and sell. Okay? and set up more advanced options here. Is it skin? Herbal? Can you change the appearance of it? A lot of times of the simple ones weaken. Do some, but not a lot. Okay. Can you go in and change a lot of it? Are there coupons? Now? I'm not telling you that you're gonna need a coupon. OK, But if you decide that you need to offer coupons or you need to have sales, for instance, a lot of simple ones don't do that. That's where you have to step up your game and go to something like a bigger plug in or maybe even a shopping cart. Okay. Do they have content protection? That's huge. All these kinds of services are there Gonna have something The ssh, that secure socket, if you will, That way to to make sure that the data is secure when it is sent, Content dripping. I bet you 90% of us are never gonna think about this in our lives. OK, but what is content dripping in if you get into certain industries a lot of times, what they want to do is they want you to buy something, but they're gonna kind of I feed you that material over time. Okay? They're not going to say we're gonna give you 10. Pdf's for 10 bucks. They're going to say, Okay, we're gonna give you may be a membership price, or we're gonna give you 10 bucks here for three pts. And what they're gonna do is after maybe three days, they're gonna give you another three pdf's. And then after three days, gonna give you another three and what they try to do a lot of times to try to up, sell you across, sell you working that way. Okay, so it really kind of depends on what you're doing. Is there easy membership? Pausing is a re up. Can people say, You know, I I bought something. I want to go to see what I have. I want to go to go look at past orders, things like that. Can I create a membership? Can I not? These are things we need to think about Upsell down. So I just mentioned that. But if you want to take a product and you decide a lot of us have seen this, we go to a site and says, Oh, you want to buy that thingamajig. Okay, but look at this. There's something that people always purchase with. That Amazon is awesome. Adapt. They do a lot of cross selling grouping products, things like that. If we go and work with the PayPal Amazon. But we don't do all that manually and kind of set it all up in our sight manually. OK, but these are all things that we need to think about. I would check out. And you know what I would really check out if you guys were trying to consider what to do. Once again, which method should I use here? There's a couple sites here which I think are great. There's ah, touch plus article, which talks about how to choose an e commerce gateway that's actually setting it up. And one of my favorite sites ever is called wufu dot com. I just love the name, but I used these. This is basically a ah, a way to to create a form, and all the form data is generated on saved with Wufu. But you get to take their code and stick it on your site. Anyway, it's kinda cool. I'm not trying to sell them But if you look out here, you're gonna see different types of gateways or ways to sell things. And it's going to go through a list like stripe. You're gonna see PayPal website pro authorized on net. All these different things I mentioned and it talks about the monthly fees required for you just to sell for you to use it. It talks about any set up fees. That's another feed that you have to consider the transaction fees air huge. How much is it gonna cost you Every time somebody buy something? If you have a $3 widget, you're trying to sell someone, and it costs, you know, 30 cents per sale and 3% per sale as well. On top of that, you need to think about that. Okay, But other things that we consider as well it's a good chart toe. Look at. I would take a look at this. The Wufu chart payments, which go look at that website. Okay. Another thing here. I want to just talk about a little bit. Here are the different sites that we're gonna work with, and this is I guess you can say part of what we need to look for is all part of the same section because we need to consider all this. Now. I have two sites that I set up that are live right now that you can go look at that. Have a lot of these different methods built in the 1st 1 I want to show you is called Cell With wpd up. Brian would training dot com and you could see hopefully gets to the URL right there. You go to that one right now it's live. Take a look at it. This actually has the vivo donut theme built in. And what I did with this site is I added PayPal. I had a different methods of papal because there are different shades of pay fell that we can use. I added striping added square these air three big ones. I could have added Amazon, other block keep going. But if you go in it, it's a papal here and I go to PayPal Manual and take a look. I kind of mentioned this a little bit earlier, but you're going to see that this is called an offsite payment because somebody can go in and do things like this they can say, Oh, I want to select a product size, for instance, on a T shirt. I have a few options I can work with, and a lot of times you're not going to see something like, Let's add it to your cart. Let's go check out the card across cell or this type of thing you're just gonna see by. So if I go to click buy already showed you this. But it's gonna go out to PayPal, show you the actual you know, the form kind of get it done and you buy it. You're done. That's it. Okay, so this is kind of Ah, simple process there. That's what I'm talking about. Simple. Now, another way that we're gonna do this. We're actually gonna go through in the next section. I'm gonna show you two different methods for PayPal to actually work with it. And it's gonna be very similar to Amazon's and different ones. But the papal manual, this page right here is going to pay pal website signing up, making a button and bring it over. WordPress also has a lot of third party that will create plug ins for us, and this is what's called a simple papal plug in, and it does kind of the same thing. But it will generate a button for us with a few options, maybe, and it's gonna do the same exact thing you're gonna see. There's the typical PayPal button I go to click on that it goes out to PayPal, makes the purchase and does the thing. All right, Let me actually stop that and go back another type we can do with PayPal Anyways, we can kind of bumping up our game here. OK, we could use what's called a papal shopping cart. Now this is a really simple shopping. Carts is in a real ones, just a plug in for WordPress. But this is once again I'm using PayPal, for instance, and I want to step up my game. I need to do some more things. This type of thing actually has a cart built in, which means that people can go in and add products to a cart, maybe have more than one thing to sell me. You've got different options for those things I could say. Let's add something to a cart. It's gonna add it to my cart. In particular and it's going to show me a shopping cart. It's all on my site. But the idea here is that we're still going to go to PayPal to buy this thing. But this gives us more of a feel a look and feel, for it's all on our site. Okay, so I got a visit. Check out with PayPal. It's gonna go do that now. Another method we can use. Let's say strike. We're gonna take a look at this one a little bit later on. This is kind of in the last section, but ah, lot of us use stripe stripe is actually pretty cool. It's a great payment processing system, but it's really simple. It's a way for us to just I guess you could say essentially, take a button or some content, stick it on our page and it's once again off site. So I go toe by this coffee cup, you're going to see that the shopping cart is not part of it. That's all part of that other plug in the papal plug and I was talking about you're just gonna see this interface, and I created this stuff by was stripe click on it it's gonna go out to the stripe interface here essentially and let us purchase, okay, and that's all going to be done and take a look. It's all gonna be done through the stripe processing system, and it's all secure and ready to go. That's the idea and square the last one. Let me take a look at Square Square is cool. I love square. Have you square a lot? It's called Square up square up dot com. It's that little White Square cube you can stick on your device. I wish I had buying today, but you stick it on. You can swipe the card. In any event, I used to sell handouts and books and stuff like that because by him and a credit card does it. But we can actually put that on our website so you can go. Let's say order via square up. Once you click. Once again, it's not gonna find the business. That's great, but it's gonna go to the square up website. It's gonna find the business sell through, square up and be done. OK, now the next site, this kind of last one I want to show you here. This is a little bit more full blown, and this is more of a shopping cart solution. It's not a big one, but this is called Wu commerce. This is a plug in for WordPress, and it's kind of one of the big ones. And with this website here, if I go to the shop tab in the far right, it's gonna take me out to the actual shopping cart. This this has a lot of the bells and whistles and different things that we want to use built into it. It's really pretty amazing. It really is. It also affords us the ability to do everything on site. This is non site shopping cart, if you will, and it gives people the ability to go in and do things like choose different payment methods. So, for instance, I got my shop here and I'm not a designer. Okay, so snicker all you want, but you're going to see, like I want to buy a T shirt. There's my T shirt. I go click on it takes me out. It's all on site. You're going to see over here on the right that I actually have a shopping cart built in the T shirts themselves. I have the ability now to select options to take a look at it. Let me click on select options and you'll see that suddenly it kind of blows up here. This is much more than we saw a minute ago. The papal stuff Because I have things like I can show different options. I can see, like the back of the shirt. I can show a different logo on the shirt. We have options for sizes. We have options for colors, and it's gonna automatically update and change and work within a cart system right in the sight. This is Wu commerce, and this is what we're gonna build. And this is gonna be the third section today. Thing I love about this is all the different information reviews and different stuff we can do. And this is more of what you'd expect for a flying. I guess you could say e commerce solution. OK, so that's pretty great. All right, now, the last thing to do with kind of what to look for here, I want to talk a little bit about, um, just working locally and what I'm gonna do as far as selling and how I'm gonna do this today. I'm on approach creating today. When you go to do this, if you want to follow along, you guys are gonna get the creativelive theme. If you guys by the course on what you could do is you can install WordPress on your host. If you want to. You you can install the theme, and you could just start jumping in and get working. Okay, What I'm gonna do, and I don't I'm doing this because I don't want to freak people out. Okay, I'm gonna do something called work locally. So essentially, I don't wanna wait for the Internet and install things over the Internet. Make sure it's things could happen to the bad things. So when you're working with WordPress, what you can do is you can work what's called locally. I'm not showing you how to do this, Okay? But I'm just trying to tell you that I'm gonna work locally. And when I go to look at something, I'm actually using varying vagrants. Okay? Don't even worry about that. It's actually kind of cool, but on when I go toe to do something like we go to sell something you're going to see that The URL for the site I'm working with is actually a local u r l called dot dev. So somebody you're gonna notice that later on. That's because everything I'm doing is on my machine. I actually have I don't want to give it away in the back here, but I have something called virtual box running in the back. It's got a server. It's got all this stuff running, and I'm just doing it all locally. So that's really what I wanted to point out and just say that, you know, hopefully doesn't freak you out later. Okay? You're gonna go through. If you want to build this, you're gonna make sure that you have your host, your set up, your theme, everything ready to go. And we could just start installing plug ins and working from there. But that's kind of the idea of of just things to think about, Okay, A lot of stuff to think about. So what's a good plug in for taxes? Yeah, um, I hate the tax issue. Yeah, you're gonna find it. Ah, lot of the a lot of the plug ins they're going to use. Let's say, like a woo commerce, for instance. And I know I keep going back to that one, but they actually have tax plug ins that you can purchase through them. And a lot of these plugging you're gonna have to Probably by okay, But they have ah, woo tax. I think it's called or something like that. Maybe I'll mention it or show you at the towards the end when we're talking about, well, commerce. But that's a really good plug in. I would look for whatever plug in system solution you're working with. There's most likely 1/3 party solution for taxes that they can use. So that's what I would do. Austin T. Ford wants to know. Do I need a PayPal account to accept e commerce payments? Yeah. If so, if you're gonna use, um, if you're gonna use PayPal, for instance, and you're gonna use that they're processing services and you get a button from them, that kind of thing, you need an account, and I'll show you the different accounts we can use and kind of talk about those because it is important. Now, if you're gonna use a woo commerce or you're going to use some kind of shopping cart or something like that that offers PayPal as a payment solution, then know the person buying doesn't even really need an account, either. They can use a credit card, etcetera cool.
Class Materials
Brian Wood - Course Resource PDFs.zip
Brian Wood - Exclusive Wordpress Child Theme.zip
Brian Wood - Exclusive Wordpress Theme.zip
Brian Wood - Wordpress - Vivo Donut Website Resources.zip
Ratings and Reviews
I appreciate all of the knowledge that Brian offers. He has a wealth of knowledge, however he tends to "jump around" while speaking on a topic. For example, during the PayPal section, he spends more time speaking about other sites instead of just delivering the content. This made it a bit harder for me to follow along. I actually became frustrated. Overall, the course is useful but in the future, I recommend that he look at the topics and ensure that he sticks to the information we actually need.
Student Work