FAST CLASS: Bold & Fearless Design
Start With a Power Pose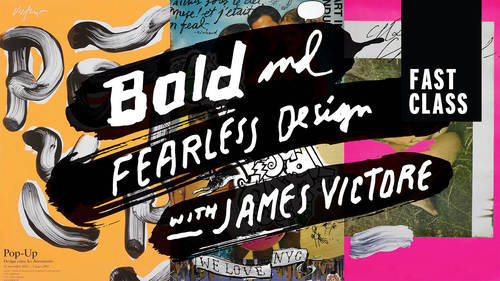 FAST CLASS: Bold & Fearless Design
Start With a Power Pose
Lesson Info
Start With a Power Pose
Mohammad Ali. What's he doing? What is he just done? Was just when I should have Russian drawn Jorge Luis on the fund. The floor there. Writer George Foreman on the floor. I couldn't get rights for a picture. So this is like an artist's rendering of except I drew without pants. So I'm really sorry. I'm really sorry, Ali, but, um, what he's doing is the power pose. It's called the power pose. And it's what athletes do across the board when they've when they've succeeded, you know, everybody does it. It's crazy. We watch the Olympics, you just see it all over. The place is really awesome. And what I want to do with you guys is I'm gonna introduce you to this thing. It's called the power pose. And it is, um um there was a study done at Harvard University, but Amy Cuddy and the study was actually called the benefit of power posing before ah, high stake social evaluation. So what I want you to do is what we do. And what I did before this before we started this morning is the power post. So ...
what it is is that like believing in it? feeling it in your body saying to yourself, I got this. This is gonna be awesome. This is amazing. I do it often in the studio. Laura has to read. My wife has to remind me often. I did it before he did it for, like, four hours before here because I needed a lot of power posing to gonna get me. And but we do it before before a difficult phone call before ah, conversation where you ask for more money and what you're doing is is you your You were altering your body, which alters your body chemistry, which alters your mind, which alters your behavior. And that alters the outcome. And the Harvard study proves that across the board numerous times in studies, it's crazy. So I want you out is a good time right now. Everybody stand up and just feel it like I've got this. I win, I win. This is awesome. Everybody online at home. I win. I win. I am the greatest of all time on, they say in the study. It says to do it like for two or three minutes, which is like, Could you imagine? It's great. It's like kind of It's kind of yoga. If you're saying like this and you're really reaching out, it's very yoga ish, isn't it? Uh, we got this. You guys are awesome. Yes, thank you. So power pose extremely important. Something to think about. Alters your mind, alters your behaviour, alters the outcome. You're like I gotta make a phone call and ask for money. This is gonna be awesome again. Putting it out into the universe extremely important.
Class Description
FAST CLASS:
Try a Fast Class – now available to all Creator Pass subscribers! Fast Classes are shortened "highlight" versions of our most popular classes that let you consume 10+ hours in about 60 minutes. We've edited straight to the most popular moments, actionable techniques, and profound insights into bite-sized chunks– so you can easily find and focus on what matters most to you. (And of course, you can always go back to the full class for a deep dive into your favorite parts.)
Full-length class: Bold & Fearless Design with James Victore
SUBSCRIBE TO CREATOR PASS and cue up this class and other FAST CLASS classes anytime.
An empowered designer is a truly creative designer. Let designer, author, artist, and activist, James Victore show you how to trust your instinct and embrace imperfection in Bold & Fearless Design.
When you follow the trends your ideas stagnate and you don't create the kind of memorable pieces that get you noticed. Victore knows the antidote to that creative rut. Victore has been exhibited at the Museum of Modern Art in New York and is represented in the permanent collections of museums worldwide. His commercial work continues to wow by being sexy, strong, and memorable.
Learn how you can make work that is captivating and uniquely you by taking a behind-the-scenes look at this renowned designer's method, thinking, and inspiration. Victore will talk about playing with different tools (not just digital ones) and rethinking the role of a designer.
You'll learn:
Exercises for generating concepts and design solutions
How to incorporate your hand into your work
Unexpected image-making tools and techniques
Software strategies for turning the analog into digital
Poster design inspiration is the perfect blank canvas for experimentation. Posters can be adapted for anything from a book covers to dinner plates. In this class, the poster format provides a launching point for discussing by-hand design and reimagining creative possibilities.
Don't be boring. Watch Bold & Fearless Design with James Victore and energize your unique creative spark.