FAST CLASS: Branding Strategies to Grow Your Business
Class Introductions: Branding Strategies To Grow Your Business
Jasmine Star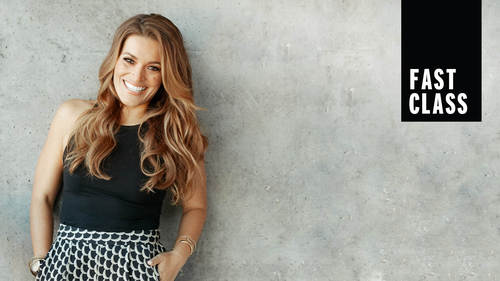 FAST CLASS: Branding Strategies to Grow Your Business
Jasmine Star
Get access to this class +2000 more taught by the world's top experts
24/7 access via desktop, mobile, or TV

New classes added every month

Download lessons for offline viewing

Exclusive content for subscribers
Lesson Info
1. Class Introductions: Branding Strategies To Grow Your Business
Lesson Info
Class Introductions: Branding Strategies To Grow Your Business
one of the best advice. One of best pieces of advice that I had received was to pursue curiosity, not your passion. And this is freeing for me because for more than half my life, I believed that before I could actually pursue an endeavor, I had to be passionate about it. We hear this often, people saying like, I don't know what to do with my life. Well, what are you passionate about? So I had convinced myself that before I could actually pursue something, I needed to be passionate. But then when somebody gave me the chance, the opportunity, the insight, the permission to chase an idea that I kind of sort of maybe might like, I started saying yes to new ideas. I started saying yes to the opportunity when I was curious about photography. And so as a result, I picked up a camera, and a couple years later it was voted one of the top photographers in the world. I started saying yes to social media, so I was curious about social media. So I said yes to Instagram. I said yes to Facebook said ...
yes to Snapchat. So you're seeing the pattern. I just said Yes, and I said, I wanna learn and I don't wanna learn it specifically for fun. I wanna learn it, how I want to learn it so I can grow my business And that's what happened. And what happened is just saying yes to curiosity, to pursue social media. I grew my social platforms to hundreds of thousands of followers, not because I was cool and not because my life was particularly interesting, but because I used a strategic pattern of growth in engagement. I was curious about entrepreneurship, so I said yes to starting businesses. But when you say yes to starting a business, you also say yes to things like paying taxes and finding your mission statement and social media and hiring a team and managing a team and outsourcing and staying upto one o'clock in the morning to finish the last minute tweaks to your website. So when you say yes, you are also saying yes to a bunch of other things. You have yet to fully quantify what that means, but all I'm saying is, this all happened as a result of saying yes, and I want you to do the same today. I want you to say Yes, Yes, to everything today and that tomorrow you can reassess those decisions. But here we're gonna be standing with our hands open wide to receive to come from a place of abundance to come from a place of saying yes, I agree. And these are the things that I'm going to apply today in my business to see if quite possibly they can work. If you are one of those people who are an entrepreneur and you are saying yes to curiosity and to pursue what this could possibly mean for your business, I want to say Welcome to the club of entrepreneurship, this club. We all know this club is filled with people who are hungry and hustlers. And they're crazy because you've got to be crazy to run your own business. Why not just show up to a job and then get your paycheck? No. We want to complicate our lives, right? Like that's why we're here. But Miriam was there. Defines on entrepreneur as the following Ah, person who starts a business and is willing to risk loss in order to make money or one who organizes, manages and assumes the risk of business. So there were two words in here that struck me. And according to these definitions, if you do not have risk and you do not have a business, you are not an entrepreneur, and that kind of resonated with me. But I'm gonna actually take this a little bit further because it is not just risk in our business, and it's not just having a business. What I have come to believe is running a business in the 21st century requires us to have, ah multitude of roles in our business. So it goes beyond risk. It goes beyond business and kind of forces us to think like a creative. But this is where I feel my tribe, the people who I have a tendency to track. This is our lane. We like being creative. We make things, we create things, we write things, we assemble things. This is our zone, right? So this is not a pressure point for a lot of people. Some people at home are like it takes so much me. That's okay, because this is one of three more things we're gonna add to the myriad of things that we do in our business. I think it also requires us to act like a manager. This goes back to if you have a storefront, your sweeping it. If you have a website, you're the one making the final decisions and or assembling it yourself. You are paying your bills. You are paying your taxes. You're doing quick bucks. You're logging the miles that you're driving to your destinations. This is a big role in our business that some of us in this room e me I'm like, Oh, email, Right. I'm in my email more than I'm actually with my camera. And that's not the thing that anybody's talking about that's gonna change today. I also think that when you run a business and when you aren't entrepreneur, you have to think like an entrepreneur. An entrepreneur is not just something you call yourself an entrepreneur is an attitude that you embody. You have to think about the future. You have to cast a vision. You have to say, this is where I'm gonna be in six months and 12 months. Heck, this is where I'm gonna be in five years, and some people prefer just to say I'm doing what I can I'm making it work. I'm just making it work. But the problem or the issue that we're going to discover later on today is if you are on Lee focused on today, you cannot possibly grow to where you want to be next week, much less next year. So when you play all these rules, when you talk about risk, when you talk about your business, when you're thinking like a creative when you're thinking like an entrepreneur, when you think about a manager, it could be very overwhelming. And since this room I know that there are people online. But let's just pretend it's just us in this room for the sake of my nerves, Okay, For the sake of my nerves, I'm gonna be real with you and say It's not just overwhelming. I think a lot of times will be really painful, and we don't talk very up. Like often about is, uh, the stuff that goes on behind the scenes. We love talking about the shiny. We love talking about the pretty Let's just talk about what it iss. Some days are awesome, and some days you wanna bang your head against the desk and say What am I doing? Okay, so now that we have that open I'm here. I'm guessing you're here because you are here to have a new thing, a new start. Something might have happened last year on your kind of like I'm going to do something different this year. And if you're ready to revolutionize your approach and you're not sure how to do it with the right steps, that's why I'm happy you're here. Because a lot of us when we get stuck, what we tell ourselves is I want a plan. But then we fail to actually create a plan. So we walk around saying, I need a plan. I need a plan. And today is simply to get you started on that plan. I'm gonna walk you through an action plan for the next 30 days, and I really mean this. I sat down and I created 30 assignments for y'all to complete. So there are no excuses. And here's the thing. But wait, there's more. Okay, assignments each day. I always I had I told my husband I joke that I had this, like lifelong passion of being on QVC. I just wanted you and creative life. Thank you for making that dream comes true. Um, I think that the reason why we become afraid of making a plan is because then we have to become accountable. We have to be accountable. That means we have to itemize the things we have to get done. And that, in and of itself, is so overwhelming. So I want you to succeed so ardently that I sat down and created assignments that shouldn't take you more than 20 to 30 minutes per day. Can I ask you to be committed to 20 to 30 minutes per day to revolutionize your business for the next 30 business days? I gave you guys the weekends off. Okay, You're welcome. Now, we know that this is gonna be a lot of hard work, but I know that you here in this room and people were watching online are not afraid of hard work. What we're afraid of is doing a lot of hard work in the wrong direction. So then we get paralyzed with We don't know which way to go today. I know this works. I can't forecast what your business will do on Day 31. I can forecast what your day is, what your business will do on days one through 30. So if you are committed to do that welcome. And thank you for being here Now, perhaps in the past, the thing that I hear quite often the buzzwords that people are saying is I'm tired. I'm overwhelmed. And the one that hurts me the most is people say I'm overlooked. People just can't find my business. Or if they're finding my business, they just don't care that much. And that hurts. So maybe you're at a point where you're not overwhelmed, you're not tired and you're just getting a lot of attention. You could be in the position where you're spinning your wheels and you're like, I'm not getting anywhere, But boy, am I running fast. I don't have a destination, but when I get there, today is gonna be the start of something different. Oftentimes we say we want to change or no, we don't. Nobody says, Hey, I wanna change. People say I want to grow, but you can't grow unless you make changes. Because what you're doing right now has got you this far and you can't seem to push. You can't seem to move the needle. That requires change. That's what today is about. So you are in the right place if you are coming here and you want a 30 day plan of strategic growth and you're ready and you're in the right place if you're ready to take your business to the next level.
Class Description
Are you frustrated because you feel invisible no matter how much work you do to grow your business? Are you willing to do the work but not sure which tactics will provide the best results?
Beyond taking risks, Jasmine Star, understands the challenge of thinking like a creative, being a manager, and dreaming like an entrepreneur, and she shows you how to balance those competing roles.
In this class, Jasmine coaches you (ideally the entrepreneur with two to three years of experience) to reach the next phase of your business. Get ready to feel excited again about your business and really start building momentum by learning:
Identification of your brand voice
Website, social media, and design alignment
Effective copy strategies
Basic principles of website design for optimal results
Too often the instinct to grow your business is to be like everyone else, but the truth is you need to stand out to be successful. Gain clarity, encouragement, and confidence in this class to increase sales, visibility, and exposure.