FAST CLASS: Branding Strategies to Grow Your Business
Definition of Creative/Manager/Entrepreneur
Jasmine Star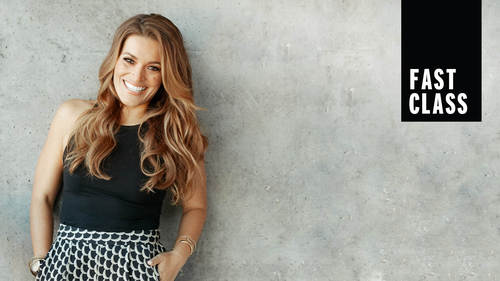 FAST CLASS: Branding Strategies to Grow Your Business
Jasmine Star
Get access to this class +2000 more taught by the world's top experts
24/7 access via desktop, mobile, or TV

New classes added every month

Download lessons for offline viewing

Exclusive content for subscribers
Lesson Info
7. Definition of Creative/Manager/Entrepreneur
Lesson Info
Definition of Creative/Manager/Entrepreneur
if we're talking about the definitions of a manager now, as we go through this, let me cast where we're going. We have three main hats manager, creative entrepreneur and for some people have wearing the manager hat. You just feel like you're in your groove. You handle stuff, you feel like you're the most productive. I'm getting work done and another of us are feeling at different places. Let's just see where we assess ourselves. So as a manager, this is the role that we play most of us since we're all very small, small businesses. Uh, do email clients, customer support. We pay bills. We file taxes if we have one or two employees or employees were managing them. If you have a storefront, you are literally the person who kind of sweeps up the proverbial sweeping up the floor right, like. And if you're not, the person holds the room. You're assigning somebody to hold the room, clean the windows. You do the daily task to make your business work. So then we have the Creator. This is where ...
I would venture to say a lot of us strongly ally with Now this is a person who strongly or who is responsible for creating or producing the product that you're selling. So, for instance, if you are if you make jewelry, this is the time that you speak that you spend making your jewelry, threading the beads, adding the class. That's your work time. If you're a life coach, this is the time that you're actually consulting with your clients or you're writing a curriculum, anything that is going to do to sustain and grow your business as you create your products or services. Now this is the entrepreneurial, this person or this hat. I said, just a person, because we are all the same person wearing multiple hats. This person is wearing the hat of entrepreneur and you think about where the business is going. You think about dreams of the future. You think about the trajectory and this person, this person. This hat is responsible for a long term sustainability, and this is a hat that's scary for a lot of people, myself included. This exercise, as we're walking through the class right now, is to assign how much of a percentage you spend your time. Now I know where you want to spend your time and most of you are thinking Well, I'm 33. 33 33. Okay. Okay. Ah, perfect. Growing wonderful businesses. 33 33 33. But why don't you just take a second and assess? How much time do you think that you are wearing the manager hat? How much time are you taking wearing the creator hat? And how much time are you spending in the entrepreneur hat? The goal for us? Yes. So I run my business with my husband. He is clearly the manager. He does all the taxes. All the accounting is like the general operations. I'm or the creator. The entrepreneur. So from this exercise, is it bad that I'm not mawr of the manager? Know? Because we're gonna get to outsourcing. Great. So we're great source way. Absolutely. Husband feel about that. But it s yes. We just need to make sure that that somebody is wearing that hat as I grow my business, Let me tell you, I can't wait for the day. And my husband, who is my business partner and full supporter, cannot wait for the day that we can actually justify the expense of getting a CEO. We want somebody. The chief operating officer. I'm somebody should just organize my life, and I feel like I'm very organized and for 11 years I've done this. But as things get bigger as we're diversifying in such a big way, I would love somebody. Come in and build systems, connect with me and say, This is where you going? I'm a do er I love creating. Give me all day Just leave me alone. Let me write, like sometimes JD will make fun of me because if I'm kind of my computer and I'm writing and he's talking to me, he's like, You're not paying attention to anything I said, I'm like, I'm Sona. I am so being rude. He's like, How about you pay attention? Like how about 15 minutes? Since it's my work time on my calendar, I focus on this, and during lunch we talk about that. I'm such a jerk who wants to work for me. I don't wanna work for me, but at the end of the day, as long as these hats are being distributed and growing, then that is when you're you can sustain a healthy business. Okay, so I would attribute that where that is and, um, even though that person is doing the manager role, you probably assigned a little bit because you don't need to be in it, but you definitely need to be on it, understanding what he's doing in ways to improve, yes.
Class Description
Are you frustrated because you feel invisible no matter how much work you do to grow your business? Are you willing to do the work but not sure which tactics will provide the best results?
Beyond taking risks, Jasmine Star, understands the challenge of thinking like a creative, being a manager, and dreaming like an entrepreneur, and she shows you how to balance those competing roles.
In this class, Jasmine coaches you (ideally the entrepreneur with two to three years of experience) to reach the next phase of your business. Get ready to feel excited again about your business and really start building momentum by learning:
Identification of your brand voice
Website, social media, and design alignment
Effective copy strategies
Basic principles of website design for optimal results
Too often the instinct to grow your business is to be like everyone else, but the truth is you need to stand out to be successful. Gain clarity, encouragement, and confidence in this class to increase sales, visibility, and exposure.