FAST CLASS: Glamour Photography
Gift Vouchers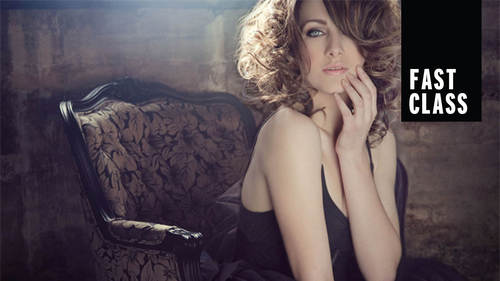 FAST CLASS: Glamour Photography
Gift Vouchers
Lesson Info
Gift Vouchers
I do not have a marketing degree. I have nothing. Let's go. When I was 15 I went and did make up and hairdressing for two years. I do not have a business degree. Eso It stands to reason that I have zero chance of making money. My first boss told me I would never be a photographer because I simply elect people skills. And I believe that for a long time. So I realized business really is just about a really basic common sense. You know, you make money, you save money. If you were growing tomatoes, you would grow your tomatoes and take them to market when she take them to market. You're good to go. All of a sudden you're there. I've written my team leaders. I get seven replies to nose. Five years is I have 1200 vouchers, 131 sittings. Equates to 297 makeovers because I opened it up two doubles and triples. I'm gonna talk about that after our break. This is my gift voucher. Now, this isn't the Pdf download. If you buy this course, you get these. Pdf's This vouchers is a double makeover. and...
photo shoot with super eyes plus $100 towards Portrait's. Now what does that tell you? It tells me that the shooters for free, but it doesn't say free. It says Somebody else's bought it for you and it says You've got $100 to spend on photographs. There's not a free photo because a shoot in a free photo is final and what I want is to give you $100 to spend on a package of your choice on an AL a carte package of your choice. So it's the way you would it then. I want to sell the experience. It's the ultimate goal. Stay out. Celebrate your relationships. Enjoy this beautiful session with your mom, sister, Best friend, partner. Remember to book a night out afterwards because you look fabulous. I'm gonna put an expiry date on it because I wanted to have a call to action, and then I'm gonna finish with the disclaimer. This voucher is not redeemable for cash. That's very important. I've just given them $290. They need to know that can't come and get that from me. Secondly, we cannot be held responsible for how entirely hot you will look because we wanted to be cute and funny and gorgeous. That gift vouchers in a beautiful envelope. It's in a beautiful card rep. It is presented to them from 1/3 party that is giving that gift off the shoot. This is how I started my business. As soon as I started to get referrals, I went back to charging $190 for a double here of double sure photo shoot with full here makeup that $190 paid for my makeup artist.
Class Description
FAST CLASS:
Try a Fast Class – now available to all Creator Pass subscribers! Fast Classes are shortened "highlight" versions of our most popular classes that let you consume 10+ hours in about 60 minutes. We've edited straight to the most popular moments, actionable techniques, and profound insights into bite-sized chunks– so you can easily find and focus on what matters most to you. (And of course, you can always go back to the full class for a deep dive into your favorite parts.)
Full-length class: Glamour Photography with Sue Bryce
SUBSCRIBE TO CREATOR PASS and cue up this class and other FAST CLASS classes anytime.
When you hear the words "glamour photography," what comes to mind? Pink backdrops, feather boas, soft focus, blue eyeshadow and lots of hairspray. You get the picture. But thanks to master photographer Sue Bryce, there's a new kind of glamour shot, one that's beautiful, contemporary and taking the market by storm.
Bryce has hit on a formula that's kept her portrait photography business thriving for two decades, and she's here to reveal all of her secrets. In this three-day workshop, you'll learn everything you need to know about posing, eye lines, hair and makeup techniques, and wardrobe. You'll also get advice on building your own business and successful marketing practices.
Whether you want to focus your business on glamour shots alone or simply improve how you photograph women, this course is a game-changer. By the end, you'll have the skills to bring out both the inner and outer beauty of all your female subjects. In this class, you'll learn how to:
Define your style, brand and target market.
Market your business creatively and get yourself noticed.
Figure out what women want and sell to those desires.
Pose your subjects by following Sue's rules: chin, shoulders, hands, hourglass, body language, asymmetry and connection.
Use natural light to make your work more modern.
Include husbands, boyfriends and families in your shoots.
Create before and after shots.
Make women of all shapes and sizes look and feel fabulous.