FAST CLASS: Glamour Photography
Natural Light Studio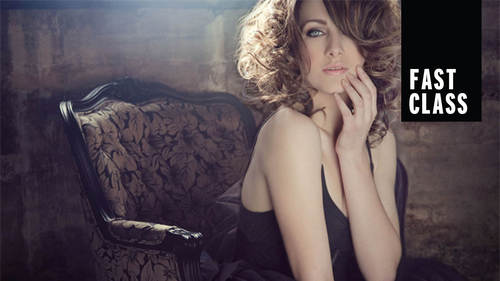 FAST CLASS: Glamour Photography
Natural Light Studio
Lesson Info
Natural Light Studio
we're going to spend this next little section talking about natural like studio. So I get asked a 1,000, questions about what my studio looks like about where I shoot and used today. You saw me photographed the girls images, and then you saw the girls in their little corners where they were being photographed. And I know a lot of people don't quite believe that. It's really as simple as it is for me. Uh, Simona on my camera bag. I have that white Shir. You able to get that for me? Okay. So wrapped up inside my think tank camera bag and my think tank camera beggars got both of my cameras in it in three lenses, battery pecs and a Polaroid camera rolled up in a tight little ball. I have this, which is polyester chiffon. So it is just a very light, sheer fabric you can see through it. It doesn't have too much of a sheen on it. It's around $4 a meter. And I carry this in my bag because the one thing I cannot do when I'm not shooting in my studio the one thing I cannot do when I'm on locatio...
n is diffused light. If I don't have something to defuse it now, you will know that I have these large Palestine reflectors And when I go on location, they cannot come with me. That is the one thing I do not take with me is the large Palestine reflectors. I can't. But what I do is I have a smaller vision which I can pack into the car. Now, Today we've just got a really tiny vision just to show you but my polystyrene that I pick into the cower about four times bigger than this. So they're not the big ones. I just keep them about the size. I do not have the pop out reflectors because I think the white Styer, if I'm is a bit of reflector and I will carry them around two locations. Not a problem. Of course. When I travel overseas, I will buy so you can go to Home Depot or whatever. What do you have here called home? Do you go to Home Depot and buy a polystyrene shape that is twice as big as that which is quite portable for you to use and I leave them places I give him two photographers. But I prefer this. And so if these two things are in my bag, then I can defuse the amount of light that's coming through a window and I can bounce it back. And those are the two things I need to control light. This here is about, I think, eight meters long and I also have a packet of pins in my bag. And I'm not above draping this, doubling it up using pins. But I will cover any window double it up. I can make it look pretty. I can pretty much hang it off anything and it gets a bit teddy. I have to wash it every now and then. But basically what it does, is it diffuses the amount of window like coming through a window. And if that's my only light source then this morning, when we did the poses with Simona so we didn't smoke her against the wall. We did. Simona fled on cover Girl, we did Samona during freestyling, lying down and sitting in the cheer. All of those prices, they're gonna be done within two meters of each other. Okay, so I will work around one corner. So let's break that down. This here is my studio in New Zealand, and what I did was I built an in tune a wool. So about 1.2 meters from the window, I put a wall in here it in a little corner. So it was right here and what it did was I. I actually nailed it into the floor. It didn't move. It was just a just a floating corner. I could pose down this line with leaning against this war with the light directly on them. Or I could go around the inside of that, imposed them against this wall with the light brushing over them this way, the only light source in the studio. It's running along this side, and so I could also turn them around and photograph them, fled against that wall. So for the people that have bought the posing manual, you'll see that there's a number on the floor which I mapped out the studio and I called them scenario. 12345678 1911 12. Getting so at any time I could change a position to what I deemed a scenario. 123 or four and I could say shooter in scenario, for against the mid grey background, with the curtains pulled closed and that watch here and my staff already knew how we were going to shoot it. So I kind of mapped out the studio with a light looked the best, and I painted the studio white on one end in mid grey. At the other end, there were 24 walls in the centre. One was mid grey, one was light gray, and when you close down the curtains, it significantly altered the light in that room because that is the beauty of light, whether it's natural or artificial, when you change the amount of light that's coming in and out of a room, and then you adjust your focus for your model. The light changes quite significantly in the background, of course. So when I wanted it to be, like in fresh on the great background, I just opened the curtain right up like this when I wanted it to be Doc in more silhouetted, I closed the kitten down, so just a shaft of flight was coming into the silhouette. But it's the same background, so obviously you need two types of curtains in your studio. You need a net that diffuses light, and then you need natural light are sorry. Thick block out curtains and they control how much light and they go over the neat in Couldn't, and they control how much light comes in and out. Ah, lot of photographers shoot boudoir in motels or hotels, and ironically, motels and hotels have block out kittens in a knit generally because people want to sleep in and they want a dark room. So I find generally hotel rooms do lock down a lot of lights. It is easy to get a double curtain like that. But if you shooting on location at someone's home, you do have to ask the question how much light is in the house and for a non photographer. Most of them cannot to their question. Obviously, you have to look at the light and what even the light is hitting here. You have to adjust it. The best thing about holding a reflector uppers you. You hold a perfect up with the natural light source, and you look at where it's hitting her face, and we're compliments here, face, and obviously, if it's there, then that's where your afflicted stays. But when I shoot back to the window, it's important that they are straight back to the window. You know, they're not like that. They usually like that. So they flat and straight back to the window. They're not usually pointing apple down, but I'm looking at her face. I'm working the life. A photographer will walk up to a client with reflector and simply look a light like that because I want to see where her face looks the most beautiful when it's illuminated and you watch your flicking like this, bringing an image up to two stops on the side of the face, so always looking for your life.
Class Description
FAST CLASS:
Try a Fast Class – now available to all Creator Pass subscribers! Fast Classes are shortened "highlight" versions of our most popular classes that let you consume 10+ hours in about 60 minutes. We've edited straight to the most popular moments, actionable techniques, and profound insights into bite-sized chunks– so you can easily find and focus on what matters most to you. (And of course, you can always go back to the full class for a deep dive into your favorite parts.)
Full-length class: Glamour Photography with Sue Bryce
SUBSCRIBE TO CREATOR PASS and cue up this class and other FAST CLASS classes anytime.
When you hear the words "glamour photography," what comes to mind? Pink backdrops, feather boas, soft focus, blue eyeshadow and lots of hairspray. You get the picture. But thanks to master photographer Sue Bryce, there's a new kind of glamour shot, one that's beautiful, contemporary and taking the market by storm.
Bryce has hit on a formula that's kept her portrait photography business thriving for two decades, and she's here to reveal all of her secrets. In this three-day workshop, you'll learn everything you need to know about posing, eye lines, hair and makeup techniques, and wardrobe. You'll also get advice on building your own business and successful marketing practices.
Whether you want to focus your business on glamour shots alone or simply improve how you photograph women, this course is a game-changer. By the end, you'll have the skills to bring out both the inner and outer beauty of all your female subjects. In this class, you'll learn how to:
Define your style, brand and target market.
Market your business creatively and get yourself noticed.
Figure out what women want and sell to those desires.
Pose your subjects by following Sue's rules: chin, shoulders, hands, hourglass, body language, asymmetry and connection.
Use natural light to make your work more modern.
Include husbands, boyfriends and families in your shoots.
Create before and after shots.
Make women of all shapes and sizes look and feel fabulous.