Which Audience Building Strategy is Right for You?
Megan Auman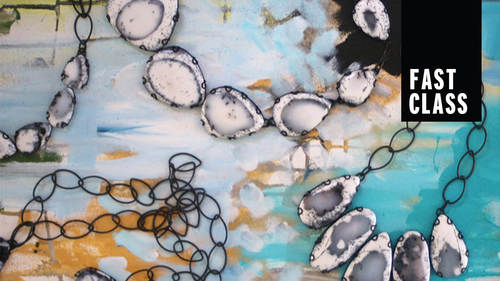 Which Audience Building Strategy is Right for You?
Megan Auman
Lesson Info
8. Which Audience Building Strategy is Right for You?
Lesson Info
Which Audience Building Strategy is Right for You?
So how do you know which of these audience building strategies is right for you? So I have got a couple of exercises that we're going to do to find the right strategy. So let's talk about what kinds of work work best for each of these strategies. So for shows, what really works best is a developed body of work that fits with the aesthetic of the types of shows you're focusing on. This is one that people skip over, but, like every show has a style, right? Every show has a vibe. When you go to renegade, you know you're at renegade. They have a certain style that they're looking at. And you can figure this out by going to their website. Looking at the artists that air. They're looking at their websites, looking at their social media feeds, getting a feel for the aesthetic, and this is not the only game in town. So you may look at something like a more traditional show. This is art writer. They do a handful of shows in the Northeast, clearly very different aesthetic, right? So if you're go...
ing to do shows, you need to be honest. If your work fits into the aesthetic of the show. Stores work best for again, and more developed body of work stores want to see that they've got some choices. And for stores, it's easier if it's a repeatable product line. One of the kinds are not impossible for wholesale, but it's definitely easier with products that you could make over and over again because that's what stores are really looking for. You send in the line sheet, they're gonna pick a thing, and then they know that they can keep ordering that thing over and over and over again. Stores are pretty consistent if something sells kind of want it back. So that's something to keep in mind if you're thinking about stores. Yeah, repeatable. That was my point. My point with those repeatable, simple things like that. All right, so search is getting your products to rank high in these different things. It works best for repeatable products, and the reason for that is because if you have things that are sold out, that's problematic for search, right, someone finds it. If it's a one of a kind, they click over and that thing is gone. First of all, then they're gonna bounce really quickly, which Google is not gonna like. So you're gonna drop in, search real fast. Same thing with etc. Even if you're getting found on search on Pinterest press works really well for unique and interesting products that solve an unexpected need. Yes, you can get pressed for technically anything but some of it is really hard. So if you have jewelry and it's just like, oh, that's pretty really hard to get pressed because everybody else has jewelry that Oh, that's really pretty. And so that's a hard one to break into. But if your product has a cool story, were cool function or something like that behind it presses a really great option, another's visual content creation, And this is really building an audience through the images that you create. And this works best for kind of catch all category that we're gonna call it right. You don't quite quite fit into any other ones. It's not easily searchable. It's maybe not the most press worthy, but you really want to go that online root. This is probably the best way to go, products that are more aesthetically focused that don't feel a specific need have you? I heard that like, Oh, make sure your product fills in need, right? Every product feels the need. Some things are just pretty OK? Yes. Like if you really want to argue it, OK, this feels the need of what am I gonna wear on stage for creativelive? But no, you're buying because it's pretty. Let's be honest, Okay? And it's fine. We're gonna own that. People buy our stuff because they like the way it looks. And if that's the case, a really visual platform is great for you.
Class Materials
Grow Your Audience Quick Start Guide
Ratings and Reviews
Student Work