Why Do You Want to Make Money from Your Craft?
Megan Auman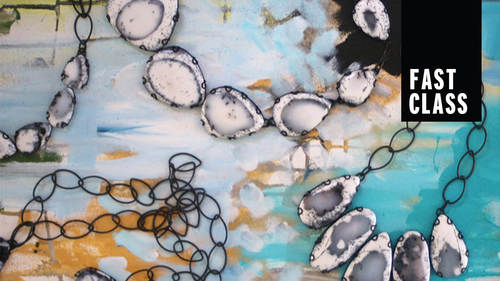 Why Do You Want to Make Money from Your Craft?
Megan Auman
Lesson Info
2. Why Do You Want to Make Money from Your Craft?
Lesson Info
Why Do You Want to Make Money from Your Craft?
So what we want to Dio is Look at this riel versus perceived pressure. Real pressure comes from an actual financial need, and it's fine. It's important, like I have real pressure. If I don't make money, I have to get a job leg. My husband and I both contribute to our income. We cannot live on his salary alone. I have to help pay the bills every month. So if I'm not bringing that in through my business, I have to go get a real job. I have no idea how to have a real job. I'm pretty sure I'm unemployable so that Israel financial pressure perceived pressure comes from strangers on the Internet and well meaning friends. And I couldn't decide which work to put in quotes there. And I ended up with both of them because I think they're both true, right? Like your friends, they really mean well, when they're like, Are you going to get a real job? Or you should sell that on etc. But they don't really know right there, just like throwing stuff out. And then you move on with their day and you're li...
ke but Susan now I don't know what to do because Susan said I should do this and oh my God. And like she's over there thinking about she's going to in spin class tomorrow. Okay, so they mean well, but they're really not. So why is it important to understand this? Why is it important to understand your real financial needs? So you're going to see this a lot. Get real comfortable with our little circle. When you're working on your business, you're splitting your time between these two elements between honing your craft and growing your audience. But the reality is it's probably not a 50 50 split. So your financial needs air going to dictate where spending your time. If you have less financial need from your business, you might get to hang out over here, right? I spent a lot of time one of your craft, a little bit of time on the audience growth. But if you're like I have to pay my mortgage this month, you might end up over here right, working a little harder growing your audience. I mean, you had to spend a little less time in the studio, but you know that this is what you have to Dio to move your business forward and hit those financial needs. So it's really important to understand that and again it's okay. Whatever solution urine, everybody is coming from someplace different, so it's important that you understand these for you.
Class Materials
Grow Your Audience Quick Start Guide
Ratings and Reviews
Student Work