Camera Settings Quick Overview
Pye Jirsa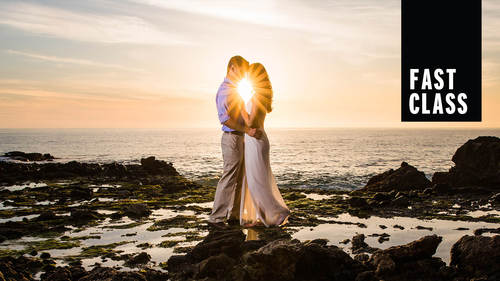 Camera Settings Quick Overview
Pye Jirsa
Lesson Info
10. Camera Settings Quick Overview
Lesson Info
Camera Settings Quick Overview
camera settings. This segment is a lot of the how we shoot. And so I'm gonna try and explain why throughout the entire piece, But again, if you're here, if you're at home Either way, I want you guys asking questions. Why do we do something a certain way? What would you do in this situation? That kind of stuff. So we're gonna start first with a little excerpt from everyone. One where we talk about kind of, like all of our general settings for shooting, um are typical. Cameras that we use in the studio are finding mark threes. We use some Sony and some Nikon, but we're always shooting full raw on everything. And we have Ah, I'm gonna say not always. We have a rule on that. So basically it for shooting anything with the intention to blow it up. So if it's a portrait, if it's a moment like, you know, with a couple or a family formal or whatever it is that we're shooting, if we have the intention or possibly we might blow it up, it's shot full rock everything else, like journalistic moments...
at weddings and that kind of stuff. We shoot generally medium run just because we want to save a little time. They're things that don't usually get blown up. Nobody goes and blows up, you know, shouted their rings to like 100 20 inch thing in the wall. And that, General, this doesn't happen. OK, so we shoot full rock. The reason is we want as much possible Hate holding my camera. Why am I holding my camera? I don't like holy my camera. We want as much possible leeway in post production as possible, and that's why we're shooting. Ross opposed JPEG. I know still some shooters that shoot JPEG. It's totally fine if you're intending to not do too much of the files. That's fine. It's just we are. Style is a little different. We shoot always manual mode. We do manual mode in camera. We do Manny mode on our flashes. We always go manual because the main thing is that we need to understand what exposure we're going for and where to adjust from. So if you're flashes are shooting on T T l. And they're dialing up and down, you're not only getting inconsistent exposures, if you do actually say I want to just dial up the power toe something you really don't know. You just use your compensation, That's all. You kind of know. You don't really know how much power is actually coming out of that guy. Same thing on the camera. We want consistent images from start to finish. And what that doesn't post is it allows us to synchronize and develop our images with very simple clicks, as opposed to having to go to each image and work on them independently. We're in the same thing. We're always dial in our white balance and white balance shift if we need to. We spot meter. We'll talk about that in just a second. Um, we use our history, ram, and we're gonna teach you something We call a dynamic range push in the studio. It's basically where we maximize dynamic range across a single frame so we can have leeway to taken image anywhere. We want to go based on the clients style. We always keep highlight alert on in camera R. L see, I spelled brightness wrong. No, I did a spell check. It didn't catch it. Curses. Well, we'll just say that Brighton is Brighton is is a little bit different than brightness. So LCD brightness. We leave it on on manual and we leave it around. You can choose really whatever you want. The main thing is that you take it off automatic. The reason why is that? By default, your camera's gonna come default set to automatic white about automatic LCD brightness, and when you walk inside outside, it's constantly shifting up and down the brightness of the screen. Now, if you're using the screen as somewhat look at the exposure, that's really difficult to do when the LCE brightness is constantly changing. So at least it doesn't really matter what you said it to. I said it to five personally, but that's my number five. But just take it off of automatic. We're also gonna show you a live you cheat, and if we get a moment, we'll talk about custom mode. But we'll set custom modes to common ways that we shoot. So like if we're doing a bracketed sequence HDR type stuff for doing those kind of things frequently, we'll just pop it into a custom modes that we're gonna flip to it and use that. Let's talk about spot metering spot meter. There we go? Why? By the way, this is my bunny Rabbit. When we see the bunny rabbit, it means that we're magicians. I'm gonna do that every time I say that. Additions. Okay, so you guys have completely wrong usage of the word boom, but it's totally fine. We're just gonna roll with it. So why do we spot meter? Because we can essentially get our lighting. It helps with lighting. And also, it doesn't matter if you're shooting natural light. Doesn't matter if you're shooting flash, it's gonna get your lighting, and you will be able to dial in whatever you want. Exactly. On the first try, Um, with flash, you might need to drive. It's gonna help us on the shooting side and also in the process side. So spot me is gonna give us consistent images, and I want to recommend that you Onley spot meter when you're shooting in manual, meaning that if you are not shooting in manual, if you're shooting in aperture priority, you're shooting in shutter priority. Whatever you're shooting and don't you spot meeting because what happens with spot me? Why I say you look like a magician's because you can dial in the right exposure on the first shot. And we're gonna talk about how we kind of take the first shot on any shoot. So let's talk about what spot metering is my first showing you What isn't spot meeting? This is matrix metering. OK, so matrix or evaluative or whatever want to call it? These are the cameras, proprietary metering modes that they give you and they're really sophisticated. They're very advanced. A lot of them do this. They'll break up your This is why I just drew up in a example of Ah, you know what your camera looks like when you look through the viewfinder, it'll break it up in a different quadrants, right? So sometimes it'll go four quadrants. Sometimes it goes 16 quadrants, women. Alright, It just It's complicated. And it'll evaluate every single one of those things independently. Taking in consideration your focus, all those kind of things. It is gonna do everything for you and try and figure out what exactly you want all that and it makes me feel like this. I have no idea what it's doing. And that's Christina Blender a bitch. And she's amazingly beautiful. I wouldn't show this image otherwise. But, um, that's how it makes me feel, because I have no clue what the cameras doing to get me to that exposure. Okay, and that's the problem with it. Sometimes it's right. Sometimes it's wrong it, But if it even if it works 90% I'm keeping. I'm dragging this thought out so I can keep this on the screen as long as possible. But even also, even if it works in 90% of time, it's not 100% time. I don't want to teach you guys techniques that work 90% of anything we want to go 100% time only the next one is very common. Is center weighted averaging? And what that does is it takes into consideration the entire frame and it gives weight to the center area right here. So basically, whatever is in the middle kind of has its center weighted averaging, So it's averaging out the exposure now with all these things. Well, actually, make sure you spot me spot metering is this guy the only thing that you're reading your exposure off of is this tiny little dot right in the center of the camera so in the previous ones where we're going back and we're going for this crazy evaluative thing. And then we go. I really just wanted to show this image again. That's why I went back on. And then we're going to this guy like we're using the entire frame to try and figure out our exposure here we're using. That was not a mis click. I mean, that was a miss click. Sorry, my bad. Here we go. Spot metering we're using now a 3% dot in the frame. Two meter now depend on your camera. You might able to move that dot around if you're on a cannon. It's stuck in the middle on that middle F point every time. But what is this meter telling us? Because obviously a meter is just giving us information, so we need to know what information that is. The meter is just telling us what the camera considers proper exposure, right, so the camera considers 18% gray. That's proper exposure. The whole reason behind this is there's a bunch of photographers and scientist that came together and said, Let's figure out what the average brightness of a photograph ISS and they averaged all the whites and the blacks together, and it came up to 18% gray. So is the standard that was set, so anything that is on average, brighter than that registers as overexposed. Anything that's on average, darker than 18% gray registers as under exposed. That's important to know, because if you're shooting something that's black like my shirt, it is gonna register under exposed. But it should. Register is under exposed. If you're seeing some of this white, it will registers overexposed, but it should registers over, exposed. If you're shooting in the snow, your center could be freaking out because it's so much white all around you. But it should be doing that because it's all white around you. So that's the information we take. Now. We use the spot because now I don't have to guess what the area the frame it's using. I don't have to guess how much is in the center. I don't have to guess. Anything I'll have to do is put that spot right over someone's skin tone right over the sky. If I want to get a certain exposure on the skyline, maybe I want this guy to be under exposed. I'll bring my point. Focus up to the sky. I'll dial in the reading that I want for the sky and then I'll just add flash to it or all dialing my exposure if I'm doing natural light for the skin, like that piece underneath the cheek and then I'll shoot with it. So if I were to tell somebody in this audience hard to say how many of you are confident that without using your live you without doing anything without taking more than one shot how many you can expose perfectly in one shot it. Most of us go to maybe three, but with a spot meter. And I did not set this up prior to doing this. Maybe I should have I would have been safer. All right, So if I just brought this over Steve Space right here and Steve, I'm gonna meet her off the brighter part of your skin. I'm gonna dial in an exposure for that. And then all I got to do is pop one shot and we're gonna get an exposure that's basically usable so we can dial it all in and get that exposure right on the first try, and what we're gonna do is when we actually go out onto an engagement shoot, I do my whole foundation posing spiel. We put him into a V up and I said, Guys, I'm gonna take one shot and it's gonna be the best shot that you have of each other So far. I wouldn't do that with those two because obviously they have a lot of photographs of each other. If there posing, I wouldn't do it. Professional models. But you know of any other client, and we'll say, I'll go through my whole spiel, pick up my camera. So I'm just gonna get a quick reading off of your skin and I'll go back. Make sure everything's good. Okay, guys, lean the heads together. OK, do this. Okay, do that. Okay. Perfect. One click. So they heard the click. I walk over to me. It says one in the camera and I show him the photo. I go. Look, guys, that's our first photograph. Is that not a great photograph? And we followed all the rules of posing and everything's good. We don't have to do anything. And now no, it's this way, magician. So that's what I'm saying is like this, it makes us look much more awesome than maybe we actually are. But in from the client's mind Wow, He just taught me how to pose. He taught us how to look great. He took one photograph was already better than any other photograph that we have each other so far. And I go, That was just our first photograph, Guys, What we're gonna do now is I want you to take a look, and I'll actually critique the photo in front of all. Say, see this. I want to actually move this and a justice and look at the flyways right here. Let's make sure that we keep the flyways to tell them that I'm noticing other things, too. Now, let's go and get a whole bunch of amazing shots and then we start working. So some of people ask, How do you build that confidence? This is that the tippy top of how we start a shoot on that level of confidence. We've done our foundation posing. We've taken one single photograph. We are a magician. I just feel awesome. When I do. That makes me feel powerful. So next thing we use the hissed A grammas Well, why the hissed a gram the his Graham helps us with lighting. It helps the shooting. It helps with the processing And the main reason why is because of understanding our dynamic range. So dynamic range is this weird concept That sounds so I love how as photographers we make these crazy words to, like make things sound so much more awesome than they are. But all it means is when we say a dynamic range push or drp were saying That's a studio word, by the way, Don't go online. We like pine. Nobody has said that. I know. I know. Nobody says that. That's my word. We call it that because we're pushing the limit of the information we can capture. Okay, so the history I'm shows us how much information we can capture The left side are shadows the right side of the highlights. And this is that kind of weird, funky view that we see when by default, okay, on your camera. Now you can switch that sometimes the defaults to this, which is brightness. Sometimes the defaults to this, which is rgb. It's actually the same thing. The only difference is this is showing you the different colors along with it. So it's telling you your greens over here, you're magenta is over here, your blues over here and that's it. But it's the same thing as this. This just shows you what it would be in black and white view that makes sense. This is easier to look at, so that's why we made the examples this. But if you see this, this is the RGB, hissed a gram. What is this telling us? It's telling us that we have a little bit of tone in the shadows. We have a lot of tone, will use this a little bit on the shadows. A lot in the mid tone shadows a little bit in the mid tones, a little bit in the mid tone highlights and a little spike right over here in the highlights. It's simply telling us the volume or the amount of information in that area of the image. So from shadows toe highlights the hired, it spikes them or the images in that area, so you can imagine if you have a black shirt on, you will have a spike here, especially your shooting tight on a person and the crop is just skin in a black shirt. You're gonna spike right here. If it's a white shirt, you're gonna spike over here, kind of. Guess what your history is gonna look like. Basically, from what we're trying to do is this This is what we refer to as a dynamic range push where we have as much information as possible in the raw file. This is what it looks like when you overexpose right. You have no shadows on this left side. You have a big spike over in the right side. Anything that's pushed off the left or the right edge is your hissed. A gram is lost. That information is gone. It's not in your image. You can't recover it so forth. Likewise on the under exposure side. Anything that's this is if we're two under exposed. This is what the history looks like. We have a giant spike over here in the shadows. We have very little highlights over here and now our shadow detail. A lot of it might be gone so we can't recover it. Something in the middle it might look under exposed in your camera When you look at it from your camera, it may look under exposed, but it's actually spot on. And the only way you would know that is by using your history. Because by looking at it in camera, especially if you're outdoors and it's bright outside, it's gonna look dark. If we don't use the history, I'm in camera. We will never be able to tell. So what that allows us to do? I'm gonna go to a couple different slides to kind of demonstrate this. So for this shot, this is the dynamic range, push raw. We can choose to recover information. So now we can basically process it to have more of the highlight tone mawr the shadow tone and get this beautiful image on the right. And this is my I remember. I got to do that every time. Every time I made that rule, I'm gonna stick to it. But in camera, would that not look a little bit under exposed? Would you not probably try and brighten that up and anyone you did? Would you not lose this? The stuff that we recovered over here, So the history tells us that we have it likewise maybe you're not going for, like, what were we classify? This is a high, dynamic range image, right? Maybe you're not trying to create. That may be. What you want is something more light and airy. Same thing applies. We process the we shoot it the exact same way. So we have as much of this information as possible and what we process. We simply Prasit to be light Neri. As long as you're not under exposing and clipping your shadows when you pull it up, the detail, the quality, everything is still there. As long as it's a correct exposure, you're good. So we can take it any which way. If we want to do ah, super wide environmental portrait, we can shoot it. It's gonna look flat. Might even be a little bit under exposed. We can process it and get all the color and a depth out of the image in the raw file. So that's the purpose of shooting with your history RAM as opposed anything else. Now you can cheat a little bit rather than just using the hissed a gram. What I like to do. Oftentimes, if I'm not trying to impress anybody's, I'll just turn on my live. You I got a sustainable battery. Try my live you and then you can actually turn the history am on right from the live you so you can see it right here. Okay, So you can just hold it over what your composition would be dialing your settings so that it's maximized, and then just take a look at it. And if it looks correct and you're golden, right, that's the easiest way to dial it. And just visually, without having to take a single shot, The other thing that will use in conjunction. And J would you mind? Well, we're have a moment just to swap out the battery on this. I'll give you a battery. Um, one thing that was in conjunction to that is the highlight alert. In addition to this and the reason why is because while the hissed a gram will tell us where that ranges the little tip top edge where it touches the highlights, you don't necessarily know how much of it is blown out. And the highlight alert will tell you that if you had to error has heard exposing to the right e t t r flip the word, say error to the right. If you have to err on one side error to the right. Okay, meaning that you're better off preserving all your shadow detail and getting a little bit of blown out highlights than you are preserving highlight detail and clipping your shadows. Because when you recovering highlights is actually fairly simple. And if they are gone, going into photo shop and painting in highlights is fairly simple. If shadows are gone, they're gone. You can't really paint in detail into the shadows. You can't really recover it without actually being a painter, which would be difficult.
Class Materials
Presets Installation Guide
Ratings and Reviews
Man, Pye just covered EVERYTHING! I love the complete process explanation of Photo Mechanic to Lightroom.
Student Work