FAST CLASS: Incredible Engagement Photography
Pye Jirsa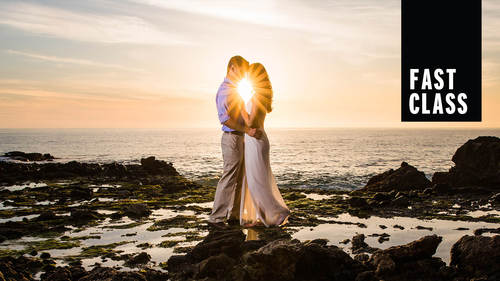 FAST CLASS: Incredible Engagement Photography
Pye Jirsa
Lesson Info
1. FAST CLASS: Incredible Engagement Photography
Lesson Info
FAST CLASS: Incredible Engagement Photography
Let's go. And we're gonna talk today about well, why we're here. And it's too. Take incredible engagement photos that our mission, our mission inside of our studio is consistently incredible images. And the key word here that the word that I love is consistently right, because as a professional photographer, it's always well, it's kind of a bummer as a client, if someone hires you to not be delivering that consistent product every time, time and time out, regardless of the weather, how you're feeling, your moods, your emotions, whatever it is, consistently incredible images is our goal. That's really the only time that I feel like we can call ourselves professionals is if we can deliver always. Okay, So consistently incredible images is our purpose. And how do we get there, though? Well, we found that, actually, I think I skipped one. No, I'm good. We found that it takes several different steps in the course of shooting. Doesn't matter what your doing. Whether it's an engagement, a wed...
ding, whether we're doing commercial work fitness, it takes thes six different steps. Communication planning. These two things are generally done beforehand. Communication and planning were generally gonna do those before we actually go on the shoot, I need to walk over to the screen that I don't know. It's like, so big and enticing, like I just makes you wanna touch it, Okay. Posing, lighting, shooting. I mean, the technical sides are these sides right? Posing, lighting, shooting and crossing those air like the technical opponents of being a great photographer. The problem is, is about 80% of your success is going to be in this area right here, and about 20% is gonna fall into the other areas. And so we want to spend quite a bit of time talking about the 80%. And the reason why we say that is because you could be the most amazing technical photographer you could know You're lighting. You could know everything. I would consider myself a technical photographer, and you can completely botched a shoot by not understanding what a client actually needs or wants. They might see a certain image that you've created, and they might just love the pose. And when they say I love this photograph, you go and you do that lighting and you do everything. But you don't do the pose and then they're like, Oh, well, it's okay. But I thought you were gonna do, like, this exact thing that I wanted. So, so much of that relies on communication and planning, All right? And this is what I want you guys to do. Is I mentioned that I want you to ask questions. This is a Chinese character I wanted toe. I want to talk about this for one second. My job in our company is to create processes and systems relating to photography and relating to post production. That's it. And I've found that in learning anything, asking the question of how generally results in memorization asking the question of why something is done will result in internalization. And what that means, basically, is I don't want you guys to remember something today or tomorrow. That's how we do things for tests. Right when you guys were in high school, in college and so forth way learned how something was done so we could pass a test. But then the classes that you really enjoyed and where you really dove in, you probably still remember a lot of the things that you learn because you were asking why instead So this is the Chinese character for love. And if I were to say, Catherine, I'm gonna show you the next slide. Can you recreate that character and just draw it from memory? I could show you how, like, how is Basically you start with this one and you go 123456789 10 11 12 30 15. It's really difficult to try and memorize. And by the way, I had to learn. When I speak Cantonese matters, I had to actually learn how to read Chinese and every character. Every word is a pictograph, essentially, in your memorizing these these images And I was like, That's so impossible to memorize these images will. What if I learned the process or the why of how these characters actually work and characters we find that are actually broken into different components. They call them Bhutto's. Okay, these components of a character are actually what makes up the word itself. So if I told you that, well, most of this character is made up of this word, which you've already learned this is to receive two suffered a Barrett except and to do that with heart or to receive somebody with your heart to bear from the center of your being. Those two things combined mean love. And so when I actually learned that it was a world of difference, because it was easy for me to memorize stuff that was like that simple and to understand those things and then to build and to put those things together. So as we go through this entire course, I want everybody asking the how. Because the house is important. Don't get me wrong. How to adjust your flash, how to adjust your camera settings. Those things are important, but the why is gonna be even more important. So as we get to certain components like any of these areas communication, planning, posing, lighting, shooting, processing ask me why. All right, this is one little caveat. As a partner or owner, your responsibility lies in the creation of systems. This is a rule for us inside of our studio. And I would like you guys to kind of internalize this because every one of you, for the most part we are Studio Linenger's a composed of 40 plus people in studio on a Monday to Friday basis and 80 people on the roster. Basically. So we have people that handle every single different task, from accounting to two sales to just meeting. We have a person that just blog's okay, if you're getting started, every single thing Steve is on you, you're doing all of it. Start to finish. Every single thing is on you guys. So you are the partner and you are the owner, and your responsibility should not be in the day to day grind. It should be in the creation of your systems and processes. So that way you can create a system of production and hand it off to somebody, create a system of client engagement and hand it off to somebody. That's the only way you'll ever grow beyond shooting 15 20 weddings, 30 weddings a year because there's just not enough time in a day for you all to be handling everything. So the foundation posing for me, this is the first system that I wanted to kind of talk about. This is Ah, I've done a lot of studying of posing and and the funny thing is that so much of posing is body language, and they're things that we've learned throughout our time on this planet. Whatever I want to say throughout our experience, where you look at a picture and you know when something's working and with something's not, you don't necessarily know why, but you know that there's something off about it. That's the biggest thing that I want to talk about today. So today you could say that if you're at home like you could say that the number one thing that I want you guys to take away from this course is to understand that when something isn't working, I want you to know exactly why it's not working, whether it's your posing, whether it's your lighting, whether it's something that's what systems are gonna enable you to do is to know why. Because most of you as photographers, if you are getting into this industry and you are, haven't I like our friends always sale? You have an eye for this. You guys generally know when something's wrong with the photo. We just don't know how to fix it, right? That's the That's the issues we don't necessarily know how to fix, and that's what systems and frameworks gonna help with. So with foundation posing framework. We found that well, I found that most poses actually started from five different feet positions. And so hence I called it foundational because we're talking about building from the foundation up. I've done a lot of studying in terms of, and I'm gonna give you guys a bunch of great resource is because we're gonna dive quite a bit in deposing here. But beyond that, there's so much more. And I'm working on an actual book four foundation posing. But that's gonna take time. So in the meanwhile, have great resource for guys to check out.
Class Materials
Presets Installation Guide
Ratings and Reviews
Man, Pye just covered EVERYTHING! I love the complete process explanation of Photo Mechanic to Lightroom.
Student Work