FAST CLASS: Incredible Engagement Photography
Foundational Posing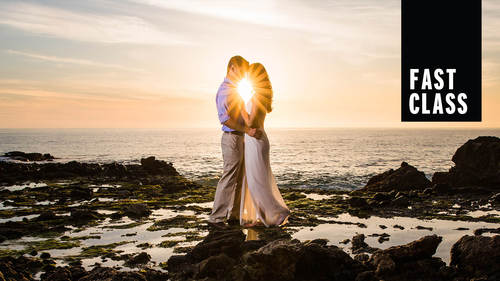 FAST CLASS: Incredible Engagement Photography
Foundational Posing
Lesson Info
Foundational Posing
let's go into the foundation posing. So, guys, this is the piece that I have my clients. Understand? I tell him this. There's five basic poses that literally almost every pose that you can think of come from these five positions. So let me teach you. Take note, people. This is your money's worth right here. We're getting right to it. Okay, so let's see what we're gonna do. And do you, by chance, have preferred sides. Yeah. Yeah. Okay, So we're gonna pose you on on that side for all of our stuff for so for the entire shoot will have you pose on that. So the V up this the first I want to show you guys is basically all we're gonna do is going to stand together. And then, Travis, you're gonna bring your arm around over her back arm there and go right onto her hip right here. Perfect. And in your hand Come to stay. You can put it on his back, or you can also leave it. Relax. It doesn't really matter, Daniel. Then with this hand, you're just gonna give me a tiny bit of space so I can see per...
fect. And in his hand can go in the pocket and we call this the V up because they're basically making a V shape. So we'll have you guys do is tilt the heads slightly in towards each other. And this is if you look at this, this is the pose that they do on everywhere. Like a celebrity couple walking down a red carpet and they positive picture This is that post. Why? Because it looks good. There's a few things that this post does. Okay, generally, the guy's gonna open up the shoulder just a little bit. So he has a nice, powerful stance in the shot. He's using part of his body to conceal her. So it's gonna slim her down. She has her curved front and center. If she has a pulling the dress, you can see it. We have space between here so we can see where her back and her article back is. And we have a perfect shot of their faces. That is the shot that is gonna be used on every red carpet. So we call it a V because your shoulders make a veena. Here's the the best part about this. If I say to you guys. The shoulder where your shoulders touching If you pretend that that's the hinge on a door And if I just say Travis Open. Perfect. Travis. Close. Danielle. Open. Danielle Close. Ah, magical. Can I get some booms? Thank you. You gotta be a little bit louder because you guys don't have banks on, so be louder. So when I say can I get a boom? It's not like, like, from the audience aside, you know? I mean, okay, so next I'm gonna say, guys, do this, Go into a closed post. What you guys think that would be okay? Perfect. Closed Is your feet facing in toward each other Chest are completely closed toward each other and away from the camera. So when I say closed, it means in relation to the camera. If I say go into an open post, What you think that means? Perfect. Now hold hands right in the center feet facing forward on open posts. Okay, you haven't done this before. Right now, in terms of like these poses, like nobody we didn't practice this. Get you can take a couple that's never posed before. Do this and they know naturally cause you know you're giving them context or giving them kind of a very simple, practical way of understanding how to post the next we're going to is stacked. So Stack means one person's feet goes over the other, and one person's back is to one's chest. So I say You stack in front of Danny in front, Travis Perfect stacked. Okay, And then the last one is reverse. And this is a little bit more of an advanced one that will do, like, kind of later on. But it's fun because we can create really unique looks. So what that means is one person's feats going one way and the other is going the other. So, Danielle, let's have you face the audience. And Travis, you face the wall perfect. And usually with this pose will do things like Travis. You're gonna look towards her perfect, and we're gonna get, like, type crops that we can get a really cool like different types of shots. You can have him hug on your arm, focus on her eyes, those kind of things. Okay, Now tell me, do not almost every pose guys go back to go to Ah, a close post here. We have romantic close votes, right? Take a step apart from each other. Hold hands in the middle. Perfect. Lean across for kiss. You guys can actually kiss. It's OK. Perfect. Go into a open, posed the camera, So just open. Hug onto his arm. Perfect. Look towards her. Great. Now hug onto his arm. Travis, let your arm dropped your pocket pocket. Perfect. Now walk forward. Perfect. Like, literally every almost every poses based on these five feet positions, and they now know them. And that's as long as it took Is just five minutes of explaining to get them to that point. And now what you're gonna do is you don't want to over explain things to the clients. That's all they really need to know at this point, you start shooting, okay? As we go, we give them a little more tips along the way. Give him a lot more tips and guidance and we're watching for things now. So thank you guys. That was amazing. Actually, I'm gonna still give him a round of applause.
Class Description
FAST CLASS:
Try a Fast Class – now available to all Creator Pass subscribers! Fast Classes are shortened "highlight" versions of our most popular classes that let you consume 10+ hours in about 60 minutes. We've edited straight to the most popular moments, actionable techniques, and profound insights into bite-sized chunks– so you can easily find and focus on what matters most to you. (And of course, you can always go back to the full class for a deep dive into your favorite parts.)
Full-length class: Incredible Engagement Photography with Pye Jirsa
SUBSCRIBE TO CREATOR PASS and cue up this class and other FAST CLASS classes anytime.
Couples want to capture their commitment to each other in high-quality, creatively shot photographs. They also expect their bliss to appear natural and evocative. Photographers who are trying to build their engagement photography portfolio need to be able to juggle both technical and creative expectations. Pye Jirsa's Incredible Engagement Photography will teach students how to strike this balance with basic equipment.
In this course, you'll discover how to:
Use simple on- and off-camera flash lighting
Communicate effectively to devise creative, meaningful poses
Develop post-processing and overall workflow
Drawing on lessons taught in Pye's other courses (Photography 101, Lighting 101, and Lighting 201), you will learn how to adapt to a variety of different lighting situations – indoor and outdoor, natural and urban. You'll also gain a sense of the importance of storytelling and of developing a disarming interaction style for putting couples at ease during a shoot.
Conducting an engagement photography shoot requires a delicate mix of technical and interpersonal skills – but not an abundance of expensive, demanding equipment.