Fundamentals of Live Streaming
Playing Off Air Videos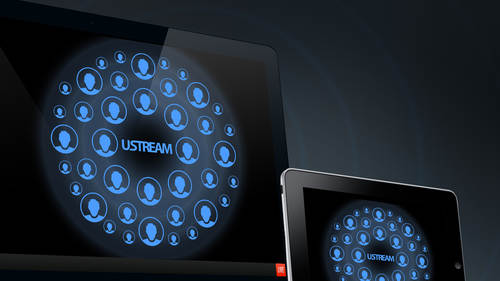 Fundamentals of Live Streaming
Playing Off Air Videos
Lesson Info
Playing Off Air Videos
we have a question from Deirdre? Yes, I wanted to ask about the resolution that you choose to broadcast in. I stream an internal meeting for colleagues all over the world, and I tend to stream in HD because sometimes I'm focusing on a white board where people are writing or something. I need them to be able to see the detail on the stream. But then I get complaints in the chat room from people who say my stream dropped on my stream is stuttering and it seems to be their local band with that home eso dough. I always need to be broadcasting for the lowest common denominator, or does that get compensated for? So that's a great question. So the way that the streaming works is that you can send in HD streaming on ustream. We maybe need to enable it for your count. But we enable for all the pro accounts is that there's multiple bit rates created of lower version. So essentially there's two models for streaming. One is that you can buy a high powered, expensive encoder, and we're gonna talk a...
bout that when we come back for lunch and you can send from this high powered, expensive encoder. You can send four different bit rates, and you can send formats for desktop as well as for mobile devices that costs a lot of money. You also need a ton of bandwidth because basically, you need double the bandwidth of all the bit rated all those streams combined. So where we have a ustream as we have something that a lot of people called cloud trance coding and what it is, is in the cloud. We can break out multiple versions of the stream so you can send us a single 7 20 stream. We can pass that through to the people who can watch it. People who can't view 7 20 converge you one of the lower resolution so they can view the to 40 version of the 3 60 versions. So that's how that works. Yeah, please. Is that automatic, though, is on there. Are you sensing what they can view and setting the appropriate screen? At this point, it's It's ah, manual selection, similar to what it is on YouTube. But it's gonna be automatic pretty soon where that's coming in the future release maybe a few weeks from now, Jim Can I ask you? Actually, cause you're asking. Before we came on air, what sort of projects they used livestream. We were just hearing from Deirdre what she's working on. What sort of things that you streaming. So we've done. We do a speaker. Siri's at school where we bring in a fairly high profile speakers and we stream those so people can watch all around the campus in the local community. And plus we archive those. And we've just started doing athletics and, ah, trying to broadcast some of our college games and get those out on the air screaming. I'm tough time wolf of challenges Have you found now that you got got up and running? Well, our first athletic broadcast was Friday night, and we had a 20 to 30 minute power out each, which took the whole gym and everything dark, and we did not practice good computing. So we forgot to save some of the settings, so we had to re establish those and just trying to find the right mix of equipment. Ah, we're doing everything discreetly now, so we have to set up takes quite a bit of time and quite a bit of labor to get things set up, and we're hoping to move away from that, Um, just learning how to do things better and things like lighting. I'm very embarrassed because we did a green screen on Friday, and if you look closely, you could see fuzzy hair. But some people liked it. So learning challenges of that, definitely. And did you? How far you come to think with live streaming meetings? Have you seen a big shift from when you started doing it the way you are now? Oh, yeah. I started 2007 or 2008 with the then Ustream Software at which, at the time, you had to put in a separate audio feed or you couldn't here or there was no audio. Um, so I've been through several versions, and it's much easier than it used to be. Also, the software is less flaky and less prone to collapse When you do things like change type on the camera. Um, still working out things. I have some particular problems, actually wanted to talk to you later about a feature request, but I have a feeling it's not gonna be positive. Rcmp I'm looking for a way to do live online training, and I have not yet seen a platform that does everything I wanted to do that's coming. Coming soon, perhaps 11 thing I'd like to address is a question that Jim ask during the break. And since we have more time before our break, I think it's a good topic I could cover and to plan for your your productions. So Jim Crimea from wrong. But this was the situation is that we have to two games that we want to stream, and we have a break between them. So we have different options. One is we could stop the stream and stream the first game and then stop it. And then the next one comes back 10 minutes minutes later. The other options. We can keep the stream live and Jim was asking, Well, you know what we show in between what would be the best practice there, and how can we make sure that we have a discreet recording of both those games separately? But we still have a great experience for someone who maybe wanted to watch both games back to back, and Ustream provides you a lot of different options. So I'm gonna show you how that works. I'll go Teoh my Ustream homepage here. First, let's go here and I'm logged into my account, which is great. I mouse over my user icon here and from this drop down menu, choose dashboard on the left hand side will choose channels. We'll pick a channel to work with someone work with my original pro broadcasting demo channel Here under this channel, I'm gonna choose off air, and this gives me the options of what's going appear in the player when we're not live. So this could be used for prior to your show. It could be used for this will show up if you happen to momentarily go affair and it could also be used for after your show. The default setting that we have here is that it's gonna play your last recorded video. So this is nice, because what it means is that if you just stream, you record it and you make that video public. Then in your player will be the recording of whatever the last dream that you did was you may wanna have more specific control over it. So, for example, maybe you don't want to replay that game. That just happened because what you actually want to do is promote the next one. So well, you could do here instead is do a slide show. So I'm gonna do show slideshow and I'll click edit slideshow, and this lets me upload images. So I have a couple here already. I'll just add one more. Let's see what I have here on my desktop. I can add this one here. That's fine. Click upload. And now I have a couple of different slides. They're all the same thing. Just a Ustream logo will rotate through them. You could do, I think, uh, up to 20 images here it save. I recommend here that you do Ah 12. 80 by 7 20 or 1920 by 10. 80. That way, it fills your whole frame. Nice high resolution slide. Now, when I go to my channel, here's my channel I'm working with this will pop out my channel page. We're going to see the players off air, and it's going to rotate through this slideshow. So this is just a logo, But what you could easily do here and I do this Actually, all the time is I'm a fan of Power Point. I use that and I could easily take this graphic in here. So I'll do. I'll just pull in this graphic and say, Let's grab that one. We just had one thing you want to do. If you do do this in Power point is change your page. Shut up here to 16 9 That way, it'll give us a nice image that's the same size of a player you want to add your image afterwards. Otherwise it'll stretch it like that. So I'm gonna add that image again. It's gonna fill our whole screen, and then I could I could just create a quick little slate here, created text box and say, Um, it's all black right now. Someone's gonna convert it to White will be able to see it one second. Now I can actually read my typos so I can say the show is coming up soon. Stay tuned, and we could have that be the affair graphic I'll have to do is just export this and then put that into our players. So that's one option. The other option. I won't say this well, we'll skip that. The other options. We could do a video here, so I'll go to my videos and I can take any video. This is one I recorded earlier today. Here's our video dashboard. A couple of things that are good to know Here. One is if you're on a pro paid Ustream account, you can now upload videos. We talked about that earlier. You can upload videos here and on each video, you can choose different options. So, for example, this says Onley Aiken, watch. I'm gonna change this one. I'm gonna check it here and shoes make public. And now anyone can watch our recording from earlier. That's a pretty wrecked requisite in order for me to put this as the off air content. But now I can go into off air here and I can select a video. And I can say I want to play just that specific video as my off air content these air Some other ones I had in there. I'll just get rid of these and I'll add my latest one. I'll click save visit my channel page again and now you'll see probably have to refresh it here. But if someone's landing on it. New sometimes might take a minute or two to update, but we'll see. No, here we go. It plays my video. So that's another option. Is that you could you could replay your last broadcast. Or perhaps in your case, if you had a promo video for the Athletics Association in general. Little clip. You know, a 10 32nd clip. You can play that there, and anyone who lands in the page will see that automatically. The next thing I'll show you is that we have a new feature we just added called Live playlists and live playlist allows you to schedule videos and play them as life. Sure, the difference. Here it gets a little confusing, so it's good to fall along. The difference here is that off air videos will just play when someone lands on the plate page and that started the beginning. They'll play through and they can stop him. They can rewind him. If you use live playlist to play videos, what it will do is it will play it. First of all, you'll say that the player is live so people will say this a live stream. But the big difference is that if multiple people come to the page in the same time, they're all gonna be watching the same content. So this is useful so people can still chat together. It's also useful. This is I don't know why, but people will watch it longer if it says his life, even if they know it's a replay. So it's not about idea if you have that basketball game and say, Hey, I'm gonna replay it as life I don't know why, but people just love that, that they can watch it with other people. They can comment with it. So I guess that's the power of live video for you. So to do live playlists, I'm gonna close up this notification hero quick, Do you live playlist? You just click, go live. You choose which channel you want to run your playlist on. So I'll choose Pro Broadcasting demo here. I'm not going to use the Web broadcaster that use before and stream for my webcam. What I'm gonna do here is I'm gonna choose live playlists to create a new playlist. I choose manager playlists. I've done a lot here, obviously, and I'm gonna hit, create new and we'll call this playlist creative life. I'm gonna choose when I want to start it. So I'm gonna start it now and I'm gonna say this Kenly repeat until tomorrow. At the same time, I click Add new videos to add videos in the playlist. And I will add this one and that one on worlds with lots of videos of me in front of a webcam. She had something more interesting to show you. But, um and you know, what I'll do is I'll add that one afterwards, I'll flip back and forth, so that way we can see that it's actually changing between them. I'll click done, save, get out of this. And then here I have to turn this on. And what this does is it puts the channel under this live playlist control. So that way you'll see rather than my webcam here. It's a video of me looking at my webcam in the past. Amazing on. And when we go to the Channel page, refresh this. You're going to see that it's live and video me looking confused in front of my webcam. Good thing we don't have sound. Who knows what I might have been saying at this point, Uh, and this is this and then we see a switch to a video there. Now we switch the one from earlier today and that's our live playlist feature. And you can use this for we have people using it right now to do like a 24 7 channel of music videos. You can use it. There we go. I was tired on that. You can use it for, uh, doing just a replay overnight. This is one of the main reasons why we invented it was because we were due on all day conference, for example, with TechCrunch who were going to look at their studio later they would do their conference and they did a conference in Europe. They wanted to replay it overnight in Europe, but so that it would be live sort of during the day, time for the US, and people could watch it as lives. That's what it could be used for. Yeah. Can we upload a show that we've produced and then set it to go? Yes, absolutely. So that's the other. That's the other big use case for is that we do have people that sometimes say, Well, I want a pre record a show But then I want to play it back for the first time like it's live, you know, and have it premier as life, and it works very well. What controls is you does the user have on these kind of pseudo live broadcasts? They have the ability to stop and rewind or no, so they don't. So this is this appears in the player as a true livestream, so they composite. But basically, when they rejoin, they're going to rejoin whatever pointed that. So that's sort of the part of the difference between using the off air playlists for the videos versus the live playlist. Is that off air playlists, treats and more like just regular recorded videos? The live playlist allows you to a control the time that it's gonna go alive, make sure everyone's watching the same content at the same time. It appears as live in the player, and the user can't scrub through our pause. Rewind that everything Jim be just wants to make sure that you can restrict who views your ustream. Yeah, another great question, since this is great since I don't know why this session ended so early, but there's plenty of topics. Let's talk about that really great topic. Let's talk about options for restricting your broadcast, so there's a couple different options that you have will use the same channel again, and the first option will find under the advanced settings here under my channel menu. This is probably the easiest one to set. It's the easiest one to make sure that you don't lock people out of your broadcast when you don't want to. One thing that you know if if you've done anything with security, is there's always this tradeoff between convenience and security. So the most secure solutions air never are never going to be super convenient. They're always gonna be these annoying multistage passwords and things like that. But this one is sort of so this is our first level of this is the most convenient, but this wouldn't necessarily be the most secure. But for many people, for probably the vast majority people, this is all they're looking for. So you click this button, make my channel password protected, and I'll make my channel password something super secure, like let's call it password again if you wanted to be more secure. You should choose something that you know no one's going to guess on. And you, you enable that and hit save. And the way this works is that this is inherited it. It works on the live, but it's also gonna be inherited by all the videos that are a child of that channel. So if you have videos there are gonna be protected by the same password live playlist, it's gonna be protected by the same password. So here we go. Now, basically, this says I have to enter the password. So I entered that password that I just created by super secure password password. There was a study recently that was so used to be the most common password was 1234 and password was number two. Now, password is the most common password that people use. Never use that as your passport because you will get hacked. So that's that's sort of the first level is we can add a password. There's some additional security controls we have on check this one under. Ah, in bed. Here we have some additional controls. So there's a privacy menu here, and there's two options here. The 1st 1 says, Restrict the girls where your channel can be embedded so this one could be used if I say Well, I have that great blogged that we looked at earlier called Ustream testing Blawg and I only want people to be able to watch on that block. So what I can do is let's go. Let's go back there right now. And ah, what I need to do here is I need to find sort of the ah, the euro, All of what? Where this player is gonna live. So I'll copy this here, and I'll add this to my dashboard. So I checked the box that says, Restrict the girls where your channel could be embedded. So this might be very useful for your internal broadcast, for example, and you enter your domains here. As I mentioned, as you get more secure, you you start to make it less convenient for people to access the stream. So one thing you want to keep in mind here is that there may be different variations, like if you're doing an internal stream, there may be multiple yarl's where they have slightly different structures. So I recommend you add more than you think. Here. The Asterix at the end will ensure that allow anything after that through. I would also do Http as well as the https, and we can save this once we have. This does added, there the next check box here. Do not display channel in the Ustream site. You usually want to use these together because if you're trying to restrict where people watch it, you probably don't want to watch on the Ustream Channel page, either. To that one. It's telling me right now that need to be on a paid plan to use it. So these are some of the features that you get with our pro and enterprise plans. So I won't worry without right now, and I'll just click save. We have some additional options, which we don't have revealed in the dashboard, because this is where it gets even more advanced. But we do offer with their enterprise plans. We do offer I P restrictions. We offer geo based restrictions that wouldn't make sure only people in certain countries can watch it, and we also offer a way that people can set up in a P. I and it can actually authenticate against their database. So ah, form appears in the player they enter a user name and password or whatever. Basically, you would want them to enter, and that would check against your own database. So there's many different options of how you can restrict it. It's kind of like cameras. You have to decide which one is the right one for you. Which one is going to be convenient for you? Which one works within your budget, And for many people, they find that you know, the simple password is perfect. Okay, I would say for a vast majority of cases, if we're not talking about Department of Defense here that you could do in bed restrictions, hide the channel page and do the password. And by that point, it's gonna be pretty hard for someone to find it, particularly if you also embedded on the page. That isn't, You know, out there in the public Internet somewhere. So at that point, someone ought to be trying pretty hard to find your stream. I just I actually like to hear from any of our other studio audience. What's the projects that they're working on with her life streaming. Stephen does. There's something that you're specifically looking to learn from today that you've got a project coming up. Well, my next thing is a, um, modeling talent event. That's in Orlando. They do it twice year in the. They have a lot of people from around country and from around the world that I would love to attend and support their family and friends. So we're gonna be using it for that. Next. What about Ricardo? Do you have any projects coming up? Mike's down there. Oh, you working together? Yeah, we worked together. Seemed project fantastic on what about are we got a few ustream people here in the audience as well? What's that? Some of the most exciting thing that you've seen Ustream used for many particular clients. Um, I think the most exciting thing I've worked on his outside lands, and we worked on Bonner last year too. I dio I also do all linked in events, so it's pretty exciting. And you also mentioned earlier that you were working with Salesforce on Dream Force. Yeah, yeah. So that was That was really And what was really been cool with Salesforce as a great example, but Lincolns also really been doing the same thing is that one of the trends that we've seen is that people are realizing with this technology they can actually create media. So these companies aren't just doing, you know, sure, everyone's been doing marketing videos for a long time, and you can create your own kind of, You know, you could do your own live webinars, your marketing videos, or you could create an infomercial for yourself. But what Salesforce and linked in and some of our other companies are doing is they're doing these massive events that air. They have a ton of content that's in some ways, not even that related to their specific product. It's not like the whole thing is just trying to sell you their product. I mean, they're doing things like hosting. You know, LinkedIn's hosting Barack Obama there, or at Salesforce Dream Force. You know, they had they had all sorts of amazing speakers, just inspirational people. I think Deepak Chopra was there just talking about stuff, so it's really cool to see how people are using it as a way to say Okay, well, you know, we want to use this technology to show what we're about as a company and that may it's not. We're not just going to use this technology to sell the product, but we're going to use it to also create our own media events, whether that's sort of a really fun event like like Dream Force or whether it's using it for cause. We've seen all sorts, people using it to reach out to people in different ways. Dream Force. I think this year was, what, 40 50,000 people. It sort of takes over. San Francisco is one of the biggest events now. I actually was part of the production team for the very first Dream Force, and I think there were 300 people. So it's incredible how far it's come. With time, all the water begin to talk about. When we get back, we come back, we're going to talk about a few different things. First, we're gonna talk about more detail about what you'd want to use for your own set up, So it's great. We've had a lot of questions already about, you know, I'm trying to do this specific thing of that specific thing. We want to talk about You have different options of what kind of things are gonna purchase. Where might you want to spend your money? One of the things you want to think about as you're buying gear to make sure that you can produce the type of production that you would want. The other thing we're gonna do is we're gonna interview with Chase Jarvis, who is the founder of Creative Live and a really looking forward to that. Because if there's anyone who knows how to create great looking live streaming productions, it's him. And he's going to share a little bit about how Creativelive was founded, what lessons they've learned along the way and where he sees the future of live streaming, going. And at the very end of the day, we're gonna talk about sort of recommendations on how you can promote your event some of the best practices for making sure that your audience actually shows up because you know, that's one of the hard things about live streaming. Is that well, On the one hand, it's easy to get a big audience. One of my favorite questions every guy was we're trying to encourage a bunch of government officials to do streaming and you know, they were really scared to do it because they were kind of like, you know, we were really controlled in all our media and they were like, Well, so So I'm gonna turn on my web cam is gonna be a 1,000,000 people watching. And it's like, Well, you know, that would be great if that's the way we're unfortunately thought it easy. And so there's a lot of things you actually have to do to get people to actually watch your content. No matter how good it is, you're gonna have to spread the word. You've got to build a following. And so we're gonna talk about how to do that as well. You know, it's it's not enough to just have great cameras and great lighting and have great Internet put the stream on there. You know, I don't really believe in. If you build it, they will come. I think you have to go tell people what you've built and get them there
Class Description
Learn how to connect with your customers, employees, and colleagues in real time with this online course led by Ustream Senior Product Marketing Manager Alden Fertig. Used by over 15 million broadcasters including creativeLIVE, Ustream's powerful platform is built for dynamic, live conversations with new and existing audiences.
Over 8 hours of live instruction, Alden will cover everything you need to know about broadcasting on Ustream. Whether you're streaming to 3 people or 3 million, Alden will show you how to stream live using only your laptop and an internet connection. You will learn essential tips and tricks, including audio and lighting best practices, adding guests via Skype, and incorporating videos and music during your live stream. Then, creativeLIVE Co-founder Chase Jarvis is in studio to discuss the importance and power of live broadcasting.
This course will teach you how to plan, produce, and record a seamless live broadcast.
Reviews
Insanely awesome and super informative. I've been streaming for years and I still got some fantastic takeaways.
Rich in information and explained in a clearly and simple way. Alden Fertig and the team at CreativeLive are passionate about live streaming and go the extra mile ("25%") to make it look good and sound good. It took me three days to watch all the videos and it was worth it 100%!
Thank you, Thank you, Thank you CreativeLive and Alden Fertig for giving this course! I have been wanting to create a Streaming website for Online Education in Spanish and this is just what I needed! Very informative and I am so pumped and excited to get started.